Superior Market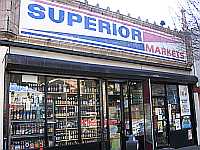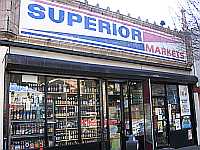 Store
40-08 Queens Blvd
Queens
,
New York
, 11104-3302
United States
// CLOSED //
Notes:
Recent ratings and reviews.
| Log in to view more ratings + sorting options.
Ratings by PEBKAC:
Reviewed by PEBKAC from North Carolina
1.6
/5
rDev
-45.6%
When I saw this new listing, I was really hoping to find a haven in this beer wasteland known as Queens. Instead, you get a mountain of sun-struck beers wastefully lined up against the front glass of the shop. Besides the few six packs of $9 Brooklyns in the cooler around the left corner of the shop, everything has been marinating in the light for what seems like a while. Maybe all that dust shields it somehow?

Inventory is a mish-mash of Polish(Zywiec, Baltica, Okocim), German(Warsteiner, Spaten, Weihenstephaner, Reissdorf, Anyinger, Tucher, Aventinus), American stuff from Weyerbacher, Victory, Ithaca... you get the picture, pretty decent stock. Too bad 95% has probably all turned to shit. A ton of pumpkin beers the last & only time I was there about three weeks ago. When I saw some Weyerbacher Imperial Pumpkin at the top, I searched for another that might of been buried, but everything here has a good enough angle to catch some rays. Touch some of that hairy stock. It's 28 degrees outside & they're almost hot.

So where are all these bottles coming from? Is this some sort of beer lost & found? Is this the Burlington Coat Factory for beers? There is no order, every six pack(if you can still find an actual cardboard box) has at least three taken out of it. Year old Hop Devil, sitting next to expensive makeshift curtains made of Unibroue? This has all the markings of a failed past attempt at a quality beer store, & now all the leftover beer is just taking up real estate. At least discount the crap. Have the owners moved on, does the guy at the register even care?

Now if they somehow put up some new-age laminate on those windows that I can't seem to spot, then I'll take some of it back. The beer is all old & sloppily taken care of regardless. Why this place wasn't submitted a year ago when there was probably fresh & decently priced beer there? Well, no one knew. ...and now it's too late. :(
Feb 25, 2008
More User Ratings:

Reviewed by sirsteve42 from New York
2
/5
rDev
-32%
vibe: 2 | quality: 4 | service: 1 | selection: 4
So this place has some good offerings aside from week old produce in the shop. The prices are easily marked up 40% from any other shop hence my main reason to deter this place. That and the horrible service and attitudes of the workers when asking if the $46 pricetag was correct on backyard rye.... that's right $46! I'd skip this place and head to Astoria or community beverage. Two thumbs down! $70 for parabola anyone? $25 for a 12 Oz bcbs? This guy obviously doesn't care about the consumer except to consume every penny from your grasp! He now gets 3 thumbs down
Jan 29, 2014
Reviewed by metter98 from New York
3.27
/5
rDev
+11.2%
vibe: 3.5 | quality: 3 | service: 3.25 | selection: 3.5
Vibe: This is a small convenience store that is located across the street from the 40th Street Station on the No. 7 train. It's mostly a food store but they have a pretty large beer selection on the front left side when you walk in—there's even more beers located on the wall behind the checkout counters.

Quality: The beer is stored in areas outside of direct sunlight. A small fraction of the beer is stored in coolers. I doubt that this store gets a high amount of turnover so I would shy away from purchasing IPAs or anything that should be consumed fresh.

Service: As this is a convenience store, I wasn't expecting any recommendations on selecting beers from the employees. Checkout was pretty fast and they usually had one or two cashiers working in the small store.

Selection: This store has a varied selection of domestic and imported beers. Since the turnover isn't that high, you might come across some aged beers that aren't available elsewhere. I was happy to find a beer from Argentina here.

Value: Although some beers seemed a bit pricey, one cashier, who I presume was an owner, threw in a free bottle for me when I picked up a bunch of beers so that was an added bonus.
Jul 06, 2013
Reviewed by marm from Texas
4.61
/5
rDev
+56.8%
vibe: 4.5 | quality: 4 | service: 5 | selection: 5
I've been going to Superior Market for about 2 1/2 years now. I am a huge fan of this place and the guys that run it. They have just about anything you could possibly want. They carry a wide selection of American craft and European beers. When you first walk in you might think you're in the wrong place since it's a small Russian supermarket. But look for the registers and then you'll see something you'd never believe to see in Queens. A beautiful wall of beer. I can honestly say that I have always found what I am look for there. I'll go on beer advocate to research a new beer and then walk a block to Superior Market and to my surprise they will have what I want.

The two brothers that run this place are awesome. They have always helped me if I had any questions or even if I had a special request for something. When you're there introduce yourself to them and you'll see why superior market is the best place to buy beer in queens. They'll always see what you're buying and make recommendations or even food pairing suggestions. I've found them to be a great resource for trying beers i'm unfamiliar with.

If you live in Queens specifically Sunnyside or Astoria. Make the trip to Superior Market.
May 31, 2011
Reviewed by bigwineguy420 from New York
3.7
/5
rDev
+25.9%
Prior reviews match with mine. The beer is in the front left corner as you walk in to the market. Great selection of big bottles, particularly Belgian and Belgian styles. It looks like they have a decent turnover. Some of the pricing was a bit steep, particularly with anything 12oz as they sell by the bottle and don't have six-pack prices. You can find almost anything in a 6-pack cheaper somewhere else. They make up for that with their rare selection of vintage 22 & 25oz bottles. Certainly convenient as this place is in the neighborhood, but I still have higher expectations, even if this is NYC. B+ with the plus mostly coming from the convenience of their location.
Feb 17, 2011
Reviewed by SpeedwayJim from New York
3.6
/5
rDev
+22.4%
When do you know you're too into beer? When your girlfriend's parents start recommending beer places they pass by one their way to the market...

This is actually a Russian supermarket in Sunnyside that happens to have a huge craft beer section. All the beer is put in the front of the store as a window display. Probably not the best idea in terms of the quality of the beer and some of it looks quite old. They just kind of try to jam pack as much of it into one place as possible.

Service was pretty non-existent even though I was only there for a little while. However, as it is a supermarket and it was my first visit, I'm a bit more forgiving on this grade.

The selection here is by far the best that I've seen in Queens. Some vintage Cantillon, Troegs, Southern Tier, Chapeau, and other things that I never expected to come across. Overall very solid.

Worth a visit as this is really the best selection that you're gonna get in the Queens borough. Weird to see it in a tiny litlte Russian supermarket but it is what it is. An interesting visit if you're in the area, just don't expect the best prices or quality of beer. After all, they don't have anyone to really compete with.
Feb 28, 2010
Reviewed by quantumparticle from New York
3.65
/5
rDev
+24.1%
I have to agree with some of the posters that some of the beers look rather old. But with that said, I'm excited to find this place. I've lived in the neighborhood almost 2 years, and today was my first time visiting. I usually head to Bierkraft in Brooklyn, but it's nice to find a place close to home to buy craft beers.

The beers that do have brewed dates on the bottles weren't THAT old, most this year. Acceptable. As other posters have said, try to stick to the beers farthest from the windows.

Overall, it gets bonus points from me for being close to home, Queens being a beer wasteland.

Worth checking out, as I found 3 of the 4 beers I've been wanting to try. And if you live around Sunnyside / Woodside in Queens, its about your only option.
Jun 30, 2009
Reviewed by redmagik99 from California
3.3
/5
rDev
+12.2%
right outside the 40th st station on the 7 line. as the guy below stated, there are lots of wasted beers lined up against the window facing outside, but when you go in the shelves are about 5 beers deep, so the front or middle ones should be ok. i didnt have any skunking problems with what i bought. its like a supermarket, but the beers are all in the front of the store, with the registers separating them from the rest of the food. no one will ask you if you need help, but whatever. the selection is pretty damn good. all your top german hefes, random polish lagers, pretty big british selection, unibroue, nice belgians (rochefort, affligem, westmalle, chouffe, orval, achel..), and a good selection of americans - lagunitas, green flash, elysian, legacy, allagash, some things i cant remember. brooklyn and leffe in the fridge. the main setback is the prices - seems to be at least a 20% mark up on everything as compared to most stores. they wanted $13.50 for that 6 pack of leffe. fuck no! got a bomber of lagunitas gnarlywine for 4.50 rather than the normal (i think?) 4. small bottles of unibroue were doable too. all in all if youre in the area sans beer this is probably your best bet, just dont expect a good deal.
Jul 31, 2008
Reviewed by PlaywrightSam from New York
3.7
/5
rDev
+25.9%
Someone suggested this place to me a while ago when I put a post on BA about finding good beer in my Queens neighborhood, Jackson Heights. Unfortunately, Jackson Heights proved to be a veritable wasteland, stocked only with macro rice lager from around the globe. Then someone suggested that I try this place, as it's on my way home, mere feet from the 40th St stop on the 7. Since then, it's become a somewhat regular destination.

The front window is completely covered with beer bottles, a very promising sign. All of the beer is right there, at the very front of the store near the registers--which makes browsing quite annoying as you are constantly dodging customers heading to and from the door. The selection is incredibly disorganized, and some of the bottles look like they've been sitting on the shelf for quite some time. But, there is an impressive selection of Lagunitas, Brooklyn, Great Divide, Ommegang, among others; along with a very decent range of Belgians. Pricing is very reasonable, which is great considering the fact that NYC prices on beer can be so incredibly UNreasonable (I was in a deli in the East Village the other day and the prices were probably a full $5 above this place.)

I haven't yet tried to engage any of the guys who work there about their selection, they're usually very busy manning the registers. But one of the older guys is very nice, and he always seems nicely pleased when you bring $30 worth of fine beer to the registers.

If you live in non-Astoria Queens, I think this may be your best bet for good beer. Definitely worth checking out.
Feb 11, 2008
Superior Market in Queens, NY
Place rating:
2.94
out of
5
with
12
ratings