Party Mart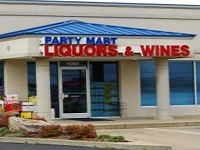 PLACE INFO
Type:
Store
2841 Hwy 45 Byp Ste C
Jackson
,
Tennessee
, 38305-3714
United States
(731) 668-2430 |
map
partymartwines.com
Notes:
No notes at this time.
Added by Tilley4 on 01-06-2008
Ratings: 9 | Reviews: 5
4.94
/5
rDev
+11.8%
vibe: 4.5 | quality: 5 | service: 5 | selection: 5
4.26
/5
rDev
-3.6%
vibe: 3.25 | quality: 4.25 | service: 4.75 | selection: 4.25
3.86
/5
rDev
-12.7%
vibe: 4 | quality: 4 | service: 3.5 | selection: 4
Nice little place to grab some craft beer.
They don't have the mega selection like some metropolitan stores do, but this is Jackson. The craft beer base here is not as expansive to allow the Capitol investment in such a large offering. For a small store, I believe they have a decent selection to offer.
They have installed a new walk in cooler that has allowed them to expand their selection/quantity of beer. Give it another shot. Walk in, smile, say hi, and grab some delicious specialty brew. The day will be better!
524 characters

4.22
/5
rDev
-4.5%
vibe: 4.5 | quality: 4.5 | service: 4.5 | selection: 3.5
This is more of an update to the past reviews than a totally new one. In the last few months, the beer selection has grown substantially to over 100 individual beers. There's still a few remaining Dogfish brews, several new Rogue and Abita, Sierra Nevada, Schlafly, Stone and many others that I haven't tried yet. Lots of obscure imports as well. For me the service has always been good, but generally I don't need much in the way of it. The other main point I wanted to add is that I talk to the owners on Facebook often and suggest beers to order and see if certain ones are available. Point is, they make great efforts to have a large selection of beer in this area and I don't know what I'd do without them. If you're in the area, check the place out. You might be surprised to see what they have in stock, I've found Rogue John John series beers there and was quite happy.
877 characters
4.7
/5
rDev
+6.3%
Before saying anything else, I'll preface this review with the fact that this IS west Tennessee, and "go to" places for craft beer are slim and none, outside of Memphis (and as large as Memphis is, there's what, three, four places worth mentioning?). Given the options, all in all, not bad for a very small liquor store.
Selection - fairly small, but the ability of building your own six lets you figure out what you like, and what you don't like, for when you happen to be in the beer heaven that is the rest of the country. Mostly bombers of the "really good" stuff, but usually a handful of cold sixers to pick from. It looks like they have a little room to expand the cold offerings, so one can assume if sales increase, selection might as well. Until there are other locations in this area, I can't complain about selection.
Service - first time in I got that "look" - but being an ugly, old bald guy, I get that look a lot, anywhere. Every repeat visit I'm greeted like a VIP, and I don't really shop there a lot. The last visit I picked up three sixers, before I was done paying one of the guys was carrying the biggest bag to my truck. Never seen that before in this area.
Location - only real knock on the place, again, given the beer desert that it serves. Store front faces Hwy 45 bypass, but there's no access, so you have to come in from an access road, and traffic in that area is usually nothing less than a nightmare. Given my options (driving to Memphis) the location is ok. And it's close to Target, so the man can shop for his wares while the woman shops for hers.
A previous review mentioned boxes, everytime I've been to this store, there's always been a fairly large stack of boxes outside the front door. Even the picture on their listing here shows this. Boxes, or a lack thereof, won't affect my opinion of a beer store.
1,849 characters

1.7
/5
rDev
-61.5%
traveled to this store from memphis on the recommendation of another site user. store is tucked away in a small shopping center off the highway, took us a bit of searching to find it. no greeting upon entering the store, staff looked at us like we might steal something. after checking out their facebook page (which advertises a 100+ beer selection) i was expecting a large section of the store to be dedicated to brew. i was wrong. they must've been talking about individual beers because in the back left corner of the store you'll find 2 refrigerators dedicated to cold beer and the adjoining small shelf on the left to room temp beer. and thats it. they had a decent selection of boulevard and schafly (which was about all they had beyond basic stone, dfh, and sam adams offerings) so i went back to the register and asked for a basket. blank stare from cashier. i asked again. "huh?". i asked for a basket or a cart for my beer. another cashier comes out of the back and say they don't have any. great. so after three trips to the back i get the beer to the counter and check out. no "thanks" or "come again" or anything similar, wow. take the beer to the car and come back to ask for some boxes (i'm moving). cashier (who is standing next to a 4 box wide stack of boxes to the ceiling) says they have to save these for customers...did i not just purchase $100 worth of beer from you?!? i will not be returning, there's gotta be a better place in jackson i can spend my money in
1,484 characters

4.5
/5
rDev
+1.8%
This is an edit of an earlier review of this place.. What a dramatic climb this place has made in the last year or so.... The beer guy here, Kris, really knows his stuff and he really cares about issues like freshness and quality... The selection in this store has virtually doubled since he took over, hence the edit on this review... They carry every beer that they are allowed to and they keep their stock rotated very nicely.. I'm in here at least 2-3 times per month and they always hook me up with a discount.. easily the best beer store in Jackson and I'd put it up there with the best in West Tn..
605 characters
Party Mart in Jackson, TN
4.42
out of
5
based on
9
ratings.