Kisz Bier Classic Czech Lager
| Prague Breweries Group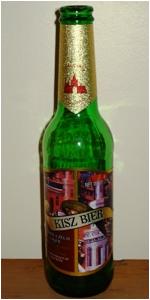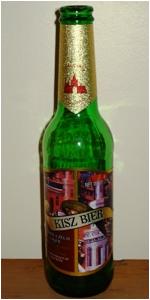 BEER INFO
Brewed by:
Prague Breweries Group
Czech Republic
prazskepivovary.cz
Style:
Czech Pilsener
Alcohol by volume (ABV):
not listed
Availability:
Year-round
Notes / Commercial Description:
No notes at this time.
Added by BeerAdvocate on 06-26-2002
This beer is retired; no longer brewed.
Ratings: 8 | Reviews: 6
Reviews by scottum:
2.19
/5
rDev
-19.5%
look: 3 | smell: 1.5 | taste: 2 | feel: 3.5 | overall: 2.5
Pours a clear pale light amber with an off-white headskie. Not impressive at all, especially for a Czech brew. The balance is off, kinda sweet in a strange way. The beer is kinda off as a whole... more of a commercial lager than an artisan lager, and not up to par with other offering from Czech. Mouthfeel works ok, but with the flavors as they are, it's not overly drinkable. Still better than an American macro though.
421 characters
More User Reviews:
2.62
/5
rDev
-3.7%
look: 2 | smell: 2.5 | taste: 2.5 | feel: 3 | overall: 3
Presentation: 12 oz green bottle with no freshness date.
Appearance: Crystal clear dirty blonde hue with a thin ring of lace that struggles to stay. Fizzy looking.
Smell: Floral, fusel and sweet in the aroma with a faint touch of skunkiness.
Taste: Big slick mouth feel with a slightly cloying malt sweetness, decent carbonation. Oddly the malt flavour is a bit thin. Hops jump in with a jaded bitterness that instead of being clean cut tears through the palate coarsely. Faint fusel alcohol and a leafy hop flavour are all that is left in the finish.
Notes: There are certainly better Czech Pilsners out there other than this one, problematic but not horrifyingly bad. Tastes too processed and flavours are forced.
727 characters

3.45
/5
rDev
+26.8%
look: 3.5 | smell: 3.5 | taste: 3.5 | feel: 3 | overall: 3.5
This Czech Pils poured a clear golden color with a small, bubbly head that left everything but trails of lace down the glass. Active carbonation was present, and it was quite fizzy overall. The nose was fragrant with notes of the traditional Saaz hops and a bready maltiness. Flavor was decent, but the finish was somewhat artificial. Saaz hops flavors were the most pronounced, although a thin, caramel finish depleted things a bit. Mouthfeel was a bit too thin for my liking, but not too bad. I wonder how fresh this sample was. This is a decent pils overall, as it's easy to drink, but better brews are imported from the Czech Republic, for sure.
649 characters
2.23
/5
rDev
-18%
look: 2.5 | smell: 2 | taste: 2 | feel: 2 | overall: 3
Eh. Pours a clear, rusty golden looking color, lots of white head that looks... fake, sort of, and goes quickly. No lacing.
Smell is almost non-existent. Rusty and metalic, slightly sweet. Taste isn't much better- sweet, metalic, untasty aftertaste. Boring and blah. Mouthfeel is oily and way too thin. Not enough bubbles. This reminds me of a slightly better Bud. And most people know how I feel about Bud.
I mean, one could easily make this their "cheap drinking beer" and it would be fine. But there are SO many other things I'd rather have than this. Still, this wins over Bud.
587 characters

2.46
/5
rDev
-9.6%
look: 2.5 | smell: 1.5 | taste: 3 | feel: 2.5 | overall: 2.5
I like to consider myself an afficianado of Czech pilsners, having criss crossed the country several times over the years (usually ending up drunk on Karlov Most, loudly ridiculing tourists until being pulled away by the ear by an unamused girlfriend) but this is one I haven't seen before. Let's take her for a test drive.
Pours a pale golden color, inching towards yellow and featuring a nonexistent head and no other redeeming features. The smell is pretty close to vile..skunky and brimming with adjuncts..no bitter hoppy bite, no crisp freshness, just sour evilness..what's up with that? I gave it five minutes to air and it has improved only a small bit..
The taste is a relief in that it doesn't taste like Pete Coor's armpits (I can only suppose, having not actually had that experience). There is a malt initiation followed by hoppy bitterness and a less than great metal flavor that follows into the aftertaste. Also a little too much carbonation even for the style.
This beer reminds me of skunky Urquell and is one of the worst Czech beers I can remember drinking (the key word being: remember). Definitely not a good example of the style and one to avoid unless you don't like Czech beer (all four of you), maybe you'll enjoy it.
1,249 characters
3
/5
rDev
+10.3%
look: 3 | smell: 3 | taste: 3 | feel: 3 | overall: 3
3.55
/5
rDev
+30.5%
look: 3.5 | smell: 3.5 | taste: 3.5 | feel: 4 | overall: 3.5
Very nice golden liquid topped by a fluffy white head that lasted for a few minutes. Slight haze in the glass, but not from the cold because it was there when the room was at room temperature. Also, there was some dregs in the bottle. It wasn't bottle conditioned, so unfiltered perhaps? Straightforward and pretty big bready malt made this a relatively full bodied lager, for a light one at least. Hopping was appropriate, but everything seemed to be off a bit. For the malt there wasn't enough bite, not bitterness, just bite. A little crisper and this would have been really nice.
585 characters
Kisz Bier Classic Czech Lager from Prague Breweries Group
Beer rating:
0
out of
100
with
8
ratings