Dismiss Notice
Dismiss Notice
Bombshell Blonde
| Southern Star Brewing Company
BA SCORE
84
good
209
Reviews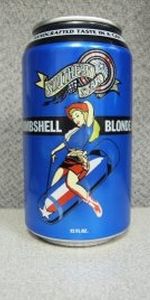 BEER INFO
Brewed by:
Southern Star Brewing Company
Texas
,
United States
|
website
Style:
American Blonde Ale
Alcohol by volume (ABV):
5.25%
Availability:
Year-round
Notes / Commercial Description:
A rich, creamy golden colored ale fermented at a cool temperature to give a clean finish. Hints of yeasty bread and a touch of hops combine to make a beer that is truly more than the sum of its parts.
20 IBU
Malt: Rahr Special Pale, Wyermann Vienna
Hops: Saphir, Sterling
Yeast: California Ale
Added by armock on 10-25-2008
Reviews: 209 | Ratings: 579
3.75
/5
rDev
+0.8%
look: 4 | smell: 4 | taste: 3.5 | feel: 3.5 | overall: 4
This beer is pale gold, appropriate for the style, with a large very fluffy, not dense head. Good head retention, though it falls eventually. The nose offers plenty of malt, light and sweet and not at all grainy, with a hint of fruitiness. The flavor is solidly malty, and lies on the sweet side of things. Bitterness is low and hop flavor nonexistent. A little fruity at the finish.
One of the better blonde ales I've had, though it's not a style I seek out. The bready maltiness makes it a step above most grainy offerings.
★
526 characters

3.85
/5
rDev
+3.5%
look: 4 | smell: 4 | taste: 3.5 | feel: 3.5 | overall: 4.5
This beer pours golden with alot of head. To me this is definitely a beer for the people who are wanting something lighter for those hot summer days after mowing the lawn.
The smell is fruity, sweet, bread with some malt undertones.
I can drink many of these easily and could prolly keep going.
I am taking some of these to my BMC friends to see what they think. Show them there is other beer out there.
★
404 characters
3.46
/5
rDev
-7%
look: 4 | smell: 3 | taste: 3.5 | feel: 3 | overall: 4
A: golden honey yellow with little floaters (it IS unfiltered), white foamy head
S: slightly metalic with lisghtly sweet smell (actualy not much in the smell department)
T: sweet and creamy
M: medium carbonation and very smooth
D: pretty good and i love the lable art
★
271 characters
3.83
/5
rDev
+3%
look: 4 | smell: 3.5 | taste: 4 | feel: 3.5 | overall: 4
Definitely one of the oddest beers I've drunk recently. And this new craft-beer-in-a-can trend is one that, as a bartender with limited space for stock, is one that I encourage other breweries to try.
Pours a hazy light copper colour with a minimal head that doesn't subside too much. The first thing I though when I stuck my nose into the glass was 'Dang it, I forgot to make bread today!'. There's an overwhelming smell of bread dough with some floral undertones and a malty sweetness. The taste is... not challenging. By that, I mean it's good but fairly middle of the road. Not too sweet, not too hoppy, not too bitter, and with a medium body. This style of beer (when brewed by a craft brewer) is almost craft beer with training wheels, and is hopefully a stepping stone for the macro beer drinker to develop a more discerning palate. For someone who drinks something like Arrogant Bastard or Sierra Nevada Torpedo, this beer will be as easy to drink as a glass of water, but for someone who wants to try something other than Budmilloors, it's a great first step into beer advocacy.
★
1,088 characters

3.85
/5
rDev
+3.5%
look: 4 | smell: 4 | taste: 3.5 | feel: 3.5 | overall: 4.5
12 oz. can into a Unibroue tulip. Gotta love the canned craft beer movement.
Pours a dirty, copper-blond hue with lots of haze from the tiny chunks of yeast. Good retention on the inch of eggshell-white head, as it leaves a plethora of lace along the inside of the glass. For a Blond Ale, the aroma rocks, as it adds delicate notes of flora hops that balance lightly toasted biscuit and caramel malts. A hint of passion fruit and mango chime in from the yeast esters.
Flavor starts off with some biscuity sweetness from the pale malts that combines with nutty notes along the way. Hops are fairly muted, but distinctively floral and saved for the back of the palate where they add a slight bitterness to the finish. Mouthfeel is solid, with a great carbonation level, medium-thin body, and a smooth (somewhat dry) finish that both refreshes and leaves me wanting another sip. This Blonde Bombshell did her job well; keep up the good work Southern Star!
★
955 characters
3.45
/5
rDev
-7.3%
look: 3.5 | smell: 3.5 | taste: 3 | feel: 3 | overall: 4.5
On tap at the Dig Pub.
A 2 finger white foamy head and a golden yellow color.
Smell: Malty, floral hops, Some type of noble hops.
Taste: Malty, bready, very little bitterness. About the lowest IBU beer I've ever had for this style.
Mouthfeel: good -- although a little more malt or doing a decoction would make this a much better beer.
Drinkability: Excellent. Great for a Texas summer. I expect this will stake out a permanent tap at the Dig and will compete favorably with Firemans #4.
Overall, a very nice beer. I wish it had a little better mouthfeel.
★
563 characters
3.24
/5
rDev
-12.9%
look: 4 | smell: 2.5 | taste: 3.5 | feel: 4 | overall: 3
Reviewed 10/25/2008 (Draft @ Southern Star Brewery, Conroe, TX):
Pours a golden yellow colored amber body, with a frothy white head, good lacing, somewhat diminishing. Somewhat fruity aroma, some pale hoppiness. No very strong. Hoppy dryish taste. Tasty light taste. Creamy-like.
★
280 characters
4.3
/5
rDev
+15.6%
look: 3.5 | smell: 3.5 | taste: 4.5 | feel: 4.5 | overall: 5
A: Pours a cloudy golden/yellow color. A small white head forms with good lace down the glass.
S: A sweet malty aroma. Kind of nondescript but enjoyable.
T: Fruity and sweet malt. Orange and lemon flavors. Not very complex, but it hits the spot. A slight hop twang as the flavor lingers.
M/D: A medium body that is perfectly carbonated for my tastes. Very creamy and smooth to drink. An easy choice for a session beer.
I had this at the Oktoberfest party. This and Real Ale are the two standards for the style IMO. Easy to drink, a good flavor, and not too heavy. Hard to beat on a hot day, or anytime.
★
603 characters
4.2
/5
rDev
+12.9%
look: 4 | smell: 4 | taste: 4 | feel: 4 | overall: 5
Had on tap at the Brewery during its first weeks release.
A - Slightly hazy yellow color with a white head that leaves lacing
S - Has a faint smell slightly sweet malt
T - Follows the scent with light flavors
M - This beer has a light body with medium caarbonation to it
D - This is a session beer all the way generally not a style that gets me excited but I could drink this all day while watching sports worth trying
★
435 characters
Bombshell Blonde from Southern Star Brewing Company
84
out of
100
based on
209
ratings.