Black Crack
| Southern Star Brewing Company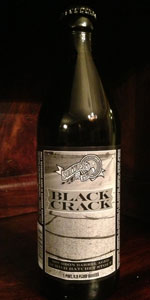 BEER INFO
Brewed by:
Southern Star Brewing Company
Texas
,
United States
southernstarbrewing.com
Style:
American Double / Imperial Stout
Alcohol by volume (ABV):
8.25%
Availability:
Rotating
Notes / Commercial Description:
Aged in Bourbon barrels, this specialty will have all of the rich malt flavor of its' base beer, our Buried Hatchet Stout, complimented by a caramel, woody sweetness and vanilla notes from prolonged contact with American Oak. Dark tobacco, medium char and hints of the original Bourbon make this hard to find release a real treat.
Added by lokieman on 03-13-2013
Reviews: 33 | Ratings: 300
4.29
/5
rDev
+4.6%
look: 4.25 | smell: 4.5 | taste: 4.25 | feel: 4 | overall: 4.25
Lightly chilled 16.9 oz bottle split between 33cl snifters. Picked up a bottle on a lark after seeing a couple arguing over whether or not purchasing six would be excessive- apparently a number of stores have a bottle limit, although the one I was at did not.
Look- Pours a deep, deep brown. Completely opaque in the glass, the pour indicates to me that it's murky, but with something this dark, who cares? Finger and a half of dense toasted marshmallow head that falls fairly quickly to a centimeter or so of loose bubbles that actually persists for a while.
Smell- Full, nutty, maple, vanilla, caramel, strong slightly-burnt biscuit. Not particularly sweet, but still comes across as liqueur-like. Significant bourbon character, but I wouldn't say it's what I would call boozy.
Taste- Follows the aroma, with a stronger milk chocolate feel and a bold oaky tannic character. Fresh brownies, salted caramel, maple syrup, whole vanilla bean, char. Surprisingly non-aggressive roasty flavors. Heavy cream and buttered popcorn in the background, but low-level and seemingly fitting rather than offensive. Again, bourbon influenced but not aggressively so.
Mouthfeel- Medium body, light-medium for the style, although Buried Hatchet isn't a particularly hefty brew and I don't think they tweaked it for this. Light-medium carbonation; the dregs in the bottle make me think this was bottle-conditioned in addition to the aging. I'd have liked a bit more carbonation, but it's a smooth easy drinker nonetheless.
Overall- Never had anything quite like it. It's not mind-blowing, but it's unique, and if it were slightly cheaper and more readily available this would be a go-to beer for me, and I'm not all that enamored with the normal buried hatchet. Definitely Recommended.
1,775 characters
4.05
/5
rDev
-1.2%
look: 4 | smell: 4 | taste: 4.25 | feel: 3.5 | overall: 4
Poured from the 1 pint, 0.9 oz (what a weird size) into a dogfish head signature glass...
A - Very dark brown, little to no head. with a swirl of the beer I can get a very small khaki coloured head that clings to the glass. Very viscous on the pour
S - dark, unsweetened chocolate dominates for me, followed by faint bourbon, buttery, and vanilla notes... interesting combination. Not a typical barrel aged stout at all.
T - bourbon and roasty flavors dominate. Background is some oak and buttery flavours. The dark cholocolate almost disappeared here....
M - undercarbonated. Thin. This is about the only area that needs some improvement. Very viscousy mouthfeel.
O - Very drinkable, but very different barrel aged stout. A very nice effort. Definitely feel like the ABV is higher than the label would leave you to believe. Would like to try aging a bottle, however the one bottle limit (after 1/2 a dozen stores hunting to find it), will not allow me to do this.
I hope they brew more.
994 characters
4.87
/5
rDev
+18.8%
look: 4.5 | smell: 5 | taste: 5 | feel: 4 | overall: 5
A - chocolate brown, very viscous
S - you can definitely smell the boubon when you lift the bottle
T- rich chocolatey malt flavor, with a sweet hint of coconut
M - feels thin and a bit sticky, but overall very pleasant for a stout
A great take on the Bourbon barrel stout. The little hint of sweet really speaks to me as a southerner.
335 characters
3.32
/5
rDev
-19%
look: 3.75 | smell: 3 | taste: 3.25 | feel: 3.75 | overall: 3.5
16.9oz bottle
February '13
Town Hall tulip
A: Pours out brown. Thinner than expected. Nice layer of light tan head. Leaving some sticky lacing bits. Heads sticks around a while.
S: Little buttery. Maybe some diactyl. Pulling away from the barrel aging vanilla and oak I was expecting. Smells like buttered popcorn. Then you get some roast. Maybe some coffee and chocolate. Butterscotch. Upset that unlike the reviews I see below, I have a different result (as did the TX sender of this bottle who also got the butterscotch nose).
T: Nice bitterness on tip of tongue. Getting that buttery flavor again. Butterscotch. Roasted flavor is still there, but the vanilla and chocolate and barrel isn't there at all with the flaws. Dry finish.
M: Full bodied, but not overly thick. Lots of carbonation. Easy to drink.
812 characters

4.54
/5
rDev
+10.7%
look: 4 | smell: 4.25 | taste: 4.75 | feel: 4.75 | overall: 4.5
500ml bottle
Dark brown with a very thin khaki head, Southern Star nailed the color. Roast malts, hot chocolate brownies fresh from the oven, nutty, vanilla, faint bourbon, I could smell this all night. Taste is even better light roast coffee, light caramel, velvety smooth bourbon, and candied pecans. The mouthfeel is very very smooth. This taste like a buried hatchet aged to perfection in bourbon barrels, the barrels complement and add to the base beer in a way that makes this very special. Outstanding job.
514 characters
4.18
/5
rDev
+2%
look: 4 | smell: 4.75 | taste: 4.25 | feel: 2.5 | overall: 4.25
Fresh bottle poured into a Russian River Belgian glass.
Pours dark brown with a khaki head. Light spotted lacing
You can immediately tell this was in the barrel for awhile. Charred oak and vanilla. The malt base is chocolaty and roasty. Excellent.
Taste follows the nose. The barrel character dominates. The malt base is very sweet, with little to no hop presence. Also, it is a little warm with noticeable considering the listed ABV is 8.25%.
Unfortunately, this is very thin for a stout. Carbonation is on the lighter side of medium.
Overall, I enjoyed this beer. The nose is amazing and the bourbon character is top notch. However, I wish it had a thicker body. Also, the regular buried hatchet is listed at 8.25% ABV. It is hard to believe this sat in a barrel for a year and a half and didn't pickup more alcohol. Tastes closer to 10%.
846 characters
4.54
/5
rDev
+10.7%
look: 4.5 | smell: 4.75 | taste: 4.5 | feel: 4.25 | overall: 4.5
Buried Hatchet Stout is a great beer to start. I can only imagine this is why Black Crack is about as elusive as the Sasquatch. This is everything you'd want from a barrel-aged stout. Nice and earthy with a malty and buttery finish. If you can find it, it will rock your face off. It reminds me of the Saint Arnold Bishop's Barrel #1, but better.
346 characters
4.01
/5
rDev
-2.2%
look: 3.75 | smell: 4 | taste: 4 | feel: 4.25 | overall: 4
Bottle
A: Dark brown, similar to regular Buried Hatchet. Wouldn't say it's "black" but very dark and retains about a half inch of mocha head.
S: Bourbon, oak, sweet malts, coffee, roast and toffee
T: Follows the nose nicely. More of the roast coffee with big but not huge bourbon notes. Nice malty sweetness sticks with you through every drink. Nice
M: Creamy milk like texture similar to the regular Buried Hatchet but overall I'd say it's on the thin side for a stout
O: Different from any ba stout I've had before. I love the regular Buried Hatchet and I'm not sure if this is really an improvement on the original but I like it a lot. A little odd at first but after a few sips I was into it. Glad they bottled this...
737 characters
Black Crack from Southern Star Brewing Company
4.1
out of
5
based on
300
ratings.