Red Cockaded Ale
| Southern Star Brewing Company
BA SCORE
83
good
13
Reviews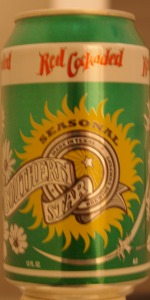 BEER INFO
Brewed by:
Southern Star Brewing Company
Texas
,
United States
southernstarbrewing.com
Style:
American Amber / Red Ale
Alcohol by volume (ABV):
8.50%
Availability:
Spring
Notes / Commercial Description:
No notes at this time.
Added by Pesci on 05-13-2013
Reviews: 13 | Ratings: 101

2.15
/5
rDev
-40.8%
look: 3 | smell: 2.25 | taste: 2 | feel: 2.25 | overall: 2
12 fl oz aluminum can with simplistic label art acquired as part of a four pack at my local HEB Grocery earlier tonight and served into a Spaten stangekrug in me gaff in low altitude Austin, Texas. Reviewed live 09/01/13. Expectations are average; I've never tried a beer from this brewery before, nor have I heard anything about it. Reviewed as an imperial IPA only because it's classified a such on this website; nothing on the label suggests a style.
Served fairly cold – straight from me fridge. Side-poured with standard vigor as no carbonation issues are anticipated.
A: No bubble show forms as I pour.
Pours a five finger wide head of beige-khaki colour. Nice thickness and creaminess. Okay lacing as the head recedes. Head retention is good for the ABV – about 8 minutes.
Body colour is a pretty transparent, translucent dark red-copper. No yeast particles are visible.
Overall, it's generally appealing, but not unique or special. It isn't your usual predictable copper.
Sm: Candi sweetness – a sign of a poor imperial IPA. Noticeable caramalt/caramel presence. Biscuity. Lightly bready. Any hopping is light, floral, and indistinct. A biteen resinous. No real evocative hop notes jump out at me. A poor build for a beer of this style. I'm not looking forward to it. Aroma is below average in strength, and comes off weak and pathetic rather than alive and inviting.
No yeast character or alcohol is detectable.
T: Bready and biscuity, with some resinous pine and a dash of grapefruit. Maybe some rye malt? I do get a slight spiciness. Hoppy notes are accompanied by untamed bitterness, which cuts short the overdone candi and caramalt sweetness that plagues the beer up to that point. I can't decide whether the sweetness or the bitterness is more unpleasant. Terribly built and balanced. I'm not enjoying this one. Poor amplitude.
No yeast character or alcohol comes through. Depth of flavour is shallow; it's a reticent beer. Duration of flavour is average. Intensity of flavour is well below average for the style.
Mf: Smooth and wet. Nice creaminess. Adequate carbonation. Presence on the palate is completely wrong for the style; this is the feel something like a winter warmer or English mild should have, not an IPA. Not oily, gushed, biting, hot, or boozy. It's too full bodied for a beer so lacking in flavour. Overbearing without necessity. Doesn't fit the style at all. Doesn't complement the flavour profile.
Dr: Now I know why I've never heard of this brewery before. Mediocrity in a can. I don't look forward to the other three cans I have, and frankly I'm debating just saving the rest of this one to cook with. It's drinkable, but low quality. If you're in the mood for an IPA/Imperial IPA, this definitely won't scratch the itch. A poor show from Southern Star; they've dropped on my priority list for beers to try whilst living in Texas. Not recommended. I definitely wouldn't buy this again.
D
2,986 characters

3
/5
rDev
-17.4%
look: 3 | smell: 3 | taste: 3 | feel: 3 | overall: 3
This beer is deep red with a generous dose of malted rye and English crystal malts, giving the malt profile a sticky caramel property and substantial earthiness. The beer also has massive late charges of Pacific Northwest hops, as well as being generously dry hopped, making this beer intensely hoppy, displaying citrus, pine and resin in both aroma and flavor.
361 characters
3.16
/5
rDev
-12.9%
look: 3 | smell: 3.25 | taste: 3.25 | feel: 3 | overall: 3
On cask at Hay Merchant in Houston.
A: Pours a dark reddish/brown color. A one finger beige head forms, but recedes in a second to nothing, and leaves no lace. Looks a little flat from the cask.
S: Toasted malts, bread and biscuit. Then late addition hops take over. Grapefruit that is bitter and resinous. The bitterness lingers on forever.
T: Follows the nose. Toasted and caramel malts up front. Again, the late addition hops come in strong and linger on forever. Grapefruit, bitterness, and very resinous.
M/D: A medium body that is low on the carbonation. Even for a cask, this is a bit low for me. Kind of muddled as well. I wish this had a more crisp bite. It took me a while to get through this. Plenty of alcohol, and harsh bitterness.
Not something I care to come back to. Muddled, harsh alcohol, way to much late bitterness for me. Blah.
850 characters

3.24
/5
rDev
-10.7%
look: 4.5 | smell: 3.5 | taste: 3 | feel: 3.25 | overall: 3
12 oz can pours a hazed garnet color with a dense, creamy off-white head. Retention and lacing are both ridiculous...supreme looking brew.
Nose is apple skins, tropical hops, burnt caramel and cotton candy...interesting melange of aromas.
Taste is a smooth jumble of mismatched flavors...you have pears mating with caramel drizzled toast, rye bread mingling with pine resin, grapefruit pith in a menage a trois with matchsticks and toffee. Just all over the place...not a well thought out recipe at all. Not to mention this is an amber/red ale - certainly not a DIPA. Either way, it is just not very good and I will not be buying another 4-pack. Shame on you Southern Star for putting out something as lame as this.
717 characters
3.55
/5
rDev
-2.2%
look: 4 | smell: 4 | taste: 3.25 | feel: 3.5 | overall: 3.5
Pour a very pretty amber-red with small, but nice, creamy head. Very nice aroma with big malt and citrus fruit notes coming through. The body left a little to be desired for me as it did not match the big aroma - rather tame by comparison. Finish has a good amount of hoppy-ness to it, but it takes a second to actually hit. Not bad, but not a favorite.
356 characters

3.77
/5
rDev
+3.9%
look: 4.25 | smell: 4 | taste: 3.5 | feel: 4 | overall: 3.75
Bought a single for a mix sixer at World Market in Round Rock.
Really like the look on this one a lot. Pours a very dark amber with a creamy off white head, Several good size lace streaks on my pint glass. A very pretty beer.
Very interesting scent for a DIPA...a lotta different things going on here. Not your typical citrus hop bomp smell...more of a combo of spicy, sugary-cinammon boozy malt and some dark fruit maybe? Weird. Now that it's warming, starting to get some earthy dank and citrusy hops as well.
Wow...kind of a hop smash to the face on first sip. Pretty decent sweet/spicy malt up front, but hops are a bit harsh on the finsh and linger on for a while. Quite a grapefruit puckering bitterness with this one.
A very resinous mouthfeel...pretty smooth, but doesn't exactly hide the booze. Again, this is a strange beer. Some aspects I really like...others just leave me scratching my head. I suggest you give it a try to make sure I'm not the only one confused by this one.
993 characters

3.78
/5
rDev
+4.1%
look: 4 | smell: 3.5 | taste: 3.75 | feel: 4.5 | overall: 3.75
12oz can poured into a tulip glass
A- pours a deep ruby brown color with a small cream colored head that retains nicely, leaving some lacing behind
S- big doughy and bready malt aroma up front complimented by some spicy & earthy yeast, piney and resinous hop undertones hide beneath the sweet malt
T- big sweet malty notes up front quickly mix with piney & citrus grapefruit hops, earthy and floral mid-palate, the finish gives more sweet malt with a woodsy cedar flavor on the linger
M- medium body and carbonation leads to a creamy chewy mouthfeel that continues to the finish
O- quite sweet up front but some nice hoppy notes poking through, high drinkability at 8.5%
679 characters
3.79
/5
rDev
+4.4%
look: 3.75 | smell: 4 | taste: 3.75 | feel: 3.5 | overall: 3.75
Appearance- red amber with slowly rising carbonation, beige head that foams up quite a bit but then craters back
Smell - floral hoppiness with a bit of citrus zing, notes of herbal and grassiness give a nice milder middle and a bit of darker ripe fruits at the end
Taste- sweeter malt breadiness on the front with an earthy middle and hop kick to finish, a light tang from the hops is noticed if you look for it
Mouthfeel- lighter than expected but still silky and medium bodied none the less
Overall- a seasonal that isn't afraid to put on flavor and a bit of heaviness
574 characters
3.81
/5
rDev
+5%
look: 4.75 | smell: 3.75 | taste: 3.75 | feel: 3.25 | overall: 4
This is a very nice imperial red ale-not a style that I've heard of but I like it. It has a beautiful deep amber color and a slightly piney/hoppy fragrance and taste. It has enough malt to balance a moderate amount of hops for balance. Very drinkable on a cool day.
265 characters
3.9
/5
rDev
+7.4%
look: 4.5 | smell: 3.75 | taste: 3.75 | feel: 4.75 | overall: 3.75
on tap at Harvey Washbanger's in College Station, TX
(drank Feb. 16, 2015)
L: clear amber, big thick tan head, lots of lacing and stick ... definitely a red ale. very pretty
S: pine and grapefruit ... gets real sweet but keeps a lot of pine and tart citrus notes; only a bit of the caramel/mango sweet, but the malt here is showing up
T: sweet pine tree ... might have a hint of mango ... bitter. big bitter, but the big sweet notes are playing back and forth nicely; definitely some citrus notes (not mango/tropical fruit), and the pine is for real. a bit sweeter than I'd like but very good
F: solid all around; great carbonation
O: good pine notes and near-perfect mouthfeel; there's no alcohol in the taste but it has a warming effect for sure; it's good enough that I'll seek it out again.
806 characters

3.93
/5
rDev
+8.3%
look: 4.25 | smell: 3.75 | taste: 4 | feel: 3.75 | overall: 4
A pint at Black Star Coop on 7/12/13.
Dark copper/reddish with plenty of head and lace. Cloudy. Malty, spice aroma with a resinous pine presence. Medium-heavy body. Bready with a bit of spiciness. Maltier than most DIPAs. Medium to medium-heavy body. Some alcohol noticeable as it became warm. Medium-low carbonation.
318 characters
4.09
/5
rDev
+12.7%
look: 4.5 | smell: 4.25 | taste: 4 | feel: 4 | overall: 4
Pours a cloudy red amber color with a thick foamy head. Retention is decent. Lacing is great. Has a nice caramel happy aroma. Smooth caramel bready aroma with a nice happy edge at the end. A little bit of a medicinal vitamin taste at the end as well. Somewhat astringent. Medium bodied with moderate carbonation. Actually a surprisingly good beer.
355 characters

4.15
/5
rDev
+14.3%
look: 3.5 | smell: 4 | taste: 4.5 | feel: 3.75 | overall: 4
If I am the creator and founder of The CANQuest (TM), then the mighty JenRay is the high priestess! I have had many sustained trades and traders over the years, but she tops the list. A fellow hophead, she sends me CANs from seemingly out of nowhere, mostly from Texas and I bow in deference to her prowess.
Nothing held me back from initiating an inverted Glug following the much-anticipated Crack! an so began my Saturday. The pseudo-cascade was pretty to watch, settling into a dense, two-finger cap of rocky, tawny head with good retention. Nose smelled of tea. Texas tea? No, hop tea! If you have never tried it, you should, It is more relaxing and soothing than those herbal teas that are commercially available. Grass, mint, black pepper, caramel, all present and accounted for. Color was an oh-so-slightly-hazy deep-copper (SRM = > 17, < 22). The heavy lacing that began to form was going to need a jackhammer to remove. I know that we are CANstantly advised not to age AIPAs and DIPAs, but this did not suffer from same. Man, the hops were muted, but still busting the IBU meter after all of this time! I CAN only imagine how intense it must have been while fresh. Possibly undrinkable because even now, my taste buds were left smoking in its wake. Yes, the caramel maltiness was more prevalent than it should have been, but the hops were taking no prisoners. Halfway into it, I was panting for breath. The finish was as dry as the zephyr winds blowing across the Sahara desert. I was curled into a fetal ball, sucking my thumb and crying out for my mommy! This from a self-avowed hophead, no less. "No mas!" I cried out, but the CANferee was nowhere to be found. I CANtinued onward, the assault raining down on my weary tongue like German bullets at Normandy. Sgt. Saunder crawled over to me and got me under cover as we regrouped with Caje and Littlejohn. I was saved! Hallelujah! Praise the lord and pass the hops.
1,933 characters
Red Cockaded Ale from Southern Star Brewing Company
3.63
out of
5
based on
101
ratings.