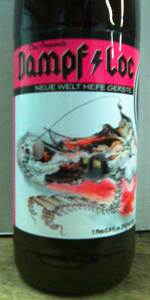 BEER INFO
Brewed by:
Local Option
Illinois
,
United States
localoptionbier.com
Style:
California Common / Steam Beer
Alcohol by volume (ABV):
5.30%
Availability:
Rotating
Notes / Commercial Description:
Dampf Loc is an all-barley warm fermented ale brewed by the folks from Chicago's Local Option; inspired by "Dampfbier" (literally "steam beer") originally crafted by medieval peasant inhabitants of southeast Bavaria. During the fermentation process generous amounts of foam and surface bubbles burst in the tank, giving the illusion that the ferment is boiling or "steaming." Tony Russomanno and Noah Hopkins took it upon themselves to brew Dampf Loc as a modern interpretation of its Teutonic predecessor, creating a "Hefe Gerste" ale that is true to its roots; unmistakable in character yet accessible to beer drinkers of all palates.
Dampf Loc has a mild hop profile, medium body with pleasant effervescence and a clear, rich, orange hue. Dampf Loc is ideal for warm months, yet enjoyable year round.
Added by TMoney2591 on 11-24-2011
Reviews: 40 | Ratings: 166

3.92
/5
rDev
+4.3%
look: 4 | smell: 3.75 | taste: 4 | feel: 3.75 | overall: 4
500ml bottle poured into a dimpled stein.
Look - Cloudy, slightly burnt orange in color.. Cream colored head that settles into lasting lacing.
Smell - Toffee, sweet grass, wet biscuit.
Taste - All malt. Sweet wet breat.
Feel - Lots of carbonation. Takes away any flavors that might linger on the tongue.
Overall - A steady beer made for easy drinking. Glad I tried it.
★
369 characters
3.93
/5
rDev
+4.5%
look: 3.75 | smell: 3.75 | taste: 4 | feel: 4 | overall: 4
Poured from a 16.9oz bottle into a US tumbler pint glass.
A: The beer is a light golden brown color, with a short off-white head that fades slowly and leaves a thin lace on the glass.
S: The aroma contains lager yeast, caramelized malts, some citrus and some hops.
T: The taste starts out bready with flavors of lager yeast and a hearty malt character followed by mildly sweet flavors of caramel and citrus. The hops presence is very mild but brings a good balance. The after-taste is slightly bready.
M: Crisp and smooth, medium body, medium carbonation, finish is clean.
O: Tasty, goes down easily, not too filling, mild kick, good representation of style, this is a solid lager to drink for a long time.
★
711 characters

3.94
/5
rDev
+4.8%
look: 3.5 | smell: 3.75 | taste: 4 | feel: 3.75 | overall: 4.25
Pours a deep amber; cloudy, seething with floating bits of... Stuff. Unfiltered, and enticing. Nice 2-3 finger head that deflates quickly, but leaves a sludgy film atop the brew.
Aromas of cracker, malts, and, well something quintessentially beer.
The flavor is where it comes through. Like a cross between an American wheat, helles, and marzen. Semi sweet, with lots of malt character driving the forward profile. Biscuit, cracker, bread, and the good balance it nicely. Really, there is nothing world shaking or new here, no assault on the pallet. Just something that comes across as an accurate articulation of a medium to medium light brew.
Very smooth, creamy, buttery, and with some tooth to give it backbone.
A nice beer.
★
734 characters
3.96
/5
rDev
+5.3%
look: 4.25 | smell: 3.75 | taste: 4 | feel: 4 | overall: 4
Poured on tap at Pizza Paradiso Dupont into a mug.
A crystal clear body, golden dark copper brown and red. Some fast rising carbonation with a fain tan off white head presented.
Nose is a little bit subdued, mild toasty crisp hints of caramel with a mild sweetness.
Toasty crisp action hits on the palate, with a large chunk of fruit esters. Caramel hinting action is subdued but carries through a little bit still maintaining some good density. Toasty sense of brown spices as well comes out which compliments nicely.
Easy drinking, and very thirst quenching. Good to know there are other Dampfbiers out there worth drinking.
★
631 characters
3.96
/5
rDev
+5.3%
look: 4.5 | smell: 3.5 | taste: 4 | feel: 4.5 | overall: 4
Pours clear dark copper with a big, long-lasting fluffy marshmallow head that leaves a coating of lace on the pint glass.
The aroma is caramel with a light hop presence and a background of spice.
Caramel malt with some wheat bread. Overall, crisp, well balanced with a long subtle finish.
Full body with a creamy texture and soft carbonation. Residual sugar is left on the lips. Overall, dry with no presence of alcohol.
This is a good drinking beer, perhaps sessionable.
★
476 characters

3.99
/5
rDev
+6.1%
look: 3.75 | smell: 4 | taste: 4 | feel: 4 | overall: 4
Poured into a Dogfish Head pint glass. Pours a medium coppery amber with a half finger white head with excellent persistence and light lacing. Aroma of sweet caramel malt, nuts, mildly sweet lactic; I don't know why but this is reminiscent of a mild milk stout. Flavor is similar to aroma with sweet caramel malt, nuts, mild grassy hops, finishes more attenuated with less malt with light nuttiness and faint hops. Nice medium body with some creaminess. A quite nice take on the California common style, a bit sweeter and nuttier, which is nice for a change. The initial flavors are reminiscent of a very light brown ale. Quite quaffable and interesting. If this is faithful to the Dampfbier style, I'm surprised they are no longer around. I enjoyed this one; could be my favorite of this style so far.
★
802 characters

3.99
/5
rDev
+6.1%
look: 4.25 | smell: 4 | taste: 4 | feel: 3.75 | overall: 4
Light amber, doesn't seem to look the way I imagine steam beers looking—but that's based on the local, trademarked steam beer out here.
The aroma has a bready crispness to it. Some light grassy notes compete with the fresh bread.
The flavor has a surprising bitterness. Again, something which I hadn't expected but it is definitely welcome. This was a welcome surprise and one which has me rethinking my expectations of the style.
★
439 characters

4.06
/5
rDev
+8%
look: 5 | smell: 4 | taste: 4 | feel: 4 | overall: 4
Wow this beer looks great. I don't think I have see head on a beer from the US with this much retention and "fluff". Definately smells earthy and breadlike. The taste is english malty, but with just enough hops to make it slightly more hop forward. Like an ESB with an extra kick of hops. The hops are more bitter grassy. I'm not getting much citrus. Very good beer for sure. My only gripe is the price. If the local option was within the same price as, say a distant overseas option, then I'd go with this everytime.
★
517 characters

4.12
/5
rDev
+9.6%
look: 4.25 | smell: 4 | taste: 4.25 | feel: 4 | overall: 4
Enjoyed from the bottle in a snifter. This FINE steam lager pours a lightly hazy deep amber with a beautiful head of white foam that dissipates to a thin layer and thick ring with some stupendous lacing. A very clean nose of light caramel malts, honey suckle, light bittering hops, and moderate grain notes. Flavors surpass with a sweet honey caramel flavor that has some medium bitterness to cut through the sweetness with a light grain and sweet note on the back of the taste and a crisp finish. Begs for a plate of spicy food. Great mouth feel with moderately high carbonation finishes wet, clean, and refreshing.
Cheers
★
629 characters
4.15
/5
rDev
+10.4%
look: 4 | smell: 4 | taste: 4.25 | feel: 4 | overall: 4.25
we need more beer like this on the market, what a brilliant offering. copper in color, great active white head and rejuvenation ability. nose that's balanced with pale English and American malt, and west coast hops. minerally, clean, almost like a lager. the taste is fresh grains up front and balancing European style hopping on the back end. its more robust than any steam beer I have had before, more flavorful and interesting. grassy notes throughout, as well as a toasted nutty complex in the middle. still its quite light and easy drinking. medium body, very active carbonation, and crispness to the finish that maximizes refreshment. it really pepped me up this beer, impressed me. for a beer style that has been either forgotten or misinterpreted, this was really a breath of fresh air. id love to get this bottled out here in Colorado.
★
844 characters
4.21
/5
rDev
+12%
look: 4 | smell: 4.25 | taste: 4.25 | feel: 4 | overall: 4.25
L: Pours hazy gold to amber under a 1" bone white cap with very fine bubbles. Produces light lace.
S: Overripe fruit aromas very faint banana, traces of caramel and berry.
T: Has a light caramel flavor with most of the sweetness fermented out backed by berry with a mild hop accent.
F: Very creamy with a medium body and fermentation.
O: They have fermented this at the higher end of the range to pull out more funky fruit flavors in a beer with moderate alcohol levels.
★
476 characters
4.24
/5
rDev
+12.8%
look: 4 | smell: 4.25 | taste: 4.25 | feel: 4.25 | overall: 4.25
This beer pours a pale copper color with a medium sized head. The aroma of fresh baked whole grain bread hits me first, followed by some peppery spice, as well as earthy and floral tones. The doughy malt and peppery spice are the star of the flavor, giving a wonderfully dry impression. The floral notes also come through on the aftertaste. The mouthfeel is full and fizzy. Overall this is a very enjoyable beer, balanced and full on pleasing flavors.
★
451 characters

4.3
/5
rDev
+14.4%
look: 4 | smell: 4 | taste: 4.5 | feel: 4 | overall: 4.5
On tap at Mission Dolores; served in a tulip glass. It pours a dark tan with a low head, not much lacing. The smell is vegetal and malty, with some notes of stone fruit going a little sour. The taste is very nice, lots of mellow malt with a twinge of bitterness, a faint tang in the background. It's a little thick, highly carbonated. I could drink quite a bit of this in a sitting, if it were a little less alcoholic. A fine beer.
★
431 characters
4.33
/5
rDev
+15.2%
look: 4 | smell: 3.5 | taste: 5 | feel: 4.5 | overall: 4
This is a Dampfbier, but not a california common, 2 waaay different styles. I've had this one on tap a few times and it is great. Got a bottle of it.
500ml bottle.
It pours slightly hazy amberish brown with a large, foamy, slightly off-white head that dissipates with nice lacing. Not as much yeast in the bottle as it could have but it is still decently cloudy.
The smell is great. Slightly tart, slightly toasty, nice lemon and fresh bread scents. Lacks a bit of yeast complexity but that is all.
The flavor is again slightly tart and super bready. There is a light toastiness and a bit of hops but not too much.
A great beer, I have actually had German Dampfbiers and this one pays tribute to the style pretty well.
★
724 characters
4.93
/5
rDev
+31.1%
look: 4.75 | smell: 4.75 | taste: 5 | feel: 5 | overall: 5
Served into a standard pint glass at Green Street Smoked Meats in Chicago.
Pours with rich head, very light copper tones, ever so slightly hazy. Superb head retention. Rich fresh barley on the nose, hints of spice from hops, nutty, slightly grassy, toast notes. Medium bodied, playful and slight malt sweetness.
Have not tried too many Dampfbiers but this was an incredibly balanced, drinkable ale with tons of rich grain quality. Very glad to have had the opportunity to try this one.
★
487 characters
Dampf Loc from Local Option
3.76
out of
5
based on
166
ratings.