Embrasse Special Edition
| Brouwerij De Dochter van de Korenaar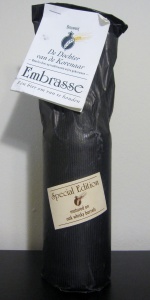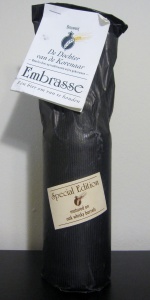 BEER INFO
Brewed by:
Brouwerij De Dochter van de Korenaar
Belgium
Style:
Belgian Strong Dark Ale
Alcohol by volume (ABV):
9.50%
Availability:
Limited (brewed once)
Notes / Commercial Description:
No notes at this time.
Added by crossovert on 03-15-2011
This beer is retired; no longer brewed.
HISTOGRAM
Ratings: 11 | Reviews: 8
Reviews by BelgianBeerPope:

More User Reviews:
4.18
/5
rDev
+0.5%
look: 4.5 | smell: 4 | taste: 4 | feel: 4.5 | overall: 4.5
A - A deep hazy red beer with a off white/beige head of enormous proportions. The beer looks amazingly inviting.
S - A sweet malty scent and some booze, certainly inviting.
T - A light sweet malty mixed with chocolate and some whiskey tones. Like a stout.
M - A soft carbonation what is pretty amazing considering the enormous head. The finish is bitter as it should.
O - Better then I expected, is this a Belgium beer? Actually it is brewed in Baarle Hertog, I would say it is more Dutch therefore ;)
Worth buying and trying.
530 characters
4.2
/5
rDev
+1%
look: 5 | smell: 4.25 | taste: 4.25 | feel: 3.75 | overall: 4
"Special Edition matured on oak whisky barrels"
Poured into a tulip. Bottle #12277 - bottled August 2010
Sampled 25JAN13
[A] After uncapping, foam rises slowly through the neck and over the rim. On the pour, two fingers of foamy light brown head amasses. The creamy textured head coats the glass in a complete sheet as it slowly fades into a thick everlasting film. The body is nearly black, yet dark auburn edges appear when backlit.
[S] Subtle oak and whiskey above a thorough malt base featuring toasted bready grains, caramel and dark candi sugars. Rich raisin complimented by a dose of earthy spice.
[T] Malty sweet with dark fruit flavors throughout, mainly prune, with a light tanginess on the finish. Dry woodsy oaky character adds more depth and marries the delicate whiskey flavors to the sweeter base.
[M] Semi full body. Carbonation is medium low for the style. Sweetness lingers throughout, alcohol is smooth and integrated.
[O] Great beer - and a better showing now than it was when it was recently bottled. I don't say this much, but this one aged well.
The folded description card stapled to the paper bottle wrap reads "Try tasting 'Embrasse' hot, maybe with a dash of whipped cream." Well...that doesn't exactly sound like a very good suggestion. I can't imagine that adding cream to a hot beer would ever be a good idea.
1,345 characters

4.2
/5
rDev
+1%
look: 4 | smell: 4 | taste: 4.5 | feel: 4 | overall: 4
Picked this up at my favorite beer store in Belgium, Dranken Geers. Bottle Nr. 16113, Apr 2011. Dark mahogany pour with two finger creamy caramel colored head with good retention and great lacing. The smell on this one is all malt with a sweet, roasty nose with hints of dark fruit, oak, caramel, vanilla, and just a touch of whiskey. The taste is totally dominated by the wood. It's pretty complex with hints of dark fruit, cocoa, vanilla, caramel, tobacco, maple syrup, and just a touch of whiskey and black cherries, but the wood is still the star. And it only gets better as it warms. The mouthfeel is creamy initially, and slightly syrupy and nicely bitter on the finish. I would have liked to see the whiskey emerge a bit more, but that's about all I can find to criticize with this beer. It's unique and complex. Would love to cellar this and see what happens. We're headed to the brewery tomorrow for a tour. Can't wait to hear more about this up and coming brewery.
974 characters
4.57
/5
rDev
+9.9%
look: 4 | smell: 4.5 | taste: 5 | feel: 4.5 | overall: 4
It comes in a pinstriped black paper covering with a little pamphlet and a sticker that reads "Special Edition - Matured on Oak Whiskey Barrels."
It pours a deep reddish brown/mahogany with a large, foamy tan head that leaves some nice lacing as it recedes.
It definitely smells like it was aged on cognac as well as whiskey and there are other things at work such as the yeast here. The oak scent is beautiful. It smells like a shed full of fresh cut oak. I mean it smells woodsy and I love it. The bourbon lends some alcoholic kick, caramel and vanilla. It has loads of dark fruit scents like port, cognac, wine grapes, cognac, raisins, and even a tart cherry scent. There is also some spicy yeast, a hint of cocoa, and some bready malt scents. The scent of the oak is the big smell here though, and i love it.
The flavor is huge. It is much different than standard Embrasse. It is much, much fruiter. The regular reminded me a lot of a stout and this one is like a Belgain strong dark ale on American steroids. The roastines is still here though and that was a welcome addition to all of the elements revealed int eh smell. This version is much more tart than the original. It has tart cherries, grapes, and currants. The barrel flavor is also in full force with that woodsy flavor, some vanilla, and some alcoholic notes and sweetness from the spirits. A lingering bitteness, oxidized frutis, and some wine flavors linger in the aftertaste.
I think I liked the original slightly better. If Russian River released this people would be going apeshit over it, cheers to Ronald for making these beers amazing despite little recognition.
1,641 characters

4.38
/5
rDev
+5.3%
look: 4.5 | smell: 4 | taste: 4.5 | feel: 4.5 | overall: 4.5
This beer has been in my cellar for a year. Picked some bottles up at the Essen Kerstbier festival in 2010, but this is the first bottle I have popped. Bottle 10442, dated August 2010.
Deep mahogany brown with a thick half inch tan head that dissipates quickly to a cap and ring. There is a small amount of lacing.
Smells of roasted malt, pruny dark fruit, and dark honey, but is a little subdued.
The taste is huge (given the subdued nose) with sweet dark malt and whiskey, both in a real nice balance. I get some plums and some maple syrup, musty wood and vanilla notes. Ends with a slight dry bitterness.
Body is moderately thick with a sticky malty sweetness, but it is not two sweet. Carbonation is light but just enough to give this a mousse-like creaminess. Very smooth.
This is like a liquid plum bread pudding with a whiskey sauce, and it is just boozy enough for the season. For me, this is a spot on holiday ale and really delicious. Still maybe a touch hot, this will cellar well for a couple more years, although with the residual sugars, it might get too sweet if cellared too long.
1,106 characters
3.97
/5
rDev
-4.6%
look: 3.5 | smell: 4 | taste: 4 | feel: 4 | overall: 4
Pale amber and lacy beige head.
Sugar plum and chocolate bark with vanilla pods on the nose - no booze and no wood from the barrel aging, but still nice.
Toffee, Polish plum cookies, Werther's original and panna cotta with a spicy ending.
Sarsaparilla finish and tingly linger. Medium, sticky, smooth.
Thanks to John for sharing.
Paler, sweeter, smoother and not as hot as regular Embrasse. Nice and wintry with lots of dessert flavors. But where's the whiskey?
464 characters

4.02
/5
rDev
-3.4%
look: 3.5 | smell: 4 | taste: 4 | feel: 4.5 | overall: 4
Nr. 10357 AUG 2010
Bottle wrapped in black/dark blue paper with, "Special Edition – matured on oak whisky barrels" The spelling of "whisky" implies scotch barrels. This is the non-peated oak (the peated oak is wrapped with red paper.) A paper tag with beer info has a this beer at 9% ABV
Pours a murky not so pretty brownish/red. A healthy 2 finger tan head crowns the brew. Smells of deep malts, booze, and overly ripe dark fruits comprise the nose. Frist sip is creamy smooth with ripe fruits – figs, plums, and raisins mixing with what appears to be a ton of malts. The oak flavor starts hidden than appears in the semi-sweet finish, but overall it is fairly subdued. The mouthfeel and the malts is what truly stands out here. Well worth seeking out.
767 characters

4.2
/5
rDev
+1%
look: 4 | smell: 4 | taste: 4.5 | feel: 4 | overall: 4
This is is similar to the regular version but I think I found this one to be a little better. This beer poured out as a murky amber color with a thin head of cream color fizz. The smell of the beer has a big amount of whiskey and dark fruits. The taste of the beer is semi-sweet up front with flavors of whiskey, spice and some fruits in there. The mouthfeel of this beer was on the thicker side and leaves a healthy warming feeling in the chest. Overall I liked this brew a lot. I would drink it again if the price was right.
526 characters
Embrasse Special Edition from Brouwerij De Dochter van de Korenaar
Beer rating:
4.16
out of
5
with
11
ratings