Embrasse Peated Oak Aged
| Brouwerij De Dochter van de Korenaar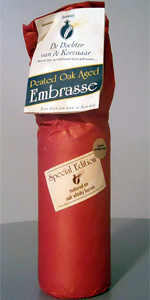 BEER INFO
Brewed by:
Brouwerij De Dochter van de Korenaar
Belgium
Style:
Belgian Strong Dark Ale
Alcohol by volume (ABV):
10.00%
Availability:
Limited (brewed once)
Notes / Commercial Description:
No notes at this time.
Added by crnipeter on 10-30-2011
This beer is retired; no longer brewed.
Reviews: 35 | Ratings: 82
5
/5
rDev
+21.7%
look: 5 | smell: 5 | taste: 5 | feel: 5 | overall: 5
I tried this beer at ZBF 2012, it was the winner of the 2011 edition. Turns out this is the last year of this brew, as they will no longer be able to get the oak barrels used for it. It seems that their supplier were sold to another company. I bought 4 of them with me. It is soo good, goes down smooth. I certainly recommend it to everyone.
341 characters
3.99
/5
rDev
-2.9%
look: 3.5 | smell: 4.5 | taste: 4 | feel: 3 | overall: 4
We went down to Geers in Gent a while back and our mate Joey gave me this to say thanks for doing absolutely nothing for him. Very generous of you Joey! Next time I will do even less...
After I took the paper off, the label was upside-down. I thought of it as an error like in those old Pro-Set cards.
From a bomber into a snifter
APPEARANCE: Pours a 1+ finger, medium looking, light tan head with good retention. Bistre brown with burgundy hues and lower levels of carbonation. Head fades to a wisp and ring, but only a splotchy wisp remains until the end leaving dots of lacing down the glass. Solid looking beer.
SMELL: Caramel malts, dark fruits, raisins mostly, with some spicy Belgian yeast qualities. The oak barrel is definitely there, with woody vanilla flavors playing a nice roll. Light touches of earthy peat aroma as well, but that remains more in the background. Quite complex and appealing.
TASTE: The peat definitely comes out more in the flavor than in the nose, but it's still well measured. Caramel and raisins with some nice oak and vanilla notes up front, then loads of spicy Belgian yeast through the middle into a bold and somewhat boozy finish. Big and persistent aftertaste of alcohol, spice, and some mild smoky peat flavors. A nice touch of caramel sweetness offers a degree of balance as well. Big, bold and complex flavors, with a well integrated peat and oak quality, though perhaps a touch too boozy for the ABV.
PALATE: Medium body and slightly higher levels of carbonation. Semi-creamy on the palate, goes down fine with a bit of a burn at the swallow and finishes slightly sticky. Some heat lingers. Fine, but a little too hot at this time.
OVERALL: This is a solid beer from an up and coming brewery in this area, but it's still a little hot to be truly enjoyable. With some time to mellow out, this could be absolutely outstanding. Look forward to trying more of their stuff in the future. Thanks for this totally unnecessary gift Joey. Appreciated!
2,000 characters

4.28
/5
rDev
+4.1%
look: 4.5 | smell: 4 | taste: 4.5 | feel: 4.5 | overall: 4
A: Brilliant cherry red ale with a beautiful head.
S: Sweet, slightly sour, silt and peat smell.
T: Silt, peat, hops and slightly bitter taste.
M: Good ratio, light foam feel.
O: Very good taste show where the Connemara whisky is easily recognizable.
254 characters
4
/5
rDev
-2.7%
look: 4 | smell: 4 | taste: 4 | feel: 4 | overall: 4
Served from tap into a Trappe Door tulip Poured a murky reddish brown with a one finger khaki colored head that subsided to a half finger very slowly. Maintained nice lacing throughout the glass. The aroma was comprised of sweet malt, dark fruit, bread, banana, wood, and smoke. The flavor was of sweet malt, dark fruit, dark chocolate, wood, sweet alcohol, banana, bread, and smoke. It had a heavy feel on the palate with medium carbonation. Overall this was a good brew. There were quite a lot of things going on in this one if I am honest. The smokiness on this one really a nice touch on this one to bring out a lot of various aspects. The flavor and aroma was spot-on for the style, but it also incorporated just that little bit of extra that really made me appreciate this one. An absolute must try if you get the opportunity.
832 characters

4.07
/5
rDev
-1%
look: 4 | smell: 4.5 | taste: 4 | feel: 3.5 | overall: 4
On-Tap at Max's Belgian Beer Fest
Deep brown pour with a nice light brown head. Very nice lacing is left by whatever head sticks around. The smell is so interesting. Basically smells like a slow roasted meal. Meat, roast, charred malts. Reminds me of my cottage. Man this tastes a lot like a rauchbier. Bacon, a ton of roast, per, oak, booze. Can't tell what beer lays underneath the peat. It's crazy how many flavors come through. Heavy body, decently carbonated. A little too roasty which hurts the drinkability. This was unique. Glad I tried it, would skip again though.
574 characters

4.62
/5
rDev
+12.4%
look: 4.5 | smell: 5 | taste: 4.5 | feel: 4.5 | overall: 4.5
660ml bottle 10,0% Abv.
Served lightly chilled in an over sized wine glass.
Bottle Number: 1597
Bottled on Date: 27 June 2011 - good for 5 years
I absolutely adore peated whiskey and BSDA are one of my favorite styles of beer, therefore in theory this one should be delicious - I hope I am right.
Appearance: The beer looks dark brown in the glass, however a back light reveals it to in fact be a shade of deep crimson with glowing amber edges. A rough pour yields a large cream coloured head that displays good retention and even coats the glass in sheets of thick lace as it slowly recedes.
Smell: Wow, this smells divine! The initial nose is comprised almost entirely of peat with notes of campfire smoke, salty sea spray, earthy black soil, salt cured fish and hints of moss and iodine. After a little while the base BSDA character begins to emerge from behind the peaty whiskey with notes of chocolate, figs, plums, prunes, dark raisins, sweet dark cherries, dark caramel, pecan nuts and a light dusting of spices (nutmeg and cinnamon). As the beer approaches room temperature, the spiced dark fruit character increases and some oak barrel character is noted.
Taste: As in the nose, the initial sip is almost entirely peat with distinct campfire (light ashy character), sea spray, damp earth and a hint iodine all noted. The base BSDA character does not develop as fully as in the nose, however is still easily noted underneath the layers of smokey peat. Dark chocolate, figs, plums, prunes, dark raisins, nuts and nutmeg are all noted. As the beer warms a hint of the 10% is noted, however over the alcohol coverage is superb. The finish is lingering, displays a whiskey-like dryness and has a distinct ashy quality.
Mouthfeel: Medium-full bodied, with a moderate level of soft carbonation - bang on for the style in my opinion.
Overall: This peated, oak aged version of Embrasse is absolutely stunning - the combination of smokey peat and sweet, spiced dark fruits is a masterpiece. Highly recommended for any lover of all things peaty! I am certainly going to have to get a few more bottles of this!
2,120 characters
4.17
/5
rDev
+1.5%
look: 4 | smell: 4.5 | taste: 4 | feel: 4.5 | overall: 4
At Max's. Peat smoked and oak aged. I can't, legally, pass that up.
A: The strong ale is dark, a deep brown color ratcheted up by the deep depths of Max's.
S: Peat smoke and plenty of it. The strong ale has the aromas of sea salt and boggy fens deep in its very soul. The Belgian body, thick, manages to peak out occasionally. The oak barrel aging, evident with woodiness, doesn't have the same oomph due to the peat.
T: More peat, the smoke permeating the ale. This isn't a Bamberger richness; the peat subtler with plenty of sea salt adding depth. The oak barrel adds wooden strength without the sweetness that normally accompanies oak. The flavor, the whisky body, is nearly on par with JW Lee's Lagavulin. Spices, the provenance of Belgian beer, hang around under the surface with thick quad-like flavors of brown sugar and dark malts. Very intriguing and one of the best offerings.
M: You need to like whisky in order to appreciate the intense flavors, the smoke and the salt, the barrel and the quad. Impressive all the way around.
1,041 characters
4.55
/5
rDev
+10.7%
look: 4 | smell: 4 | taste: 5 | feel: 4.5 | overall: 4.5
On tap at Max's during their Belgian fest...
The beer pours a reddish brown color with pretty good head retention and decent lacing. The nose on this beer is rich and sweet, showcasing brown sugar, chocolate and a hint of smoke. On the palate, this stuff is delicious! There is considerable brown sugar and chocolate, but there's also a boatload of underlying peat and smoke, some noticeable whiskey flavor and even a hint of sour on the finish. Mouthfeel is fairly full, with a long, sweet, smoke filled finish. The smoke tends to balance the sweetness in this beer, which enhances its drinkability I thought. The beer is a bit on the boozy side, but not overly so, and is pretty much perfect for the style I thought.
Just an all around excellent beer and easily one of the best "smoke" beers I've ever tasted. Good stuff!
826 characters

4.63
/5
rDev
+12.7%
look: 5 | smell: 4.5 | taste: 4.5 | feel: 4.5 | overall: 5
found this at josephs beverage center in toledo. props jo.
brown with amber highlights. light brown head. good retention fair lacing. slight haze.
yeasty phenols. strong peat aroma. very malty. no hop aroma.
very malty. very peaty. very rich. subtle hop bitterness in finish. tastes alot like scotch but with alot more body.
warming. rich. viscous. good carbonation.
deliciuos. strong. peaty. a winter warmer? character might be improved with some aging.
459 characters
4.62
/5
rDev
+12.4%
look: 4.5 | smell: 5 | taste: 4.5 | feel: 4.5 | overall: 4.5
A prestigiously looking red paper-wrapped bottle of Embrasse matured on oak barrels used to contain whiskey.
Pours hazed reddish dark brown body overlayered by dense tan head with good retention and stickage. This is an excellent example of aging on peated whiskey casks: aroma of dried cherries and raisins interplays with that of a chocolaty-bredy malt and you are blown away by wisely judged amount of strongly peated whisky. The flavor correspond to the nose and although the soft carobonated body is creamy, finish remains dry. Simmilar and distinguished from its older brother (Embbrasse) by strong peat notes.
616 characters
Embrasse Peated Oak Aged from Brouwerij De Dochter van de Korenaar
4.11
out of
5
based on
82
ratings.