Otro Mundo Golden Ale
| Otro Mundo Brewing Company
BA SCORE
75
okay
15
Reviews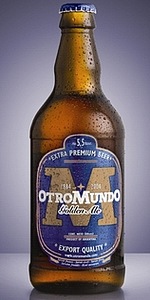 BEER INFO
Brewed by:
Otro Mundo Brewing Company
Argentina
otromundo.com
Style:
English Pale Ale
Alcohol by volume (ABV):
5.50%
Availability:
Year-round
Notes / Commercial Description:
No notes at this time.
Added by Jason on 01-28-2008
Reviews: 15 | Ratings: 22
3.41
/5
rDev
+16.4%
look: 3.25 | smell: 3.5 | taste: 3.5 | feel: 3.25 | overall: 3.25
A: The beer is clear golden yellow in color and has a moderate amount of visible carbonation. It poured with a finger high dense off white head that died down, leaving a thin layer of bubbles covering the surface and a thick collar around the edge of the glass.
S: Moderate aromas of buttery malts are present in the nose along with some hints of fruity yeast.
T: The taste is similar to the smell but a little more complex with flavors of buttery malts, notes of fruity yeast, and hints of caramel malts. Slight bits of sweetness are also present.
M: It feels light- to medium-bodied on the palate and has a moderate amount of carbonation.
O: I was pleasantly surprised by this beer because it was very true to the style (tasting like it came from England instead of Argentina) and was also very easy to drink. It just seemed like it could have used a little more bitterness to balance off some of the sweetness.
913 characters
2.88
/5
rDev
-1.7%
look: 3.5 | smell: 3 | taste: 3 | feel: 2.5 | overall: 2.5
Poured from a 16.9oz bottle into a US tumbler pint glass.
A: The beer is a deep gold color, with a short white head that fades very quickly and leaves very little lace on the glass.
S: The aroma is of light caramelized malts, honey and a little bit of hops.
T: The taste starts out sweet with flavors of caramel and honey that are followed by a bready but light malt character. Although the hops presence is mild, there doesn't seem to be much balance. The after-taste is slightly sweet.
M: Crisp not very smooth, light-to-medium body, medium-to-high carbonation, finish is slightly sticky.
D: Not very flavorful, goes down ok, not too filling, mild kick, not the best representation of style, there are definitely several other "golden ales" that I would choose over this one.
782 characters
3.53
/5
rDev
+20.5%
look: 4 | smell: 3.5 | taste: 3.5 | feel: 3.5 | overall: 3.5
Poured from a brown 16.9 oz. bottle. Has a caramel color with a small head. Smell is of hops and malts. Taste is crisp, hops with a bit of malts, well balanced, slightly sweet. Feels medium bodied in the mouth and has good drinkability. Overall this is a fine quality beer.
273 characters

2.89
/5
rDev
-1.4%
look: 2 | smell: 3 | taste: 3 | feel: 2.5 | overall: 3
Pours a two finger white head that vanishes, leaving no lace. Clear amber color. Light-medium carbonation and medium bodied. Slight fruity nose. Flavor is mellow maybe peach, brief sweetness at finish. $4.45 for a 500ml bottle from Colonial Spirits Acton, Ma.
259 characters

3.05
/5
rDev
+4.1%
look: 3 | smell: 3 | taste: 3 | feel: 3.5 | overall: 3
A: Poured a clear, light tangerine orange with a 1 finger, macro-bubbly, sudsy head that quickly dissipated after the pour. Visible carbonation was light.
S: a sweet buttery caramel aroma.
T: The initial flavor was very sweet and buttery as well with light butterscotch notes. There was some honey toast, apples, pears, and toffee flavors as well coming through. The overall flavor was sweet, buttery, and fruity with a fairly clean finish.
M: medium with a nice viscous nature, oily slick with a soft carbonation.
D: Average drinkability per style, while certainly not disappointing, was a tad sweet for a session beer. Good per the local area i suppose.
663 characters
2.06
/5
rDev
-29.7%
look: 3 | smell: 2 | taste: 2 | feel: 2 | overall: 2
dang, I wish these guys down here would remember that hops are part of the recipe too. This beer poured with a light head that mostly faded. No lace. Nice rich honey amber color. Aroma is butterscotchy malt. Some off chemical/infection flavors to go with the butterscotch. Thin body. Can't finishi it. seems a bit boozy too, even if it really isn't.
349 characters
2.71
/5
rDev
-7.5%
look: 2 | smell: 2.75 | taste: 2.75 | feel: 2.75 | overall: 2.75
Golden color with a ghost head.
Initially, I felt some smoked ham with maple in the aroma which later faded away to a buttery corn, oxidized minerals, honey and apple juice. I am a bit confused and I questioning my senses. Anyway, it does not feel bad as it sounds.
Flavor of sour dough, floral and earthy hops, lots of honey, oxidation, peppery yeast, apple juice, cardboard, butterscotch and pears. Dry aftertaste with a mild bitterness.
Light body with appropriate carbonation.
It sure has a unique character, not sure how to rate this. Did this suffered some infection or is it just the way it is? Anyway, it does not taste awfully and awaked some of my senses.
665 characters

3.1
/5
rDev
+5.8%
look: 3.5 | smell: 3.5 | taste: 3 | feel: 2.5 | overall: 3
Pours a toasted straw color with a sudsy white head that dissipated into a very sparse cap. The aroma is very buttery, with hints of caramel and toffee. The taste starts off with buttery toffee, has rusty/mineral water like flavors and as the label mentions a touch of malt. No real hop presence detected. The feel is very light and watery, with weak carbonation, finishes with an odd sweetness. There is just not much of a presence with this brew. The drinkability is ok, it is very light with no offputting grain flavors so technically it is easy to drink but besides the buttery taste there is no character to it. Fair at best.
630 characters
3.05
/5
rDev
+4.1%
look: 3 | smell: 3 | taste: 3 | feel: 3.5 | overall: 3
From BeerAdvocate Magazine Volume II, Issue III:
Interesting, South American "craft brewed" ale. Lots of foam off a hard pour with a crackle of dissipating head that turns quickly to a very thin lacing. Faint haze on the dull golden color. Buttery aroma with hints of bread, wild flowers, honey and pear juice. Some crispness, with slick medium body. Maltiness goes from bread crust to a bit of husky grain. Hops jump in with a prickly bitterness and a spicy herbal flavor. Snappy twang of apple skin with a buttery flavor that follows. Hop bitterness lingers a bit longer right into the semi-sweet finish.
Not half bad. Stick to the proper cellar serving temperature so your taste buds can benefit the most. An exciting beer to come out of Argentina even though it is a run-of-the-mill English Pale Ale.
806 characters
2.5
/5
rDev
-14.7%
look: 2.5 | smell: 2.5 | taste: 2.5 | feel: 2.5 | overall: 2.5
Poured from the bottle a greyish-gold with just a whisper of white on top.
Aroma of light malts, butterscotch, and old socks.
Not much to talk about in the taste department. Butter, light malts, apple peel, and butter.
Thin mouthfeel and no carbonation to speak of.
Could not get into this beer at all. Bland says it all.
325 characters
3.02
/5
rDev
+3.1%
look: 3 | smell: 3.5 | taste: 2.5 | feel: 4 | overall: 3
Pours a dirty gold (really, it looks like a dirty beer) with a foamy white head, no real lacing.
Smells of malt and some fruit notes. Mild aromas.
Thin, watery brew with no hops. Some mild maltiness, with alot of bruised fruit. Think of an old apple, that's in there. Fairly clean finish. Light bitterness, if you can find it.
Lighter-bodied and ok carbonation. It works.
Overall, eh. I know ale should be fruity, but no like old forgotten fruit. This one is missing alot. Not something you hate, but pretty close to being unacceptable. This is not something I would ever give to a friend to try. Borderline avoid.
618 characters

2.65
/5
rDev
-9.6%
look: 3 | smell: 3 | taste: 2.5 | feel: 2.5 | overall: 2.5
Presentation: It was poured from a brown 1 pint 0.9 oz bottle into a pint glass. The label lists the ABV at 5.5% and there is a brief description on the back.
Appearance: The body has just the slightest haze and a light amber color which was darker than I had expected. There is also some visible carbonation that makes its way up to a slightly off white, two finger tall head. This head quickly settles down to a thick ring of foam that leaves no lacing on the glass.
Smell: In the nose there are notes of old apple skins and some bready grain.
Taste/Palate: The flavor is full of old oxidized apple and apple skins with bready and buttery pie crust notes. I am also picking up some odd papery or cardboard like flavor notes. Hops are barely even noticeable and offer no bitterness at all. The finish is quick and fairly clean. This is all offered up on a light to medium body that started out with some crisp carbonation and then quickly faded to a dull lifeless slick feel.
Notes: This is not a beer that I would seek out again.
1,037 characters
2.96
/5
rDev
+1%
look: 3.5 | smell: 2.5 | taste: 3 | feel: 3.5 | overall: 3
16.9 oz. squat brown bottle. Best before date stamped on cap.
Served in a SA perfect pint glass.
It pours a honey golden amber with a thin white head along with thin trails of lacing.
The smell is a grassy malt forward, followed by fairly floral and herbal aromas and a very mild citrusy nose.
The first taste is of doughy malt, with a bit of a woody/earthy taste. The minty herbal and peppery spice flavors really pull through. It nearly masks the citrus lime-like bitterness.
Once the initial spritzy effervescence fades, the mouthfeel is buttery smooth.
I bet this is far better fresh from the tap.
Pleasantly surprised. Not bad!
633 characters

3.64
/5
rDev
+24.2%
look: 2 | smell: 3 | taste: 4 | feel: 3 | overall: 4.5
The aroma is rather blah with just malt, and light grassy and floral hops. The appearance is pale gold with a small head. The flavor is a little diacetyl and therefor buttery as well as yeasty and malty with almost no hop bitterness. The palate is thin but carbonated. Overall it's an easy drinking beer.
304 characters

3.17
/5
rDev
+8.2%
look: 2.5 | smell: 3 | taste: 3 | feel: 3 | overall: 4
Picked up a squat 500mL bottle of Otro Mundo Golden Ale at Johnstown Beverage in Johnstown NY. Served cold in a chilled pint glass.
A hard pour into the center of the glass gives nothing more than a little bubbly fizz that settles immediately to nothing. The brew is a thick golden color with a little reddish tint when held to a light. Smells of light caramel and a good dose of raw grains and silage. Taste is thin and crisp, a slightly milder version of the smell. Very smooth and drinkable.
495 characters
Otro Mundo Golden Ale from Otro Mundo Brewing Company
2.93
out of
5
based on
22
ratings.