Moe's Tavern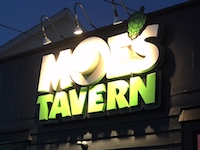 PLACE INFO
Type:
Bar
10 Railroad St
Lee
,
Massachusetts
, 01238-1638
United States
(413) 243-MOES |
map
nocoorslight.com
Notes:
No notes at this time.
Added by sraimondi on 02-26-2008
Reviews: 43 | Ratings: 74
4.18
/5
rDev
-9.5%
vibe: 5 | quality: 4 | service: 4.5 | selection: 4 | food: 3.5
A tremendously fun bar with a very good beer selection and something for everyone.
The prices range from the reasonable to the extreme ($4 to $399!). There is a large inside above the large window that says "No Coors Light." They have a helpful menu that breaks their beers into four categories (basically IPAs, Porters, Lagers and Belgians).
The bartender was very friendly and attentive, and though she acknowledged she was still learning about beer, she was very willing to talk about it. She put up with my friend and I which gave her extra points.
The food, while not unbelievable, was good and hit the spot. We had a buffalo chicken strip sandwich and three slider burgers. All very reasonably priced and well-made.
It's a great place to get stranded for a few hours in the Berkshires of Massachusetts.
http://jbojangles.blogspot.com/2008/05/two-minute-guide-to-moes-tavern.html
891 characters
4.72
/5
rDev
+2.2%
vibe: 5 | quality: 5 | service: 5 | selection: 4
My family has a place in Becket (next town over) and I've been going there frequently during the year and for much of the summer since the 70s when I was a little kid.
I'd been pining for a good beer bar nearby forever and while I've only been to Moe's once so far (didn't make it out there much this winter), a beer bar in Lee -- especially one as good as this one -- feels like the answer to my prayers.
My brother-in-law (a fellow BA) and I spent a great Sunday there in January to watch the AFC Championship. While there were only about 5 taps at the time, I hear it's expanded. But the selections at the time were nice. DFH, Rogue and Oscar's among others IIRC. Also, a very solid, reasonably priced bottle selection.
The service was a real winner -- friendly bartenders who were attentive but not hovering and knowledgeable but not snobby. Josh, the owner, seemed like a really cool guy, especially when he was pouring everyone free samples of Southern Tier Choklat Stout (thanks, man!). The clientele was pretty laid-back and friendly as well. The plasma TVs were plentiful and well-placed -- I can't think of anywhere I would have rather been that day.
Didn't try the food so I can't rate it. The selection overall wasn't what you'd see at some of the more established places in bigger cities (Publick House, Sunset), but it was still extensive and, again, very fairly priced.
I loved this place and hope it lasts -- I can see myself making plenty of visits this summer.
1,484 characters
4.83
/5
rDev
+4.5%
vibe: 4.5 | quality: 5 | service: 5 | selection: 4.5 | food: 5
So I guess I'll go at this review piece by piece. The atmosphere was good from the point of view that there was a lot going on (flat screen tvs, beer signs, and the bottle list written on chalkboards). However, the regulars at the bar were welcoming and willing for conversation. Also, the bartender was EXTREMELY courteous and available. The conversation certainly took precedence over the tvs. So the atmosphere in the end was great because of the people in the bar.
In my humble opinion quality and value go hand in hand. Because of the really good bottle list and the fact that the taps on hand were awesome representatives of domestic microbrews; for that, what they cost was exceptional (and reasonable going with the vernacular of the website). Think about it, if you are going to have a Dogfish Head 120 Minute IPA bottle, you GOING to have to pay for it...it's 20% alcohol! (With that said, keep an eye on the draft list, they are going to have 120min on draft, and from what I gather, a GOOD price...so definitely KEEP AN EYE on Moe's). When it comes to it, HAVING that availability of beer lends itself to prices of over $3 a beer.
It was a slow Sunday afternoon, so the bartender was more than able to keep an eye on us and when we were ready for another beer. But because it was slow we were able to talk, and it seems that Moe's is dedicated to keeping a knowledgeable staff. If a bar is going to serve beer that can reach high ends of the ABV spectrum, then it's important to have a staff that is knowledgeable about their beer.
Selection was great, the tap list centered on domestic microbrews...some I haven't heard of yet (as I frequent bars in the Pioneer Valley). The bottles also had great domestic microbrews as well as a few foreign.
As for food, I normally go to a place that has a GREAT beer selection, but no food. So to me, Moe's has great BAR food. I emphasize BAR food because it's not pretentious food, it's no frills bar food that can help you have a few more beers. With that said, it tastes great. I had the mini-burgers and sweet potato fries. Wicked soft buns on the burgers and tastey fries. It's food that helps you out, tastes great, but DOES NOT take away from the beer. Moe's CENTERS on the beer, and helps you out with the food they offer.
In the end, if the owner is true to his vision of offering QUALITY beer AND having a knowledgeable staff, then this is a true departure than other tap halls in the Berkshires. Moe's appears to be a place that is FOCUSED on the beer that they serve. If you live in the Berkshires, then it is MORE than worth it to take the drive down Rt. 7 and 20 to Lee. Compared to other places in the Berkshires you are going to get outstanding beer at a place that focuses on the beer (not other things like wings). If you're in the Pioneer Valley, take the hour it takes to go west on the Mass Pike to check this place out. It's a different kind of place that is willing to focus on a great beer selection, so give Moe's a shot.
3,001 characters
Moe's Tavern in Lee, MA
4.62
out of
5
based on
74
ratings.