Citra
| Oakham Ales / The Brewery Tap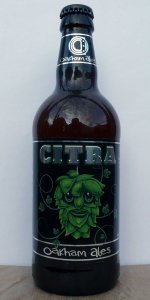 BEER INFO
Brewed by:
Oakham Ales / The Brewery Tap
England
,
United Kingdom
oakhamales.com
Style:
American Pale Ale (APA)
Alcohol by volume (ABV):
4.60%
Availability:
Year-round
Notes / Commercial Description:
No notes at this time.
Added by allergictomacros on 06-04-2011
Reviews: 61 | Ratings: 179
4.54
/5
rDev
+15.2%
look: 4 | smell: 5 | taste: 4.5 | feel: 4 | overall: 4.5
Sourced from B&M Bargains, Baguley.
Pours a pale luminous straw coloured beer, thin white head with limited, ill defined lacing. Homogenous carbonation.
Lovely piney aroma, fair touch of spice undercut with citrus and lychee and a trace of farmyard.
Drinking the beer - initially a sharp bitterness immediately followed by waves of classic citra zesty grapefruit and gooseberry, tropical lychee and papaya flavours dancing over the tongue, some herbacous notes, malt is clean but neutral and very much takes a back seat, the astringent bitterness keeps banging on in. This is a eulogy to the citra hop and as such the minimal malt is well judged, allowing the characteristics of the hop to reign unrestrained.
Mouthfeel is on the thin side, but it is clean and crisp, carbonation is medium and consistent.
Considering this quality is available at B&M Bargains for a mere £1.69, overall this beer deserves plaudits for bringing top notch, affordable and challenging beer to the masses, dont miss out.
1,005 characters
4
/5
rDev
+1.5%
look: 2 | smell: 4.5 | taste: 4 | feel: 4 | overall: 4
Appearance is quite disappointing due to the poorly formed short-lived loose white head atop of clear pale-golden body .
Aroma is a showcase of fruity Citra hops: grapefruit, pineapple and mango - perhaps many more, with restrained malt background exhibiting faint biscuity character.
Balance is entirely towards the grapefruity hops and accompanying bitterness
lingering into the dry finish.
Body is medium-light but not thin as there is a slight creamy, fluffy sensation
probably imparted by wheat listed among the ingredients.
Overall, a burst of clean juicy bitterness (500 ml, BB 09-15-2013, into tulip).
618 characters
4.3
/5
rDev
+9.1%
look: 4 | smell: 4 | taste: 4.5 | feel: 4 | overall: 4.5
Burnished gold with loose but sticky froth that cathedrals. Candied lemon peel nose with some must and undertones of melon and fresh country loaf.
Angel food cake malts with some mango, then big pink grapefruit hops hit.
Lemonhedz finish and twisting waves of lingering bitterness. Soft, some chew, light to medium.
Yup, this is how to do Citra. Just enough sweet and fruit to balance and the most intricate bitter leave I've tasted in a long time. Add some wheat for cream in the body and Bob's your uncle.
Incredibly well put together. Stand this next to any Citra beer from the US. Oakham wins again.
608 characters
4.12
/5
rDev
+4.6%
look: 4 | smell: 4.5 | taste: 4 | feel: 4 | overall: 4
Hazy and light golden to yellow colour with a foamy white head that is about half a centimetre tall and stays the same for upwards of a few minutes.
Citrus, some bitter hops and a touch of pine. There is also a well balanced grapefruit aroma that isn't overly bitter and this is coupled with an orange and lemon citrus smell that is very appealing.
Bitter citrus and grapefruit combination, although this isn't quite as bitter as I was expecting which isn't necessarily a bad thing. There is also a nice fruity flavour to it with some orange and lemon, more citrus and a touch of lime for good measure.
Light medium in body, maybe just a little thinner than I would have like but not really much of a complaint. It is quite bitter and juicy with a smooth, crisp finish and mild carbonation that make for a refreshing beer.
Very enjoyable indeed and not at all what I had been expecting. A great grapefruit bitterness that isn't too strong and with a nice look and feel to it. The smell was great though.
1001 Beers Blog:
http://abarwithnoname.wordpress.com
1,069 characters

4.47
/5
rDev
+13.5%
look: 4 | smell: 4.5 | taste: 4.5 | feel: 4.5 | overall: 4.5
Pours a slightly hazy lemon barley looking body with lazy lopsided big bubbled white head.
Real cutting aroma, real strike of hops, pine and old fashioned.
Dry driving taste real tart fruit tastes hops a real clear and present taste hinting at a sweetness that never appears subtle honey factors all with a tangy zing.
Good solid chewy mouthfeel, lively but fitting carbonation.
Blimey this stuff is good.
409 characters
4.32
/5
rDev
+9.6%
look: 3.5 | smell: 4 | taste: 4.5 | feel: 4.5 | overall: 4.5
Saw this while shopping around the local Waitrose in Cambridge.
A - slightly hazy, straw golden color. pure white head that quickly fades. solid lacing throughout
S - juicy hops, citrus, grapefruit
T - instant smack of big, hoppy citrus fruit. lemons, grapefruit. a lightly toasted malt balances the hops and smoothes out the beer, not leaving any harsh bitterness.
M - carbonation is spot on for style, not overly malty or astringent from hops
I was very surprised when I found a UK brewery using solely Citra hops. Oakham Ales is one of my favorite UK brewers, and this one does not disappoint. This beer could give top notch US Pale Ales a run for their money. Awesome beer!
683 characters

4.5
/5
rDev
+14.2%
look: 4.5 | smell: 4.5 | taste: 4.5 | feel: 4.5 | overall: 4.5
Drunk at The Bow Bar and served by air pressure.
What a dance this plays on the tongue. Finely delicate yet super intense herby lychee greatness. So very appetising. Long firm persistent length.
Clear light golden colour with dense foam on top. Lovely silky medium body without any puppy fat or obtrusive malt anywhere.
Truly great. The citra hops are really singing here.
The rise of the great hoppy cask ale continues.
423 characters

4.5
/5
rDev
+14.2%
look: 4.5 | smell: 4.5 | taste: 4.5 | feel: 4.5 | overall: 4.5
A 500ml bottle with a BB of March 2012. Picked up from my local beer specialist. The label mentions that this ale is brewed solely with citra hops (in case the name didn't give it away).
Poured into a tulip pint glass. A pale straw colour with medium carbonation; initially clear but hazy by the end of the pour due to the yeast in the bottle. Yields a huge head of white foam with a creamy texture and good retention; this eventually subsides to a thin surface layer. The aroma is amazing - a huge, spicy hit of citrus with grapefruit, lemon, lime and orange all discernible. Subtle malt and yeast lie hidden beneath the aromatic hops.
Tastes of overwhelming aromatic hops with a pleasant bitter finish. Notes of grass and citrus, especially grapefruit. A dry, earthy yeast character in the background, and overtones of orange peel. Crisp bitterness upon swallowing. Mouthfeel is light, spritzy and astringent, leaving the palate dry. Aftertaste of aromatic citrus hops....
Fantastic - if only I could drink this every day! An incredible aromatic hop character - stacks of delicious flavour. The aroma and bitterness are well balanced, with malt and yeast taking a definite back seat. Excellent - a must have.
1,213 characters

4.46
/5
rDev
+13.2%
look: 3 | smell: 4.5 | taste: 4.5 | feel: 4 | overall: 5
A- Pale golden color with thin, soapy head that has weak retention and almost no lacing.
S- Phenomenal. As the name implies, this beer is made using only Citra hops, and the hops are brilliantly displayed in the smell. Very strong citrus aromas. Lots of grapefruit and some other citrus notes. Also some decent pine scents.
T- A sweet, lightly malted opening that is quickly replaced with a grapefruit-heavy citrus flavor. Lots of sweet citrus flavors like tangerine and a strong grapefruit flavor that carries over into an awesome aftertaste.
M- Smooth and light bodied, pretty good.
O- Awesome beer. Really tasty, light and full of flavor without too much alcohol, which prevents some Imperial IPAs from being "session" beers. This is a really drinkable, delicious brew. Go try some!
793 characters

4.4
/5
rDev
+11.7%
look: 4.5 | smell: 4.5 | taste: 4.5 | feel: 3.5 | overall: 4.5
Handpump halfpint goblet at the Rake.
A: Clear gold body with a soft white head that leaves tons of fine, sticky lace. Bright and beautiful.
S: Pure Citra: orange, grapefruit, lemon/lime. Lovely.
T: Citrusy, fruity hops start things off, and are joined by some lightly sweet pale malt. Solid hop bitterness cleans out the sweetness and makes for a great, crisp, even slightly minty finish. Delicious.
M: Smooth light body with moderate, fine carbonation.
O: Wonderful beer. This is the first English cask ale to impress me seriously, and it's not just because of the American hops. Oakham really knows how to deliver a serious hop kick in a low-ABV brew, balancing terrific flavor with moderate sweetness and bitterness alike. Fantastically drinkable; I wish I could get this in the US.
Cheers!
800 characters
4.54
/5
rDev
+15.2%
look: 3.5 | smell: 4.5 | taste: 4.5 | feel: 4.5 | overall: 5
A - Pours a hazy straw with a bit of a soapy head.
S - Nose is grapefruit and some other mixed fruitiness.
T - Big jiucy grapefruitiness up front, and a bready, biscuity middle. Maybe a hint of lemon and herbs. Finish is clean and shortlived.
M - Light and crisp, not too sweet and a smooth, mild carbonation.
D - Very, very drinkable. Not at all a big beer, but very clean, well balanced and tasty. Perfect session brew.
433 characters
Citra from Oakham Ales / The Brewery Tap
3.94
out of
5
based on
179
ratings.