Golden King Premium Beer
| King Lucky Food Industrial Corporation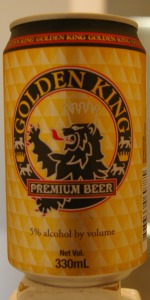 BEER INFO
Brewed by:
King Lucky Food Industrial Corporation
Taiwan
kinglucky.com.tw
Style:
American Adjunct Lager
Alcohol by volume (ABV):
5.00%
Availability:
Year-round
Notes / Commercial Description:
No notes at this time.
Added by hoegaardenhero on 02-29-2008
Ratings: 7 | Reviews: 6
Reviews by tone77:
3.48
/5
rDev
+43.2%
look: 4 | smell: 3.5 | taste: 3.5 | feel: 3 | overall: 3.5
I don't know about this retired status, it seems to be readily available in Hong Kong. Poured from an 11.2 oz. can. Has a rich golden color with a 1/2 inch head. Smell is of malts and grains. Taste is crisp, refreshing, some malts and grains, very easy drinking. Feels light in the mouth and overall is not bad for a cheap lager.
329 characters
More User Reviews:
2.14
/5
rDev
-11.9%
look: 3 | smell: 1.5 | taste: 2 | feel: 3 | overall: 2.5
Brought a can home from a recent trip from Hong Kong. The beer poured pale yellow with dissapating white head. Smell was malt and grain, no hop notes Taste is basic, nothing amazing. Mouthfeel was like most macros. Overall it was a simple beer....good only if it is the only thing in the cooler.
295 characters

2.87
/5
rDev
+18.1%
look: 3 | smell: 2.75 | taste: 3 | feel: 2.75 | overall: 2.75
Local, in-person trader tone77 brought back a whole buncha CANs for The CANQuest (TM) from his recent far out trip to the Far East. Track & he least I could do to repay him was to get this beer taken out of retired status. CAN you dig it?
From the CAN: "A cold-filtered pasteurised beer with a pure and refreshing taste."; "Ingredients: Water, Malt, Rice, Hops. [This product contains cereal containing gluten.]"; "Store in a cool dry place."
The Crack & Glug produced only a brief finger of bone-white foam that quickly dissipated. This was not a wide-mouth CAN, which may have had something to do with it. Color was a sunshine-yellow with NE-quality clarity. Nose gave off a metallic sharpness and a grape bubble gum scent that may have been adjuncts or yeast or both, but in either case, it was not promising. Mouthfeel was medium and the taste was not totally unpleasant. It had a musty quality which brings me back to the yeast. Corn was not the problem here, but it was still lacking something. Finish was semi-dry, refreshing on a hot day, but it is all just damning with faint praise.
1,094 characters
1.5
/5
rDev
-38.3%
look: 1.5 | smell: 1.5 | taste: 1.5 | feel: 1.5 | overall: 1.5
a: completely headless pale straw; pure macro
s: light sweet syrupy malts w/ out even the slightest hint of hops' again, pure macro
t: so flavorless; some rice and maybe some sweet malts
m: watery!!!!
d: what is crappier than an american macro? a taiwanese macro. maybe it would be a good water substitute to cut the oily spice of a hot curry or spicy cantonese dish; sucky beer!
391 characters
1.99
/5
rDev
-18.1%
look: 1.5 | smell: 2.5 | taste: 1.5 | feel: 4 | overall: 1.5
Golden King 330mL can
Head: Average head, but big bubbles dissipate quickly. Clear body, no cloudiness. Warm yellow color.
Aroma: I can't smell much of anything again. The sugar smell is a little darker in this beer than in Blue Ice.
Flavor: Up front it actually tastes like a beer. It's sour, creamy, and a little yeasty. But it fades through leather into a chalky and metallic aftertaste. Maybe a little papery or woody.
Palate: Soft carbonation lends a surprisingly thick mouthfeel, maybe bordering on oily.
518 characters


2.69
/5
rDev
+10.7%
look: 2.5 | smell: 2.75 | taste: 2.75 | feel: 2.25 | overall: 2.75
-0.1 significantly statistical order
A light yellow beer with a fast dying white head. The aroma is sour with notes of brewing cereal - rice? The flavor is only slightly sour, combined with light notes of malt and citrus, leading to a dry bitter end. And to make it perfect the body is thin.
Pours a clear, pilsener golden with a tiny head. Aroma of brewing cereal. Medium-bodied and sweetish malty with accents of brewing cereal. Pretty much no hops. A very standard - but indeed drinkable
493 characters
Golden King Premium Beer from King Lucky Food Industrial Corporation
2.43
out of
5
based on
7
ratings.