Wicked Elf Pilsner
| The Little Brewing Company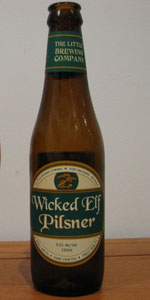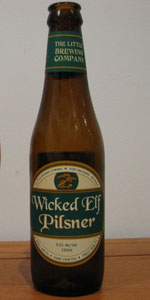 BEER INFO
Brewed by:
The Little Brewing Company
Australia
thelittlebrewingcompany.com.au
Style:
Czech Pilsener
Alcohol by volume (ABV):
5.00%
Availability:
Year-round
Notes / Commercial Description:
No notes at this time.
Added by brendan13 on 02-29-2008
HISTOGRAM
Ratings: 14 | Reviews: 11
None found.
More User Reviews:
3.12
/5
rDev
-8.5%
look: 3 | smell: 3.5 | taste: 3 | feel: 3 | overall: 3
Pours crystal clear, a darker shade of amber than most pilsners.
Nose is quite aromatic, with grassy, floral hops and sweet, bready malt with hints of honey.
Flavours include the same floral hops with bready malt supporting that could almost be described as grainy and metallic.
Not enough carbonation.
302 characters

4
/5
rDev
+17.3%
look: 3.5 | smell: 3.5 | taste: 4.5 | feel: 3.5 | overall: 4
Pours a clear golden color with plenty of chunky white head that slowly fades away. Smells of flowers and a little citrus. The taste is malty and hoppy, but just bitter enough to balance it out. There's some caramel and a little citrus to it as well. Very complex and tasty. Mouthfeel is a little fizzy, but heavy. Overall, it's a very drinkable pilsner and I'll be looking for it again.
387 characters
3.03
/5
rDev
-11.1%
look: 3.5 | smell: 3 | taste: 3 | feel: 3 | overall: 3
330 ML bottle poured into a SA perfect pint
A-- Poured a dark gold color, looks more like a light amber ale than anything else. No floaties in glass. Moderate pour got a very large white head that quickly faded into a one finger head. No lacing at all on the sides of the glass.
S-- Very bread smell to this. A little bit of sweetness to this, maybe some apple, otherwise a very clean smell.
T-- A sweet, floral taste to it. A little grassy and a bit of a perfume sort of taste to it. Different.
M-- Very clean again in the mouth. Sweet bread taste does appear in the mouth. Finishes dry and the Saaz hops do linger a good while after finishing. Warmer it gets the less appealing it becomes. Becomes a bit metallic and too much apple in a way. Not fun. Quite heavy and needs more carbonation. Needs to feel lively
D-- At 5% it is drinkable but this beer is not my type at all. Gets lackluster as it warms up and feels heavy for the style. Should have let it get colder. One is enough for me.
997 characters

3.4
/5
rDev
-0.3%
look: 4 | smell: 4 | taste: 3 | feel: 3 | overall: 3.5
First time trying this brewery...
Crystal clear golden orange in colour with good head that dies quickly.
The nose is the highlight of this beer with good mixture of aromas: white fruits, apricots and spices. Really enjoyed the subtle fruitiness.
Palate is light weight and a touch weedy. Bitterness is there, however, it is slightly unpleasant with a green herbaceous taste lingering afterwards.
Great nose is let down but a light palate. Still very drinkable, just not something I will be reaching for soon. With that said I will check out the other brews based on this one.
580 characters
3.33
/5
rDev
-2.3%
look: 3.5 | smell: 3 | taste: 3.5 | feel: 3 | overall: 3.5
a) Pours a well-formed white head, with holds well. Pale golden yellow, crystal clear
s) Grain husks, pilsener malt, green herbaceous herbs & fruit. Warms up to more appley fruit, although tucked away is a more recognisable Saaz note.
f) Big malt upfront, which backs off to let the hop character come through. Slight green apple perfume note.
m) Medium bitterness, finishes with some lingering body, not crisply
d) Not a bad drop
431 characters

3.53
/5
rDev
+3.5%
look: 4 | smell: 3.5 | taste: 3.5 | feel: 3.5 | overall: 3.5
Pours a light champagne colour with a steady thick bead ballooning into a pleasant foamy head - lots of thick, webbed lacing. Nice.
Dominatrix hops. Slight lemony-fresh character but it's predominantly hoppy in aroma. Quite good, and what I'd expect from a good Czech-style pilsener. Could use a bit more complexity, though.
Again a lot of hops from the front to the back of the palate. A bit gritty, with an earthy bitterness and tastes very over-hopped. There's a subtle underlying citrus character, but it's not very obvious. Very pilsenery and quite drinkable. Bitter, maybe a bit simple, with a good aftertaste even if the palate is slightly short.
655 characters
3.98
/5
rDev
+16.7%
look: 4 | smell: 3.5 | taste: 4 | feel: 4 | overall: 4.5
Clear golden colour with lots of streaming carbonation. Nice. Coarse bubbled white head that sticks around well. Decent lacing. A very nice looking lager.
Clean hoppy nots on the nose. Mostly fresh and vegetative, although there's almost a hint of the APA to it, with just a suggestion of apricot or peach. There's also a very slight yeast note, that while quite appropriate for the style, just cuts across the clean fragrant notes of the hops. Still, it's a nice smelling beer.
Clean and crisp on the palate too. Nice sharp hop bit that cuts right through to the back palate. Very pleasant indeed. Very crisp and sharp, excellent hop bitterness, very robust. Mouthfeel is crisp and tight.
Yeah, this is a really good pils. Very sharp and refreshing, like the really top Czech examples. Clean throughout, refreshing and extremely drinkable. I really think this is a top-notch pilsener - it's not just another toned-down pale lager, they've gone all out.
Little Brewing Company, I'm impressed!
997 characters
3.75
/5
rDev
+10%
look: 4 | smell: 4 | taste: 3.5 | feel: 3.5 | overall: 4
This beer pours a light see thru amber colour with decent carbonation that leaves a one finger head with nice lacing,it has a nice lemony,grassy,hop zest to it quite appealing,the mouthfeel starts of medium with a nice full taste of malt and finishes light and crisp with a lemony hop finish,quite a easy beer to drink and wouldnt knock it back if it was offered to me again.
375 characters
3.14
/5
rDev
-7.9%
look: 2 | smell: 3 | taste: 3.5 | feel: 3 | overall: 3
Safe, conforming style that clearly gives a nod to the better Kiwi pilsners. This is a well made beer. Aromas of citrus fruits and some talcum powder zing, and some underlying sweet fruits. Palate is relatively low fizz but aides the classic bohemian hop flavours nicely. Mild bitter kick on the finish.
303 characters
3.75
/5
rDev
+10%
look: 4 | smell: 4 | taste: 3.5 | feel: 3.5 | overall: 4
A - Poured into a Pilsener glass a pretty clear golden colour with a couple of centimetres of fluffy white head that falls to a thin whisp. Decent rings of lacing are left down the glass.
S - The Saaz hops come through nicely - Light spicey, herbal and floral notes. Some grainy notes as well.
T - The hops are a bit more subdued in the taste, still there but the light maltiness comes through more.
M - A fairly light mouthfeel with medium to high carbonation.
D - A very nice Pilsener from this new brewery. I think this has become my favourite Australian microbrewery Pilsener.
584 characters
3.03
/5
rDev
-11.1%
look: 3.5 | smell: 3 | taste: 3 | feel: 3 | overall: 3
Appearance - 3.5
A blooming off-white head forms over a golden body with lots of chill haze.
Smell - 3.0
Very softly fruity and yeasty, well off for the style, but a pleasant aroma none the less.
Taste - 3.0
Very strong and flavoursome, this is no shrinking violet of a pilsner! Quite yeasty in the way of a Coopers ale with plenty of apple-like fruitiness, biscuity malt and a lingering, moderately bitter, herbal hoppy finish.
Mouthfeel - 3.0
Low to moderate carbonation, heavyish in the mouth.
Drinkability - 3.0
Not hard to drink, but not as refreshingly light as a good pilsner should be.
OVERALL - 3.1
While I am not one to slam a beer for not fitting in with its suggested style, if Wicked Elf were trying to make a pilsner, they have failed. It is not a bad beer by any means, but it is no pilsner.
811 characters
Wicked Elf Pilsner from The Little Brewing Company
Beer rating:
3.41
out of
5
with
14
ratings