Mad Abbot Dubbel
| The Little Brewing Company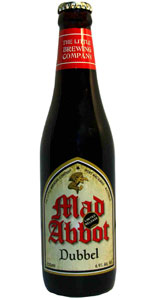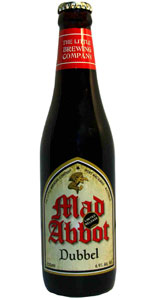 BEER INFO
Brewed by:
The Little Brewing Company
Australia
thelittlebrewingcompany.com.au
Style:
Dubbel
Alcohol by volume (ABV):
6.90%
Availability:
Rotating
Notes / Commercial Description:
No notes at this time.
Added by dgilks on 05-22-2010
HISTOGRAM
Ratings: 10 | Reviews: 8
None found.
More User Reviews:

3.17
/5
rDev
-10.5%
look: 3.5 | smell: 4 | taste: 3 | feel: 2 | overall: 3
330ml bottle from the brewery, poured into a small tumbler.
Pours a deep brown colour, murky with a red tinge around the edges. Off-white head of foam that turns to film after a few minutes.
Interesting smell, started off with fortified wine, then turned and stayed as plum, raisin and stewed dates. Gave it time and the heat if the fortified wine smell died down.
Taste was very hot and boozy. Took a lot of swirling for this to.open up. Tastes fruity with plum being the feature.
Mouthfeel is hot initially. Then once it opens up is slightly oily early before turning a bit thin later.
Give this time in a cellar or time to open up as it can be boozy, even with the low ABV for the style. Okay Belgian dubbel in the end
726 characters
3
/5
rDev
-15.3%
look: 3 | smell: 3 | taste: 3 | feel: 2 | overall: 3.5
Pours dark brown with a large, lasting head.
Nose shows caramel, chocolate and bready malt along with an off-putting doughy yeast character.
Similar chocolate malt as a flavour and lots of it. The doughy yeast also carries through, alongside some hot alcohol and a roasty finish.
Carbonation is much too high.
A pretty unorthodox dubbel. A bit rough round the edges though unfortunately.
387 characters

3.26
/5
rDev
-7.9%
look: 3.5 | smell: 3.75 | taste: 3.25 | feel: 2 | overall: 3.25
A - Pours a dark brown colour with off white head that retains well
S - Sweet toffee,chocolate roasted malts, some raisins, plums and a hint of caramel
T - Slight caramel/toffee, burnt chocolate, sweet malts fairly prominent with a slight boozy sweet candy finish
M - Medium bodied but over carbonated which is disappointing
O - Overall not a bad attempt. The over carbonation ruins a fairly good beer
405 characters


2.58
/5
rDev
-27.1%
look: 2.5 | smell: 2 | taste: 3 | feel: 2.5 | overall: 2.5
Tasted at brewery on tap - large sample on pay per taste
Poured a deep mahogany, one fingered head which faded quickly.
Aromas on hold due to serving temp - too cold.
Taste was somewhat astringent and bitter, at odds with the malt-driven fruitcake style. Letting it warm only bought out a cherry-medicine flavour.
Carbonation quite high.
Only one of TLBCo offerings that we did not purchase.
396 characters

3.91
/5
rDev
+10.5%
look: 4.5 | smell: 3.5 | taste: 4 | feel: 4 | overall: 4
Bottle: good quality 330mL brown bottle, reasonable craft brewery label.
Appearance: pours a deep mahogany with one-and-a-half finger head with good retention
Aroma: nose shows caramel and breads with an odd dough which isn't as pleasant
Taste: similar chocolate malt. The doughy yeast also carries through, alongside some hot alcohol and a roasty finish.
Aftertaste: the doughy yeast wears off quickly, leaving the wonderful caramel and chocolate.
Mouthfeel: medium bodied, reasonably high carbonation for the style. On threat of being shot, I'd say this is even better. Probably from an Australian ex-lager-only drinker.
Overall: bloody good beer. Not really sessional, but great for a good-quality hit or a nice relaxing cask ale. There is, however, one major downfall - it is AU$80 for a 12-pack (2012). That means it is over $150 per case!! Good golly gosh.
868 characters

4.15
/5
rDev
+17.2%
look: 3.75 | smell: 4.25 | taste: 4.25 | feel: 4 | overall: 4
Bought at The Oak Barrel in Sydney, their beer buyer lamented that The Little Brewing Company was restructuring.
And with 7 reviews of 9 ratings, I'd say The Little Brewers have a pretty good recipe and if they don't make it.... then maybe the head brewer can do a brew-collaboration using this yeast and recipe. Because while Mad Abbot is an average dubbel, it is the best Belgian style I have tasted this year (I've only been in NZ and Aussie.)
I got a full head (in part, because it was much warmer than the cold, cold that Aussies serve.) For Smells, I got the dark dried fruits that we are supposed to get in a dubbel... not easy in the hot land Down Under. For Tastes, I didn't get the brewers sugar and yeast richness typical of the best Belgians... but I have to give Mad Abbot an A for Effort. And better than the real dubbel deal, the carbonation was just right for me.
A great effort. Of course, I would like to have this again. But if you can, have one for me.
975 characters

4.51
/5
rDev
+27.4%
look: 4.5 | smell: 4.75 | taste: 4.5 | feel: 4 | overall: 4.5
Appearance: Pours a good two fingers of head in an over-sized wine glass. Deep reed, browny colours classic of a dubbel.
Smell: Big stone fruits, rum & raisin, sweet molasses, sweet bread, really nice.
Taste: Exactly like the aroma, compliments it immensely. Very well bodied in my opinion, coats the tongue and mouth well. Quite tart in the finish, only really lasting aftertaste.
Overall: A very good replication of the style i.m.o. Pitty about the price and availability though...
487 characters
3.85
/5
rDev
+8.8%
look: 4 | smell: 4 | taste: 3.5 | feel: 4.5 | overall: 4
Deep, chocolatey, raisins, vinous alcohol character, spicy. Good.
Clear, dark brown colour with a large, fluffy, light tan head dissipating to a small head.
The flavour doesn't stand up to the aroma. I get some sweet, dark fruits and spice but none of the luscious richness. Nice vinous character.
Medium body with moderately-high carbonation.
A tasty attempt at a Dubbel. The flavours and aromas are good even if they don't hit all the right notes for me personally.
479 characters
Mad Abbot Dubbel from The Little Brewing Company
Beer rating:
3.54
out of
5
with
10
ratings