The Scalehouse Brewpub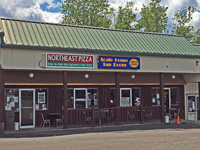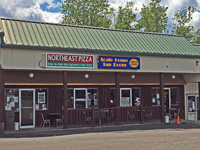 PLACE INFO
Type:
Brewery, Bar, Eatery
23 Cinema Dr
Ithaca
,
New York
, 14850
United States
(607) 257-2757 |
map
scalehousebrewpub.com
Notes:
None provided.
Reviews: 7 | Ratings: 10
Reviews by pfknapp:
3.68
/5
rDev
+13.6%
vibe: 4 | quality: 3.5 | service: 4.5 | selection: 3 | food: 3.5
This is a new place near triphammer mall in ithaca. It is in Bishops' Small Mall behind the Clarion hotel. It has its own store front but shares the space with Northeast Pizzeria. All the food is from Northeast, which has really good take out pizza place type food. The bar side of the joint looks like real nice. All wood, shiny fermenters behind the bar and nice tables. It is a cozy neighborhood bar style joint. On to the beer.
I plan to update this review in the near future when I go back and see how the progress. The beer was generally pretty good. Currently on tap are a bock, a pilsner and a red ale. The bock was pretty tasty. Not as malty as I would like, but it had a nice, unique hop bite too it which I liked. The red ale was a little hoppy, but not overly hoppy. It was very yeasty tasting, almost like fresh baked bread. The pilsner was good, but did not taste anything like a pilsner. More like a pale ale I guess. All three beers had the same yeasty taste, hopefully it gets worked out in future batches. I recommend trying this place. They have a few kinks that need working out, but I am rooting for them,
1,127 characters
More User Reviews:

3.51
/5
rDev
+8.3%
vibe: 3.5 | quality: 3 | service: 4 | selection: 3.75 | food: 3.25

3.5
/5
rDev
+8%
vibe: 3.5 | quality: 3.5 | service: 3.5 | selection: 3.5
Not the greatest location...but overall not too bad of a building. They only had 4 house beers on tap with domestic beer in bottles. The beer was just OK, not bad but nothing to brag about. One of their Harvest Ales was good and tasted like it was wet-hopped. I asked the bartender if it was wet-hopped and she said "I don't know, I just serve the beers." I probably won't go there again because there is definitely room for improvement in their beers and staff knowledge. The bartender however, was very nice,
510 characters

2.81
/5
rDev
-13.3%
vibe: 3.25 | quality: 3 | service: 2.5 | selection: 2.75 | food: 2.75
Living so close, I was excited to see a brew pub in this location, especially paired with a pizza parlor. Unfortunately, it's a lose-lose, in that both ventures suffer from the same lack of quality.
The vibe here is almost quaint. It's unassuming with a fairly small bar space, but with little flashes of neighborhood character. The logo/mascot is a mermaid. The establishment is directly connected to the pizza side, with no wall existing between the two, but separate entrances.
The beer is where the problems lie. One can judge a brew pub in part based on what other beers it chooses to sell. I think that says something about their personality and where they aim to take their own craft. Looking in the cooler, one sees an array of macro brew swill. Yes, there are a few craft items, too, mostly local options, but I'd wager the overall selection of bottles is 50/50 macro to craft. Just sad. But not as sad as the brews on tap, which are of their own creation, about a half dozen or so at any given time. Each beer is generic, underwhelming, and wholly disappointing. Doesn't matter if you are drinking a red ale, a stout, an IPA, or a double IPA... they all look flat, taste flat, and resemble poor imitations of the beer styles they represent rather that faithful or imaginative recreations. I'm told this is because all the beers are made from kits. Whatever the reason, the result is a bar filled with pint glasses full of flat-headed, sadness.
The service is another sore point. It's common to wait at the bar for 5 or 10 minutes waiting for a bartender to appear. Not because they are busy, but because the bartender is in the back doing... something... maybe making pizza, because you'll wait even longer to get served for food.
Food. The word means something to me, and I think calling what they serve food to be a misuse of the term. To call it pizza is an even greater stretch. I'm tempted to call it Wonder bread topped with Prego and Sargento, but that might be extreme. It's more like... Chucky Cheese pizza. It's the culinary equivalent of their beer, actually.
Maybe I'm being harsh. If it's late and I'm too tipsy to drive to the store, but just really need another pint or two to close out my night, then I might consider walking the 5 minutes down here to get a growler fill. It's better than drinking Bud Light, and depending on my mood it may be better than going without, but when that's the best thing this place has going for it, that's saying enough.
Too bad, because there's actually a pretty cool crowd of people that seem to come here (I can't imagine why other than proximity/convenience, but hey opinions and tastes vary) and a decent vibe. This could be a really cool place if only the beer, food, and sevice (every other aspect) didn't suck.
==== EDIT 7/2016 ====
So, I have adjusted my rating upward considerably (from the 1.85 where it's stood since original review in 9/2015).
Beer has gotten better. They had a damn good cream ale. Their other beers are still mediocre at best, but I get the feeling quality is on the upswing.
Menu has expanded and they have a wide assortment of calzones now that are actually quite tasty. Comparable to D. P. Dough, and with a nice assortment of add-ins and fixin's.
I've discovered a secret: personal pan pizzas. Not mentioned on menu, but they will make any gourmet pie you want that way. Otherwise the only "specialty" options you can get are either whole pies or limited to what they have available by slice for that day. Pizza quality is dramatically better. Maybe new chef? Maybe trick is to not go so late? Dunno. But the crust was on the thicker side (I am partial to thin n' crispy style, but I like everything) and had a really nice doughy chew. Love that. So, I'm hopeful things will keep improving.
Service was much better last time, too. Better staff.
3,858 characters

2.85
/5
rDev
-12%
vibe: 2.5 | quality: 2.5 | service: 4 | selection: 2 | food: 3.5

3.2
/5
rDev
-1.2%
vibe: 3 | quality: 2.5 | service: 4 | selection: 3 | food: 4
The Scalehouse Brewpub is pretty hard to find, even though is right off of both Triphammer Road and 13. It is in the mall behind the Triphammer mall. Bring GPS.
The Scalehouse shares a space with northeast pizza. The pizza place in on the left and the bar is on the right.
Slightly run-down looking with cheap furniture and not a lot going on. The house beers are 4 bucks a pint, and are all extract brews. Nothing interesting. No other good beer on-tap.
Service is fine and friendly enough.
One thing I will say is that Northeast Pizza has great food specials, and the best pizza in Ithaca. Get it hot and fresh, not to go though.
I don't have a whole lot to say about this one, despite having beer here a few times. Not worth a trip in and of itself, but if you're in the mood for pizza it's not a bad spot.
816 characters
2.65
/5
rDev
-18.2%
vibe: 3 | quality: 2 | service: 4.5 | selection: 1.5 | food: 2.5
Headed back to Ithaca for the weekend, stopped by with a friend to check it out, have lunch and a few beers and reminisce.
Other reviewers described the layout, it's cool that it's merged with a pizza place. I like Triphammer Mall, the Ithaca Coffee Co. there has good beer and the liquor store next door is solid as well. This place is in the mall behind that mall.
There were halloween decorations everywhere when I went on the last weekend in September -- cool with me. Very well done, I liked the little sign saying "drink and be scary." Otherwise the atmosphere is cramped and 80s, but the effort put in to make it fun bumps up the score to average.
The beers were nothing to write home about. About as boring as fresh beer at a brewpub can be. Selection was also weak, there was a bock, a pilsner, and an ale of some sort. They had wine in a fridge behind the bar. $4 a pint, high score for service -- among other things, the proprietor agreed to pour me half a pint of two kinds in separate glasses for my $4. The gentleman working there was very nice and they brought my calzone to the bar where I was sitting.
The calzone was $6.75 and generic, not amazing but not bad.
I went in the daytime on Friday, it wasn't too crowded. Could be cool if you like their live music, which I didn't see. Otherwise, they were nice folks but there isn't a compelling reason to visit if it's out of your way.
1,405 characters
3.7
/5
rDev
+14.2%
vibe: 4 | quality: 3.5 | service: 5 | selection: 2 | food: 5
I really can't do a better job than slander who nailed the description of this place. Really, I'm not sure how much weight you should put on my review of the atmosphere or service, as I went on a Sunday afternoon and I was one of two people in the pace. Thus, I had exceptional service, but not really any atmosphere. They do have blues/jazz bands on Saturday nights, and I think the place might be more exciting at that point.
Really, this place is more of a pizzeria that happens to brew its own beer than a brew pub that happens to have food (the owner pretty much told me that in different words when I asked him why he decided to start brewing his own beer). In other words, if you are a beer connoisseur and you come just for the beer, you may be a little disappointed. They only had three beers on tap, and while all were enjoyable, they weren't anything special as far as brewpubs go. However, if you come for the pizza, calzones, or other Italian specialties and want to have a decent beer with your meal, you will be more than impressed. The place isn't fancy, but if you are in Ithaca area and want to enjoy some excellent pizza with a decent brew, this is your place.
Almost forgot, I should point out, whatever "yeast" issues they had when a earlier reviewer went, they have figured it out.
1,305 characters
3.5
/5
rDev
+8%
vibe: 3.5 | quality: 3.5 | service: 4 | selection: 3
Ithaca again, huh? It's kind of sort of almost along the way to Rochester if I cut over coming up from Binghamton and shoot out the other side slooowly running up through the sleepy towns between the lakes. Why aren't all brewpubs easily and conveniently located? The licensing application for a brewpub should clearly affirm approval being contingent on its proximity of no greater than 2.6 miles to the closest highway exit. This one's going to tack at least another hour on my trip in drive time alone. Still, it'll get me a cup of gumbo and the salmon special at the Sup club in town, and maybe I can see that place I keep thinking is called Kosovo but it isn't. Yeah, I'll spin it positive, I can make a threefer off of this...
Hidden some down winding roads in a little stripmall behind other stripmalls well outside of town. Brewpub and pizza shop; 2 stores side by side with the adjoining wall cut away for easy movement to and fro. The brewpub holds a smallish 6 seat straight bar along the far wall, with a row of large barrels for a base, copper foot rail, and laminate over a slat wood bowling lane top, you can tell by the targeting arrows. A tower of 4 taps sits down on the end next to an antique cash register. 3 tax determination tanks behind the bar and a cooler fridge on the end with a mounted TV above forward mirrored panels. And no other brewing equipment, something extract here.
Wood plank lowers below pressed tin walls and ceiling, and some foldy wavey aluminum sidings. Some of the walls and strangely trimmings are pasted with local newspapers, old New England Brew News and wine papers. Watkins Glens pics & prints adorn the walls, and framed beer coaster displays (one of them includes that freaky Heartland Smiling Pumpkin Ale grinning guy). There's an old wood telephone mounted on the wall at the end of the bar, a vintage Buffalo scale in the entranceway, and a cool mosaic glass piece in the crescent above the door in green, clear, brown, and a bit of blue glass, all 3D and crazily textured. Drop sunken spot boob lamps over the bar and 8 table seating area, tracks over the tanks and bullet spots on spinning fans down the center.
You order food here and then you walk all the way across the room and into the pizza shop to pick it up. The counter's literally like 20 feet away, and they've got upwards of a dozen tables in there. Here's the thing. I don't care how they do it, rock-paper-scissors, draw straws, maybe once-twice-three shoot, but they need to pick one radio station collectively, 'cause right now, both places play different ones and it's annoying as shit. It's 2 attached rooms blaring their own thing. I remember when I was a kid, being at a friend's house and watching TV (Some Bing Crosby movie, he singing) while the radio was playing (Janis Joplin, something fairly light). At one point, Bing and Janis came together timingwise, and hit great harmony for just a line or two. Yeah, that's not happening here. I'm sure I can hear Pink Floyd Young Lust on one barely through whatever drivel's playing on the other.
4 beers on the sampler. The Scale House American Pils, not filtered, and not crisp like I like 'em, more hoppy than anything, using Liberty hops from Yakima; the Scale House Red Ale, malty, and some decent hoppiness, okay; the Scale House Bock Dark, had a bit of roastiness to it; and a black & tan, made from the Pils and the Bock. I'm going to say the Bock Dark was the best of the lot. Pints are $4 and they do growler pours. They also serve 5 Finger Lakes wines served (3 from Doctor Frank and 2 from Hazlitt).
I talked with the owner guy for a bit, pleasant enough. And the food right through there there is supposed to be pretty good though I can't speak to it. Comfortable enough place, they seem to be doing some good business. Beers are okay for the extract that is that it is.
3,867 characters
The Scalehouse Brewpub in Ithaca, NY
Brewery rating:
2.93
out of
5
with
24
ratings