Aktien Original 1857
| Bayreuther Bierbrauerei
BA SCORE
82
good
12
Reviews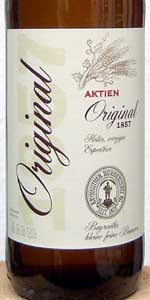 BEER INFO
Brewed by:
Bayreuther Bierbrauerei
Germany
bayreuther-bier.de
Style:
Dortmunder / Export Lager
Alcohol by volume (ABV):
5.30%
Availability:
Year-round
Notes / Commercial Description:
No notes at this time.
Added by HappyHourHero on 04-25-2008
Reviews: 12 | Ratings: 28

4.2
/5
rDev
+16.7%
look: 4 | smell: 4 | taste: 4 | feel: 5 | overall: 4.5
Aktien Brauerei-original drank on last saturday before la vie
Flip top bottle-poured into my Delerium goblet
nice loud pop, good carbonation in bottle. Love the Keller Bier, so I jumped at the chance to try this one.
Pours a beautiful light golden pale tone. Fluffy white effervescent head, light, yet thick and rocky. Medeium to high carbonation. Absolute picture perfect.
Aromatics of pilsner malt, biscuit, honey, sharp hops, fresh citrus, fresh hay, musty grain, mineral-high water,and black pepper round out a textbook Helles aroma, leans a little on the sharper side, which I really enjoy as opposed to the more one-note sweeter offerings typical in Bavaria.
Flavor follows in the superbness so far exibited. Sharp, crisp carbonation upfront, black pepper, citrus, followed by biscuit, honey maltiness, bread, grains, and an overall spike of grassy freshness. Ends light, carbonated, peppery and slightly drying.
Drinkability is another high point. Light, refreshing, tart, and carbonated well. A mid-range ABV also serves to boost this factor. NOt sure if this is a Pilsner, but makes a damn fine Helles. Really fantastic, in quality, freshness, and overall enjoyability.
1,178 characters
4
/5
rDev
+11.1%
I really like german lagers. I think only germans can do real good lagers. I don't know how they do it, but they do it. And this beer is a good thing of german beer, I can call it a classic of german brewing. This beer has an amber color, good foam, and really rich malt aroma. The taste of this beer is malt, only malt with no hops on finish. It's not too sweet, it's medium malty taste. The people who love lagers I can recommend this pale german lager, it's really tasty.
474 characters
4
/5
rDev
+11.1%
look: 4 | smell: 4 | taste: 4 | feel: 4 | overall: 4
This is a well balanced helles and went down very well in all. I taste a mixture of mild hops and barley and nothing much else. This beer is easy drinking and slightly reminiscent of their other beers. Maybe the yeast they use? Of course Aktien Zwickl an dLAndbier a better but that s due to differences in style so right on!
325 characters

3.95
/5
rDev
+9.7%
look: 3.5 | smell: 3.5 | taste: 4 | feel: 4 | overall: 4.5
Today's original Doc bruview is bought to you by Bayreuther Bierbrauerei Aktien Original 1857 "Landbier" or "beer to be drunk whilst your feet are firmly on the ground"… at least that's what I interpret "Landbier" to mean. So what do we have here? It's a Munich Helles Lager brewed to an authentic recipe from, you guessed correctly: 1857. This style of beer generally comes across to me as thicker than modern Lager styles with a real bready character and a hint of spice. This was the style of beer designed to compete directly against Czech Pilsners, and as such drinking this particular brew should be akin to taste bud time travelling back to 1857. Let's hope my tongue makes it back to 2016 alive and well.
Poured from a 500ml flip-top bottle into a stein.
A: Tiniest tinge of a hazed golden body with a bright white 2 centimetre head that slowly drops back to half a centimetre. It does appear as though a Lager from 1857 looks much like a Lager today - that is to say not impressive to me (I'm def a Russian Imperial Stout man when it comes to looks). 7/10.
S: Bread yeast, malt grains, a touch of honey and a hay bale note rounds out this pleasingly German Lager aroma. Let's face facts: If you don't like your German Lagers this is going to be a stinker for you - it's got all the hallmarks of a dense, dank earth smelling Bavarian beast within and nary much else. 7/10.
T: Quite honeyed upfront, bread, hay and grain bonanza mid-palate, slight sour bread kick towards the end and hint of pepper in the finish - this is a classic and well-rounded Munich Helles right here! After taste leaves a slight cloying honey character, though it manages well not to be a palate wrecker. Overall these are flavours that would work well with Bavarian cuisine, köstlich! 8/10.
M: Mid to light bodied with a medium creamy/dense carbonation… pretty spot on here too. 8/10.
D: As far as Munich Helles go this is definitely one of the more decent ones I've had. My overall scoring is as much a reflection of my general opinion towards Lagers than it is about this one not being a shining example of the style. So if you like your Lagers, specifically German Lagers, then I highly recommend this beer. I will most certainly revisit this brew again in the future, especially if I'm chowing down on some Bavarian food. 9/10.
Food match: I think we covered this already but: Bavarian… specifically anything gazed and pork-like [or even just plain pork].
2,488 characters

3.85
/5
rDev
+6.9%
look: 3.5 | smell: 3.5 | taste: 4 | feel: 4 | overall: 4
Half litre flip top, very pale colour, very clear. Lots of foam which goes quickly. Grassy smell, notes of citrus. As for taste its on the sweetside, grassy, slight hint of bitterness at the end. Easy enough to drink. What I like about this beer is you can drink several and unlike north german pils type beers it doesn't dry your mouth out.
341 characters
3.8
/5
rDev
+5.6%
look: 3.5 | smell: 3.5 | taste: 4 | feel: 3.5 | overall: 4
Poured a huge, dense, off-white head leaves some strands of lace. One-dimensional aroma is full of pungeant spicy hops.. Clear golden beer holds a few streams of lazily rising bubbles. Flavor a mildly sweet pale malt and white grapes mixed with grassy/spicy hops. It finishes with a mild bitter bite. The body is average and the beer is low in carbonation making for a soft watery mouthfeel. It's not as crisp as most Helles, and I'd say it's somewhere between a Helles and Kellerbier in flavor. Not a bad beer. Try one if you're in the area.
542 characters

3.63
/5
rDev
+0.8%
look: 3.5 | smell: 3 | taste: 4 | feel: 3.5 | overall: 3.75
500ml bottle. Pokal glass. Golden color, crystal clear appearance. White froth, close crown. Fairly good retention & lacing on sides. Crispy upfront displays grainy, herbal & sweet flavors. Medium to light body. Moderate to medium high carbonation. Dense & velvety mouthfeel with spicy touch. Clean bitterness arises in the middle but maltiness drives into an extended sweet/bitter followed by light estery –pear & apple- aftertaste where slight metallic hues are shown.
472 characters
3.6
/5
rDev 0%
look: 3.5 | smell: 3.5 | taste: 3.5 | feel: 3.5 | overall: 4
A clear straw colored brew, a white head with rather little lacing and small curtains.
Smelling of boiled vegetables with melted butter and a dash of lemon.
Starting fructose sweet, pears, lemon and a light bitterness.
Medium carbonation, refreshing texture and a light dry finish.
An easy-going clean fruity lager, not bad at all.
335 characters
3.41
/5
rDev
-5.3%
look: 3.5 | smell: 3 | taste: 3.5 | feel: 3.75 | overall: 3.5
Very pale straw colour. The initial head dissipates rapidly to a thin overall lacing. There is no discernible smell to my nose. Dry but mild Helles type flavour, which belies it's 5.3% ABV. Goes down nicely, and would probably be an ideal tipple out in the tropics - refreshingly dry and subtle, but carrying a satisfying oomph in the background too.
350 characters
3.27
/5
rDev
-9.2%
look: 3.5 | smell: 3.25 | taste: 3.25 | feel: 3.25 | overall: 3.25
Blond, clean. Light carbonation, average white foam.
In the smell a decent, clean maltiness.
More malt in the taste, but not too much. And a hint of honey.
Clean, drinkable, every day beer.
Average body, malty aftertaste, with a light hop in the end.
250 characters
2.99
/5
rDev
-16.9%
look: 3.25 | smell: 3 | taste: 3 | feel: 2.75 | overall: 3
Active carbonation lifts a light and fluffy one finger head. Clear golden color with sour hay aroma. Slightly sour, grassy taste. Watery mouthfeel and no aftertaste. Decent for a hot summer day, but not the usual "bread-like" body you get from some German beers.
262 characters
2.6
/5
rDev
-27.8%
look: 2.5 | smell: 2.5 | taste: 2.5 | feel: 2.5 | overall: 3
500 ml bottle. Golden colour, with a rather normal head that fades quickly. Smells of damp earth, grains, some citrus hints. Light body, thin palate and an anodine palate of malt and almost nothing. It's about to expire, so another taste is maybe needed.
254 characters
Aktien Original 1857 from Bayreuther Bierbrauerei
3.6
out of
5
based on
28
ratings.