Aktien Zwick'l Kellerbier
| Bayreuther Bierbrauerei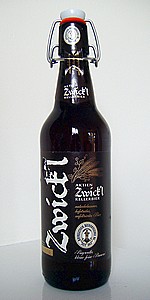 BEER INFO
Brewed by:
Bayreuther Bierbrauerei
Germany
bayreuther-bier.de
Style:
Kellerbier / Zwickelbier
Alcohol by volume (ABV):
5.30%
Availability:
Year-round
Notes / Commercial Description:
No notes at this time.
Added by wl0307 on 08-19-2008
Reviews: 57 | Ratings: 166
3.94
/5
rDev
+1.5%
look: 4 | smell: 2.5 | taste: 4.5 | feel: 4 | overall: 4.5
My first taste of a German Kellerbier. I've only tried Trois Mousquetaires'
Mother brought this back from trip to Germany.
Really wish I could read the label on the back ... might ask my dad for a translation.
A- This has a peculiarly beautiful colour. Peculiar and beautiful actually. It's quite hard for me to seize. Golden caramel, light amber, copper. Completely clear (i can see my fingerprints through my glass). Inch of head recedes to an almost equally beautiful fuzzy surface layer in a couple minutes. Slight beige tint to the chewy head. Frothy lacing.
S- Smells like there's some grain other than barley but I doubt it. I'm getting a bit of a burnt cream of wheat, some mineral character and alcohol. Not very much and not very much I enjoy.
T- Wow this tastes good. There's a few layers in here. Starts off pretty ordinary and macro lager like but ends with a weirdly smooth maple ale. I love how this ends. Bitterness is a bit like a chamomille tea.
M- Low carbonation thas works well with the almost eerily smooth flavour. A bit dry. Medium mouthfeel.
D- Very good. Just because of that fleeting taste in the end that I just want more and more of.
Just for that last delicious part of the taste it's worth seeking out this beer. The rest of the taste and structure is just a little over ordinary. I really want to try this again. Really weird how I don't think this is all too good but that little taste I get in the end is like a delicious drug.
★
1,468 characters

3.43
/5
rDev
-11.6%
look: 3.5 | smell: 3 | taste: 3.5 | feel: 4 | overall: 3.5
Pleasant unfiltered malty beer.
The slight cloudiness makes an appealing glassful. Slightly brownish amber in color. Has an interesting flavor-- maybe it's the yeast. Not a rich beer, but has a lot of mouthfeel with the velvety carbonation. Malty flavors with a hint of caramel. Modest hop taste but nicely balanced. Not as interesting as some but an interesting style and quite drinkable. One of these and I would look for some other variety of flavor, however.
★
463 characters
3.63
/5
rDev
-6.4%
look: 4 | smell: 3.5 | taste: 3.5 | feel: 3.5 | overall: 4
[email protected]
A: Golden color with a creamy, white, head and lots of lacing.
S: Caramel, Wild strawberries, Hint of metal, Hint of malt.
T: Caramel, Malt, German hops, Berries.
M: Easy to drink with medium carbontation and small bubbles. Refreshing. Slight bitterness at the end.
An average kellerbier. Not very good. Not bad at all.
★
336 characters
4.28
/5
rDev
+10.3%
look: 4.5 | smell: 4 | taste: 4.5 | feel: 3.5 | overall: 4.5
Bought a few of the swing-top bottles at my local Getränke Hoffman. It pours a cloudy red amber with a very pleasantly frothy head and smells like honey, strawberry and hay.
I've never actually had a Zwickl before, but it's delightful, bitter with a sour yeasty twang, some spicy floral hops, and a bitter and citrusy end. The mouthfeel was maybe thinner and less carbonated than I wanted it to be, but overall it's very drinkable, and I hope to find some in the summer.
★
472 characters
4.4
/5
rDev
+13.4%
look: 4 | smell: 4 | taste: 4.5 | feel: 4 | overall: 5
Just had this and it is very summery:
A - Acloudy amber/honey very naturbelassen
S - Hay, cut grass, hops a hint of spice
T - Tastes very fresh - noble hops slightly bitter with a hint of harvest spice
M - Low carbonation but large bubbles, medium dry palate
D - Very, very drinkable this goes down a treat
★
311 characters
4.27
/5
rDev
+10.1%
look: 4 | smell: 4.5 | taste: 4 | feel: 3.5 | overall: 5
Served at my local kniepe on tap in a .5 liter stoneware stein. (It's their "beer of the month")
A: A thick sudsy head that dissipated after a couple minutes, but left solid lacing throughout.
I poured a small portion into a clear glass to get a look at it. A nice red-brown color with uneven cloudiness. The bartender tells me that they flip the kegs daily to ensure that the sediment doesn't settle.
S: A lovely floral, almost rasin smell, (maybe some strawberry too?)
T/M: Though the mouthfeel was thinner than I expected, the flavor was an excellent combination of fruit and malt with enough hops to not make the beer sickly sweet.
D: I prefer a more malty, subtle beer to being bashed over the head by hops, and this one fits the bill. A rarity on tap even in Germany. If you can find it, get it!
★
807 characters
3.88
/5
rDev 0%
look: 4 | smell: 3.5 | taste: 4 | feel: 4 | overall: 4
Coming in a 500ml brown swing-top bottle, BB 24/10/08, served chilled in a weizen glass.
A: pours a translucent, dark amber hue with faint red hues; carbonation is lively but not fierce, supporting a thick layer of ever-lasting beige froth on the top.
S: compared with the Göller Kellerbier tasted yesterday, this one is slightly more pronounced in terms of lager's dough-iness, on top of light amber malts and delicately floral German hops. A certain depth of hoppiness manifests itself on the aroma, too. Compact and balanced.
T: mildly bitter-sour, with a rather solid body of yeastiness, soothing lager malts, a touch of caramel and herbs, plus an expanding flow of chewy floral hoppiness and slightly spicy+tannic bitterness (a bit like from roughly-crushed lemon-seeds). The mildly sour-bitter finish also shows a little tangy citrus fruits.
M&D: this is perhaps the most enjoyable Kellerbier in the bottle-version that I've tasted; soothing on the carbonation, with marvellous hoppiness and bitterness threading through the tasting, while the sediment adds some more body and depth to the overall nicely balanced flavour profile. A quaffable "German bitter"!
★
1,172 characters
Aktien Zwick'l Kellerbier from Bayreuther Bierbrauerei
3.88
out of
5
based on
166
ratings.