Chicken Killer Barley Wine
| Santa Fe Brewing Company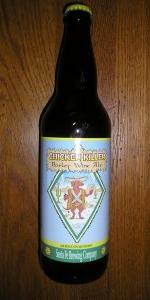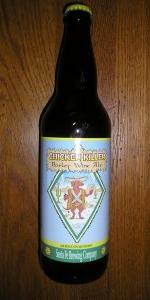 BEER INFO
Brewed by:
Santa Fe Brewing Company
New Mexico
,
United States
santafebrewing.com
Style:
American Barleywine
Alcohol by volume (ABV):
10.00%
Availability:
Year-round
Notes / Commercial Description:
Chicken Killer Barley Wine is the revolutionary beer that will someday define America's unique Barley Wine style. It is brewed with twice the ingredients of the Santa Fe Brewing Company's other beers, and only half the usual amount of liquid is extracted from these ingredients. This makes one substantial beer. At over ten percent alcohol, Chicken Killer is actually as substantial as wine, but this is not to say that it is difficult to drink. On the contrary; be careful with this one. The flavors of the beer are at first as overwhelming as the intense Santa Fe sun. But in the same way our sun gives us the unrivaled brilliant colors of Santa Fe, the potency of Chicken Killer gives us the remarkable spectrum of flavors that can be found in no other beer, in no other city. If you did not have the opportunity to try last year's vintage, come try this year's!
Added by amicar on 03-07-2006
HISTOGRAM
Ratings: 364 | Reviews: 172
3.76
/5
rDev
+2.2%
look: 4.5 | smell: 3.5 | taste: 4 | feel: 3.5 | overall: 3.5
Thanks to Enola for sharing.
Nice ruby/amber in color with some orange hues when held up to the light. This is what I imagine a Santa Fe sunset may look like. 1/2" lightly tanned head slowly recedes to a thick lace on top of the beer.
Smell is huge malt sweetness. Brown sugar.
Big on the malts in the flavor with out overdoing it. Caramel and brown sugar again. There is just enough balance to keep it from being cloying.
Mouthfeel is thick, chewy, and filling. Typical for the style.
A sipper for sure but a good beer to drink.
529 characters

3.6
/5
rDev
-2.2%
look: 4 | smell: 4 | taste: 3.5 | feel: 3 | overall: 3.5
Pours with quite a murky, muddy amber color. It is topped by a frothy, bright amber-tinged, tan colored head that starts out almost three-fingers in height. The aroma is quite rich and concentrated; notes of candied orange peel, brown sugar encrusted rustic bread crust, sweet orange spice cake, lychee, and murky caramelized malt (if that last makes sense). This beer really has a pronounced, sweet, candied orange aroma to it. The hops definitely are the dominant character, but there is a ton of malt underneath that just add to a very rich, chewy smelling aroma.
Quite sweet tasting and the sweet orange peel notes play quite a prominent role in the flavor as well. Thick, though not overly so; it certainly sticks to the palate, coating my mouth with caramelized malt sugars and orange zest, which slowly fades after the beer has left my mouth. The malt character here is quite rich; redolent of the afore-mentioned caramel, toasted grain, brown sugar notes and a real meaty malt character. This beer has a nice solid bitterness to it, but it is amazingly smooth; the bitterness is quite clean in the finish. Towards the finish the hops contribute a flavor that is menthol-like, resinous, not quite pine, but definitely a bit green.
This is an enjoyable brew, somehow it is not quite integrated though. At times it can be a touch disjointed; this doesn't keep it from being tasty, but I could certainly see how this could be quite a bit better. All it really may need is a little age; perhaps six months to two years may just be what this beer needs to achieve new heights.
1,584 characters
4.09
/5
rDev
+11.1%
look: 5 | smell: 3.5 | taste: 4 | feel: 4.5 | overall: 4.5
Could've swore I reviewed this before, but old age might be tricking me,,, 22 OZ bomber
Pours an effervescent reddish caramel with 2 fingers+ of brownish sandy colored head. Superior lacing & head retention
S: Bready with hints of brown sugar
T: Bready & fruitty (dates) with a little too much boozeyness up front. Some slight chocolate & herbal hops. Oaky dryness & breadyness dominate the finish, with a little fruittyness (dates, spiced apples & some pears) thrown in for good measure & little more dryness & alcohol burn, plus a wee bit of maple syrup sweetness
MF: Chewy with medium carbonation, pretty rich & sticky
Drinks great for the ABV. Skews to an English style BW IMO, fans of those will love this. A little more finesse with the malt & or alcohol taste than this offers or some more hops to get this to the upper ecehelons of BWs. Still way better than the 1st time I had it, but snow is falling, maybe it's all about the weather??
960 characters
3.93
/5
rDev
+6.8%
look: 4 | smell: 3.5 | taste: 4 | feel: 4.5 | overall: 4
22 ounce bottle. Amber colored with a small white head. Initially I was thinking this was a pretty average barley wine. Then it seemed to smooth out and open up. It turned out to be a really excellent malt accented barley wine, with hints of vanilla and caramel covered fruits.
277 characters
4.3
/5
rDev
+16.8%
look: 4 | smell: 4 | taste: 4.5 | feel: 4 | overall: 4.5
Pours a cloudyt reddish, orangish, brown with a nice thick and sticky head. Smells wonderfully sweet with a little hop citrus.
Taste is massive fruit, plums, raisins, dates, figs, citrus hops. Very nice carbonation and mouthfeel, slick and very creamy. I really like this one, just wish I could get more.
305 characters

3.58
/5
rDev
-2.7%
look: 4 | smell: 3.5 | taste: 3.5 | feel: 4 | overall: 3.5
Raisins in a glass. Simple as that.
Pours deep mohogany brown, cloudy, with thin tan head that retains well. Large bubbles.
Nose is citrusy, sweet molasses or cocoa, and a slight brown bread aroma.
Palate is all raisins. Sweet, almost too sweet, with a distinct raisin taste that I cannot get past.
Finish: raisins.
327 characters

3.88
/5
rDev
+5.4%
look: 4 | smell: 3.5 | taste: 4 | feel: 4 | overall: 4
This one pours from 22oz bottle a clear deep amber with a medium sized head of foam. A couple of minutes in to the session, it shrinks to just a few islands in the middle and it has some lacing.
The smell has a big nose of caramel malt with some hop notes floating in the background.
The taste on first sip is also big on caramel malt but it is not overly sweet. A few more sips in and I'm getting some dark fruit flavours, and some hop bittererness...but not much. I'm also getting some roasted malt, some grain and a bit of an alcohol burn when it goes down but it's not objectionable in my opinion. This is a good BWSA.
Bottom line: I picked this one up on my last trip to Ft Collins and it's a good example of the style. I'd buy it again.
751 characters
3.9
/5
rDev
+6%
look: 4 | smell: 4 | taste: 3.5 | feel: 5 | overall: 4
"Chicken Killer Berley Wine is a revolutionary beer that will someday define America's unique Barely Wine Style", or so says the first line on my bomber... big talk, lets get to it!
Appearance - Pours a deep red/muddy brown with a quite generous head that stays put for quite some time. Lacing is quite good.
Smell - Hops, dark fruit, and spicy alchohol dominate. A little bready malt.
Taste - Very malty, with just a hint of hops in the background. plumbs and prunes dance around the palate somewhere in the middle.
Mouthfeel - Thick and just slightly viscous, a wounderfully smooth barley wine.
Drinkability - Alchohol (although not apparent in the flavor) and complexity minimize the sessionability, it is easy drinking none the less.
Overall - Doesn't quite live up to my expectations. As for the quote above, yes, it is unique. Will it define American barley wines? I doubt it. But still quite enjoyable.
928 characters
3.65
/5
rDev
-0.8%
look: 4.5 | smell: 4.5 | taste: 3 | feel: 4 | overall: 3.5
22oz bomber poured into a Chimay chalice. The color was dark ruby red with a nice white head floating on top. The head subsided into a light white coating of the surface of the beer. The smell was really good with dark fruits, toffee, and a little nuttiness. The taste is really good in the front, more nuttiness and toffee, chewy almost. The aftertaste sucks as it is really phenolic and weird. The beer got better as it warmed but the aftertaste killed it. If aging could kill that aftertaste this would be a real winner. The label was a little pretentious as it stated that this beer would someday define the American barleywine style. Um, no. There are far too many barleywines that exceed this by leaps and bounds (bigfoot, ruffian, numbskull, behemoth).
759 characters
3.32
/5
rDev
-9.8%
look: 5 | smell: 3 | taste: 3 | feel: 5 | overall: 3
22 oz bottle. Pours a hazy tea color with a creamy light tan head that retains well and laces the glass.
The aroma is sweet caramel malts, cola and some dark fruit and melon. It has some spicy medicinal alcohol notes.
The flavor is sweet caramel and cola with a slightly bitter alcohol finish. It's too sweet, almost cloying, and has a bit of an off aftertaste. It is pretty mild tasting for a barley wine. The mouthfeel is full and creamy with velvety carbonation.
Overall, a strange beer. Excellent appearance and mouthfeel, just off on the nose and flavors.
569 characters
3.75
/5
rDev
+1.9%
look: 4 | smell: 4 | taste: 3.5 | feel: 3.5 | overall: 4
Thanks to the beerfly I found this brewpub and beer for my business trip. I happen to be a big fan of english style barleywines and this one was definitely in that vein! Kudos to the brewers for being this far west and resisting the urge to out hop the west coast brewers!
A - rich ruby red, draft carbonated head 1/2" which quickly dissipated. light lace on the glass.
S - rich wonderful malty smell. reminds me in some ways of having a youngs old nick in England at the brewery.
T - Very good. Lighter on the malt that the smell indicated. Well balanced with enough hops to keep this from being sweet, but not so much that it takes away from the wonderful malty / toffee flavor. at 10% ABV, it hides the alcohol very well.
M - Medium bodied brew. very smooth!
D - Easy to drink and deceptively strong. I enjoyed it enough that I am bringing a growler home to New Hampshire to share with friends.
912 characters
2.99
/5
rDev
-18.8%
look: 4 | smell: 2.5 | taste: 3 | feel: 3.5 | overall: 3
Pours a deep copper, with a lasting tan head and moderate lacing.
The aroma is of sweet malts with little to know hop bouquet.
While barleywines are one of my favorite styles, this one was way too sweet with a huge alcohol burn. It did finish with a bitter hop bite but the hop flavor was lacking.
Medium-heavy body and lightly carbonated as it should be.
Just not a very good representation of the american barleywine style. My least favorite of the Santa Fe beers.
478 characters
4.2
/5
rDev
+14.1%
look: 4 | smell: 4 | taste: 4.5 | feel: 4 | overall: 4
Hey! Where's the love for this beer? OK, I know – only two reviews. So I am going to give this Barley Wine some props, and then hopefully when it totals 5 reviews, it will get the rating I think it deserves. And, no, I am not in any way associated with the brewery!
I travel frequently to Santa Fe, and have been sampling this barley wine for many years, bottled and on tap, fresh and aged. I think it's consistently quite good, but consistently inconsistent in style. It has ranged from resembling a dry-hopped Imperial IPA, to being a soft, fruity, sweet beer in the acceptable range of the Barley Wine style. Even taking aging and bottle-conditioning into account, this stuff varies. It's produced year round, so it isn't an issue of changing the recipe for a new release.
So, for bottled CK, from 2005:
Appearance: Dark orange-amber, and cloudy without agitating the yeast. Beige colored moderate head with moderate lace.
Aroma: Very fruity – plums, maybe peaches? Sweet malt and underlying hops.
Taste: Again, very fruity. Substantially malty and sweet with a hop bittering that falls somewhat short of complete balance. Complex and enjoyable.
Mouthfeel: Fairly full-bodied and soft. Carbonation is moderate.
Drinkability: If the flavor profile works for you, this is very drinkable. The alcohol is definitely noticeable, but not overpowering. The sweetness is not cloying.
I plan to try the latest batch on tap this weekend at the brewery. And by the way, the brewery has moved and expanded and added restaurant service. So get out there and support these guys in their new investment. I don't want to see this place go under from the added weight!
1,685 characters
3.36
/5
rDev
-8.7%
look: 4 | smell: 3 | taste: 3.5 | feel: 4 | overall: 3
Got this one while vacationing in New Mexico. From the website (www.santafebrewing.com):
Availability: year round
Starting Gravity: 22.5 degrees Plato
Ending Gravity: 4.5 degrees Plato
Malts: 2-row pale, 30-37 l. Carastan, 135-165 l. Crystal
Hops: Chinook, Hallertau, Crystal
Yeast: House Ale
Alcohol Content: 10.0%
Looks slightly hazy light brown with orange tinge and slight off white head. Smells a little medicinal with a funny (not bad) spicy candy smell. Taste is with plenty of malt and perhaps a bit too much on the crystal malt side. Nicely bitter, but not overwhelming. The taste is again of spices and a tiny bit of bitter orange. Feels quite full in the mouth, and not too sweet. Not sure I'd want too many of these though. Decent, but I don't think I'd chase this down; I may also have had this a little early as well. A good start for this New Mexico brewer.
883 characters
Chicken Killer Barley Wine from Santa Fe Brewing Company
Beer rating:
3.68
out of
5
with
364
ratings