Imperial Yippee IPA
| Santa Fe Brewing Company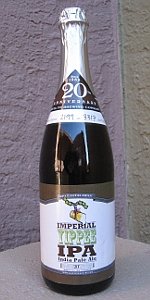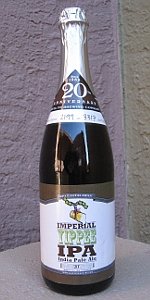 BEER INFO
Brewed by:
Santa Fe Brewing Company
New Mexico
,
United States
santafebrewing.com
Style:
American Imperial IPA
Alcohol by volume (ABV):
9.50%
Availability:
Limited (brewed once)
Notes / Commercial Description:
Welcome to the Hop Head Rodeo at Santa Fe Brewing Company! Coming out of bucking chute #3 is a hop slingin', show-stealin' son-of-a-gun known to locals as Yippee IPA. Your gonna have to cowboy up for the first sip (8 seconds where you will savor the wonderfully intense hop flavors, the robust sweetness, and the delicious lingering bitterness of this limited edition IPA). Hang on tight for an intense ride 'cause Yippee IPA is the real deal: heavily hopped, unfiltered, and well balanced for true hoppy beer lovers of the Wild West. After you've wrangled the first sip, you can grab your cowboy hat and round up another, your taste buds will be tamed and you'll be ready for a long ride into the orangey sunset knowing that you're on your way to getting that big trophy belt buckle you've secretly always wanted...only this one's engraved with hops. Yippee IPA is the third and final beer of our "20th Anniversary Big Beer Series." This bottle will age well through our 21st year. Cheers! and thank you for the first 20 years... We're looking forward to 20 more!
Added by Zorro on 01-04-2009
This beer is retired; no longer brewed.
HISTOGRAM
Ratings: 8 | Reviews: 7
Reviews by thekevlarkid:
4.26
/5
rDev
+2.9%
look: 5 | smell: 4 | taste: 4.5 | feel: 4 | overall: 4
Out of hand-numbered bottle #1219 of 3317 this DIPA was a cloudy amber color. The three-finger beige head displayed great retention as a fluffy cap. Eventually the cap became rocky and left little islands of foam floating atop the liquid. The lacing was also excellent, in curtains; top marks for appearance. The aroma was dense, lots of floral hops, citrus notes, some pine and alcohol. The flavors were also outstanding, starting with honey it then went into a bouquet of floral notes, grapefruit, light pine, sweet malt and alcohol. Notably acidic. Tight, tart and well balanced with enough sweetness to handle the bitter elements. The mouthfeel was good, the body full and the carbonation correct for the style.
715 characters
More User Reviews:

4.2
/5
rDev
+1.4%
look: 4.5 | smell: 4.5 | taste: 4 | feel: 4.5 | overall: 4
Pours a big light brown head with staying power on a not quite clear orangish golden colored beer.
Aroma is hops and grain alcohol with a slight spices hint.
Taste is dominated by the alcohol, with hops, a little caramel and spices coming through.
A dry aftertaste with lingering alcohol and caramel hints.
I liked this but like their regular IPA even more, I prefer to not taste or smell the alcohol, more so want the taste and smell of the hops. Nevertheless this is pretty good stuff and limited to 3317 numbered bottles.
525 characters

4.23
/5
rDev
+2.2%
look: 4.5 | smell: 4 | taste: 4.5 | feel: 4 | overall: 4
750 ML bottle number 1706 of 3317 Bottles.
Deeply amber colored beer with an exceptionally tall tan colored head that really hangs in there.
Sweet and intensely hoppy to the nose raw hop leaf and strong pine. Spicy scent lots of fresh ground pepper.
The taste starts out sweet and intensely hoppy with an earthy aftertaste. Quite a highly hopped beer flavor comes through as intensely herbal with a long lasting aftertaste. Pine and pineapple and some leather, seems like they threw ever hop in the book in this batch, IBUs are going to be close to or beyond 100.
Mouthfeel is good.
Drinkability is going to be HIGHLY dependant on you being a hophead. I love it a really hop butt kick in a bottle. If you are not a hophead this will be highly bitter.
765 characters


4.12
/5
rDev
-0.5%
look: 4 | smell: 4.5 | taste: 4 | feel: 4 | overall: 4
Pours a cloudy amber/honey color with a big tan head. Smell is very aromatic, fresh cut grapefruit. Taste is rather malt based though, caramel and biscuits. A hint of fresh orange is in the middle as well. Low bitterness for a DIPA. Mouthfeel is smooth and creamy, somewhat high carbonation though. Drinkability is pretty good for a Double IPA. I would say that I would definately get this again, but it was a limited run so I doubt I will be able to. A very good beer nonetheless.
481 characters

3.85
/5
rDev
-7%
look: 4 | smell: 4 | taste: 4 | feel: 3.5 | overall: 3.5
Bottle 184 of 3317; Sampled August 2009
The beer is a bit excessively carbonated as it foams up as soon as I pop the cap. A careful pour still produces a three finger thick, pale, off-white colored head in my 25cl tulip glass. The beer is a red, light amber hue that shows a lightly hazed red copper color when held up to the light. The beer smells of sweet citrus, sharp pine and a toasted grain note in the finish. While this is definitely hop dominated a pale malt character still plays a significant role here. Bright lychee, ample bergamot, clean tangelo, kumquat oil and some clean apricot aromas define the dominant hop fruit notes. If you really dig around there is a touch of warming alcohol noticeable in the nose.
Sweet tasting up front, but immediately balanced by a biting hop bitterness. The finish has a sharp herbal and green grassy hop notes as well as some hot alcohol notes. The carbonation is still a bit high, despite sitting in my glass for quite some time; some swirling gets rid of the excess carbonation. Despite the up front sweetness the overall effect of this beer is pretty dry, this is helped by the dryness of the finish. Notes of orange zest, lychee, and ruby red grapefruit concentrate. The body is fuller than one would want in a light, quaffable West Coast Double IPA, but is not on the heavy side for many Double IPAs out there. This has enough sweetness to accentuate the fruity hop notes but not so much as to make this cloying. The malt is fairly clean, though it can seem just a touch murky, or perhaps rustic is a bit more flattering, at times. The hop character in the finish also has a nice menthol, oral-nasal character to it.
Despite being out for quite some time, this is still fresh and hoppy tasting. Definitely hits the spot for those in needs of a hop fix. This is a nice beer, for some reason though it isn't entirely doing it for me right now. I think I might just not be quite in the mood for this beer right now, but this is till pretty enjoyable.
2,003 characters
4.12
/5
rDev
-0.5%
look: 3 | smell: 3.5 | taste: 4.5 | feel: 4 | overall: 4.5
Appearance - Foamy tannish head; amber coloring. Pretty standard for an IPA. 3.0/5.0
Smell - There are some piney hops, but more malty and alcohol than I would have expected. 3.5/5.0
Taste - Very well blended hop flavor. Piney, citrus, grapefruit, sweetness, malt. Not overly strong, but notable flavors. Not as bitter as I would have expected either. My wife, who isn't an IPA fan, said the sips she had were nice - that's saying something. 4.5/5.0
Feel - Thickness, almost a syrupy feel to it. the lack of bitterness that I have come to appreciate in IPAs is a downgrade, but at the same time, the beer felt good and the flavors stick around a lot. 4.0/5.0
Drinkability - It's one of the better Imperial IPAs that I've tried. given it's a limited run, not sure how often I'll get this, but would definitely do it again. 4.5/5.0
833 characters
4.35
/5
rDev
+5.1%
look: 4.5 | smell: 4.5 | taste: 4.5 | feel: 4 | overall: 4
Poured into a tulip.
A - looks like an IIPA should - somewhat dark, murky golden color with a bright off-white head on top.
S - hops, a good amount of malt sweetness, honey, wheat grass, pine.
T - I wasn't sure what to expect from a 2+ year old IIPA, but this is really dang good! Hops up front, followed by creamy, sweet malts, then a huge hop bite on the finish. I'm really surprised the hops have stayed so strong in this beer. I can't even imagine what it would've been like fresh.
M - pretty intense hop profile, creamy maltiness.
D - it's delicious and going down smoothly, but I'm glad my fiance is sharing this fairly strong brew with me.
654 characters
Imperial Yippee IPA from Santa Fe Brewing Company
Beer rating:
4.14
out of
5
with
8
ratings