Wild Ale #3 (Zotte Berten Series)
| Santa Fe Brewing Company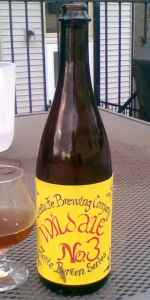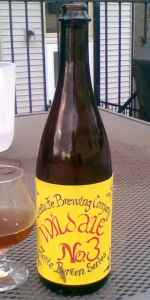 BEER INFO
Brewed by:
Santa Fe Brewing Company
New Mexico
,
United States
santafebrewing.com
Style:
American Wild Ale
Alcohol by volume (ABV):
not listed
Availability:
Limited (brewed once)
Notes / Commercial Description:
A mellow blend of Sour Ale and Prickly Pear aged in Chardonnay barrel.
Added by Mora2000 on 06-23-2010
This beer is retired; no longer brewed.
HISTOGRAM
Ratings: 13 | Reviews: 10
None found.
More User Reviews:
4.2
/5
rDev
+12.9%
look: 4 | smell: 4 | taste: 4.5 | feel: 4 | overall: 4
Thanks to thirdeye11 and travita for sharing this bottle. This was sampled alongside Wild Ales No. 4 and No. 5.
This is a sour ale brewed with prickly pear fruit and aged in chardonnay wine barrels.
The beer pours an orange-amber color with a white head. The aroma is heavy on the prickly pear with just a little bit of tartness. The flavor is a mix of light funk, prickly pear, oak and vanilla. The beer is a little bit like chardonnay which is not completely unexpected because of the barrels it was aged in. This beer is not near as tart or sour as the other Santa Fe wild's tried alongside it but is still an enjoyable beer. Medium mouthfeel and medium carbonation.
676 characters

3.35
/5
rDev
-9.9%
look: 3.5 | smell: 3.5 | taste: 3.5 | feel: 3 | overall: 3
Thanks go out to Drew and cottzilla for letting me try this one!
Pours a murky brown with peach hues. Head retention is brief.
Smells of oak, tangerine, funk, lemon.
Quite unique. I get bourbon barrel notes as the primary flavor though I am not certain what type. Sorta reminded me of a milder version of Goose Islands' Dominique.
Quite mild overall, very little funk in the taste. Lots of barrel with a mildly sweet beer base.
Decent!
440 characters

3.72
/5
rDev 0%
look: 3.5 | smell: 4 | taste: 3.5 | feel: 3.5 | overall: 4
Pours a murky orangish brown. No real head. Smells tart and oaky. Some light fruits. Very light. Tastes tart but not overly sour. A bit sharp but interesting. Light fruits mayb pear? Tastes oaky with a touch of vanilla. Mybe bourbon? Petty good mouthfeel. Vry drinkable actually.
279 characters

2.98
/5
rDev
-19.9%
look: 3.5 | smell: 3 | taste: 3 | feel: 3.5 | overall: 2.5
Thanks to Kan for sharing this. 750mL poured into CCB snifter.
A - Pours a mirky brown, not too much head, no lacing or retention.
S - Kinda metallic, medicinal, slight funk, not all that impressive.
T - Slight more funky then the nose, but too medicinal and metallic for me to continue drinking. Plastic-like finish.
M - Light, fizzy carbonation, dry.
D - Poured the rest of the glass out. Bleh.
406 characters

2.96
/5
rDev
-20.4%
look: 3.5 | smell: 2.5 | taste: 3 | feel: 2.5 | overall: 3.5
A-hazzy amber/brown and no head to speak of at all.
S-very funky and tart smelling. Don't really like it at all
T-very tart and sour. Not great but not bad. Can't quite put my finger on it exactly.
M-crisp and clean but has a bad aftertaste.
d-OK at best. More so a sipping beer
278 characters

4
/5
rDev
+7.5%
look: 4 | smell: 4 | taste: 4 | feel: 4 | overall: 4
A steady pour into my large Triple Karmeliet tulip produces a fizzy, one-finger thick, lightly amber tinged, tan colored head that quickly disappears. The beer is a rich, dark plum color that shows a lightly hazed, red-amber color when held up to the light; considering that this is the same base beer used for the others in the Wild Ale series, it is has clearly been stained into quite a darker hue due to the added fruit. The aroma smells lightly sour, with a musty, definitely musky sort of animal sweat type note as well as having a touch of buttery character, a touch of earthy dampness and an overripe, dank cheese-like aroma that at times seems like the most dominant note in the nose. The beer is a bit colder than I might prefer, but after digging for a bit a touch of vegetal character, some touches of watermelon aromatics and a definite, green, melon rind note. As the beer warms some spicy oak becomes more noticeable as does some alcohol accentuating notes from the barrel aging.
Lightly sour, or quite tart actually, the beer definitely still has a sweetness to it though. The finish has a bitterness to it that seems to be contributed by crushed, bitter, prickly pear seeds. There is a touch of astringency here too and the finish also has a spicy oak character to it that seems to accentuate an alcohol note. The sweetness accentuates a fruitiness that is directly from the prickly pear with flavors of watermelon, tart berry notes, and even a touch of raspberries more specifically. The acidity here is quite soft compared to the number 1 and number 4 that I had recently, it still definitely has a lactic acidity contributed by souring-bacteria though. There are some phenolic notes in the finish that contribute flavors of curing plastic and a touch of nail polish; these get wrapped up in the spicy, alcohol-enhancing oak flavors, such that I didn't notice them at first. As the beer warms up the prickly pear becomes more noticeable. Both the fruitiness becomes more prominent as does the biting, almost peppery at times, astringency and bitterness; this last I have noticed in prickly pear beers I have brewed in the past using whole fruit (though admittedly it was much worse in the last beer I brewed with whole prickly pear fruit). This has a medium-light body to it that is definitely light enough to be quaffable (though the spiciness and seed-bitterness fight this a bit).
Interesting, despite being less sour than either of the other Santa Fe Wild Ales and also having some sweetness to it, I almost think this is funkier than the other two. It is also not nearly as well integrated and balanced as those others, despite the fact that each of them was more bracingly sour than this beer. The slight vegetal and biting astringent character from the fruit doesn't really help here either. Having said all that I have certainly been more critical here than my actual enjoyment of this beer warrants, this is actually fairly nice, and it is pretty cool that the prickly pear plays a prominent role here without being so over that top. Even the vegetal notes and astringency is not enough to ruin this beer in any way.
3,146 characters

3.82
/5
rDev
+2.7%
look: 4 | smell: 4.5 | taste: 3.5 | feel: 4 | overall: 3.5
Thanks to kbutler1 for sharing this.
Poured into Lost Abbey Stemware
Pours 1/2 finger white head that fades down. Color is a dark ruby red.
Aroma: Tart cherries, oak, red grapes, vanilla, spice. It is fairly sour and I am enjoying it so far a lot.
Taste: Huge brett flavor up front with medicinal and floral notes. Then the oak and spice come around with a light cherry flavor. Funky with light sourness. Grapes show as it warms. Not as good as the nose. Very different.
Mouthfeel: Funk then a bit sour. Medium bodied with a medium amount of carbonation. Ends dry, but relatively clean.
Overall, a decent sour, but I was the taste was more like the nose. Decent drinkability. I am really glad I got to try this one.
721 characters

4.12
/5
rDev
+10.8%
look: 4 | smell: 4.5 | taste: 4 | feel: 4 | overall: 4
Bottle. Really excited to try this one out as I share it amongst some other beer fans. Nice pop as the cap comes off.
Pours a reddish amber color with a slight collar of head.
The aroma hit my nose as I was pouring this into the glass and I am excited. The aromas that I get are sweet fruit mixed with sour tart notes. Smells somewhat reminiscent of wine with barrel.
Wow, the taste is a little more bretty than the aroma but not in a bad way to me. Some medicinal flavors along with fruits and floral.
Light mouthfeel.
Not too much brett to overpower the flavor. Ends cleanly. Look forward to trying my other bottle with some time on it.
Surprised this is rated as low as it is as I found it really good.
716 characters

3.28
/5
rDev
-11.8%
look: 3.5 | smell: 3 | taste: 3.5 | feel: 3.5 | overall: 3
Thanks to pantanap for sharing this on New Beer Saturday. Served in a snifter glass.
A - Pours with a half-finger of quick-dissolving foam. Tiny ring, with a few spots of haze. Body is a milky orange-brown.
S - Funk, a little spice, a little spicy and solvent (Windex?), particularly as it warms up. Reminds me of one of the weaker Bullfrog beers.
T - A lot sweeter than I expected - perhaps that was from the prickly pears? A little better here, as there is some light tropical Brett character.
M - Light carbonation, juicy, fairly refreshing, finishes a little sticky. Not half bad.
D - I had a few more oz after my initial pour, but it didn't get much better as it warmed up. We couldn't finish the bottle.
714 characters
3.49
/5
rDev
-6.2%
look: 3 | smell: 4 | taste: 3.5 | feel: 3.5 | overall: 3
A - Pours a murky brown with little head, reminds me a bit of dirty pond water.
S - Lots of yeast with a lot of fruit (cherries), also some oak and kind of a twig/dirt note.
T - Taste is decent with a light sour note but mostly fruit and yeast. The aftertaste has a nice sharp note at the end, not bad overall.
M/D - Mouthfeel is light and slightly sharp but smooth overall. Reasonably drinkable, but not incredible.
419 characters

Wild Ale #3 (Zotte Berten Series) from Santa Fe Brewing Company
Beer rating:
3.72
out of
5
with
13
ratings