Happy Camper IPA
| Santa Fe Brewing Company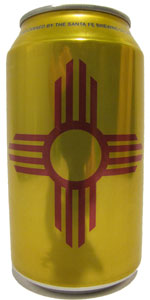 BEER INFO
Brewed by:
Santa Fe Brewing Company
New Mexico
,
United States
santafebrewing.com
Style:
American IPA
Alcohol by volume (ABV):
6.60%
Availability:
Year-round
Notes / Commercial Description:
A classic beer for those beer lovers who love their hops, Happy Camper IPA will take the Pepsi Challenge (or IPA challenge, as we say in New Mexico) against any other pretenders to the throne. Was it divine providence that made this beer the king of the IPA world? Was it a tireless pursuit of glory? No, this IPA has a top-secret recipe to thank for its success, and this meticulously formulated combination of several different hops combined with a very specific brewing process give Happy Camper IPA a spicy, citric, and floral infusion of hop character, which is masterfully counterbalanced with the full-bodied maltiness characteristic of the Santa Fe Brewing Company's distinctive beers.
Added by indiapaleale on 08-18-2010
Reviews: 160 | Ratings: 615
4.03
/5
rDev
+6.1%
look: 4.5 | smell: 4 | taste: 4 | feel: 4 | overall: 4
12oz can, Boulevard tulip, no discernible freshness date.
Super clear amber beer with a very nice example of the standard off-white head. Initially there were three fingers of this. The retention is quite good, as is the lacing. I rarely, if ever, comment on packaging but the fact that this is in a can that is very simple, elegant, and identifiable bumps up the score.
Very minty and perfumed, earthy pine and grapefruit, abrasive, but not without a hearty caramel and biscuit backbone. This must be acceptably fresh because these hops are wonderfully resiny and juicy.
Caramel malt restrained by graininess begins things but is quickly submerged beneath moderate-high bitterness and hop flavors of earthy pine, grapefruit, sugary pears, rosemary, mint, tangerine, and peppery perfume. I'm being restrained not to give this a 4.5, I'm really digging it. A little drier and this would be a monster.
Creamy in the mouth and tending towards thick. The body is big.
I'd love for this to get dried out a bit. I like the malt bill and love the hopping but it's a little sweet for an IPA to do more than one at a time.
1,123 characters

3.56
/5
rDev
-6.3%
look: 4.5 | smell: 3.5 | taste: 3.5 | feel: 3.5 | overall: 3.5
Pours a beautiful dark copper body with a frothy off white head that leaves a sheet of lacing. The can may be ugly, but the beer sure looks good.
Slightly sweet malt with pungent citrus notes.
Biscuity, toasty, caramel malts get things going with pine tree mid palate and a citrusy, floral finish. Medium to high bitterness builds with each sip.
Medium to full body for the style.
Bitterness was surprisingly high, which knocks the drinkabilty down just a touch for me. I wouldn't call it smooth. Still, not a bad IPA and like their Imperial Java Sout, its a pretty good value at $7.99 a 6er. Worth a shot for sure.
619 characters
3.27
/5
rDev
-13.9%
look: 3.5 | smell: 4 | taste: 3 | feel: 3 | overall: 3
12oz can. Pours a clear dark gold with a medium creamy off white head that quickly goes to a thin film that laces the glass.
The aroma is sweet bready malts and some piney resiny hops.
The flavor is tarry, grassy, resiny, kind of funky hops with a little sweet bready malts in the background. There's a good deal of bitterness that lingers in the aftertaste - kind of metallic though. The mouthfeel is medium bodied with some low but prickly carbonation.
Overall, it's got good bitterness, but is not really balanced at all. It doesn't have the hop flavors I usually like (more fruity). Hop flavors were a bit funky - reminding me of Gubna (Summit?), but didn't like it as well in this one due to lack of balance.
716 characters
3.6
/5
rDev
-5.3%
look: 4 | smell: 4 | taste: 3.5 | feel: 4 | overall: 3
My housemate brought this back from New Mexico.
A- Looks like a typical IPA. A little less amber than I'm used to. Good head and good lacing. Pretty sweet looking can.
S- Hoppy (go figure). Grapefruit, honey, grapefruit zest, pine
T- Grapefruit, grapefruit rind, faint malt, pine. The malt isn't as present as I was expecting from the color. The hops are very exposed. Not bad for the style. Makes me think of New Mexican forests filled with pine trees and woodland critters.
M- Medium
D- Fairly drinkable. Probably better in the spring or summer.
552 characters
4.07
/5
rDev
+7.1%
look: 3.5 | smell: 4 | taste: 4 | feel: 4 | overall: 4.5
Picked up as part of a mixed six pack at Lukas tonight. Poured a medium amber color with a decent off white head. Nice floral/piney hop aroma. On the palate, medium bodied and drinkable, with tons of floral/piney hops, a little lemon and sweet malt. A very nice ipa.
266 characters
3.68
/5
rDev
-3.2%
look: 4 | smell: 3.5 | taste: 3.5 | feel: 4 | overall: 4
12oz can, picked this up because it was new and I figured it was fresh, it was. Clear orange color with plenty of sticky lacing. Smells piney and yet a little catty, simcoe? Tastes very piney, reminds me of sweetwater ipa a little. This is definitely a hoppy ipa but I'm not sure I love the hop profile.
303 characters
3.98
/5
rDev
+4.7%
look: 4 | smell: 4 | taste: 4 | feel: 3.75 | overall: 4
Seems to have a gleaming quality to its color, depending on the light, angle, etc. . . this beer rocks some yellow, gold, red, amber, ruby and brown. Super big piney aroma, this is how dry hopping is done.
Taste, remains piney, very bitter, totally enjoyable. This is a great example of awesome canned ipa. Bitter, hoppy, sure a little metallic, but its all the 'metallic' flavors in a can. Mouthfeel, its straightforward, hoppy, piney, dry.
Good stuff.
EDIT: I've had so many compromised cans of this since my original 4.33/5 review. I can't possibly keep it that high anymore. Stamp the date on your cans, I'm tired of drinking old hops.
644 characters

4.37
/5
rDev
+15%
look: 4.5 | smell: 5 | taste: 4 | feel: 4 | overall: 4.5
Another CAN to further The CANQuest (TM), thanks to indiapaleale.
Music: Johnny Hobo and the Freight Trains' "New Mexico Song".
From the CAN: "Wiping your rear with a pine cone is about as rough as camping should get. That's why we invented this portable IPA in a [CAN]. A hoppy, refreshing beverage that goes great with campfires, bears, granola, and mosquito repellent. Happy camping!"
I am not a big camper, so I'm just going to do my Crack & Glug action in my kitchen, where I usually review beers. I got a foamy finger of tawny head with good retention. Nose was filled with piney hops that filled the air with their tang. That does make me happy! Color was a deep orangish-amber with NE-quality clarity. BUPGOO! Mouthfeel was medium with a great piney hoppiness initially, coupled with a caramel sweetness underneath. Finish was equally hoppy, followed by caramel sweetness, then a breathtaking return of the hops. Phew! This is definitely a CANdidate for the cooler.
977 characters

4
/5
rDev
+5.3%
look: 4 | smell: 4 | taste: 4 | feel: 4 | overall: 4
Ah, you have to love canned craft beers.
This one comes in a bright yellow can with the Zia symbol (NM flag) on it.
Pours a light copper color with orange/yellow highlights. Perfect head on a normal pour with abundant lancing.
Big hops on the nose. Resin-y pine and cannabis notes are there in full force.
Immediately on my tongue I pick up summit hops, but they're definitely not as pungent and overpowering like they are in the OB Gubna. In fact they seem to fade into normal cascade and wilder simcoe hop notes. Definitely still some cannabis in the mix, too. Malts there, but it really only comes up in the middle of the body and it gives the hops a little bit of a tropical and stonefruit kick.
While the flavor is big, the beer isn't strong and for an IPA I'd say it's pretty easy drinking.
My can's disappearing pretty fast and as a camping beer this would be a real winner.
More good stuff from SF. A good IPA by any standards made better via the canned convenience.
974 characters
4
/5
rDev
+5.3%
look: 4 | smell: 4 | taste: 4 | feel: 4 | overall: 4
Pour - comes out of the can a rich amber color with some red and orange highlights and a fluffy white head that stands a full inch at the top and leaves some well formed lacing within the walls of the glass.
Aroma - honey, grapefruit, mango, caramel, lemon peel, cotton candy and cocoa powder.
Taste - lots to go on once this hits the tongue. A burst of sweet, sweet malt is doused by an intense amount of citrus and bitterness that is accompanied by a great flavor of tropical fruits. I love IPAs that have a tropical fruit flavor and this one certainly has just that. The malt profile is pretty heavy and yet it not overpowering. The finish is tongue numbing but I'm left with a bit of cocoa powder (just like I smelled). I can only guess that is from the grain bill but who knows. This is good stuff!
Overall - while this may not fall into the "unique" category it does fall into the "solid IPA" category and I do love the tropical fruit flavors! Great aromas, fresh hop taste and a nice malty backbone make this a B+ of an American IPA.
Would I buy more of it? - sure thing. This is a great all around IPA to have in the cooler.
1,149 characters
Happy Camper IPA from Santa Fe Brewing Company
3.8
out of
5
based on
615
ratings.