Kriek

Santa Fe Brewing Company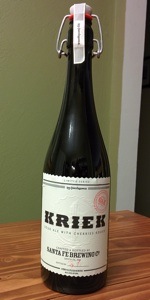 Rate It
Beer Geek Stats
| Print Shelf Talker
Style:

ABV:

8.5%

Score:

Avg:

4.09

| pDev:

11.98%

Reviews:

13

Ratings:

From:

Avail:

Rotating/Seasonal

Wants

Gots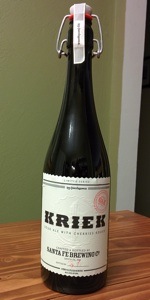 Notes: Aged in American Oak barrels for two years with a carefully selected blend of wild yeasts, eventually undergoing a secondary fermentation with world-famous Michigan tart cherries and sake yeast. The result is an ale with a bright garnet color and an intense cherry aroma, reminiscent of warm cherry pie, that is both sweet and tart, followed by a complex sour flavor and a crisp finish.

bnes09 from Illinois
4.18
/5
rDev
+2.2%
look: 4 | smell: 4 | taste: 4.25 | feel: 4.25 | overall: 4.25
Bright and hazy watermelon color with light head. Soft, acidic and wood aroma with sweet berries mixed in. Sweet and tart cherry flavor right away. Jolly Rancher quality. Medium tartness. Well balanced oak and funk notes. Mild earth tones. Moderate body and perfect carbonation. Finishes on the dry side. Just a well executed, balanced sour with all of the right nuances. Very tasty.
Jul 23, 2017
brentk56 from North Carolina
4.32
/5
rDev
+5.6%
look: 4 | smell: 4.5 | taste: 4.5 | feel: 3.5 | overall: 4.25
Appearance: Pours the color of rosé wine; the frothy, pink-tinged head quickly fades to a ringlet, leaving a few splashes around
Smell: Tart cherry pie with a funky overlay
Taste: With pie crust tones in the backbone, the tart cherries take over almost immediately; fresh cherry flavors move toward the funky side, after the swallow; the finish is dry and oaky
Mouthfeel: Medium body with low carbonation; rather puckery
Overall: Carbonation issues aside, this beer nails it; the flavor profile is as good as any Kriek I have tasted
Thanks, sunkistxsudafed, for the opportunity
Jul 04, 2016

breadwinner from California
4.19
/5
rDev
+2.4%
look: 4.25 | smell: 4 | taste: 4.25 | feel: 4.25 | overall: 4.25
Good stuff here from Santa Fe, a very respectable formulation of kriek. Nice rosé color out of the bottle, a touch hazy, little head, which seems fairly standard for the style. Smell is interesting. It hints at some sweaty sock, the sort of funk you don't necessarily want around, but never really goes full bore on it, and then cherries and even what seems like some spice slip in to bring it all back together. Palate is a cherry fest, tasty cherry cobbler (and maybe this is where my mind is tricked into finding spices - baking spices, specifically). It got a touch vinegary acidic as it went, but this was also on a night of sour tastings, so it could've just been palate fatigue. Body is appropriately effervescent. Overall, nicely done from Santa Fe, and, again, the compliment of this not being at all out of place in a kriek lineup should be considered high praise.
Dec 06, 2015
JohnnyHopps from Indiana
4.48
/5
rDev
+9.5%
look: 4.5 | smell: 4.5 | taste: 4.5 | feel: 4.25 | overall: 4.5
Appearance – The appearance made me think of a beer that was tinted pink.
Smell – There was a slight sour nose, but not one that is overwhelming.
Taste – The is very cherry. With a slight oakiness in the background, cherries are very forward. The breadiness makes it seem a little like cherry pie. The cherry leans a little more sour toward the end.
Mouthfeel – The pucker tingles the sides of the mouth. Carbonation does make an impression.
Overall – This is a really solid kriek that is worth seeking.
Sep 22, 2015
Zomdust from Missouri
4.41
/5
rDev
+7.8%
look: 5 | smell: 4 | taste: 4.5 | feel: 4.5 | overall: 4.5
Wonderful beer, nice and tart and sour, just the right amount of cherry influence. The beer plots a light pink color with nice carbonation. Very tasty and I would definitely seek out again.
Aug 01, 2015
goochpunch from Texas
4.38
/5
rDev
+7.1%
look: 4.5 | smell: 4 | taste: 4.5 | feel: 4.5 | overall: 4.5
Pours a pink reddish rosé with a thin off-white pink head. Lots of graininess in the nose with limited funky yeast character and some tart cherry. Flavor is sweet, tart cherry pie up front. Big sourness comes up around the middle with a dry finish. Fairly clean profile. Light body and sharp carbonation. Awesome. This would have been perfect with some chevre.
Mar 03, 2015

ONovoMexicano from New Mexico
4.47
/5
rDev
+9.3%
look: 5 | smell: 4.25 | taste: 4.5 | feel: 4.5 | overall: 4.5
Served in a Belgian tulip at Nob Hill Bar and Grill. First time I've ever seen this on tap and this is the new edition that won a medal at GABF. It's definitely an improved beer over previous years as I was blown away by the 2014 when I had it from the bottle.
The head is light and wispy and settles into a thin lace. The body reminds me of a rosé, but perhaps darker. Great clarity. 5
Cherry peel and fresh tart cherries leap from the glass. A slight funk is noticeable and some vanilla leaks in. 4.25
Incredibly rich tastes of cherry puree, pulp and cherry skin. Light creamy malt flavor and notes of vanilla. Tastes like a wonderful orchard. 4.5
Wonderful tartness with a creamy, full mouthfeel. The finish is semi-dry with lingering tartness. Beautiful really. 4.5
They killed it with this. Just outstanding. So clean and drinkable.
Jan 22, 2015
LambicPentameter from Nebraska
4.36
/5
rDev
+6.6%
look: 4.5 | smell: 4 | taste: 4.5 | feel: 4.25 | overall: 4.5
Enjoyed out of a 750 mL brown bottle with a swing top bottle cap. A sticker is plastered over the top with what appears to be a handwritten "2014" indicating the vintage. Poured into a Belgian style tulip glass with an exaggerated flare at the rim of the glass.
Appearance (4.5) - Pours a bright pinkish-red hue, similar to what you'll see with those bleached and dyed maraschino cherries, but a little less saturated. The liquid is pretty translucent--no haze to speak of, and atop the body sits two fingers of airy white head that retains for a few seconds before quickly receding, leaving no discernible trace of lacing on the glass.
Smell (4.0) - Notes of bright acidity and lemon tartness are subtle against a more overt presence of red fruits and some woody tannins. Light cherry, cranberry and even raspberry all seem to make an appearance as I stick my nose down in the glass. There is a light grain presence, but it certainly prefers to remain in the background behind the pungent fruits and acidity and an everpresent funk. There is a slightly chemical quality to the aroma, but it's fleeting--sort of like that medicinal flavor that you'll sometimes get, but again, hard to pick out.
Taste (4.5) - Where the smell fell a little bit short, the taste more than makes up for it. The same acidic and fruit notes are again on display, but in a wonderfully blended way. Ripe cherry and cranberry are both up front, with what seems a little like cinnamon candies providing depth and complementary notes, but without really any sweetness to speak of. Some characteristics of granny smith and puckering citrus acidity are there to provide a biting foundation under the fruit. There is a finish that makes the oak known with some musty wood and hints of vanilla to take the edge of the acidity.
Feel (4.25) - Light bodied and moderate to full carbonation, with a certain effervescence that plays well with the biting acidity. Finish is very dry in spite of all the fruit presence.
Overall (4.5), I'm a little surprised to see that the overall rating for this beer isn't any higher. The beer I tasted seems entirely like something that could medal at GABF, and I would honestly put it right up there with other American-made kriek-style beers. Plus, you can't go wrong with a bottle that caps itself.
Dec 15, 2014

nmann08 from Virginia
3.55
/5
rDev
-13.2%
look: 3.75 | smell: 3.75 | taste: 3.5 | feel: 3.25 | overall: 3.5
From a bottle, pours a cloudy pink color, standard carbonation, but not alot of head. Very wispy and disappears quickly.
The nose is tart and fruity. Lots of cherry, raspberry, blackberry and yeast. I get zero barrel notes. The flavor is very tart cherries, funky, grain malt. Very acidic crisp finish.
Overall, this left me wondering what this beer tasted like before two years in a barrel. This is as average as a fruit lambic can be. A good attempt, but still a long way off from the top tier.
Nov 11, 2014

mactrail from Washington
3.37
/5
rDev
-17.6%
look: 4 | smell: 3.25 | taste: 3.5 | feel: 3 | overall: 3.25
Lovely rosé color with champagne bubbles streaming in the Petrus goblet. Aroma of cider fermenting with a whiff of vinegar.
Quite tart and definitely in the sour category. The flavors are quite clean. some hints of fruit Quite sippable despite the acidity. Interesting oily and sharp mouthfeel.
Thanks to Jason for this one. From the 750 ml swing-top purchased in Tucson.
Nov 04, 2014
UCLABrewN84 from California
3.5
/5
rDev
-14.4%
look: 3 | smell: 3.5 | taste: 3.5 | feel: 3.75 | overall: 3.5
Thanks to GRG1313 for sharing this one at his tasting.
Pours a clear red with a foamy bone head that settles to wisps of film on top of the beer. No lacing on the drink down. Smell is of malt, grain, and cherry aromas. Taste is much the same with cherry and metallic flavors on the finish. There is a mild amount of acidity on the palate with each sip. This beer has a lower level of carbonation with a slightly crisp mouthfeel. Overall, this is a pretty good beer but nothing all that special for the style in my opinion.
Oct 01, 2013
4DAloveofSTOUT from Illinois
4.2
/5
rDev
+2.7%
look: 3.75 | smell: 4.25 | taste: 4.25 | feel: 4 | overall: 4.25
thanks to TATURBO for sharing this beer tonight!
750ml bottle sealed with a swingtop lid and a fancy thin sticker! Small pop as the swingtop lid cracked open. poured into tulip glass.
This is the best part... the bottle says: bottled by mom (with a red heart next to it)! Never seen this is craft beer before, but its an awesome shout out by Sante Fe Brewing Co! Totally original I have never seen that before!
Appearance: Really deep red that remains transluecent. 1 full finger of bone white head that drops down to thin ring around the glass.
Smell: A moderately tart cherry jolly rancher and a light bit of funk! hint of oak, but you really got look for it.Fruit forward sour no doubt.
Taste: moderate tartness. sweet pie cherries combine with moderately tart lemons. nice balance between the two flavors. Light vinegar notes as well and they really add some complexity to this beer. I dont think that I would change a thing.
Mouthfeel: light bodied beer with lower carbonation levels. I could use just a slight little bit more carbonation in this beer. Surprisingly drinkable, I would guess 6.5% ABV.
Overall: Santa Fe brewing can brew a good sour too! I love Imperial Java Stout and this is another beer that I would really like to revisit again. Nice kriek. Its under the radar beer for sure!
Aug 24, 2013
Shumania from Virginia
4.15
/5
rDev
+1.5%
look: 4 | smell: 4 | taste: 4.25 | feel: 4 | overall: 4.25
Flip top bottle poured into a Goose Island wine glass
A: ruby red with little head and not as much carbonation as expected
S: TART cherries, vanilla, a little oak,
T: similar to the smell, more tart cherries, vanilla, oak and then funk and sour from the yeast. This is not over the top in your face funk and all of the flavors meld together well
M: medium bodied and not syrupy. Slight dryness at the end from the Brett
This beer is right up there with the best sours! Great use of the tart cherries and good blend of the tart, sour, and sweet.
Aug 11, 2013
Kriek from Santa Fe Brewing Company
Beer rating:
91
out of
100
with
81
ratings