Bourbon Barrel Aged Cant Dog
| Marshall Wharf Brewing Company / Three Tides Restaurant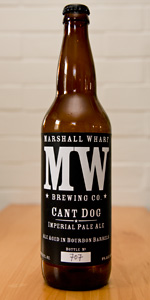 BEER INFO
Brewed by:
Marshall Wharf Brewing Company / Three Tides Restaurant
Maine
,
United States
marshallwharf.com
Style:
American Double / Imperial IPA
Alcohol by volume (ABV):
9.00%
Availability:
Limited (brewed once)
Notes / Commercial Description:
No notes at this time.
Added by Drazzamatazz on 01-06-2011
This beer is retired; no longer brewed.
Reviews: 9 | Ratings: 21

4.42
/5
rDev
+15.7%
look: 4 | smell: 4.5 | taste: 4.5 | feel: 4 | overall: 4.5
This is listed as here as an APA. The regular Cant Dog is a DIPA.
A slightly aggressive pour produced a good inch of barely off-white foam, and a good deal of visible activity. But the activity faded quickly, as did the head, and subsequent gentler pour resulted in less foam. It leaves just some scraps of lacing, is orange-ish amber in color, and has excellent clarity. Very attractive and inviting.
The smell is prominently of the caramel malty sweet body, but also of pineapple-ish tropical fruity hops. Other fruity and floral hoppy notes are present as well, as are mild alcohol, oak and faint bourbon from the barrel. Really nice. ... and very long legs. Smell stayed strong for the duration, and I nursed this baby through the better part of a movie.
The taste is quite sweet and caramel malty. Think Southern Tier's Unearthly in this regard. But I like it. It's definitely not a San Diego style IPA. Not even close. There is some pine and grapefruit rind bitterness evident, though in the background, from the early middle through the finish. There are some nuanced floral and lighter tropical fruit hop layers too. The oak is detectable, as is the booze. I get the bourbon ever so faintly in the finish, which dries out just a smidge and is slightly bitter.
The carbonation is low, but not ridiculously so. The body is rich and full. The thick viscosity and pleasantly mild warming combine to create a luxurious texture, despite the low carbonation.
I'm a big Marshall Wharf fan, so I'm really glad to see that they've put some beer in bottles, so their offerings can be enjoyed a little farther away from Belfast. I'm jealous of the folks who live there and can fill their growlers full of the precious nectar regularly. I'm grateful for having been able to try this one, and others from MW. That said, I have been into maltier IPA's lately, so view this review through that lens. If you are looking for a tongue scraping, bitter beast, this ain't it. This is one of those that could easily be called a "hoppy barleywine" as easy as a DIPA. Whatever you want to call it, I dig it.
2,100 characters

4.08
/5
rDev
+6.8%
look: 4.5 | smell: 4 | taste: 4 | feel: 4.5 | overall: 4
Bottled on 12/31/10
Bottle # 533
Purchased @ Marshall Wharf brewery, Belfast ME
Price - $20/bomber
Had this on tap as well at the 4th Year of Beer & Pemaquid Mussel Fest.
A mix of several blends starting with Can't Dog ale brewed on 9/26/08, put in a 12 year bourbon barrel on 10/10/08, pulled on 12/2/10 then blended with beer brewed on 11/24/10.
80% ale
20% Ale aged in bourbon barrels
Pours a beautiful see through amber with a fine creamy white head. Several lines of bubbles stream from the bottom and support the ring outlining the glass. The clarity is amazing with polka dotted lacing.
The smell is sweet with orange, caramel and citrus hops. A pleasent aroma of vanilla oak provides the backdrop without overwhelming the nose.
The taste is sweet from the start with grapefruit, orange and caramel malt followed by vanilla and pine hops. It does get a bit boozey in the end, especially for the style APA.
The mouthfeel is near perfectly balanced with all the flavors, malts and hops. The body is medium and slightly sticky. Carbonation is a little light but not flat. A nice bitterness finishes things off along with a light dry feel.
Overall a damn good offering but is categorized incorrect here which most likely is affecting it's overall review score. This beer should be listed as an Imperial IPA as the brewer suggests. Other than that my biggest complaint is price.
1,390 characters
3.92
/5
rDev
+2.6%
look: 3.5 | smell: 4 | taste: 4 | feel: 3.5 | overall: 4
Looks like I'm number one...Bottling Date 12/31, Bottle No. 750.
First and foremost, this is actually labeled as an Imperial Pale Ale.
A: Typical appearance for the style, amber, slightly opaque, with very minimal head and lacing.
S: Very interesting, first thoughts are a barrel aged cider. Lots of oak, slight vanilla, traces of coconut, and finally some spiked Fresca.
T: Oak and bourbon to the front, lots of woody flavors. Very much picking up on coconut. So many flavors going on, I swear I get a meaty bacon flavor. This one is quite sweet, I'd be hard pressed not to assume this was a barelywine. Alcohol is noticeable in the taste and strangely enough its almost sour? Flavor really is quite strange but interesting. There's a subtle pine flavor in the finish, but otherwise its unlike what you'd expect for hop presences.
M: Thin with medium to low carbonation. Its almost tart and quite drying for being so sweet.
D: I really don't know about this one. I almost feel like the aged section had gone sour so they went with the 80% fresh and 20% aged blend. It was interesting, and while I intended to share a bottle with a friend I did drink almost all it myself, but I'm left puzzled. From the smell I thought I was drinking graff, and it tasted like a barleywine, but its an imperial pale ale?
1,310 characters

3.92
/5
rDev
+2.6%
look: 3.5 | smell: 4 | taste: 4 | feel: 3.5 | overall: 4
This is bottle number 803, purchased on Jan. 1, 2011 and bottled the day before. It has been resting in my cellar since then. I remember it being an amazing beer on tap. Lets see how it has aged.
Opening the bottle produced very little hiss. I remember a BBA Scotch Ale bottle from MW that I opened had low carbonation; it appears that Cant Dog may suffer from this issue as well. I can also smell a lot of bourbon, just from the action of pouring it into my tulip.
The beer is crystal clear and has a tarnished orange color. The egg shell colored head is small, and mostly disappears after a brief moment. All that is left is a ring of foam where the walls of the glass come in contact with the beer. A few rising bubbles can be seen rising up from the bottom, but it is far from a steady stream. Swirling the beer leaves a strong film coating that has some patchy foam.
The aroma still has a lot of hop oils. Actual bitterness seems to be overpowered by the wood, smoke and peat of the bourbon. There is also an underlying sweetness. All in all, its an interesting and complex mixture of smells.
The 21+ months of aging on this bottle have really tempered the flavors. No single flavor is overly strong, and neither the bourbon nor the hop oils taste as strong as their aromas suggested. The beer begins with some sweet malts that are rather easy drinking for a BBA Imperial ale. It is slightly toffee-like But soon, an earthy bitterness comes forward. It is somewhat oily and certainly isn't a fresh hop flavor. The bourbon flavor comes in as I swallow. It isn't harsh or alcoholic. There is a lot of toasted oak and peat. A slightly smokiness can be tasted as soon as the beer is gone. Its a rather interesting finish.
This is a full bodied beer with very little carbonation. There is some stickiness on my tongue, and bit more coating my mouth. Hints of the bourbon flavor remain. A slight warmth can be felt as I swallow, but this isn't a beer that burns on its way down.
I'm not familiar with too many bourbon barrel aged DIPAs, but this beer takes a style you want to drink fresh and ages it in a way that make the resulting beverage also interesting. It does lack some of the appealing traits of fresh Cant Dog, but what it adds makes up for this. If you still have a bottle of this in your cellar, its drinking rather well right now.
2,349 characters
3.82
/5
rDev 0%
look: 3.5 | smell: 4 | taste: 4 | feel: 3.5 | overall: 3.5
Poured on-tap and served in a pint glass, the beer is a light, copper-auburn coloring with a frothy, light, biege head that sits tall and chunky. Good balanced nose of caramel and grapefruit, with a slight spice hopping. Flavors are HUGE!! Blast of caramel tang and sweet, with huge fresh hops profile and a grapefruit tang and tart. Very interesting palate and profile. Rich aftertaste, with a syrupy and peppermint character. Densely sweet and cloying finish. Not bad, and the barrel aging gives it an interesting twist from the original.
540 characters

3.59
/5
rDev
-6%
look: 2 | smell: 3 | taste: 4 | feel: 3.5 | overall: 4
22oz brown glass pry top bottle #79. Thanks Shaun.
Pours almost still but very clear amber. Nose is dominated by black vanilla and orange peel. Palate is wide and slick with very little carbonation. Flavors of lime and lemon zest, sweet vanilla and a moment to show off the toasted wood. Sweet finish. And interesting interpretation but its still not a style I love.
367 characters
3.42
/5
rDev
-10.5%
look: 4 | smell: 3.25 | taste: 3.5 | feel: 3.5 | overall: 3.25
massive thanks goes out to blessedbebeer for hooking up this and a few others from this release. bottled 3/1/2012, just over a year ago...hopefully didn't wait too long. enjoyed from a baxtor can glass (keeping it ME). had a bottle or two of this a while ago and reviewed as cant dog...fairly sure that they were barrel aged as well...but this listing seems correct for what i'm about to drink.
bottle #53
a - brew poured a semi transparent mahogany with a finger of ipa-ish frothy head that hung out for a while.
s - as soon as i started the pour i could smell the magic. malt forward and oaky bourbony. the other bottles i had of this were fairly fresh and as such i remember them as hoppier, but it might just be that the oak is muting things. this is very english barleywine like.
t - much like the nose suggests...MALT BOMB. bourbony too. some toffee with a bit of bitterness on the finish. lots of oak. as i drank it i got more and more into it.
m - tingly from the booze. finish is bitter
o - overall, i want to say that i waited too long, but reading through other reviews suggests that this is how it was from the start. it is not bad by any means, but not really something i love since the oak and bourbon really overpower everything else except some bitterness in the finish.
1,292 characters
3.38
/5
rDev
-11.5%
look: 4 | smell: 3.5 | taste: 3 | feel: 4 | overall: 3.5
Reviewed from notes at the Marshall Wharf anniversary fest.
A - Poured a light light copper hue with a foamy blanket of a light tan head. Light side lacing was left.
S - Just smells too "new" / smokey. Not very balanced between citrus hops, caramel malts, and bourbon/barrel char.
T - Taste is, ahh. Just kind of diss appointing. Not well balanced at all. Too much new bourbon notes and not enough IPA. Almost like a glass of lightly hopped bourbon. Not really my thing as I prefer more balance.
M - Mouthfeel is solid, lightly creamy not too syrupy though somewhat heavy.
O - Overall this just did not work for me. Too much bourbon and not enough DIPA.
658 characters

2.8
/5
rDev
-26.7%
look: 3 | smell: 3 | taste: 3 | feel: 2 | overall: 2.5
Grabbed this at the bottle release day at the brewery. Heard the slightest hiss when opening the bottle. Pours a medium amber into my tulip. No head at all. Really no bubbles at all, seemingly no carbonation.
Smell is mostly of oak and a fruity bourbon. Some citrus/pine hops become noticeable as the beer warms but the overall smell is dominated by the bourbon, which isn't such a bad thing.
The first sip confirms the lack of carbonation. It's there, barely. Taste is similar in that is mostly bourbon. There's a hoppy bitterness in the finish but hop flavor is very muted. Hops like carbonation, so they seem to be struggling to make their presence felt. Overall taste is good, but the lack of hop flavor is killing this one for me.
Mouthfeel is flat and lifeless without carbonation. The beer has a nice warmth as it goes down and the bourbon flavor lingers for a while on your palate. Drinkable, sure. Not exactly a session beer at 9% but not hard to drink the entire bottle either. The tap version they had samples of at the brewery was quite hoppy and well carbonated so this bottle was fairly disappointing.
1,121 characters
Bourbon Barrel Aged Cant Dog from Marshall Wharf Brewing Company / Three Tides Restaurant
3.82
out of
5
based on
21
ratings.