Bourbon Barrel Aged MacFindlay Scotch Ale
| Marshall Wharf Brewing Company / Three Tides Restaurant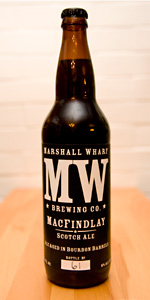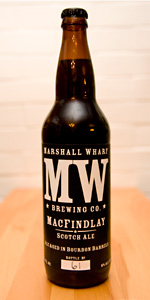 BEER INFO
Brewed by:
Marshall Wharf Brewing Company / Three Tides Restaurant
Maine
,
United States
marshallwharf.com
Style:
Scotch Ale / Wee Heavy
Alcohol by volume (ABV):
8.00%
Availability:
Limited (brewed once)
Notes / Commercial Description:
Scotch ale brewed on 8.20.08. Put in a 12 year bourbon barrel on 9.8.08. Pulled on 12.2.10. Blended with beer brewed on 12.5.10.
Blend ratio: 40% ale, 60% ale aged in bourbon barrels.
Added by ToasterChef on 01-15-2011
This beer is retired; no longer brewed.
HISTOGRAM
Ratings: 9 | Reviews: 5
Reviews by cosmicevan:
3.94
/5
rDev
+1.5%
look: 4 | smell: 4.25 | taste: 3.75 | feel: 3.75 | overall: 4
massive thanks goes out to blessedbebeer for hooking up this and a few others from this release. bottled 3/1/2012, just over a year ago...hopefully didn't wait too long.
a - brew poured a transparent light brown that settled into the glass as a purple black. there was a thin bubbly head that was gone the moment it appeared leaving some surface bubbles along the rim of the glass. some crimson highlights when held to the light.
s - rich toasted caramel grape nutmeg. quite nice. the bourbon is there giving a bit of a sweet chocolate glazing. very nice.
t - grape, toasted caramel, booze. the barrel shows itself in a big way which is a nice compliment to the base beer, but could stand to be dialed back a touch to let the scotch ale shine.
m - carbonated, but watery. soft and easy drinking. finish is fairly boozy, but a little thin feeling.
o - overall, i love a good scotch ale...and LOVE a good barrel aged scotch ale. this one is pretty good, but still a bit hot. one other point i should add is that there is NO way that this beer is only 8%. i took this one to the dome and was pretty housed and 22oz of an 8% beer will not do this to me.
1,154 characters
More User Reviews:
3.75
/5
rDev
-3.4%
look: 3.5 | smell: 3.5 | taste: 4 | feel: 4 | overall: 3.5
From my notes of the Pemaquid Oyster festival at the brewery from last year.
Clearish reddish mahogany color, lighter fizzy head covering.
Nose Caramel malts, bourbon, syrupy sweet malts, caramel, toffee, reddish malts, a bit watery.
Taste Light bourbon, barrel, vanilla, smokey, caramel, bit candy, no real booze, creamy soft malts with light chewy taste.
Mouth is med to fuller bodied, decent carb, no real booze.
Overall nice but not as great as I expected. Scotch ales always seem to fall short of what I expect, although the bourbon in this one helped.
562 characters
3.58
/5
rDev
-7.7%
look: 4 | smell: 3.5 | taste: 3.5 | feel: 4 | overall: 3.5
Poured on-tap in a pint glass, the beer is a deep red-brown coloring, with a thin, foaming head. Malty and rich nose, with little else. Very smooth and rich body, the flavors are fairly mild. Light honey and caramel malt flavors, with a mild feel to it. Extremely smooth and easy to drink. The aftertaste is lightly sweet, with a smooth, clean finish. Not bad, but not outstanding.
381 characters


3.79
/5
rDev
-2.3%
look: 3 | smell: 4 | taste: 4 | feel: 3.5 | overall: 3.5
Bottle number 51 of this limited release (bottled 12.21.10) was served at cellar temperature--split between two goblets. The liquid is an opaque, dark brown fluid. There is barely any head, just a few patches of brown foam. It disappeared quickly. Swirling the glass causes the foam to reappear. A sticky film is left on the sides of the glass. I wish there was more of a head; otherwise it is a pretty beer.
As you'd expect, a lot of the aroma is bourbon. I can also smell some peaty malts and oak.
Slightly sweet malts greet my tongue as I sip the beer. Dark chocolate and crystal sugar flavors are present. Oak and bourbon appear as I swallow. Some alcohol and toasty oak flavors linger. There is a little bit of strong coffee bitterness in there, but not much.
This is a full bodied beer that leaves a good amount of coat. My lips are a little bit sticky after consuming half of my glass. There is hardly any carbonation; I would prefer a few more bubbles, the beer feels flat.
I am enjoying this glass, and I'm glad I have another bottle, but I'm not sure this was worth the $20 and drive to Belfast to obtain. The bourbon aspects still seem a bit strong to me (hopefully aging my second bottle will temper them) and I'd really like to have more carbonation. The draft sample I drank at the bottle release was quite good; I would certainly recommend getting some if you see this offered (most likely at the Marshall Wharf anniversary events). Still, it's a good experiment. I'm glad to see Marshall Wharf barrel aging their beers and hope they continue to do so.
1,571 characters
3.87
/5
rDev
-0.3%
look: 3.5 | smell: 4 | taste: 4 | feel: 4 | overall: 3.5
Bottle #156, a gift from Alewife to me. Was supposed to be for Christmas, but I couldn't wait, and dove into it on 10DEC11.
Poured a deep, clear mahogany color. Had little carbo swirling about, and the head was wispy thin. Lacing was almost nonexistant. Aroma was quite malty with a pronounced bourbon lean to it. It was about medium for the body, and light and easy on the tongue.
Flavor had a good dose of malts, too, with some caramel and a little brown sugar present. It had a bit of peatyness to it as well, and the oaky bourbon character was ever-present. Pretty good, though the pricetag was a touch steep. Thnx Liebch!! Prosit!
3.88 rDev +3.4%
look: 3.5 | smell: 4 | taste: 4 | feel: 4 | overall: 3.5
1425
717 characters


3.75
/5
rDev
-3.4%
look: 3 | smell: 3 | taste: 4.25 | feel: 3 | overall: 4.25
Bourbon Barrel Aged MacFindlay Scotch Ale from Marshall Wharf Brewing Company / Three Tides Restaurant
Beer rating:
3.88
out of
5
with
9
ratings