Winter Warmer
| Hangar 24 Brewery
BA SCORE
83
good
11
Reviews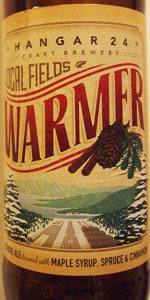 BEER INFO
Brewed by:
Hangar 24 Brewery
California
,
United States
hangar24brewery.com
Style:
Winter Warmer
Alcohol by volume (ABV):
7.80%
Availability:
Winter
Notes / Commercial Description:
Gold medal winner at GABF 2013
Added by t0rin0 on 06-07-2010
Reviews: 11 | Ratings: 63

3.93
/5
rDev
+8.9%
look: 3.75 | smell: 3.75 | taste: 4 | feel: 4 | overall: 4
On tap at BC's Pizza & Beer
A: Pours rich copper with a frothy tan head that settles to a thin layer and leaves a little spotty lacing.
S: Spice, toasty bread, mild fruity notes, and some spruce.
T: Toffee sweetness, bready malt, a bit toasty, nicely spiced with cinnamon, light fruity notes, and a mild piney bitterness.
M: A bit on the fuller side of medium body, moderate carbonation.
O: Nicely balanced. Pretty darn solid winter warmer.
446 characters

3.91
/5
rDev
+8.3%
look: 4.5 | smell: 4 | taste: 3.75 | feel: 3.75 | overall: 4
Poured from a bomber bottle into a brandy snifter.
L - A beautiful beer. Medium brown with red highlights and crystal clear. Bone colored head is thick and made of large bubbles. It fades to active sheets of bubbles on the surface and thick, sticky lacng.
S - Nose is dominated by spruce and spices. Bready malt underneath and a bit of earthy hops.
T - Spruce and spices dominate the flavors as well. Underneath is grainy malt with a hint of chocolate. Moderate hops bitterness blends with sharp, medicinal spices in the finish.
F - Moderate body and carbonation. Low alcohol presence. Medium hops bitterness.
O - A clean, crisp winter warmer with an emphasis on spruce and spices. For my taste it leans a bit too far in that direction and could use some more malt flavor/aroma, but it is well-made and enjoyable.
827 characters

3.9
/5
rDev
+8%
look: 5 | smell: 3.75 | taste: 3.75 | feel: 4.5 | overall: 3.75
Serving type: 22 oz bottle served into a pint glass
Smells of heavy caramel, heavy toffee, small amounts of pine, and slight raisin aromas. Taste reflects the smell. Initial caramel and raisin flavors lead into a pine bitterness that finishes with a slight sweetness. Mouthfeel is thick and vivacious with enough carbonation. Overall this is a pretty decent beer with good aromas and tastes. Definite sipper.
409 characters
3.88
/5
rDev
+7.5%
look: 4 | smell: 3.5 | taste: 4 | feel: 4 | overall: 4
On-tap at Beachwood I,
A: Pours a deep red amber with a creamy off-white head, nice lace.
S: Winter spice, conifer needles, some nutmeg.
T: Spiced malt, Christmas cookies and pine. Solid flavour, well made to style.
M: Medium-bodied, creamy, soft carbonation, easy to drink, never boozy.
O: A very good Winter Warmer, though it certainly was at its best around room temperature. A little Christmas in July.
411 characters
3.85
/5
rDev
+6.6%
look: 3.5 | smell: 3.5 | taste: 4 | feel: 4 | overall: 4
On tap at the BevMo Holiday Beerfest held at Golden Road Brewing in Los Angeles, CA.
Pours a hazy brown with a foamy beige head that settles to wisps of film on top of the beer. Small dots of lace form around the glass on the drink down. Smell is of toasted malt and caramel aromas. Taste is much the same with a medium roasty and hop bitterness on the palate with each sip. This beer has a good level of carbonation with a crisp mouthfeel. Overall, this is a good beer but I am not getting any spice or maple aromas or flavors from this one.
544 characters

3.74
/5
rDev
+3.6%
look: 4 | smell: 3.75 | taste: 3.75 | feel: 3.5 | overall: 3.75
Amber tan color with nice foaming.
Maple aroma with a touch of piney hops.
Finished dry.
I guess I don't have much more to add to this review right now. This sure ain't poetry.
Beer reviews can be like that sometimes.
223 characters
3.73
/5
rDev
+3.3%
look: 4 | smell: 3.5 | taste: 4 | feel: 3.5 | overall: 3.5
On tap at the brewery's second anniversary party 6/5/2010.
Pours an orange/red color that is mildly hazy and produces beige head that doesnt last but laces the glass.
Aroma is of cinnamon and pine needles (I'm told spruce) and lots of sweet malts and fruit. Lots going on but it's also boozy.
Flavor is heaviest on the cinnamon, spruce, and caramel. It also has some cherry/fruit, booze, and low bitterness. I can't seem to find as much maple as I thought there would be.
Body is medium/heavy and possibly under carbonated but still very smooth. I can detect the drinkability, 10% of the entire experience of the beer to be exact.
638 characters
3.59
/5
rDev
-0.6%
look: 4 | smell: 3.75 | taste: 3.5 | feel: 3.5 | overall: 3.5
Bomber poured into a German stein
L: Honey colored with a impressive white head with an aggressive pour, nice lacing
S: Malt, caramel, pine
T: Spruce and cinnamon, some nice malt, more spruce on the finish
M: Nice carbonation, nice body, ho-hum
O: Decent, good balance, a beer of convenience but not worth going out of your way for
332 characters
3.54
/5
rDev
-1.9%
look: 3.75 | smell: 3.5 | taste: 3.5 | feel: 3.75 | overall: 3.5
Appearance - Pours a copper orange with two fingers of bubbly tan head.
Smell - bready caramel malts, cinnamon, maple syrup, hint of spruce, hint of earthy hops.
Taste - Starts off with the bready caramel malts then goes into the spruce. The cinnamon, maple syrup, and earthy hops are there but very subtle.
Mouthfeel - Medium bodied with moderate carbonation. Finishes dry with a lingering sweetness.
Overall - A winter warmer that captures the flavour of spruce. However, it doesn't quite deliver on the maple syrup and spices that it promises.
550 characters

3.44
/5
rDev
-4.7%
look: 3.25 | smell: 3.5 | taste: 3.5 | feel: 3.5 | overall: 3.25
Served on-draught into a half pint glass at Hangar 24. 7.8% ABV. Cost was $4.00. Reviewed from notes taken in late 2012.
A: Pours no head at all. Body colour is a vibrant copper-auburn. No yeast particles are visible. No bubble show.
Sm: Blood orange, nectarine, fruit, and clean biscuit malt. An average strength aroma.
T: Luscious blood orange fruit, nectary notes, tangerine, and complementary floral hops. Pale biscuit malt. Simple but quite enjoyable. Refreshing and balanced.
Mf: Smooth, wet, and luscious. Enjoyable. Good carbonation and thickness.
Dr: Quite drinkable and enjoyable. Hides its ABV well. I like it. A surprisingly tasty winter warmer from Hangar 24. Its simplicity does hold it back, however.
High B-
735 characters

2.02
/5
rDev
-44%
look: 3.5 | smell: 1.5 | taste: 2 | feel: 3.5 | overall: 1.5
This "spiced strong ale" is truly bizarre. I can only think of the descriptions of pre-war English candies in "Gravity's Rainbow." Distinct touch of pickled goose berries. Sweet and sour mushrooms. Candied crab apples with a dose of quinine.
You can't ignore the taste of plastic or the scent of burning sterno. Horse blankets in the nose. It looks innocent enough, with the light amber color and decent head. Overall, it's disgusting, but in an interesting way. Hangar 24 seems to be without any shame in the crazy stuff they put on the market.
On tap at KNB in San Diego. From notes of March 10, 2012 visit.
611 characters
Winter Warmer from Hangar 24 Brewery
3.61
out of
5
based on
63
ratings.