Oktoberfest Lager
| Hangar 24 Brewery
BA SCORE
83
good
12
Reviews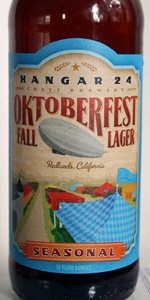 BEER INFO
Brewed by:
Hangar 24 Brewery
California
,
United States
hangar24brewery.com
Style:
Märzen / Oktoberfest
Alcohol by volume (ABV):
5.70%
Availability:
Fall
Notes / Commercial Description:
No notes at this time.
Added by BeerAdvocate on 09-26-2010
Reviews: 12 | Ratings: 66
3.55
/5
rDev
-1.9%
look: 3.5 | smell: 3.5 | taste: 3.5 | feel: 4 | overall: 3.5
Pours a hazy dark honey orange with a foamy orange-tan head that settles to an oily film on top of the beer. Small dots and streaks of lace form around the glass on the drink down. Smell is of toasted malt, biscuit, and some earthy aromas. Taste is of malt, biscuit, caramel, and some alcohol. There is a mild bitterness on the palate with each sip. This beer has a good level of carbonation with a crisp mouthfeel. Overall, this is a pretty good beer that is pretty tasty and easy to drink.
491 characters

3.65
/5
rDev
+0.8%
look: 4 | smell: 4 | taste: 3.5 | feel: 3.5 | overall: 3.5
The classic orange amber color with just enough foam, modest carbonation in the mouthful. Light body. Starts with plenty of malt. Toasty is the word. Rather acidic with surprising hoppy bitterness. Quite drinkable, though it's not the big Oktoberfest gulp I was hoping for. More of an American amber. Nice nose of roasted malt.
On tap at Local Habit in San Diego for $5.50 a pint.
381 characters
4.15
/5
rDev
+14.6%
look: 4 | smell: 4 | taste: 4 | feel: 4.5 | overall: 4.5
This outta put me in the mood for O-fest. Hangar 24's version comes with a label that pictures a zepplin and an O-fest gathering. 12 ounces here I come. On to the beer:
This takes on a color that's a darker shade of orange with a yellow hue. The head sits an inch thick on top, retains well, and leaves enough splashes of thick lace around. Bring on the pretzels, as the aroma is taking me to Bavaria. Malty to little surprise, a hint of baking cocoa, shades of grass, ummm, it's malty. And good.
So this is why those one liter steins are so popular. This isn't German, but Hangar 24 is making a good run at this style. Toasted malts and caramel lead the way, while drizzles of hops ar noted but stay in the background. Hints of orange arise. Impressing even more is the texture, which is medium bodied and incredibly smooth. It drinks easy too.
Festive beer. This will not only get your drink on, but your appetite as well. Now where's the sauerkraut and mustard?
968 characters
3.59
/5
rDev
-0.8%
look: 3 | smell: 4 | taste: 3.5 | feel: 3.5 | overall: 3.5
12 oz. bottle, very few Southern CA breweries make this style as a Fall seasonal, so it's nice to see this,
A: Pours amber with a small white head, fair retention, no lace.
S: Classic Munich malt nose, sweet toffee and caramel, hint of hops.
T: Very toasty malt flavour, nice bittering hops on the finish, good mix of sweet and bitter here. Definitely to style.
M: Medium-bodied, crisp, quite bitter hoppy finish.
O: This is a good Oktoberfest beer, nothing mind-blowing, but a solid effort from a local brewery.
517 characters
3.62
/5
rDev 0%
look: 3.75 | smell: 3.5 | taste: 3.75 | feel: 3.5 | overall: 3.5
wow. this was added in 2010 and still doesn't have 10 reviews.....?
nice color of pumpkin, decent short-lasting head, lager-y and easy to drink with minor adjunct flavors.... not bad. decent flavor without the sweet or adjunct gag. would drink, maybe, one more of these.....
275 characters

2
/5
rDev
-44.8%
look: 2 | smell: 2 | taste: 2 | feel: 2 | overall: 2
Beer poured kind of an ugly brownish-gold with a poor head. Aromas and flavors were a mess: artificial caramel, sour bready notes, and non-descript fruits. Not a good example of style and just an average if not poor beer overall. Go for something else.
252 characters

3.6
/5
rDev
-0.6%
look: 4 | smell: 4 | taste: 3.5 | feel: 3 | overall: 3.5
It looks delicious in the glass; small cream-colored head recedes almost completely after a few sips. Depending on the angle, it is a clear, amber color and some reddish hues. Tiny bubbles stream to the surface. The beer has a pleasing, medium carbonation level.
The nose smells right within the style. Toasty and sweet malt. It's mild and clean.
While the taste seems mostly right on for the style, with malt-forward flavors and not much in the way of hops flavor or aroma, the finish is a little sweeter than I would like. There is a mild-medium hop bitterness.
Another overall solid addition to H24's portfolio.
619 characters

3.4
/5
rDev
-6.1%
look: 3.25 | smell: 3.25 | taste: 3.5 | feel: 3.25 | overall: 3.5
This is a good oktoberfest, if not outstanding.
Pale golden amber, small off-white head soon to ring and wisps.
Aroma is toasty, caramelised barley and bread, dusty-dirty-woody herbs.
Taste is juicy-fruity bread, caramelised, woody herb, balanced light sweetness and spicy-zesty bitterness, some mineral.
308 characters

3.77
/5
rDev
+4.1%
look: 3.5 | smell: 4 | taste: 4 | feel: 3 | overall: 3.5
Picked up a 4-pack of bottles from Olive Tree Market here in Ocean Beach for $8. and poured them into a Hess branded pint glass.
A: Pours a nice head that dissipates after a few sips leaving good lacing in its tracks. Pours fairly clean but darker than I expected - burnt orange.
S: Big time lager malt, toasted grains, sweet carmel nougat, and faint earthy hop.
T: On point with the nose and style - tastes like a well done small batch German lager. Nothing over the top or out of the ordinary here...but a really well done German style lager.
M: Lighter side of medium bodied, crisp and clean, but could really benefit with a little more carbonation.
Really well done and on point with the style. Tweak a few things and this could be an all time German style lager. I would definitely drink again!
806 characters

4.24
/5
rDev
+17.1%
look: 5 | smell: 4 | taste: 4.25 | feel: 4.25 | overall: 4.25
Serving type: on tap at the brewery
Pours a perfectly clear deep golden amber. A beautiful beer. Smell is of nuttiness, slightest of smoky flavors, and moist dirt (in a good way). I suppose earthy would be a better description. Taste reflects the smell. Initial nut and early flavors coat the mouth while a generic lager-y crispness finishes. Feel is light, amply carbonated. Overall this is a great beer that is tasty and super easy to drink. Completely underrated.
468 characters

3.96
/5
rDev
+9.4%
look: 3.5 | smell: 3.75 | taste: 4.25 | feel: 4 | overall: 3.75
I blind taste-tested a few Oktoberfests before picking my pint. This was the best of the lot and a solid fall beer. It won't blow your mind but it will deliver a full fall flavour to your Oktober palate! Nice work Hanger 24!
224 characters
3.96
/5
rDev
+9.4%
look: 4.25 | smell: 3.75 | taste: 4 | feel: 4 | overall: 4
L: Nice hazy copper color, looks great. Not much head though
S: Yeasty bread smell, gives off malty lager nose
T: Nice toasty malts, comes off more malt/yeast than any hops or pilsner feel. Some fruits in the middle. Light malt finish.
F: Very wet feel, not dry, not much carbonation.
Overall good oktoberfest style beer.
322 characters
Oktoberfest Lager from Hangar 24 Brewery
3.62
out of
5
based on
66
ratings.