Hoppocratic Oath
| Great South Bay Brewery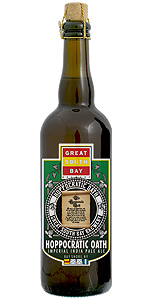 BEER INFO
Brewed by:
Great South Bay Brewery
New York
,
United States
greatsouthbaybrewery.com
Style:
American Double / Imperial IPA
Alcohol by volume (ABV):
8.70%
Availability:
Rotating
Notes / Commercial Description:
No notes at this time.
Added by plaid75 on 01-13-2011
Reviews: 7 | Ratings: 51

4.32
/5
rDev
+9.9%
look: 4 | smell: 4.5 | taste: 4.5 | feel: 4 | overall: 4
On draft at Bobbique, Patchogue, New York.
Poured a medium copper hue with a one finger frothy white head. There was good retention and lacing.
The smell featured a resinous citric hop with notes of pine, grapefruit and orange.
The flavor was clearly hop forward with waves of balmy citrus. The moderate round malts were detectable but clearly an afterthought for the palate.
The mouthfeel was typical of the style.
Overall a very user friendly hop bomb. Very tasty.
482 characters
3.89
/5
rDev
-1%
look: 4 | smell: 4.25 | taste: 3.75 | feel: 3.75 | overall: 3.75
Swung by the brewery minutes ago and smapled on draft and grabbed a fill to go (and some bottles). I eagerly await the new snifters, but this review is from the classic gab mason jug (growler filler ~30 minutes ago).
a - brew pours a semi transparent amber orange with a generous frothy IPA head. Attractive for certain. Solid sheets of lacing coat the glass as the head vanishes but never fully leaves...always at least a skin of froth on the surface.
s - nose is super dank. Really rich and fresh. Pine cone end of the hop spectrum for the nose. Sticky bitter hops.
t/m - as the nose suggests, this beer is not for the faint of heart. The flavor is even more bold and robust than the nose suggested. Leading with pine cone bitterness and lushness. On the sweeter end of the spectrum, but I like my double IPAs sweet. A hint of the booziness is present in the flavor and really tingles my mouth. Even carb. Bitter finish.
o - I have said it before and I will say it again, I am really pumped about what is happening on Li these days. Are they making the best beer I have tried? No, but they are making beer that competes with everything available locally, but most promising is that they keep getting better and batter and are experimenting. I missed the last batch of this beer so can't comment on progress here, but definitely digging this. A bit sweet, a bit bitter,a bit awesome. Worth checking out...if you are local, you would be crazy not to jump on this ASAP. Pretty sure bottles will sell out today, but it suspect it will be available all around town in the near future on draft...if not already.
Cheers gsb, nice job!
1,635 characters

3.83
/5
rDev
-2.5%
look: 4 | smell: 4 | taste: 3.75 | feel: 3.75 | overall: 3.75
Pours a clear amber color with a light brownish hue. The khaki colored head is tight and creamy looking and left some nice webby lacing on the glass.
The aroma is quite hoppy. Mixture of grapefruit, tropical fruit and grass. Nice juicy aroma. Some honey notes from the malt.
The taste is of a big bready malt with some honey and brown sugar sweetness. Grapefruit and pine is the hop profile that I am picking up. Some resin in the finish. More of an earthy hop profile than what I picked up in the aroma. Its a good hop profile but not my favorite as I prefer more citrus flavor.
Moderate body with tingly carbonation. Sweet on the palate but has plenty of hoppy bitterness to offset. Piney/resiny/asprin bitterness in the finish.
A well made DIPA. Not quite in my wheelhouse but I don't want to fault them on that too much. Its worth a purchase.
850 characters
3.82
/5
rDev
-2.8%
look: 3.5 | smell: 4 | taste: 4 | feel: 3.5 | overall: 3.5
Tried this at the brewery.
A - Pours coppy with a high foam. Good lacing and despite the dark color there is clarity. Minimal carbonation visible.
S - Scents of fresh pine and oily hops is present. Has a bit of a spicy smell to it.
T - Initial flavors of citrusy sweet fruit gives way to a pure blast of hops. This is certainly hop foward, and a classic east coast DIPA.
M - Raspy, though very drinkable. This has a nice bitter bite at the end. For the style it is quite smooth.
O - A great take on the style by the local folks and I grabbed a growler for the Superbowl. I'll definitely try this again, as its likely to be the freshest IPA I can get my hands on. Try it, and Take the Oath!
694 characters

3.89
/5
rDev
-1%
look: 3.75 | smell: 3.5 | taste: 4 | feel: 4.25 | overall: 4
Served in a 16oz. snifter glass.
Appearance: Right off the bat is comes off a little darker than most imperials, amber but slightly dark. It is still transparent than most with a heavy head at the beginning coming off light orange tinted white...maybe 2/3" with a vigorous pour.
Smell: A light pine comes off rich but leaves the nose pretty quick.
Taste: At first taste you qill immediately notice how smooth this is. The heavy maltiness kicks in within seconds. Heavy grapefruit but not as bitter as most.
Mouth: A real nice medium carbonation, for an IPA this brew is a tad dry which i honestly don't mind. How sticky is it, very...I like it a lot.
Overall: This beer, I sampled it before filling up my growler and liked it a lot. After close to finishing my first glass I am loving it. It is smooth for an imperial but you definitely feel the effects, all i need is steak and I am happy. Salud!
905 characters
4.51
/5
rDev
+14.8%
look: 4.25 | smell: 4.5 | taste: 4.5 | feel: 4.75 | overall: 4.5
Warning: this is a high-octane beer.
Hoppocratic starts in a chalice glass, brilliant copper color, low head but sticks around for a long time. Lacy remains on the side of the glass.
Very mild grapefruit scent, taste is complex with plenty of hoppiness but also a bit of hop resin afterward. Very big taste.
Now I've got to visit GSB and meet the brewers!
355 characters
3.37
/5
rDev
-14.2%
look: 3.5 | smell: 4 | taste: 3 | feel: 3 | overall: 3.5
Had this on tap at local watering hole. Poured with might. Off white uneven head. Heavy fruit nose. Sticky resin. Booze shining through. Heavy booze in taste. Big hop whallop. Sticky sweet malt. Heavy caramel in finish. Heat from alcohol in the end. Overall a bit too big needs more finesse.
BOOZY HOP BOMB WITH POTENTIAL
322 characters
Hoppocratic Oath from Great South Bay Brewery
3.93
out of
5
based on
51
ratings.