Mischmishmish
| The Bruery
BA SCORE
84
good
12
Reviews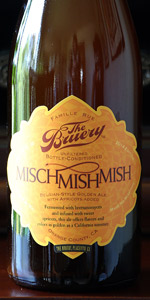 BEER INFO
Brewed by:
The Bruery
California
,
United States
thebruery.com
Style:
Belgian Strong Pale Ale
Alcohol by volume (ABV):
8.80%
Availability:
Limited (brewed once)
Notes / Commercial Description:
After brewing one of our fruited sour ales, we found ourselves with a few too many leftover apricots in the fridge. Rather than start a smoothie company, we decided to create this unique take on the popular Belgian-style golden ale. The addition of apricots strikes a lovely balance with our fruity house yeast, yielding a delightfully mishmishchieveous ale. Effervescent, delightfully fruity, yet surprisingly dry, this is a great beer for the upcoming, warm Summer months.
Added by Igotmypistola on 04-22-2014
This beer is retired; no longer brewed.
Reviews: 12 | Ratings: 132
3.67
/5
rDev
-0.8%
look: 3.25 | smell: 3.75 | taste: 3.75 | feel: 3.75 | overall: 3.5
750ml into matching Bruery snifter. The brew appears a golden orange with excessive white froth that fills the glass and lasts with a white topping.
Smells fruity like apricot, pear, apple and yeasty belgian phenolics like clove with a hint of wheat.
Tastes yeasty with clove and fruits like apple, pear and apricot. Slight herbal bitterness and grainy finish somewhat bread-like.
Medium in body with excessive carbonation that is way overdone. Tastes like filmishmish but they ran out of fruit.
498 characters

3.33
/5
rDev
-10%
look: 3.75 | smell: 3.25 | taste: 3.25 | feel: 3.25 | overall: 3.5
2014 vintage
L - Pours a nice light copper body with a frothy three finger eggshell head. Good retention and lacing.
S - I'm not picking up much apricot. Lots of belgian yeast, hay/grass and slight tart.
T - Really more saison and lemon forward than i was expecting. Tart apricot is on the finish. A bit of a metallic taste as it warms.
F - Light to medium bodied with high carbonation. The carbonation is a bit much, but what are ya gonna do?
O - A bit of a mess smell and taste wise. It deserves the average score it gets.
530 characters

3.6
/5
rDev
-2.7%
Reviewed from notes. 750ml bottle shared by Richard - thanks.
A: Pours a hazy yellow with a solid one-inch thick white head which fades to the rim and leaves splotchy lace.
N: Belgian ale yeast, wheat, grassy, lemony, herbal, fruity - but can't pick out the apricots directly.
T: Kinda weird flavors of clashing yeast and fruit. Not sour at all.
M: Moderate body and medium carbonation. Finishes dry, yeasty, some mild peppery spice.
O: Not what I was expecting at all. Fairly weak fruit and not integrated.
512 characters

3.9
/5
rDev
+5.4%
look: 4 | smell: 4 | taste: 4 | feel: 4 | overall: 3.5
A-Cloudy yellow orange, very carbonated, two finger fluffy head.
S-Grass, wheat, lemon, spice, some apricots, not much funk.
T-Grass, lots of the mischief coming through. Rather like a saison, some lemon very mild apricot.
M-Lighter, well carbonated, crisp finish.
O-Too much of the mischief, not enough apricots or funk. Either more would be better.
354 characters
3.97
/5
rDev
+7.3%
look: 4 | smell: 3.75 | taste: 4.25 | feel: 3.75 | overall: 3.75
Bottle opened on 5.20.14
Bottled 08/30/13
A - Pours a cloudy medium orange with a huge off-white head that fades slowly.
S - Tart wheat, ripe apricots.
T - Tart wheat and Belgian yeast, then a sweet apricot jam.
D - Light body with good carbonation.
O - Nice light tart with lots of sweet apricot flavors.
310 characters
3.57
/5
rDev
-3.5%
look: 4.25 | smell: 4 | taste: 3.5 | feel: 3 | overall: 3.25
Split with rudzud.
Huge fizzy bubbly 2+ finger head fades at a fair pace, decent fluffy lacing, hazy peach orange color.
Nose brings tons of fruit, apricot, canned peaches and canned pear from fruit cocktail, juicy fruit with a mild Belgian blond malt base, esters, little yeast spices, hint of phenolic booze, nice Belgian yeast esters. Unfortunately the fruit fades pretty quickly.
Taste stats with Belgian esters, fruity esters, big phenolic spices and little peppery booze, Belgian yeast mild funk and fruity esters mostly. Light blond malt and hint of sweetness. Over carbonated is distracting, with a weird abrasive fruit skin like feel. Mild apricot and canned peaches in the background that pops up and disappears quickly. Weird bitter tannic flavor on the the back end, and a strange almost fermented creamy flavor. Finish sticky sweet syrupy, more bitter tannins, phenolic booze, esters, and mild bland fruit.
Mouth is med bod, way too much carb, weird abrasive feel.
Overall meh. Started OK but the fruit disappeared way too quickly, and the rest was quite meh.
1,080 characters
3.22
/5
rDev
-13%
look: 4 | smell: 3.25 | taste: 3 | feel: 3.5 | overall: 3.25
Split with JLindros.
A - Poured into a Kate the Great tulip a nice hazy golden hue with a good fluffy two finger head that faded to leave loads of side lacing and a creamy blanket.
S - Aromas of Belgian fruity esters galore, clearly a Belgian strong pale, super faint apricot towards the end. Really have to go looking for it.
T - Taste is more Belgian strong pale, fair amount of alcohol and esters, apricot is very back end on the finish. Would be tough to get through the bottle alone.
M - Mouthfeel is a bit over carbonated, some off notes, booze, carbonation grows as it goes.
O - Overall this beer was a mess. Over carbonated, not much apricot, too much Belgian, ugh.
679 characters

4
/5
rDev
+8.1%
look: 4 | smell: 4 | taste: 4 | feel: 4 | overall: 4
A: poured into a Duvel tulip to a cloudy gold topped by a monsterous dense and rocky white head with excellent retention and lacing
S: smells fruity and slightly sour with some spicy yeast notes as well. slight hints of funk as well
T: Taste is apricots with a slight sourness, fruity esters and spicy yeast with some mild funk. swallow is slight alcohol and medicine with more apricots and yeastyness with a bit more funk
M: this beer is fairly light on the palate with strong carbonation and a semi dry finish
O: Interesting and delicious. It follows the style well and has good flavors. Not sure if I want to lay my other bottle down for awhile or drink it fresh.
666 characters
3.75
/5
rDev
+1.4%
look: 3.75 | smell: 3.75 | taste: 3.75 | feel: 3.75 | overall: 3.75
2014 Vintage
Sampled: Bruery Tulip
Appearance: Cloudy golden yellow color with a large white head that slowly faded to a thin ring.
Smell: Apricot notes,some bready aromas, and a touch of musk.
Taste: The tart Apricot notes from the nose come through along with some grainy/bready notes. The beer finishes fairly dry with the Apricots faintly in the background. The apricots come through more in the nose than the taste profile.
Mouth-feel: Medium-bodied with fairly high level of carbonation.
Overall: I was hoping this would feature apricots in the taste as much as the 2014 Filmishmish but it was not to be. This was still a good spin on the standard Mischief.
668 characters

3.79
/5
rDev
+2.4%
look: 4 | smell: 3.75 | taste: 3.75 | feel: 4 | overall: 3.75
From 05/17/14 notes. Got 1 bottle of this in the RS this year. 750ml bottle poured into a snifter.
a - Pours a hazy, bright orange-yellow color with three fingers plus of fluffy white head and high carbonation evident. Head lasts a while, lots of lacing. Looks good.
s - Smells of spices, yeast, brett, apples, apricots, fruity malts, bready malts, and some floral notes. Nice nose. Little heavy on the spices for me, but the apricots and brett both come through too, which is nice.
t - Tastes of spices, pepper, yeast, apples, fruity malts, apricots, floral hops, earthy notes, and very light brett. Lots of pepper, more than the nose, and less brett, but nice.
m - Medium body and high carbonation. Highly carbonated but nice, crisp, and refreshing.
o - Overall a nice, eays drinking crisp Belgian ale. I would have liked more of a presence from the brett and more apricots, and less spices and pepper, but if you like that in your beers you'll probably like it a lot. Worth checking out.
995 characters

3.75
/5
rDev
+1.4%
look: 3.75 | smell: 4.25 | taste: 3.5 | feel: 3.5 | overall: 3.75
Well I went into this thinking about, Filmishmish. Let it be known that I'm a bit hit and miss on sours. Having said this, I absolutely love Filmishmish, and while Mischmishmish is good, it's no Filmishmish.
The nose grabs you by the collar and tempts you..."I'm apricot, smell me, feel the fuzz. Love me." OK sorry this is getting a little too much. Anyway, the nose is stunning.
The taste does not follow the nose's lead. It's good, but the apricot is subdues, with some champagney notes. Mouthfeel is golden, lite.
Finish is a bit dry, again very lite on the apricot.
Overall, pretty good. Maybe would've iked it a bit more if I wasn't prejudiced by the amazing Filmishmish. Probably set very high expectations. So, to end this ramble...It's pretty good, worth seeking out, and I'm glad I tried it. Glad I got a few more to sit on and try again.
854 characters

4.06
/5
rDev
+9.7%
look: 4 | smell: 4.25 | taste: 4 | feel: 4 | overall: 4
Terrific overall. Wasn't sure what to expect. The nose is over the top dried apricots. Beautiful. I spent a good 30 seconds just smelling this creature. Bone dry, champagne effervescence. Absolutely no residual to speak of. I drank it over the course of an hour. By the end it had this melting softness and juiciness. All-star. Sad-only bottle. Hats off.
Edit: Had again, 2 months later. Apricot has died significantly on the nose. The brett is eating this beer alive. 4 finger head. delicious, but different.
510 characters
Mischmishmish from The Bruery
3.7
out of
5
based on
132
ratings.