Sucre - Madeira Barrel Aged
| The Bruery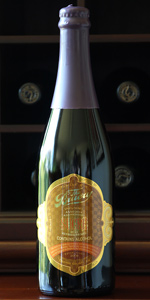 BEER INFO
Brewed by:
The Bruery
California
,
United States
thebruery.com
Style:
Old Ale
Alcohol by volume (ABV):
14.70%
Availability:
Limited (brewed once)
Notes / Commercial Description:
No notes at this time.
Added by BAsbill on 04-27-2014
This beer is retired; no longer brewed.
Reviews: 8 | Ratings: 131
3.89
/5
rDev
-7.4%
look: 4 | smell: 3.75 | taste: 4 | feel: 4 | overall: 3.75
The brew is a muddy brown color with quick fading khaki cap.
The smell is oaky with toasty characteristics before a sweetness of vanilla contrasted by vinous tangy alcohol and almost an herbal note. This is slightly reminiscent of french oak bois with a mild spicy wood inclusion.
The taste has plenty of vinous tang, deep oaky char and cinnamon spice before herbal bitterness with boozy finish. All and all lacking the deep barrel sugary character present in the spirit barrel versions but I kinda like that about this one which sets it apart from the rest.
This is full bodied and lightly carbonated. A boozy sipper that falls middle of the pack across the 9 sucre treatments.
681 characters

3.99
/5
rDev
-5%
look: 4.25 | smell: 4 | taste: 4 | feel: 3.75 | overall: 4
From 03/06/15 notes. Got a bottle in the RS last year, 750ml bottle into a tulip.
Pours a reddish brown color with one finger of tan head and moderate carbonation evident. Lots of wine from the barrel, toffee, sweet dark fruits, oak, leather, fruity malts, and toasted malts. Very sweet. Medium to thin body and low carbonation.
Overall the barrel is very strong here, and it is very sweet. Body is way thinner than other variants; good but one of my least favorite. Glad I only got one bottle.
498 characters
4.17
/5
rDev
-0.7%
look: 3.25 | smell: 4.25 | taste: 4.25 | feel: 4 | overall: 4.25
On tap at The Bruery in Placentia, CA.
Pours a murky dark orange-brown with a foamy dark khaki head that settles to wisps of film on top of the beer. Small dots of lace form around the glass on the drink down. Smell is slightly sour with malt, caramel, toffee, vanilla, wine, and wood aromas. Taste is much the same with slightly sour caramel, toffee, brown sugar, wine, and wood flavors on the finish. There is a mild amount of wood bitterness on the palate with each sip. This beer has a lower level of carbonation with a slightly crisp and medium bodied mouthfeel. Overall, this is a very good beer with nice madeira barrel aged aspects that add a bit of sourness to the smell and taste.
Serving type: on tap.
714 characters

4.27
/5
rDev
+1.7%
look: 4.25 | smell: 4 | taste: 4.25 | feel: 4.5 | overall: 4.5
Lilac wax capped 750mL bottle acquired through The Bruery's Society. Bottled 3/6/14. Served in a Bruery snifter.
Pours an opaque, deep tawny with just under three fingers of vanilla head. I'm pretty impressed with the thick ring of retention, consistant surface haze and several splotches of lace. It's a little more than typical for such a high alcohol brew.
A sweet nose overall with notes of wine, toffee, fusel alcohol, dark fruit, mild oak and something that almost reminds me of berries.
Right off the bat a warming alcohol coats my mouth. Under and amongst that heat there are layers of figs, raisins, wine, slightly charred oak, toffee, caramel, some of The Bruery's signature yeast, bread and a little bit of vague vanilla. While this is far from full-on sour, there is a slight tartness that makes for an interesting counterpoint to the sweetness. As it warms either I've acclimated to the booze or it settled down considerably. There is a lot going on here and nothing seems out of balance.
Fullish, semi-oily feel with moderate carbonation. I'm not really familiar with Madeira but I assume that is the wine-like character that really takes over the finish along with some toffee, oak and fruit skins.
Madeira barrel aged Sucré is another solid entry to The Bruery's extensive 2014 anniversary ale lineup. For my tastes I'd rank it somewhere in the middle of the pack of the nine variants. That still puts it well into the upper echelon of barrel aged old ales. I continue to enjoy the exploration of different barrels that The Bruery has taken me on. As with all of their anniversary ales this is well worth a try if you get the opportunity.
1,665 characters
4.33
/5
rDev
+3.1%
look: 4.5 | smell: 4.5 | taste: 4.25 | feel: 4.25 | overall: 4.25
Bottled March 2014, enjoyed October 2016. I would not rate this as the best of the Sucre variants, but it may be the most distinctive and transformative expression of the barrel. The madeira takes this in a very different direction, with a considerable amount of vinous sweetness that never enters tart or sour territory; there are some light tannic notes but nothing overpowering. The base beer takes the back seat, making this an exquisitely interesting experiment. Not a phenomenal beer, but worth seeking out and trying alongside the standard Sucre release to broaden horizons about what barrels can do. In that respect, this is truly impressive.
650 characters

4.36
/5
rDev
+3.8%
look: 4.25 | smell: 4.5 | taste: 4.25 | feel: 4.75 | overall: 4.25
Pours with expected opacity, carrying a quick to reduce half inch of beige foam. It's a deep brown beer with a maroon cast, and has a thick and menacing look to it. In a good way.
Date, fig, raisin, plum, molasses and wine laden breadiness, warm deep alcohol, with an elusive blended tart yeastiness that is there if you search it and really adds an alluring complexity to this aroma. Hard to stop sniffing this beer, its full strength bouquet is intoxicating and alluring. Sweet.
Much more wine forward than anticipated, in fact it dominates the sip. But this beer is so big it has room for all flavors, while hiding none. During the course of the beer's warming all of the flavors in the aroma combine and shine, and it is a wonderful thing to have this morphing mix of strong flavors. Regular Sucre is a sweeter beer than this one, the wine flavors go far to making it pleasingly sweet and no more than that. Alcohol spice adds immeasurably to the wine notes, and goes a long way to drying the end of sip, which otherwise might be overly sweet.
Thick, low carb., highly viscous, and a perfect frame for an over the top mix of strong flavors. It finishes clean and doesn't build.
What a beer. The only distraction is an occasional overpowering of the sip by the wine taste, but it is such a great flavor it is hard to ding it for that. Highly recommended.
1,372 characters

4.38
/5
rDev
+4.3%
look: 4.5 | smell: 4.5 | taste: 4.5 | feel: 4.25 | overall: 4
750 into a bruery tulip
at one point I had all the variations except 1. this is all I have left. per recommendation of my buddy who had all of them side by side this was his favorite.
looks great, like all their other anny beers, light brown like syrup
smell on this one is fantastic, brown sugar, wine notes barrel smokiness.
taste is very interesting, slightly abrasive barrel over the sweet base which is rather nice. tid bit of tart bite that I imagine is coming from the Madeira barrels, I've had anny enough know to know its profile quite well. still very sweet and chewy.
mouthfeel is definity thick, wine barrels help to keep it from getting overly sweet.
overall Im really enjoying this one. I do wish I could have made the horizontal of this one, but I'm happy just the same to have this one varition. my memory of brandy and bourbon bois however was much better than this beer.
888 characters

4.5
/5
rDev
+7.1%
look: 4.5 | smell: 4.5 | taste: 4.5 | feel: 4.5 | overall: 4.5
A: poured into a snifter to deep brown topped by a finger of dense head that fades quickly to a small collar around the edge of the glass leaving minimal lacing
S: The wine barrel is pretty forward on the nose with some dark fruits and toffee coming through on the back end
T: taste is toffee and dark fruits with the madeira barrel bringing in some nice vinous notes to the beer. Swallow is wine with some lingering toffee and dark fruits and red berries. Slight tannic oak on the back as well.
M: This beer is full in the mouth with soft carbonation and a semi-dry finish. Not oily, thick or chewy though but plenty of body
O: There's only one word to describe how good this beer is and that word is incredible. The complexity and flavors are just outstanding. This is easily one of the best beer's I've ever had. The wine hides the booze pretty well even though this beer is 14.7% ABV.
899 characters
Sucre - Madeira Barrel Aged from The Bruery
4.2
out of
5
based on
131
ratings.