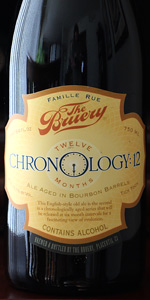 Write a Review
Beer Geek Stats:
| Print Shelf Talker
Style:

ABV:

16.7%

Score:

90

Avg:

4.21

| pDev: 7.13%

Reviews:

15

Ratings:

From:

Avail:

Retired (no longer brewed)

Wants

Gots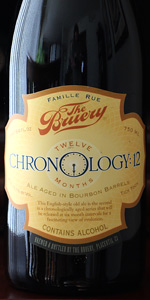 Notes: Chronology:12 is the second in a 4 part experiment with barrels and time. They brewed a beer rich and malty with undertones of brown sugar, toffee and toasted French bread and set it to age in bourbon barrels. Every six months they take a quarter of the barrels, blend them and bottle them.
Reviews: 15 | Ratings: 78

4.38
/5
rDev
+4%
look: 4.25 | smell: 4.25 | taste: 4.5 | feel: 4.5 | overall: 4.25
Poured from fridge temp. Pours dark brown - almost black. Decent amount of head. Nose is candy and caramel. A bit of brown sugar, roasted wood, and a bit of dark fruit. Oak is definitely there as well. Taste is fantastic. Tons of toffee, brown sugar, maple, oak, cherries, bread, malts, nuts, and raisins. This is really tasty. Mouthfeel is thick, and the alcohol is definitely detectable (but it doesn't seem like 16.7%!). Overall, a fantastic BA ale from the Bruery.
468 characters

4.08
/5
rDev
-3.1%
look: 4.25 | smell: 4.25 | taste: 4 | feel: 4 | overall: 4
Nice and boozy, but this is very sweet, which kind of detracts from the flavor. I get a good amount of barrel. Nice body. Overall, its a great beer, but just wish the sweetness was a bit muted.
196 characters

4.35
/5
rDev
+3.3%
look: 4.25 | smell: 4.25 | taste: 4.5 | feel: 4.25 | overall: 4.25
Poured from 750 mL bottle into snifter.
A: Pours a nice caramel-cola brown with 2 inch head with tight bubble formation that quickly recedes.
S: Soft, sweet bourbon hits first, followed by caramel, dark dried fruit, leather, brown sugar, vanilla, and a hint of charred wood.
T: Wow...quite the rollercoaster. Soft caramel malt, brown sugar, and fruit leather hits first, quickly followed by sweet bourbon, vanilla, charred wood, leather, and an interesting red wine note. The alcohol note bursts forth in the finish with a warming burn. Love how this plays different notes across the palate. With warming, a note of red berries emerges too.
M: Medium to medium-heavy body...surprising light on the palate given the hefty ABV. Initially sweet, then the alcohol kicks in with a decent burn burgeoning in the finish.
D: This one started solidly, then grew on me the deeper I got into it. Perhaps I was influenced by the ABV... Nice complexity of taste that had excellent progression across the palate.
1,007 characters

4.68
/5
rDev
+11.2%
look: 4.5 | smell: 4.5 | taste: 4.75 | feel: 4.75 | overall: 4.75
2015 vintage; drank 10/15/15 @ Fischman's.
Poured from the bottle into a glass.
Brown appearance.
Khaki head; minimal lace.
Marshmallow, burnt caramel & milk chocolate notes in the nose.
Thick mouthfeel.
Raspberry, marshmallow, milk chocolate & vanilla flavors; no booze heat at all. Dessert perfection; bravo!!
322 characters

4.21
/5
rDev 0%
look: 3.5 | smell: 4.25 | taste: 4.25 | feel: 4.25 | overall: 4.25
Bottled 5/21/15
A: Brown slimy gunk on the underside of the cap. Interesting. Pours a dark brown with a good sized brown head that fizzes out in a few seconds. No lacing, appears practically still.
S: Heavy caramel, molasses, figs and raisins. Brown sugar too I'd say. Pretty sharp alcohol too but not as bad as I was expecting.
T: Yup, more of the same. Huge, bold old ale flavors. Tons of caramel and vanilla with a toffee, molasses and fig undercurrent. Heavy bread in the middle. Brown sugar on the back end with oaky vanilla. Pretty big alcohol sting and belly-warmth afterwards.
M: Heavy and boozy.
O: Beer was aged for a year and then in the bottle is another 1.5 years. Could definitely use a bit more, it's quite boozy but it's also almost 17%. Quite sweet with huge barrel and malt flavors. Bruiser for sure, share this bottle because it'll put you under otherwise.
881 characters

3.92
/5
rDev
-6.9%
look: 4.25 | smell: 4 | taste: 3.75 | feel: 4 | overall: 4
Poured right down the middle of a snifter from a waxed 750ml bottle. It produced a pretty decent cream colored head that you definitely don't get with a less aggressive pour, but it still dissipated quickly into a quarter thick ring around the outside of the glass. It is a chestnut brown and very muddy/murky.
Smells very rich. Molasses, carmalized brown sugar, baked bread, lots of bourbon, some sour fruit, significant alcohol, and a touch of apple cider vinegar.
For as much aroma as it has, there are probably even more flavors. In addition to everything above, I also notice the oak/tannins, some red grape skin, a touch of coconut, raisin, and a big spicy kick that I am sure isn't the alcohol, but not sure what to attribute it to. Almost rye like.
The one thing that I can't overlook is the alcohol. Yes it is almost 17%, but I swear the 6 month version wasn't this boozy. It hits you early and often, and any lingering flavors seem to be drowned out a bit by astringency.
The body is very nice. Not to thick and syrupy, but not thinned out by the barrels either. The biggest knock is the alcohol burn.
This was interesting and fun. I would love to try the 6 and 12 month side by side. I think that in a lot of ways this one might have more flavor depth if memory is correct, but the alcohol presence in this one seems much stronger even though the abv doesn't reflect it. I drink plenty of bourbon neat, so it doesn't bother me, but objectively speaking it is a bit too much for a beer. All of that being said, it still is a very tasty beer and has plenty of flavors to enjoy.
1,596 characters

3.66
/5
rDev
-13.1%
look: 3.5 | smell: 3.75 | taste: 3.5 | feel: 4 | overall: 3.75
Part of the flight from the Bruery. Glad I got to do 'em this way. Anyways, brown pour, minimal head, looks like its not all that thick. Aroma was booze, bourbon, brown sugar and oak.
Taste was boozy, sweet, brown sugar, not bitter, smooth. This one drops more of what was 6 without seeming more boozy. Molasses, syrup, whateva. Given its abv hides it well despite still being boozy, whatchagunnado when its this big. Its good, but I could see where it gets tiresome if you're drinking more than 8oz of this.
517 characters
3.53
/5
rDev
-16.2%
look: 3.75 | smell: 3.75 | taste: 3.5 | feel: 3.5 | overall: 3.25
Again, thanks to canadianghetto for being able to try this.
A: Pours a dark copper/brown than Chron 6. Still very cloudy and opaque. A one finger white head forms, and recedes with a bit of lace.
S: Very sweet malts up front. Lightly toasted, baked bread even. A tannin like character is more prevalent than the 6. The wood character is a bit more well rounded.
T: Sweet candied sugar and caramel. Again, wood tannins are more apparent. Lots of booze, almost ethanol like. Still seems a little one dimensional.
M/O: Again, a big, viscous body. Oily and overly thick. Boozy, thick, and one dimensional. This is a slow and almost harsh sipper.
Again, thanks to Will for letting me try this. It just does not hit with many other Old Ales easily attainable on the shelf. One dimensional, sweet and boozy is the name of the game.
845 characters

4.5
/5
rDev
+6.9%
look: 4.5 | smell: 4.5 | taste: 4.5 | feel: 4.5 | overall: 4.5
A: Poured into a snifter to a deep brown that's nearly black with a finger of dense light tan head that fades to a small collar around the edge of the glass with minimal lacing
S: Smells of caramel, vanilla, coconut, toffee, toasted malts and some oak with a little fruitiness
T: Taste is caramel and toasted malts with vanilla, hints of coconut and toffee. Slight oak as well with a little dark fruit flavor going on. Swallow is a little boozy with more bourbon barrel goodness. A bit of molasses, caramel, vanilla, plums and oak lead most of the finish on this one.
M: This one is full in the mouth with light but adequate carbonation and a drying finish from the ABV
O: A bit more complex than its younger counterpart. Really nice flavors and complexity with some great bourbon barrel notes. I definitely prefer this to Chrono 6. This one is a sipper as well but it is a little boozy and pretty sweet.
915 characters

4.57
/5
rDev
+8.6%
look: 4 | smell: 4.5 | taste: 4.75 | feel: 4.5 | overall: 4.5
Brass wax capped 750mL bottle acquired through The Bruery's Society. Bottled 5/21/15. Served in a Bruery snifter.
Pours an opaque leather hued chestnut with almost two fingers of ecrue head. The foam quickly recedes to a small central island and thin halo with imparting any lace.
Sweet, inviting arimas of toffee, fig newton, raisins, bourbon, coconut and brown sugar. Smells great.
Flavors mix wet oak, bourbon, fruit skins, stone fruit, burnt caramel, brown sugar, faint coconut and a surprisingly mild tingle of alcohol. Much like the first installment in this series, Chronolgy 12 is quite reminiscent of a love child between The Bruery's anniversary ale and Mash. The additional 6 months seems to have made this richer and mellowed the alcohol a bit compared to Chronolgy 6.
Full, heavy feel, somewhere between creamy and syrupy, with supple carbonation. Plenty of bourbon lingers in the finish along with brown sugar and candied dark fruit.
The difference I'm able to discern between Chronology 6 and Chronology 12 is so drastic that it leasves me quite excited to try 18 and 24. This fun experiment started with an outstanding old ale and the additional barrel notes imparted by another 6 months in the barrel are very apparent. A great beer in it's own right and part of what is shaping up to be an outstanding series.
1,337 characters
4.66
/5
rDev
+10.7%
look: 4 | smell: 4.75 | taste: 4.75 | feel: 4.25 | overall: 4.75
750 bottle poured into RS Tulip.
Dark brown, with an off white head.
Chocolate, caramel and oak in the nose initially, which carried through to the flavor.
As it oxidized, the chocolate faded and cherry notes increased.
This beer was good at the start but improved as it breathed.
Definitely a step up from Chronology 6.
326 characters

4.41
/5
rDev
+4.8%
look: 4.5 | smell: 4.75 | taste: 4.25 | feel: 4.5 | overall: 4.25
Wow what a big jump from the 6 months variant. Lots of nice oak and bourbon characters. Nice caramel toffee like flavor. Reminds me of Cuir 100% aged variant which says a lot about this beer
190 characters
4.13
/5
rDev
-1.9%
look: 4.5 | smell: 4 | taste: 4 | feel: 4.5 | overall: 4.25
Had this on tap at the tasting room. The Bruery's other big ales such as anniversary series do a much better job mixing flavor/sweetness with booze to where it nicely masks the big ABV. I plan on aging my bottles in the hopes of achieving a better balance. A slight improvement over Chronology 6, looking forward to Chronology 18. Unfortunately for this beer I had it side by side with Melange 12 which seemed far more complex with a nicer blend of flavors in comparison.
477 characters
3.75
/5
rDev
-10.9%
look: 3.75 | smell: 3.75 | taste: 3.75 | feel: 3.75 | overall: 3.75
Here's my review from Chronology 6
http://www.beeradvocate.com/beer/profile/16866/153029/?ba=rand
I'm just going to kinda roll these reviews over, adding any notable difference as these are released. As expected, this one is notably sweeter than the 6, both in the nose and on the palate. It's not 'masking' the booze, but it doesn't come across quite so hot. Caramelly malt notes are starting to anchor the flavor profile, making this more drinkable.
457 characters

3.97
/5
rDev
-5.7%
look: 3.75 | smell: 4.25 | taste: 3.5 | feel: 4.25 | overall: 4.5
Looks the same as the chronology 6. The smell has some of the barrel notes as well as the toffee and caramel. Taste has a bit more dry bite to it than the 6 to me right now. I wish I could taste them side by side. Great beer, lots of malt and the alcohol is less prominent, as it should be.
290 characters
Chronology:12 from The Bruery
Beer rating:
90
out of
100
with
78
ratings