Arbre - Light Toast

The Bruery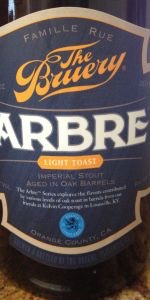 Write a Review
Beer Geek Stats:
| Print Shelf Talker
Style:

ABV:

11.3%

Score:

91

Avg:

4.03

| pDev:

6.45%

Reviews:

11

Ratings:

From:

Avail:

Retired (no longer brewed)

Wants

Gots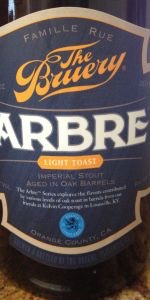 Notes: The Arbre series is an exploration of barrel toast. We brewed a rich, malty imperial stout and divided it into three parts, laying each down in brand new American oak barrels from our friends at Kelvin Cooperage in Kentucky. This variation of Arbre spent time resting in lightly toasted barrels and reveals notes of oak as well as raisins and just a hint of smoke. A remarkable beer on its own, but even more exciting when tasted side-by-side with its medium toast and dark char counterparts for a truly educational experience.

4
/5
rDev
-0.7%
look: 4 | smell: 4 | taste: 4 | feel: 4 | overall: 4
A: Poured into a snifter to a black beer topped by a fninger of dense tan head that fades to a collar around the edge of the glass with minimal lacing
S: Smells of oak, coffee and dark chocolate. The oak seems a little astringent on the nose but there is some light vanilla
T: Taste is roasted malts with notes of dark chocolate, molasses, and coffee. The beer has a strong oak presence with some wood, vanilla and hints of coconut. The swallow on this beer is oaky and roasty with more chocolate and coffee with hints of sawdust.
M: This beer is fairly full in body with carbonation that is a bit too much for the style and a dry finish.
O: Overall this isn't a bad beer. This should be an interesting experiment and I look forward to trying the others. It has good complexity and flavors but it really makes me wish the barrel used to hold some bourbon. The first fill does impart a lot of oak into the beer though.
928 characters
4.21
/5
rDev
+4.5%
look: 4 | smell: 4.25 | taste: 4.25 | feel: 4 | overall: 4.25
Bottle shared by Umberto last night, thanks man.
This one pours a pretty dark black, with a small head, and not much in the way of lacing.
Smells like chocolate, dark fruits, light oak, and lots of bourbon.
Though it would be cool to try this alongside the other versions, it's good on its own, too. The barrel character is pretty bourbon forward, with not a ton of oak- lightly toasty, as expected. There's some definite chocolate and dark fruit, but it's much less sweet than other Bruery stouts, which is pleasing to me.
This is thick bodied, a tiny bit syrupy, with a lower level of carbonation.
It's nice to see a bit more of a restrained Bruery beer here- this is definitely tasty.
692 characters
4.19
/5
rDev
+4%
look: 4.25 | smell: 4 | taste: 4.25 | feel: 4.25 | overall: 4.25
Split with Jared.
A - Poured into Kate the Great tulip nice dark brown hue with a nice one finger mocha head.
S - Aromas of light chocolate, big malts, nice roasted oak, caramel.
T - Taste is similar to the nose, nice chocolates, good light oak, solid char, really deep and dark.
M - Mouthfeel is nicely carbonated, creamy, alcohol hidden well.
O - Overall this was a rather solid stout from the bruery. Very nice char.
Serving Type: bottle
451 characters
4.02
/5
rDev
-0.2%
look: 4.25 | smell: 4 | taste: 4 | feel: 4 | overall: 4
Split with rudzud
Pours a tan almost mocha foamy head fades fairly quickly, little lacing, pitch black thick long legs.
Nose tons of malts, roasted burnt slight acrid some, little iodine, fudge cocoa char, big charred toasted oak and some bourbon whisky like mauve fruity wine, super dark bitter choc so much toasted oak, weird acrid almost any.
Taste big oak, toasted oak and wooden planks, mild char, burnt wood, cedar, into malts, big malts, fudgey, dark choc, toasted char and a little Smokey malt, creamy chewy fudgey, mild marshmallow nougat, some booze, little metallic, lingering dark choc fudge, little fruity, hint whisky or some heavy booze, long lingering charred oak fresh oak cedar and a little smoke.
Mouth is fuller bod, decent carb, some booze, chewy creamy.
Overall pretty interesting, but oak and char is already crazy
842 characters

4.14
/5
rDev
+2.7%
look: 4 | smell: 4.25 | taste: 4 | feel: 4.25 | overall: 4.25
Black and silver striped foil cappped 750mL bottle acquired through The Bruery's Society. Bottled 7/13/15. Served in a Bruery snifter.
Pours black with a finger and a half milky tan head. The froth settles to a persistent veneer that melds into a moderate collar, leaving only a few specks of lace.
Aromas of vanilla, chocolate, sweet, semi fruity Bruery yeast and honey. A really nice nose that I find myself returning to often to enjoy.
Flavors of chocolate fudge, caramel, dark fruit, wet oak, brown sugar, faint vanilla and a little booze. It is quite tasty with both stout and barrel notes easily discernible.
Smooth, creamy, medium full body with fairly soft carbonation. Aftertaste of brownies, caramel coated dark fruit and toasted oak.
I've long trusted The Bruery with imperial stouts and they've made another tasty one for the Arbre series. This Light Toast version was ultimately my favorite. The chocolatey base stout shines through and is augmented by soft, sweet barrel notes of oak and vanilla. This was a really cool series illustrating variations in barrel char.
1,089 characters
4.15
/5
rDev
+3%
look: 4.25 | smell: 4.25 | taste: 4 | feel: 4.25 | overall: 4.25
750 ml bottle poured into tulip glass
A: Pours black with a tan colored head, head is full and creamy, low carbonation, no light comes through, looks pretty good.
A: Oak, burnt brown sugar, vanilla, hint of molasses, alcohol is well hidden, smells pretty solid.
T: Toasted oak, burnt vanilla, toffee, char, finish is dry with toasted oak lingering in the aftertaste, balanced.
M: Smooth, good amount of carbonation, balanced, very drinkable.
O: Nice experiment, has a lot of toasted oak, char, ash, and smoke characteristics, touches of toffee and burnt vanilla, alcohol is well hidden, it's not bad but I prefer my stouts aged in bourbon barrels as this barrel just doesn't add enough to the beer to take it over the top, still an enjoyable beer, glad to try it.
770 characters
3.72
/5
rDev
-7.7%
look: 3.5 | smell: 4 | taste: 4 | feel: 2.5 | overall: 3.5
Dooper brought this one to random night yesterday. A Bruery stout under 45% ABV. Nice!
From a 750 into a snifter
Vintage: 2015
APPEARANCE: A very clear dark brown pour yields a 1+ finger, medium looking, slightly creamy, light tan head with dark retention. Head fades to a half wisp and clings to the sides of the glass. Clear black body with higher levels of carbonation evident for the style. Big stream of carbonation up the middle of the glass. A slight wisp remains until the end leaving lots of lacing down the glass. Not bad looking. Actually blacker than Black Tuesday.
SMELL: Oak, milk chocolate, sweet cream, toffee and pure chocolate on the nose. Solid.
TASTE: More oak here, with milk chocolate and vanilla notes up front. Boozy swallow with more wood, milk chocolate, vanilla, toffee and a bit of alcohol lingering on the palate. Definite wood character and decent sweetness as well. Good stuff.
PALATE: Thinner body and higher levels of carbonation. A bit fizzy on the palate, goes down okay and finishes a touch dry. Lighter on the palate than hoped.
OVERALL: This was pretty solid. The feel is a little light and the pour too clear for my liking, but the nose and flavor work well. Would like to try the other variants in this series, as this one was solid and enjoyable. Thicken it up a bit and you'd have a top notch imperial stout on your hands. Thanks again for the beers dude!
1,408 characters
4.2
/5
rDev
+4.2%
look: 3.75 | smell: 4.25 | taste: 4.25 | feel: 4 | overall: 4.25
Grapey sweetness and Werther's originals caramel middle. Wood is surprisingly muted with the light char, just gives a buttery sweetness and some body.
150 characters

4.12
/5
rDev
+2.2%
look: 4 | smell: 3.75 | taste: 4.25 | feel: 4.25 | overall: 4.25
Dark as night. Smell is caramel, molasses, and date. Maybe a hint if brown sugar. Very balanced overall. Nothing over the top. Finishes with all the flavored mentioned plus a hint if char. Really nice.
201 characters
4.67
/5
rDev
+15.9%
look: 5 | smell: 4.75 | taste: 4.5 | feel: 4.75 | overall: 4.75
Pours out dark with a light tan head. Smells of sweet malts and a bit of caramel. Taste is very nice. Malts, slight caramel, a little roasty plus some dark fruit and and oak. This is very well rounded. I can't wait to pop the other 2 in this series. I would imagine this one for the more refined palate that loves a perfect balanced and have no overbearing tastes. However, I will admit, I love the taste of oak in my beer, so I am really looking forward to the next 2.
469 characters

4.28
/5
rDev
+6.2%
look: 4.5 | smell: 4.5 | taste: 4 | feel: 3.75 | overall: 4.75
Beautiful dark stout color. Lots of carbonation in this 10% beer with a small tan head, great look to it. Great sweet malty nose, with butterscotch and earth. this is not too sweet, as with some of their bigger beers. Toasty and complex with rich notes of burned caramel,dark fruit, and smokey wood barrel. Smooth malty finish left on the tongue. Not too boozy, just right.
373 characters
Arbre - Light Toast from The Bruery
Beer rating:
91
out of
100
with
72
ratings