Ride That Bear
| The Bruery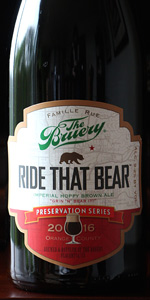 BEER INFO
Brewed by:
The Bruery
California
,
United States
thebruery.com
Style:
American Brown Ale
Alcohol by volume (ABV):
9.20%
Availability:
Limited (brewed once)
Notes / Commercial Description:
Ride That Bear is an imperial hoppy brown ale. With a sleek malt physique imparting warm, nutty and toasty layers, complemented by California yeast and a particularly excellent sense of smell from dry-hopping.
Added by ThatsThatDude on 02-19-2016
This beer is retired; no longer brewed.
Reviews: 14 | Ratings: 57

3.72
/5
rDev
-6.5%
look: 4 | smell: 3.75 | taste: 3.75 | feel: 3.75 | overall: 3.5
750mL bottle acquired through The Bruery's Society. Bottled 2/18/16. Served in a Bruery snifter.
Pours a rose tinted brown with two and a half fingers of manilla head. There is some nice retention that spreads to a thin halo, leaving some wide swaths of chunky lacing where that halo rested.
Smells of earthy, aging hops, citrus peel, bread, an almost rye spicy character and a hint of chocolate.
Tastes much like an American barleywine at first with an assertive piney and citrus peel bitterness joined by grainy and caramelly malts. Some chocolate joins in that bends flavor more towards brown ale. There are also notes of peppercorns, flower pedals, slightly burnt toast, an earthy nuttiness and a dollop of booze.
Full body with moderately strong carbonation. Lingering, bittersweet finish with pine, cereal grain, orange rind and a touch of chocolate.
Ride That Bear straddles a line between American barleywine and imperial brown. Ultimately there is enough chocolate and nutty presence for me to be comfortable with the style ruling. Despite consuming it well past its hoppy prime this was an enjoyably different release from The Bruery.
1,154 characters
4.03
/5
rDev
+1.3%
look: 3.75 | smell: 3.75 | taste: 4.25 | feel: 4 | overall: 4
A - A chestnut color with a soapy, off white colored head.
S - Nutty, roasted malt, spicy piney, sticky brown.
T - Roasted sweet caramel up front met quickly with spicy, sticky pine resin that lingers well after the sip. Lingering bitterness.
M - Medium body, very light carbonation, dry.
O - A nice hoppy brown ale that finishes like an IPA.
348 characters
3.47
/5
rDev
-12.8%
look: 3.5 | smell: 4 | taste: 3.25 | feel: 3.5 | overall: 3.25
This beer isn't exactly what I expected. It's now very balanced. More of an American Strong Ale. Copper in color with a creamy tan head that fades ever so slowly, leaving a thick curtain of lace. Malt aroma and flavor or throughout. Some fig as well. It's a bit overly sweet. Some dank hop aroma as well. Carbonation is ok, and it leaves a super sweet aftertaste. Doubt I'll drink this one again.
396 characters

4
/5
rDev
+0.5%
look: 4 | smell: 4 | taste: 4 | feel: 4 | overall: 4
A: Poured into a nonic pint to a light brown topped by a dense two finger bone colored head that retains well with some lacing
S: Smells of brown sugar along with a good bit of pine resin and juicy citrus from teh hops
T: Taste is bitter pine with some of that brown sugar sweetness struggling to come forward. Citrus rind comes in as well as some nice pith flavors. The malt sweetness tries to come forward but this is one hoppy brown. The swallow on this one is slightly toasted malts with a lot of oily pine and lingering juicy citrus
M: This beer is about a medium in body with soft but adequate carbonation and an oily finish from all the hops.
O: Overall this is a pretty good brown. It's very well hopped so if you don't like hops this is not a beer for you. Definitely a nice twist on the style with some good flavors and complexity.
851 characters

3.54
/5
rDev
-11.1%
look: 3 | smell: 4 | taste: 3.5 | feel: 3.5 | overall: 3.25
750 ml bottle poured into a wine glass. Pour is a slightly hazy brown with some crimson highlights. A thin cap of foam lingers for a bit and offers some solid lace and recovery via a spin.
Nose is muted as the head settles. Quite hoppy after a spin but more malt driven after some air. Balanced malt delivery overall yet unremarkable.
Taste follows with malt and hops and a good level or carbonatiion to carry things along. Different, bit chalky, yet the ABV is unexpected and unperceived. Flavor profile is muted and a bit muddled as is the pour. Mouthfeel is thick for the style but fits the recipe in a sense. This is not a clean brown ale by any means, but more of a hybrid dirty red ale.
704 characters
4.34
/5
rDev
+9%
look: 4 | smell: 4.25 | taste: 4.5 | feel: 4.25 | overall: 4.25
750 mL bottle poured into tulip glass (you can tell by the nose this isn't a standard brown ale, and glassware can/should be adjusted)
A: More copper-red than brown, an easy pour yields a sudsy head that leaves sticky lacing everywhere.
S: Hops and malts hit the senses with equal force. Sharp resiny hop essence and earthy floral notes offset by sweet, bready, nutty aspects. The nose reminds me of pine cones.
T: Big, bold profile, also with bitter and sweet aspects paying equal contribution. Caramel, raw peanuts, and sweet, whole grain bread on one side - resiny, floral tones, earthy tea and citrus rind at the other. Fair amount booze, as the California yeast gives the brew a unique bready finish.
M: Medium viscosity and complexion with ample carbonation.
I really liked this one. I wasn't expecting much, but I've never had a brew that was so unique and so obviously trying to cut it's own cloth, all the while being easy to throw back. It's too bad this was a one-off, hopefully they keep something going along these lines (they seem to resurrect the good ones, I think we'll see more than this batch).
1,131 characters
4.06
/5
rDev
+2%
look: 4.5 | smell: 4 | taste: 4 | feel: 4.25 | overall: 4
Split with JLindros.
A - Poured into a Kate the Great tulip a nice clearish chestnut hue with a thin off white head that fades to leave nice sticky lacing and blanket.
S - Aromas of pine heavy hops, sap resin, light malts, faint caramel.
T - Taste is similar to the nose, huge pine notes, big spicy earthy notes, nice caramel, good hops. Alcohol is hidden very well.
M - Mouthfeel is nicely carbonated, bit sticky.
O - Overall this was a solid hoppy beer from bruery. Alcohol was hidden greatly.
Serving type: bottle
527 characters
3.98
/5
rDev 0%
look: 4.5 | smell: 4 | taste: 3.75 | feel: 4.5 | overall: 4
Split with rudzud
Huge foamy fizzy 3 finger head fades slowly, big messy lacing covers the sides, clear auburn dark mahogany iced tea color.
Nose huge spicy chewy hops, earthy little pine, orange peel, big pine resin and spicy hop, some sweet brown malts and little creamy toasty brown, big candy.
Taste brings tons of super spicy hops, briny chewy earthy, pine forest floor, big bitterness spicy hop, big orange rind, little citrus in general, malts bring a red malt flavor, toasted reddish candy malts not too sweet, more like red ipa, little creamy even. Finish big bitterness super spicy briny little pine earthy hops, touch sticky fair dry.
Mouth is med bod, dessert and creamy, nice fluffy carb, no booze.
Overall not bad, decent hops super spicy with earthy pine, little malt wish that was a bit nowmore and bit more brown, bit still decent.
853 characters

4.27
/5
rDev
+7.3%
look: 4.5 | smell: 4.25 | taste: 4.25 | feel: 4.25 | overall: 4.25
750ml bottle into tulip. Bottled 2/18/16.
A: Pours a dark ice tea brown with a huge, greasy, foamy, billowing tan head that took forever to fade into a greasy thin collar. A network of streaky lace was left down the glass.
S/T: Super hoppy nose is extremely fresh to the point where it smells like hop pellets. Grapefruit zest and sticky caramel stand out, with hints of bread crust, raisin, and roasted malt. I get notes of fresh citrus rind, hop resin, and a kiss of sweet fruit nectar. The finish is sticky and bitter, and the aftertaste is juicy with a fresh and green bitterness that lingers long after the swallow..
M: Medium-full body, greasy and sticky mouthfeel with fuzzy carbonation. The bitterness and hop oil are tingly, almost minty on my palate.
O: An extremely hoppy brown, basically a malty IPA. Drinks well, and as a beer I'd probably drink this again if it was offered to me; however, if I wanted something hoppy I'd drink an IPA, and if I wanted something more malty I'd drink a brown ale. This beer is an interesting in-between.
1,053 characters
4.24
/5
rDev
+6.5%
look: 4 | smell: 4.25 | taste: 4.25 | feel: 4.25 | overall: 4.25
A- Brown with cream colored head
S- Bitter hops very present
T- Nice mix of a smooth brown ale with some bright hop characteristics
F - Medium
O- Much better than I anticipated
176 characters

4.02
/5
rDev
+1%
look: 4 | smell: 3.75 | taste: 4.25 | feel: 3.75 | overall: 4
Warm brown with a hint of dark brick. Thin cream head.
Malty nose, toasted whole wheat bread
Tastes of toffee, a bit of caramel, and a slightly citrus finish. Interesting progression.
Finely carbonated...quite drinkable. The 9% alcohol is well hidden by the malt.
266 characters

3.79
/5
rDev
-4.8%
look: 4 | smell: 3.75 | taste: 3.75 | feel: 4 | overall: 3.75
Bottle.
A: Fairly malty, deep toffee-like character and somewhat toasty with fairly aggressive hops. Unfortunately, the hops are starting to degrade, so there's almost vegetal note.
A: Deep brown color, clear with a small white micro-bubble head that slowly recedes to a thin film.
T: Moderately malty, with a toffee, somewhat toasty character, and slightly sweet. Moderately citrusy, hoppy with moderately low fruity esters.
M: Medium bodied with moderate carbonation with a slight alcoholic warmth.
O: Alright; the combination of toffee/toasty notes with hops that are falling off and fruity esters did not come together well. Perhaps this beer was better first released when the hops were super fresh. While still drinkable, the flavors (especially the hops) are starting to fall off.
796 characters
4.35
/5
rDev
+9.3%
look: 4.25 | smell: 4.25 | taste: 4.5 | feel: 4.25 | overall: 4.25
Pours a hazy light brown with a few fingers of head that sticks to the glass as you drink it. Smells and tastes are identical: malty and hoppy.
I'm extremely impressed with the malt backbone. I haven't had something with this much malt/hop balance since one of my favorite beers, FFF Dreadnaught. It is definitely something I think that they should put into their yearly rotation. It's got enough behind it to satisfy the snobbiest of beer drinkers, but also goes down extremely smooth on a hot summer day.
509 characters

4.17
/5
rDev
+4.8%
look: 4.25 | smell: 4 | taste: 4.25 | feel: 4 | overall: 4.25
received a bottle, shipped directly from the Bruery.
Poured into a pint glass. dark brown hard to see through, fizzy beige head that turns foamy.
smells of malt, toast, and hops.
taste is malty, toasy goodness with a hoppy finish.
very enjoyable. can't believe its 9.2% (on bottle, here it says 9.4).
damn fine beer.
331 characters
Ride That Bear from The Bruery
3.98
out of
5
based on
57
ratings.