Trade Winds Tripel
| The Bruery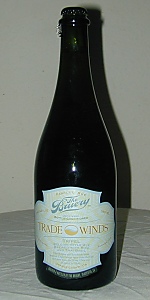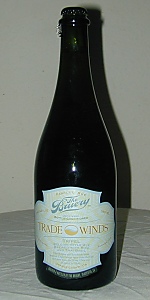 BEER INFO
Brewed by:
The Bruery
California
,
United States
thebruery.com
Style:
Tripel
Alcohol by volume (ABV):
8.10%
Availability:
Summer
Notes / Commercial Description:
Our Summer seasonal, Trade Winds Tripel is a Belgian-style Golden Ale with a Southeast Asian twist. Instead of using candi sugar (typical for such a beer), we use rice in the mash to lighten the body and increase the gravity, and spice with Thai Basil. The result is an aromatic, digestible and complex beer made for a lazy summer evening.
25 IBU
Added by Bitterbill on 05-25-2008
HISTOGRAM
Ratings: 1,136 | Reviews: 354
4.21
/5
rDev
+7.4%
look: 4.5 | smell: 3.5 | taste: 4.5 | feel: 4 | overall: 4.5
Many thanks to my buddy BeerTruth for this one. You're a good man; sometimes.
Upon popping the cap on this one there is a hiss of carbonation that lets me know this might be a bit of a gusher. A slow, careful pour reveals a somewhat cloudy copper color with a foamy off-white head that does fill the glass rather quickly. There is quite literally a tornado of bubbles swirling in the base of the tulip and shooting their way to the top. Head does retain quite well and leaves a nice amount of stick.
Smell at first isn't terribly pleasant, as it's a bit soapy and buttery. The buttery aroma - like Werthers candy - sticks around, but the soapy one seems to go away. There is some fruit going on here too - apples, pear, bit of citrus, and some nice yeast characteristics, but the aroma overall is a bit messy, although it does improve as it warms.
Taste starts off with some candi sugar sweetness and some fruit - pears and apples. This is more like it. There is some earthy yeast, bit of peppery spice, an overall musty quality to it as well. Also some ginger, and a flash of alcohol now and again. There is also an herbal character here, and a just a bit of bitterness which along with some pepper lingers on the palate through the finish. This is quite complex. It finishes quite dry, and the overcarbonation doesn't distract too much but does take away from the creaminess of it just a bit.
The initial aroma turned me off a bit, but as it warmed that off-smell went away, and as I got well into my glass I really found this wearing on me. Very complex and tasty. Not as sweet as some tripels, and on the dry side, but a very fine beer. This is a definite winner, and the best of The Bruery beers I've had so far. Pick it up.
1,733 characters
3.73
/5
rDev
-4.8%
look: 4.5 | smell: 4 | taste: 3.5 | feel: 4 | overall: 3.5
A: Good looking beer, with murky burnt orange color. Good white, frothy head on pouring
S: Sweet green tea, sugar, malt, lemon zest, spice
T: Herbaceous sugary malt, lemon, honey & spice
M: Good, well-balanced, a bit dry
D: A little on the sweet side, but would have another one
The first Bruery beer I've had (Black Orchard and Saison Rue) that I've thought was pretty tasty. A good solid, albeit sweet, brew that's worth trying if you see it
448 characters
3.91
/5
rDev
-0.3%
look: 4.5 | smell: 3.5 | taste: 4 | feel: 4 | overall: 4
Acquired this bottle from the always reliable Joey. I had been most impressed with the Bruery offerings so far and this one was no exception. A lovely 750ml capped bottle. This one was served at cellar temp and split between a few of us in wine glasses. Consumed on 10/03/2008.
The pour was very nice, a light golden amber coming through right away with a nice light haziness to it. Nice carbonation bubbling up throughout the glass creating a nice two inch head of white foam across the top that hung around for what seemed like forever.
The aroma was akin to some kind of spicy green tea at first. Lots of light grain, yeast aromas of fresh leaves and a touch of light citrus sprinkled in. A spiciness I am assuming from the Basil leaves, very intresting aroma for sure. The flavor was light, nicely balanced with a lightly grainy start to it, that turned over to some light fruit, peaches? Maybe green apples, coming through in the middle with that nice light and very fresh leaf like flavor. Hints of spice rippled throughout, especially in the finish which was dry and nicely accented. Intresting light body on this one was accented very well by lush carbonation that kept the profile nice and lively. A nice sipper with the alcohol very well hidden, in fact I had no clue this one was up near 8%.
Overall this was a very nice, light triple. Not the big heavy, alcohol laden ones you see around at times, this was much more of a session worthy ale. I would have no issue with trying this one again, the price is a little biit high, only because of logistics, but if this were local I would have no issue in endulging.
1,625 characters
3.83
/5
rDev
-2.3%
look: 4.5 | smell: 4 | taste: 4 | feel: 3 | overall: 3.5
Purchased this one from South Bay, thanks Joey.
750 ml bottle poured into a chalice. My bottle says 8.1% abv.
Pours an orange gold with a big ass two finger white head that remains for quite a while. A thick layer of lacing remains on the sides of the glass with a continuous explosion of bubbles rising to the top. Smell consists of rice, corn, and basil. Some candy sugar, yeast, and clove tickle the nose. A faint peppery aroma in the backbone as well. Taste begins pretty sweet with banana, pear, and apple. Midway the bland rice flavors emerge with a sprinkle of pepper and honey. Aftertaste is pretty warm from the alcohol sting with clove and spice and slightly dry. I'm torn on the mouthfeel of this beer. It's very light and fluffy but the carbonation is a bit much and harsh at times. This is a pretty unique twist on a classic style, and if it wasn't for the aggressive carbonation this would definitely be getting a higher score.
943 characters
4.12
/5
rDev
+5.1%
look: 4 | smell: 4.5 | taste: 4 | feel: 4 | overall: 4
750 ml capped bottle (thanks miscusi !!!)
Intial sampler pour was a bit frothy. They recommended a tulip but I went with a Brewer's Art chalice, poured expertly, nothing too frothy. Very cloudy though, golden in color but this is not your father's see-through Tripel.
Classic Belgian yeast must aroma. Intoxicating and inviting. Slightly floral. I think I pick up that Thai basil right away in the nose. Yes, yes I think I do.
It's all over the taste of the beer, too. Not everyone picks it up but it's blatant in this pour (and the rest of the bottle). This is an unusual taste addition to a beer, and I gotta say it's working. It's not something you'll be drinking everyday and after 750ml of it it'll be tiresome, but at a yes/no level, it most definitely works.
Some spice, I think most of the heat is actually from the alcohol and a strong carbonation. The top of the liquid is constantly bubbling with pockets of carbonation.
I later poured into a tulip, it looks even darker and murkier at that point, the wonderful aroma weakens a bit but the flavors deepen.
Interesting assemblage from The Bruery. Doing something like adding Thai Basil and rice to a classic style like this is living on the edge, and most times when I taste experimental stuff like that it's barely palatable. I think the Bruery has pulled this off though, that's craftsmanship on full display. It's not my favorite beer in the world but it is interesting and new and something that will invite repeat tastings rather than a "Ok, been there done that, next!" type response.
1,556 characters
4.38
/5
rDev
+11.7%
look: 5 | smell: 4.5 | taste: 4.5 | feel: 4 | overall: 4
A tripel with rice and Thai basil? Summer fun indeed! Recently purchased from The Bruery itself, on to the beer:
Poured into an oversized wine glass, this is very heady and carbonated. A big sticky billowy head sits on top this hard to resist golden color. The aromas are a treat. I smell the soft Thai basil, then comes in mandarin orange and other subtle aromas.
Expect a sensation of bubbly at it first enters your mouth. Surpriningly light in the mouth, yet full of flavor (once you get past the carbonation). This tripel has the ripe fruits flavor of other ones, though less of it, but has the unique spices working in its favor. Nutty towards the back. I think I can even sense the rice that was used in the beer. Lighly spiced aftertaste.
It's always a pleasure for me to drink my favorite Belgian style of beer. Even better to have it uniquely flavored with Asian spices unlike other tripels. But best would be parading in the streets of Pattaya with a Thai woman in one hand and a Trade Winds Tripel in the other.
1,027 characters
3.38
/5
rDev
-13.8%
look: 4.5 | smell: 4 | taste: 3.5 | feel: 2.5 | overall: 2.5
I bought this bottle from South Bay D&L. Thanks Joey!
750ml capped bottle:
As soon as I popped the cap, the liquid started to slowly gush out of the bottle but I didn't lose a drop.
A hazy, then coudy, orange gold in colour, I got a 2 finger head of foam with some good lacing. Very nice looking brew.
The smell is very fruity and yeasty and spicy(corriander mostly) and yeah, I can smell the basil that they mention on the label. A good nose.
The taste is very fruity up front. I get notes of pear and some apple tartness but then the spices move in and take control. Corriander tops it along with some basil and there's an overall tartness that tastes lemony to me. It also has some sweetness that's very candy sugar like and overall, the flavours are pleasing but...and I've seen the comments about this and have to agree...this one is *way* over carbonated. Very prickly on the tongue and cuts down on the drinkability and enjoyment big time. Also, I don't think the alcohol is all that well hidden.
This is a light bodied brew, the carbonation, again, is over the top, and it finishes spicy and bitter.
Bottom line: This is my first sampling from The Bruery and well, I'm not very fond of this Tripel and I'm a big fan of well made Tripels. A step in the right direction would be to cut down on the carbonation. That's the one factor in this brew that really made it tough to drink never mind enjoy.
1,411 characters

3.9
/5
rDev
-0.5%
look: 4 | smell: 4 | taste: 3.5 | feel: 4 | overall: 4.5
This is very well carbonated, in the time I popped the cap, put in a rubber stopper and sat down at my computer a bunch of yeast was circulated within the bottle such that my first pour into my 25cl tulip glass is quite hazy. The head is quite voluminous and rises a full two-fingers in height above the rim of my glass, not too mention that the head in the glass is a four-fingers in height. The head is a pale cream, off-white color, while the beer is a deeply hazy, orange tinged, light amber hue that only gets lighter when held up to the light. The aroma is quite interesting, it definitely has a lemon-like aroma to it as well as a piquant spiciness to it that is a combination of savory, slightly earthy and significantly herbal notes that I can only assume is contributed by the Thai Basil as it is quite unique. Hints of ginger, a solid woody pepper note, lots of earthy / musky yeast character, including a yeast dough note. This is a very aromatic brew, quite complex and I like that the Thai basil is but one component; actually if not told about it I could easily be convinced that this was not spice at all.
Soft and creamy for a split second before the carbonation kicks in and creates quite a bit of froth. This has a nice, sort of astringent, bitterness to it that doesn't quite seem all contributed by hops. This has quite a complex flavor to it, though there is perhaps an overarching herbal note that seems to tie everything together. Sweet, almost honey-like malt flavors don't intrude on the fact that this is a light quaffable brew for a beer of this strength; some of the sweetness seems contributed by ester-driven, higher alcohol notes as well as a soft, lemon-like citrus component. Flavors of clove are significantly noticeable, but only after I start to contemplate the lingering note in the finish. This has a yeasty bite to it near the finish. There is a soft fruitiness here that seems quite a bit hidden by some of the herbaceous notes, but still provides hints of aromatic apples and a touch of tart plum.
A tasty Tripel, perhaps a touch hot at times, but I definitely like the mix of flavors that are found here. I am curious how this would taste if the powdery, fluffy yeast had not been stirred up into the beer from the ample carbonation (I like the carbonation though).
Purchased: South Bay Drugs, Imperial Beach CA
2,357 characters
4.12
/5
rDev
+5.1%
look: 4 | smell: 4.5 | taste: 4.5 | feel: 2 | overall: 4
750 mL bottle, served in a Bruery tulip,
A: Pours an opaque burnt orange with a full Duvel-esque white head, somewhat fizzy, great initial impression.
S: Smells a lot more like my dinner than a beer, but a really good smell. Loving that basil, the Belgian yeast strain is secondary.
T: Medium basil flavour, spice is most evident at first. Apple esters and coriander round out the flavour, with a light sake touch at the end from the rice.
M: In a similar problem I had with the Orchard White, there is way too much carbonation, making it difficult to drink at first. Once I coaxed some carbonation out, it was OK, but still kind of fizzy. Overall light body for the style, hides the alcohol real well.
D: Another tasty beer from the Bruery, aside from the carbonation problems, I thought it was quite good. The basil concept was interesting and I really liked the flavour. It made an interesting match to some ginger cookies I was eating.
944 characters
4.15
/5
rDev
+5.9%
look: 4 | smell: 4 | taste: 4 | feel: 4.5 | overall: 4.5
Had a chance to try this at the Stone 12th anniversary festival. My favorite of their offerings.
Poured a weird multicolor orange and gold. Very interesting. Small white foam head.
Smelled sweet and yeasty. Taste delivered, with delicious spices, coriander, orange peel, tons of yeast, and a nice tropical/malty sweet backing.
Will look for.
345 characters

4.67
/5
rDev
+19.1%
look: 4 | smell: 4.5 | taste: 5 | feel: 4.5 | overall: 4.5
On tap at The Bruery. Had a couple tasters, then a full glass. Classic cloudy golden with a big foamy head. The aroma isn't as much the standard huge Belgian earthiness you usually get, though it does have some of that. It's really more fruity, sugary, sweet. The taste is very light, with only mild earthiness but mostly light fruits such as apples, pears etc. Mouthfeel was on the lighter side, but I have no problem with that, it's an easy tripel to drink.
459 characters
Trade Winds Tripel from The Bruery
Beer rating:
3.92
out of
5
with
1,136
ratings