Einer's Folly Vanilla Imperial Porter (Holiday Wine Cellar's 45th Aniv Ale)
| The Bruery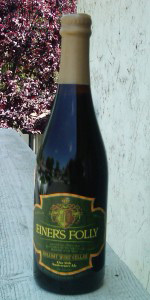 BEER INFO
Brewed by:
The Bruery
California
,
United States
thebruery.com
Style:
American Porter
Alcohol by volume (ABV):
8.50%
Availability:
Limited (brewed once)
Notes / Commercial Description:
No notes at this time.
Added by mikedashg on 03-18-2010
This beer is retired; no longer brewed.
Reviews: 53 | Ratings: 108
3.43
/5
rDev
-8.8%
look: 3.5 | smell: 3 | taste: 3.5 | feel: 4 | overall: 3.5
On-tap at The Bruery's St. Veronus celebration,
A: Pours a dark brown with a medium off-white head. Good head retention, solid look.
S: Roasted malt with a hint of vanilla and bourbon, not the most aromatic compared with some of The Bruery's other offerings.
T: The roasted malt and charcoal is heavy. The vanilla and bourbon/oak which I was hoping would be more of a focal point is not as big as I'd hoped. A good flavour, but I'm not getting anything that's going to make me go nuts.
M: Very smooth carbonation, smooth, robust for sure.
D: There's nothing wrong with this as a stand alone, I liked it. But when I hear bourbon and a Bruery beer I get my hopes up so much, I guess they're dashed a bit here. A solid porter, don't get me wrong but nothing profound.
★
769 characters
4.33
/5
rDev
+15.2%
look: 5 | smell: 4.5 | taste: 4 | feel: 4.5 | overall: 4.5
Well, I am the brewer of the original beer that won this competition but I will try and be as impartial as possible. I had it on Tap at the Holiday Wine Cellar.
A - Dark and creamy, a light tan head that dissipates quickly.
S - Vanilla is the most prevalent followed by Dark Chocolate notes and bourbon. Little hop aroma.
T - Vanilla again is the first notes, followed by a Carmel chocolate. Bourbon notes come through in the aftertaste. More bitter then most porters but still well within the realm of the porter world. This beer is still very young and should do well with a few months more of aging.
M - Creamy and full bodied.
D - Wonderfully drinkable! It is different then the original but still wonderfully complex and is quite a tasty beer. Many of the people tasting this beer preferred this one to the original. Some more aging will definitely improve this beer and mellow out a few of the harsh flavours.
★
922 characters
4.28
/5
rDev
+13.8%
look: 4.5 | smell: 4 | taste: 4.5 | feel: 4.5 | overall: 4
On tap (first official "open to the public" tapping as far as I know) in the tasting room/cellar at Holiday Wine Cellar on the day of their 45th Anniversary, St Patrick's Day 03/17/2010.
If I could fit the entire title of this beer in the title, I would call it the:
"Bruery Einer's Folly (Holiday Wine Cellar's 1st Anniversary Ale Celebrating the 45th Anniversary/1st Annual Homebrew Contest Winner Eric Holden "Holden's Homebrew") Vanilla Robust Imperial Porter - Aged on Bourbon Oak Cubes - Preconditioned Keg"
History: This beer is a home brew recipe from an open home brew competition event at Holiday Wine Cellar in October 2009. Initially judged by the crowd out of 125 beer entries, and finally the top entries were chosen/narrowed down further by a judging panel, including Patrick Rue from the Bruery. Winner was Eric "Holden's Homebrew" Holden. The beer is in celebration of the the store known as "Holiday Wine Cellar" (located on Mission Ave in Escondido, CA) on it's 45th Anniversary (originally opening on St Patrick's Day). It can be described as an "Vanilla Imperial Porter Aged on Bourbon Oak Cubes" (initially was going to be bourbon barrel aged). Brewed at the Bruery with Eric and HWC.
PLEASE NOTE: This review was from a "pre-conditioned keg." The final beer once bottled will have MORE time spent on bourbon oak cubes then this initial keg.
A - Very dark dark brown, almost black with a good sized tan head.
S - Bourbon, Oak, Chocolate, Vanilla, Coffee.
T -Complex. Similar to nose. Bourbon, Oak, Chocolate, Vanilla, and Coffee. Exactly as described! Pretty balanced in all flavors. Nothing overpowers. Has an English ale yeast taste to it. A little hoppy for a porter (although I was told since this keg was pre-conditioned, and very young, that the final taste in which they are shooting for would be less hoppy).
M - Moderate to moderately high carbonation, full body and a quite nice creamy finish.
D - Pretty easy drinking and really quite balanced in all of it's complexity and advertised characteristics. I can see why this recipe won the contest. I can't wait for it to be bottled, the hops to mellow out a little bit, and for it to take on a bit more oak and bourbon flavor. I will be sure to create a separate review from bottle. My guess is that it will get an even higher score from me! But I'll try and be fair :D.
★
2,360 characters
Einer's Folly Vanilla Imperial Porter (Holiday Wine Cellar's 45th Aniv Ale) from The Bruery
3.76
out of
5
based on
108
ratings.