Picco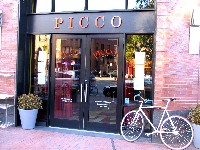 PLACE INFO
Type:
Bar, Eatery
513 Tremont St
Boston
,
Massachusetts
, 02116-6306
United States
(617) 927-0066 |
map
piccorestaurant.com
Notes:
No notes at this time.
Added by quaffone on 04-26-2008
Reviews: 12 | Ratings: 24
4.24
/5
rDev
+1%
vibe: 3.5 | quality: 4.75 | service: 3.5 | selection: 4.75 | food: 4
As good of an on tap beer selection as any bar or restaurant in Boston. Great beers from around the country and the selections change daily.
The pizza is great, I also really like the warm spinach salad. Otherwise, the menu is a bit limited.
My only complaints are that we can never get a table and they don't have a TV at the bar.
331 characters
3.94
/5
rDev
-6.2%
vibe: 4 | quality: 4 | service: 4.25 | selection: 3.5 | food: 4
Pretty nice place here. Nice and dimly lit inside, on the classier side, but still quite casual. It's not huge, and it seems to get pretty busy and therefore cramped. Beer selection isn't tremendous, but they had quite a few basic craft and micro options, and surprisingly more PA beers than local beers. Guess I should've just stayed home. heh The only beers I really wanted were kicked, so I ended up settling for a bottle of Perpetual. No harm there.
The service was good. It was pretty busy, but our server was pretty on the ball, and displayed some knowledge of craft beer, which was a plus. Prices were decent.
The food was good as well, with a leaning towards Italian cuisine and pizza. The pizzas were tasty...not the best I've had, but hey, I'm used to Philly and New York, so I'm biased. They were still good though, more flatbread style, and "well-done" which basically meant a burny crust. Then there's the ice cream. I'm not a big "sweets" guy, but my wife is a big "sweets" girl, so how could we not get the homemade ice cream sampler. Yes, an ice cream sampler. You don't see that everyday.
This place is definitely worth a visit if you're looking for a no-nonsense lunch or dinner and a few good quality drinks.
1,230 characters
4.58
/5
rDev
+9%
vibe: 4.5 | quality: 5 | service: 4.5 | selection: 4 | food: 5
Picco totally rocks. That's all you really need to know.
Based on its location we've wound up here after many Extreme/Belgian Beerfests held at the Cyclorama. It's the perfect post-fest stop. PICCO stands for Pizza Ice Cream Company and the concept is just awesome.
Excellent Pizza/Awesome Ice cream and a Fantastic Craft Beer selection. Nuf Said.
Seriously, the Pizza is unreal and the flavor combinations on the menu are just awesome. The Alsaise (sp?) is a must get when sharing a few pies with friends. Save room for Ice Cream. The odd ball flavors are always a treat and show a great deal of imagination. They usually have Cinnamon and it's worth a try.
Craft beer list is spot on and it's apparent the person selection the brews is a hop head. Always have 3-5 excellent IPA/DPA offerings.
The place gets very busy and there is usually a wait. Well worth it as I've waited as long as 90 minutes. Brought the wife and kids here and now the kids always ask to return (teenagers) Atmosphere is lively, loud, warm and inviting.
This truly is one of my favorite casual restaurants in the city. When I am in the area, it's time for a Pizza and Ice Cream. Just an awesome place.
1,193 characters

4.03
/5
rDev
-4%
vibe: 4 | quality: 4.5 | service: 4 | selection: 3.5
After walking the Freedom Trail and doing some other walking around Boston, we found ourselves in the South End. I probably wouldn't have given this place a second look were it not for Barry's suggestion the day before.
The tap list is somewhat small, only about 10 or 12 taps, but all pretty quality stuff. Seeing as it is the fall season, I opted for a pumpkin beer (Weyerbacher's Imperial Pumpkin, to be exact).
While we didn't eat, I have it on good authority the food is quite good. They also have ice cream and do milk shakes (seems to be a popular thing in Boston).
I'd stop here again if I'm back in Boston, hopefully have some pizza, too.
650 characters
4
/5
rDev
-4.8%
vibe: 4 | quality: 4 | service: 4 | selection: 4 | food: 4
Stopped in here after a day of exploration of the downtown area.
Atmosphere is good, if nothing special. A small bar sits to the left upon entering with booths and tables to the left. There's a good deal of outdoor seating with parasols as well. No TVs but an open view to the kitchen can keep one occupied.
Quality is good. I only ordered one beer that was served in a pint glass but the temperature was on point and the head was appropriate for the style.
Service was also good. I ate early so there weren't many people there and I didn't have to wait long for beer or food. The waitress was friendly enough.
Selection was nice. There were a good deal of styles represented with emphasis on summer seasonals, although nothing overly impressive was available.
Food was solid. I ordered a pizza as it was obviously their specialty, and while not in the top tier, the crust and sauce were above average and when it was put together I enjoyed it.
Value was good, about par for the course in the area.
Overall this is a place that I wouldn't go out of my way to visit again but everything was done well. Worth a stop if you're craving pizza and are in the area.
1,175 characters

4.4
/5
rDev
+4.8%
vibe: 4 | quality: 5 | service: 3.5 | selection: 4.5 | food: 5
Picco has really stepped up their beer selection since the last time I visited over a year ago. I went in yesterday and was quite impressed. The pricing on the beers was pretty reasonable too. Some of the beers that were on were Sculpin from Ballast point, Troegs hopback amber, something by Offsshore which I hadnt seen in a while, Left Hand milk stout, Rare Vos, etc. The list on their website isnt current and I cant remember too many others but they seemed to cover the styles well and there was something that would appeal to almost every beer lover out there.
Picco used to be one of my regular spots to go for lunch before an afternoon fest at Cyclorama. Its a shame I dont get over to this neighborhood more often. Based on yesterday's visit, I could see myself coming over here just to enjoy the fine food and drink at Picco.
The food is where this place stands out even more. The Caesar salad was absolute textbook classic. Lots of fresh shaved parmesan and nice fresh white anchovies--even the croutons were perfect. Properly dressed with just the right amount of dressing too and the Alsatian pizza is something I get every time I come here and never leave disappointed. The pricing isnt exactly cheap but for quality food, I'd hardly call it expensive either. This is a truly underrated spot that I seem to like more each time I visit. I hope it can stay this good forever.
1,388 characters

4.65
/5
rDev
+10.7%
vibe: 4.5 | quality: 5 | service: 4.5 | selection: 4.5 | food: 4.5
If I were making a list of places in Boston that had both great beer and delicious food, Picco would be near the top.
Their 17 draft lines are used exclusively for American craft brews; no macros or foreign. They tend to be IPA heavy. They had Firestone Walker Double Jack, Loose Cannon, Dogfish Head and at least one other IPA on tap my last visit.
There is usually a few local brews, including some stuff that isn't common in Boston like Wormtown and NEBCO.
The bottle list is small but good, with rotating stuff from Founders being the most interesting to me.
Their food is expensive for a place that serves mostly pizza, but the quality is evident. Its also one of the cheaper places to eat in the swank neighborhood it is in. Most caesar salads at pizza places suck. At Picco they come with big pieces of anchovies and freshly sliced parmesean.
The interior matches the upscale yet comfortness of the food. I dig sitting at the bar but its not great for groups of more than 4 because Picco is on the smaller side. That minor complaint is the only negative I can say about Picco. If I were to open a place of my own it'd be almost exactly like it.
Update 4/3/12: Changed my review to reflect that they upped their draft lines from 13 to 17.
1,252 characters
4.58
/5
rDev
+9%
vibe: 4.5 | quality: 5 | service: 4.5 | selection: 4 | food: 5
They've recently expanded their constantly rotating tap selection at Picco to 11. Don't bother checking the website for a beer list because the brews change faster than they update the page. I was there last night and the tap list included Brooklyn Pils, Smuttynose Star Island Single, DF Punkin Ale, and Allagash Hennepin. I tried the Oskar Blues Gubna (also on tap) which I'd never seen in Boston before. And for the South End, the prices are exceptional - both for beer and food (which highly under-rated). You can't find a better beer joint in the neighborhood short of trucking it up to Bukowski's in BB.
609 characters

4
/5
rDev
-4.8%
vibe: 4 | quality: 4 | service: 4 | selection: 4 | food: 4
Cute place around the corner from cyclorama so my wife and I popped in there for some food before session one got underway. Its a little small inside but they really get a lot of seats out of the place.
There are about 6 beers on draft, all nice region-ish craft beer. DFH, Allagash, Sixpoint, Southern Tier, and they had some less interesting bottled beer, less regional but OK overall.
Food was decent and not too expensive. Had the chicken quesadilla and a meatball sandwich, both were pretty good. I had the Bengali IPA while I was there. They also have ice cream that I think they make there, it seemed homemade. Our waiter was attentive but when we arrived we were the only people there. It got busy and he was still reasonably fast. Overall a good experience.
769 characters
4.35
/5
rDev
+3.6%
vibe: 4 | quality: 4 | service: 4 | selection: 5 | food: 5
For a small place in the south end - this is a beer lovers gold mine. It is all about quality - as they only have 8 taps and 15-20 bottles. When we visited, they had Sixpoint Bengali, Southern Tier Gemini, Avery Salvation, Hop Rod Rye, 90 min IPA and others on draft. High quality bottle selection, and prices are very fair. I think we paid $6 a draft. This place knows what they are doing in way of beer. It is all high quality. Must be one of the best places in the south end for beer. Excellent food too. We had the mac and cheese and grilled cheese - they were both fantastic. They also have ice cream - but we were full. Check it out, Picco is a great place.
663 characters
4.5
/5
rDev
+7.1%
vibe: 4 | quality: 4.5 | service: 4.5 | selection: 4.5 | food: 5
I've gone here a handful of times over the past year and always thought the place had potential - good choice of beers on the 3 taps, great food, good location, outside tables - but it wasn't quite all there. I stopped in this past Friday midday for a quick ice cream and was very pleased to see a brand new taps behind the bar. They now have 8 taps, all interesting. They certainly are a bit heavy on IPAs and hoppy beers but hey, I love hoppy beers and its Summer - perfect!
They are making a concerted effort to move away from being an ice cream and pizza place for parents and kids toward a bar for people who appreciate a good beer and great food. They're open until 1 am on weekends now and have a great late night menu that is affordable. And don't forget the pizza, hands down the best I've had in Boston so far (moved from Chicago last year).
Picco has definitely moved up on my list of places to frequent in Boston and is no doubt now the best beer bar in the South End.
984 characters

3.53
/5
rDev
-16%
vibe: 3.5 | quality: 4 | service: 3 | selection: 3.5 | food: 3.5
Stopped in here for dinner on Friday night. Hadn't been to Picco in a while, so it seemed like a good idea. It was about a half hour wait for a table, so we grabbed a drink at Sibling Rivalry. As soon as we checked back in, a nice window table promptly opened for us. The hostess seemed very friendly. Nice place inside, mostly table seating. There is a bar, but not a lot of room around it. Our waitress was just average, she took our order and gave us our bill, but was pretty much absent the rest of the meal. The pizza we ordered was pretty good. Lots of fresh toppings. Nice variety of pizzas here, which is what Picco is known for (and home-made ice cream). Prices are in the low $20s for a gourmet large pizza. What makes this place above average for a pizza restaurant is the beer selection. Mostly focused on bottles, but this is what they featured this weekend: On tap was Hebrew Jewbulation and Otter Creek RIS ($6 each). Bottles: Hennepin, La Fin du Monde, Julius Echter Hefe, Abita Turbo Dog, Victory Prima Pils, Bear Republic, Lagunitas, Oscar Blues can, Allagash White, Left Hand Milk Stout, and Lindeman's Framboise. Bottles ranged from $5.50 to $8. Picco ranks in the top three places in the city to get a pizza and a beer, along sides Woody's and Penguin.
1,273 characters
Picco in Boston, MA
4.2
out of
5
based on
24
ratings.