Riding Solo Single Hop Pale Ale - Comet

10 Barrel Brewing Co.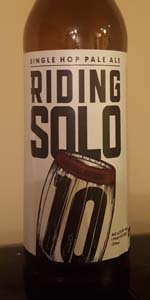 Rate It
Beer Geek Stats
| Print Shelf Talker
Style:

ABV:

6.3%

Score:

Avg:

3.85

| pDev:

7.53%

Reviews:

14

Ratings:

From:

Avail:

Rotating/Seasonal

Wants

Gots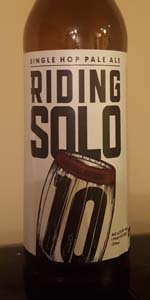 Notes:
60 IBU Single Hop pale ale made with Comet hops.
Ruger_44-Redhawk from Idaho
3.91
/5
rDev
+1.6%
look: 3.75 | smell: 4 | taste: 4 | feel: 3.75 | overall: 3.75
Love this pale ale. Interesting hops. They definitey add a floral fruity taste. Could definitely be a stock beer in the fridge. Some of the best breweries out of Bend, OR and Sisters, OR.
Feb 20, 2017
Skrumpy from Oregon
3.94
/5
rDev
+2.3%
look: 4 | smell: 3.75 | taste: 4 | feel: 4 | overall: 4
Light coppery color with a tan, foamy head. Slightly hazy. The aroma is orange, light tropical fruit, and bread malt. Hints of grain and herbs as well. The flavor is complex in a good way. Citrus and earthy tones coming together with some sweetness, like honey and melon, orange, and grass. Medium body, with an excellent, well balanced aftertaste of lightly toasted malt and citrus hops. Very good.
Oct 29, 2016
MeanMotaScootah from California
4.19
/5
rDev
+8.8%
look: 4.25 | smell: 4 | taste: 4.25 | feel: 4.25 | overall: 4.25
Great up front sweet/bitter ish orange peel aroma hops. Nice creamy carbonation, some bitterness on the finish but nothing offensive or off balance. A nice maltiness with hop bitterness. If someone is trying make the move from pale ale to IPA this is a great "gateway" brew. Hops character is similar to Citra but with a bit more earthy-ness. A very drinkable, complex pale ale. Would definitely buy this again. What is going on in Bend, OR???? That city never fails to pump out great craft beer!
Sep 15, 2016

rolltide8425 from Pennsylvania
3.96
/5
rDev
+2.9%
look: 4.25 | smell: 3.75 | taste: 4 | feel: 4 | overall: 4
This hop is on the earthy side with some pine and a little citrus. Makes for a nice beer with the crisp malt backbone that is present here. Works well as a standalone hop.
Jul 18, 2016
TonyLema1 from South Carolina
3.5
/5
rDev
-9.1%
look: 4 | smell: 3.25 | taste: 3.5 | feel: 3.75 | overall: 3.5
L: beautiful golden color with a slightly lacing off white head
S: lots of malt
T: malty, with some hop bitterness in the background
F: medium body, coats the roof of my mouth
O: I guess I'm not a fan of the comet hop
Jun 26, 2016
stevoj from Idaho
3.63
/5
rDev
-5.7%
look: 3.5 | smell: 3.5 | taste: 3.75 | feel: 3.75 | overall: 3.5
Bottle from Boise Co-op. Nice looking pour, frothy head that fades to small skin, light haze. Mild hoppy aroma, taste also favors the hops, but not overly hoppy. Crisp like a fresh pils. Slick, medium weight body adds a nice feel to the whole brew.
Jun 19, 2016

pianoguy from Washington
4.02
/5
rDev
+4.4%
look: 3.75 | smell: 4.25 | taste: 4 | feel: 3.75 | overall: 4
12 Oz bottle. Bottled March 7, 2016
Pours a fall harvest orange body. At first pour the head appeared to be light tan / off white, but as it dissipated (rather quickly) what was left was thin and definitely white... Interesting.
While the retention was minimal the lacing was decent
Prominent floral scent with a little pine is reminiscent of 10 Barrel's Apocalypse IPA . The scent really benefited from a slight warm up.
Taste is more citrus forward. A lemon peel bitterness
Feel is crisp and a little prickly
Not Bad ! It's a slightly stripped down version of this breweries flagship beer, Apocalypse IPA. I guess the comet hops have a lot to do with it.
This has nothing to do with the actual beer but...
Printed on the side of this bottle is the story of a local brew talent named Benny, who (and I'm slightly paraphrasing here) "was on the fast track working for a large brewery but ended up in the clink without a job. We bailed him out and hired him the next day"... Here is the irony... Anheuser Busch bought 10 Barrel !! Benny, you still working for the man... But you make some mighty fine beer !
May 21, 2016
TheManiacalOne from Rhode Island
4.06
/5
rDev
+5.5%
look: 4 | smell: 4.25 | taste: 4 | feel: 4 | overall: 4
On-tap 5/15/2016 at Flynn's in Mansfield, MA, served in a tulip glass.
A: The beer is a deep gold color, with a large off-white head that fades slowly and leaves a very thick lace on the glass.
S: The aroma contains fruity citrus, grassy hops and caramelized malts.
T: The taste starts out sweet with flavors of fruit, citrus and caramel. Then a strong but not over-powering hops bitterness comes in. The malt character is hearty and brings a good balance. The after-taste is slightly hoppy and slightly sweet.
M: Crisp and smooth, medium body, medium carbonation, finish is slightly sticky.
O: Tasty, goes down easily, not too filling, good kick, good representation of style, this is a solid beer to drink for a while.
May 15, 2016
UCLABrewN84 from California
3.72
/5
rDev
-3.4%
look: 3.25 | smell: 3.75 | taste: 3.75 | feel: 3.75 | overall: 3.75
Bottled 2/25/16.
Pours a hazy reddish-orange with a foamy khaki head that settles to wisps of film on top of the beer. Foamy swaths of lace form around the glass on the drink down. Smell is of citrus zest, grapefruit juice, pine needle, and earthy hop aromas. Taste is much the same with toast, citrus zest, pine needle, and earthy hop flavors on the finish. There is a mild amount of bitterness on the palate with each sip. This beer has a lower level of carbonation with a slightly crisp and dry mouthfeel. Overall, this is a pretty good beer that leans towards the earthy side of the hop spectrum all around.
Serving type: bottle.
Apr 22, 2016
gandres from Philippines
3.79
/5
rDev
-1.6%
look: 3.75 | smell: 4 | taste: 3.75 | feel: 4 | overall: 3.5
12 ounce bottle to wine glass
A: Deep Amber, hazy, medium tan foam that disapears quickly
A: very fragrant-hoppy, citrusy
T: medium bitterness,
MF: lively carbonation lingers in roof of tongue
OA: Very good pale ale, ok to repeat, not to look for
Drank: April 19, 2016
Apr 20, 2016

mactrail from Washington
3.5
/5
rDev
-9.1%
look: 3.75 | smell: 3.75 | taste: 3.5 | feel: 3.25 | overall: 3.25
Handsome amber brew with poenty of suds. Interesting aroma of apricot with green melon. Very sharp on the tongue with that acidic hoppy feeling.
Very light toasted malt and massively hopped but moderately bitter. Interesting at first and tiresome after some sipping. Tastes like cucumbers with canned peach syrup. A little sweet and tastes stronger than the ABV would indicate. I don't know why the mystery about the hop. Just put it on the label and then tell your damn story.
Apr 12, 2016

warrenc from Oregon
4.16
/5
rDev
+8.1%
look: 4 | smell: 4.75 | taste: 4 | feel: 3.75 | overall: 4
Pours a golden ale with a thin off tan head, nice lace. Aroma is wonderful. Grapefruit, lemon, pine and sweet caramel. Taste is grapefruit rind and light sweet malt. Feel is light and creamy. Finishes dry, crisp green apple.
This is a bit hop heavy for a pale. A very good beer. The brewer wanted to showcase single hop and I believe that he did just that
Apr 12, 2016
DefenCorps from Oregon
4.13
/5
rDev
+7.3%
look: 3.75 | smell: 3.75 | taste: 4.25 | feel: 4.5 | overall: 4.25
Bottle from Whole Foods.
A clear light copper with a dense, off white head with excellent retention and lacing, this looks great. The nose is solid. Fruity, mild melon, stone fruit, a little bit of pine essence, some floral honey, this is bright but restrained. A touch of candied citrus is present as well. The palate opens clean, mildly bitter and with moderate hop flavor. Mild melon, peach, pink lady apple ( especially the crisp and refreshing aspects) up front followed by a mildly sweet mid palate with honey, a little sugar and fruit juice. The finish is impeccable, clean, refreshing, fruity with just enough hop oil and hop bitterness to tie all the aspects together. Soft and creamy carbonation make this quite enjoyable as well. Excellent stuff.
Feb 15, 2016
JohnGalt1 from Idaho
3.93
/5
rDev
+2.1%
look: 3.75 | smell: 3.75 | taste: 4 | feel: 4 | overall: 4
Bottle picked up at the Boise pub... Pours slightly hazed golden with a nice white head that shows good retention. Pungent grapefruit that still stays within style... bright hoppy flavor with a BARELY balanced pale maltiness... Any other region of the world and this would be a great IPA, but in the PNW, 10 Barrel delivers a great hop forward beer and calls it a pale ale... Awesome.
3.75/3.75/4/4/4
Jan 25, 2016
Riding Solo Single Hop Pale Ale - Comet from 10 Barrel Brewing Co.
Beer rating:
86
out of
100
with
69
ratings