Power To The People Stout
| 10 Barrel Brewing Co.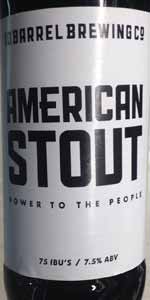 BEER INFO
Brewed by:
10 Barrel Brewing Co.
Oregon
,
United States
10barrel.com
Style:
American Stout
Alcohol by volume (ABV):
7.50%
Availability:
Rotating
Notes / Commercial Description:
No notes at this time.
Added by Scotchboy on 09-09-2013
Reviews: 6 | Ratings: 27
3.92
/5
rDev
+1.8%
look: 4 | smell: 3.75 | taste: 4 | feel: 3.75 | overall: 4
a recent medal winner from what i understand, on tap at the new 10 barrel location in denver, although i dont believe any of the beers on tap were actually made in this facility yet. everyone seems down on these guys after their buyout, but honestly, the beer really hasnt fallen off in quality at all, and i am again impressed with one of their beers. this here is a smooth easy drinking stout with full flavor. lots of dark roast and chocolate notes but only moderate bitterness from it. plenty of body, maybe some oats in here to fluff it up a little bit, and some quantity of finishing hops well above the standard for the style, which i think makes this beer unique. a creamy texture to this, but not an enormous body or anything, almost has a nitro feel about it, and would im sure be outstanding in that format. dry as it finishes with a bit of the hop note there at the end. this is a really solid beer, they pretty much all are. i suspect this new denver brewery will do well, the space is great and the service is on point...
1,035 characters

3.83
/5
rDev
-0.5%
look: 4 | smell: 4 | taste: 3.75 | feel: 3.75 | overall: 3.75
No bottling date that I could find.
A: Pitch-black pour with a tall chocolate-milk colored head. Good head retention and decent lacing to boot.
S: Hoppy aroma. Reminds me of Hoppy Feet from Clown Shoes. Nice roast with some burnt pretzels and char. Mild dark fruits - berries it seems.
T: Lots of bitterness in this one. Grapefruit and pine up front. Kind of a coffee-like bitterness up front too. Lots of pretzels and then char. More bitterness on the back end, coffee, char, even cocoa. Maybe some extra hop bitterness too? It's hard to tell right now. Long lingering dry, chalky and bitter aftertaste.
M: Medium bodied, dry and charry.
O: Hmph. Pretty good but I'm having a hard time discerning what I'm getting here. I thought it was hoppy, then I thought it was lots of bitter roastiness (probably both). But it's more of a toasty malt in some ways. Like a brown ale/stout hybrid...and hopped? Very bitter, very chalky stout.
938 characters
3.98
/5
rDev
+3.4%
look: 4 | smell: 4 | taste: 4 | feel: 3.75 | overall: 4
10 Barrel Brewing Co's American Stout. 22oz bottle served in pint glass; pours black with a tinge of red and briefly forms a small to moderate chestnut brown head. Great roasted malt aroma. Flavor delivers the same, with a train load of roasted barley unloading in my mouth, complemented by a substantial dose of American hops. At 7.5% this beer is bordering on imperial stout designation. As promised, this beer is 100% American stout, no flavorings or other adjuncts, with the volume turned up just enough to command the attention of PNW beer drinkers (what, no coffee? and not even 100 IBUs?), but not so much that it becomes boozy or syrupy. A great execution of a style which ought to get more respect around here. Only flaw is that it's a little on the fizzy side.
778 characters

3.53
/5
rDev
-8.3%
look: 4 | smell: 3.5 | taste: 3.5 | feel: 3.5 | overall: 3.5
Poured from 22oz bomber into a tulip.
Appearance: very deep, rich, dark brown with a murky haziness. Head is a finger of creamy tan foam which has a good retention and leaves a great lace on the glass. Quite attractive.
Smell: roasty, nutty, a little bready and perhaps a bit chocolatey. Not bad, but it smells more like a big brown ale than a stout, and it is a bit on the bready/biscuity side for my taste.
Taste: quite roasty with a bit of edge to it, there's also plenty of toastiness, nuttiness and biscuit to it. Certainly not the worst stout out there, but I prefer an emphasis on the roasty, chocolatey flavors, whereas this seems more like a very dark brown ale or even a "black amber" -- which I really can't describe any other way.
Mouthfeel: medium body with an OK carbonation and creaminess. It works, but nothing to write home about.
Overall: I see this being a perfectly serviceable stout, although not one that I would seek out again.
964 characters
4.27
/5
rDev
+10.9%
look: 4 | smell: 4.5 | taste: 4.25 | feel: 4 | overall: 4.25
Appearance - Pours near black with cola brown edging. The head is the color of cocoa powder and peaks at a fingers width, displaying fair retention before giving way to a thin, consistent layer of surface suds.
Smell - Strong notes of roasted coffee, chocolate, earthy and floral hoppiness.
Taste - Milk chocolate to start, then strong notes of coffee roast and earthy hop bitterness. Dark and Baker's chocolate and more roast hit mid-taste and linger into the finish, delivering a mostly bitter aftertaste.
Mouthfeel - Medium to full in body with fair carbonation. Smooth with a semi-dry finish.
Overall - Flavorwise, it reminds me quite a bit of the Rogue Shakespeare Stout. Doesn't quite have the silky smoothness of the latter, but that's the difference between a regular stout and an oatmeal stout. Would drink on the regular if it made its way down to NorCal.
870 characters

3.72
/5
rDev
-3.4%
look: 4 | smell: 3.75 | taste: 3.75 | feel: 3.75 | overall: 3.5
On-tap currently @ Brewforia in Meridian ID. Served in a shaped pub nonic.
A: Fairly opaque black body with faint red highlights on the edges, tan-ish head leaves attractive rings of lacing on the glass.
S: I get tons of licorice, anise seed, earthy bitterness and roasted malt...a good amount of herbal/earthy hop presence and some molasses as well. Faint caramel sweetness, almost a burnt caramel. Some cacao and brownie fudge in there too.
T: Roasty sweetness, molasses and dark malt, distinctive earthiness in a leafy hop component in a bitter finish. Coffee and espresso notes peek their head out, and bittersweet dark chocolate as well.
MF: Medium bodied, slick and sticky on the finish.
O: A decent stout, not quite easy drinking to my palate. Some of the flavors, hop profile, etc., detracted for me. Still a good brew.
832 characters
Power To The People Stout from 10 Barrel Brewing Co.
3.85
out of
5
based on
27
ratings.