McNellie's Pub Ale
| Marshall Brewing Company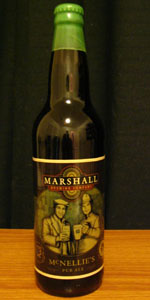 BEER INFO
Brewed by:
Marshall Brewing Company
Oklahoma
,
United States
marshallbrewing.com
Style:
English Bitter
Alcohol by volume (ABV):
5.00%
Availability:
Year-round
Notes / Commercial Description:
Inspired by the house ales found in the pubs of Great Britain and Ireland, McNellie's Pub Ale is a traditional ale brewed in the style of a Best Bitter. Various maltings of two-row barley are joined with American Glacier hops to give this beer its color, complexity, and a bit of a New World twist. The Old World character present in this ale is largely influenced by its yeast, which originates in the port city of Hull, East Yorkshire, England.
Added by coldmeat23 on 06-11-2008
Reviews: 62 | Ratings: 131
4.08
/5
rDev
+7.4%
look: 4 | smell: 3.5 | taste: 4 | feel: 4 | overall: 5
GLASS: 20oz. Nonic
TEMP: Approx. 50-55 degrees
Pours a golden, burnt amber color with ruby highlights. A one finger+ head of creamy tan foam. Retention is fairly good. The lacing is great and leaves a 'wall' almost all the way down the glass.
A nice hoppy presence in the nose. Citrus and earthy hops notes are both plentiful. Also, a light touch of caramel toasted malts is here.
A mild, but inviting nose.
This has a mild, smooth flavor. It also has excellent balance. There is a nice, mild, malt sweetness. It is perfectly balanced by a nice hops kiss. Everything plays well with each other and no one trys to dominate.
Medium bodied and very smooooth. A very nice, light creaminess to it. This has a low carbonation level with serves it greatly.
This is one super-easy, smooth drinking brew. It has such great balance. The bottled and draft versions are easy enough to drink already. This cask version is a super-session brew.
Marshall is kicking ass with the cask ales, definitely! Thank you, Eric & Company.
1,018 characters
4.15
/5
rDev
+9.2%
look: 4 | smell: 4 | taste: 4 | feel: 4.5 | overall: 4.5
pours an attractive orangey-amber. nice creamy off-white head falls to a thin cap.
smells earthy and fruity. caramel, toffee, orange, some cedar and perhaps bubblegum and a little granny smith apple peel.
on palate, a nice english flavor. lots of malt going on here but nicely balanced with some earthy hops. some orange and apple, leafy hops, toffee/caramel and a little citrusy dry bite to finish things out.
great low carbonation which i love and which is to style. great drinkability.
nice melding of earthy hops and caramel/toffee flavors. reminds one of fuller's esb, which is certainly a compliment.
611 characters
4.1
/5
rDev
+7.9%
look: 4 | smell: 4 | taste: 4 | feel: 4 | overall: 4.5
Appearance
Attractive copper color with a moderate head
Smell
Deliciously sweet and fruity; nice and inviting
Taste & Mouthfeel
Wonderful blend of caramel sweetness and fruitiness with low hop bitterness; it reminds me a lot of an American barleywine, but much smaller in every way; body was medium; really enjoyable and definitely a session beer
Overall
McNellie's Pub Ale went down too fast and easily. I'd love to have a few glasses of this on tap. This was easily my favorite Marshall beer of three I tried (also had the IPA and wheat).
544 characters
4.01
/5
rDev
+5.5%
look: 4.5 | smell: 3.5 | taste: 4 | feel: 4 | overall: 4.5
Thanks goes out to thehand for this nice brew.
A - A hazy amber with a tall tan head poured from a wax dipped bomber.
S - I don't detect a very strong scent but maybe my nose just isn't working right today. Just a slight toasty biscuit aroma for me.
T - Biscuit, caramel. toffee/nutty tones with an herbal quality and a wine like fruitiness. There is a nice bitterness to round it out though I can't quite put my finger on the hop flavor.
M - Medium bodied. Fairly high level of carbonation but maintains a very creamy mouthfeel.
D - Very drinkable. Only 5% abv and a very pleasant tasting - complex but not overbearing. I'd love to try this on tap or cask.
662 characters

4
/5
rDev
+5.3%
look: 4 | smell: 4 | taste: 4 | feel: 4 | overall: 4
Copper colored body with a slim tan head. Slight haziness from bottle conditioning, this one had a bunch of sediment but poured just fine. Pleasant aroma of biscuits, fruit and a touch of toffee sweetness; English with an American slant. The taste is clean and crisp, firmly bitter from both hops and husky grain though initially malt-forward. There's a bit of apricot-like fruitiness before the dry and bitter finish kicks in. No buttery diacetyl in this one, which I almost miss, but it remains English in character regardless. Very good stuff, this would make a great session beer.
Notes: This was an extra from beertracker - thanks!
637 characters
4.1
/5
rDev
+7.9%
look: 4 | smell: 4 | taste: 4 | feel: 4 | overall: 4.5
Bottle coutesy of thehand - thanks! Nice extra. Poured into a 22 oz. Terrapin snifter, probably not the most appropriate glassware, but it fits the whole bomber!!
Appearance: Interesting presentation - a wax-dipped 22 oz. bomber for a 5% abv english bitter!? Unique, I'll take it. Pours a surprisingly deep, ruby-tinged auburn, hazy, capped by a good, healthy finger of off-white head. The retention is actually surprisingly good, fading slowly and leacing some nice swaths of sticky, even lacing and a big, thick collar and sheen. Carbonation - that is, what carbonation is visible through the haze - is about average speed and relatively sparse.
Aroma: Very malt forward and full - toast, toffee, strong caramel, even some faint hints of chocolate - but with a nice accompaniment of leafy hops. Hops aren't as assertive here as they are in the mouth, however, but that's alright - the malt complexities are enough to carry the party here.
Taste: A very balanced brew. The malt backbone is heavily roasted and slightly nutty, with hints of toffee, caramel, and slight toast. The hop bitterness is moderate but definitely noticeable, and is accompanied by some slightly citrusy, slightly grassy and spicy hop notes. There's also a definite fruity note, not dark, but not light and estery either - it's grapelike, almost, pleasant. It's both distinctly American and distinctly traditional at the same time.
Mouthfeel: A relatively thin-bodied beer, appropriate for the style, with a healthy amount of carbonation that makes for a fairly large, perhaps slightly too large, but even and both crisp and creamy mouthfeel. Soft effervescence.
Drinkability: A well-made and extremely sessionable brew at 5.0%, this one was quite a pleasant surprise. I'd love to try this one on cask, too - seems that cask ale was sort of made for this kind of brew. Many thanks to thehand for this tasty, pleasant, and very quaffable brew.
1,922 characters
4.1
/5
rDev
+7.9%
look: 4 | smell: 4 | taste: 4 | feel: 4 | overall: 4.5
Marshall's McNellie's Pub Ale pours up sublime from the sparkler of beer engine creating a cascading effect as the carbonation releases thousands of tiny bubbles creating a finely condensed, lacy creamish-white head that perfectly crowns the slightly hazy, gamboge-tawny copper colored body. The clarity becomes brighter as the beer warms. The hoppy (grassy, earthy) aroma shows some fruitiness (lemon zest, orange peel, grapefruit) which is complimented by some lightly toasted caramel maltiness. The alcohol warmth is nearly negligible. Clean, no diacetyl or other off-flavors. The light hoppy flavor starts off with a touch of breadiness & some caramel maltiness that eventually gives way to a pleasant earthy bitterness that never completely dominates the dryish, fruity, well-balanced finish. This medium-light bodied, unfiltered Premium Bitter is wonderfully creamy from the beer engine with just the perfect amount of carbonation. There's just a touch of grainy astringency from the domestic pale malt. This is an extremely drinkable English-style session beer that delivers enough hops to keep even the most discriminating beer lover's interest. It sure is nice to have some real ale back on draught in T-Towne. McNellie's Cask Pub Ale can be found on draught at James E. McNellie's Public House (Side Bar). A pint pairs nicely with the signature Fish & Chips or the Landlord's Cottage Pie. Here's to Brewer, Eric Marshall & Publican, Elliot Nelson and their collaboration ale!
CHEERS! Beertracker
1,507 characters

5
/5
rDev
+31.6%
look: 5 | smell: 5 | taste: 5 | feel: 5 | overall: 5
This is probably the best beer I have ever had.
Let me qualify my statement though. From the cask this is the best I have ever had. In the bottle, this beer is very good, probably getting a solid A- on the ratings. However, in real ale form, it is outstanding, A+
The beer is served with a dense, rocky, tan head. The color is a clear copper/red. The smell is deeply of earthy hops. Incredibly rich and complex. The beer is served at the perfect temperature, around 55 degrees Fahrenheit. The first thing you taste is the wonderfully rich malt. It has hints of toffee and bread. Next, a hint of English Ale yeast strain. Finally, the earthy hops in the finish. The hop flavor is slightly more American than English, but that doesn't really matter, it is fantastic. Mouthfeel is amazingly rich, PERFECT carbonation that is incredibly soft. Drinkability is OFF THE CHARTS. I only drank one pint (wasn't sure if it was a 16 or 20oz) as I had to drive home afterward, but if I wasn't driving, I would have had many of these.
If you are in the Tulsa area and are able to try this beer, I highly recommend you do. It is completely different than the kegged and bottled versions.
1,175 characters
3.58
/5
rDev
-5.8%
look: 3.5 | smell: 3 | taste: 4 | feel: 3.5 | overall: 3.5
Straight from the draft at McNellies.
Pours light copper but murky amber.
Decent head with nice lacing.
Some faint fruit notes (i had a slight cold and was difficult to pick up much).
Someone what spicy, but went well with spciy pickles. Somewhat bitter as well, but a nice experience with adequate carbonation.
319 characters

3.98
/5
rDev
+4.7%
look: 4 | smell: 3.5 | taste: 4 | feel: 4 | overall: 4.5
Poured from wax-dipped 22oz bottle into pint glass. Clear medium golden amber color with 1" off white head, some big bubbles on top, settles fast, leaving a thin film, some spotty lacing. Aroma is clean, light earthy hops, light toasted malt, which follows through to the taste. Nicely balanced. Medium-light bodied, little bit of lingering earthiness on the finish. Nice and easy drinking, super sessionable.
409 characters
4
/5
rDev
+5.3%
look: 4 | smell: 4 | taste: 4 | feel: 4 | overall: 4
Sampled from draft at McNellies, Tulsa, at the brewery and in bottle. Pours copper-amber with a faint haze. Creamy head and nice lacing. Its aroma is quite spicy with floral and dark fruit notes. Pleasant bitterness with a zesty hop bite. Bread and caramel malt backbone with some of the typical fruity English yeast esters. A well-done special bitter not experienced often outside the UK.
389 characters

4.1
/5
rDev
+7.9%
look: 4 | smell: 4 | taste: 4 | feel: 4 | overall: 4.5
Had this at the McNellie's 1st Annual Craft Beer Festival in Tulsa. Jotted down some notes on the back of a Rogue coaster, amongst a few weird/curious looks.
Poured a rusty copperish-brown into a sample mug.
Smell involved a good balance of hops, sweet malts and some furtive citruses, while it tasted of various spices mixed with caramel and an essence of tea, all of which made for a fulfilling session brew.
This is a light to medium bodied, smooth and very drinkable debut beer that should be a good
sign of things to come.
___
7/16/09. Returned to McNellies for an evening out and a concert, and was excited to try this brew on cask, and in the proper nonic glassware this time. Was light brown with cherry hues at the edges. The tan head faded slowly into a decent leftover froth. The brew is smooth anyway, but ultra-smooth, highly drinkable and satisfying served like this.
I recently read where McNellies actually loses money by serving this beer, and that is a sad state of affairs, so if you're ever at McNellies in Tulsa or OKC, have a couple of these and support cask beer in Oklahoma.
1,108 characters
McNellie's Pub Ale from Marshall Brewing Company
3.8
out of
5
based on
131
ratings.