Verkin Kvas
| Monastyrskiy Kvas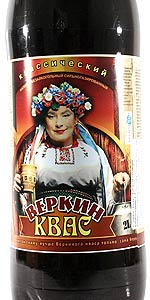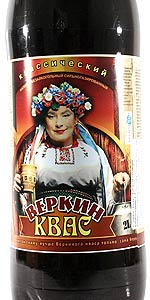 BEER INFO
Brewed by:
Monastyrskiy Kvas
Ukraine
Style:
Russian Kvass
Alcohol by volume (ABV):
not listed
Availability:
Year-round
Notes / Commercial Description:
No notes at this time.
Added by TMoney2591 on 11-16-2010
HISTOGRAM
Ratings: 6 | Reviews: 6
Reviews by TMoney2591:

3.22
/5
rDev
+2.5%
look: 3 | smell: 3.5 | taste: 3 | feel: 3 | overall: 3.5
Served in a Chicago Bears shaker pint glass.
The Kvass Kick has moved into Ukrainian territory. This one pours a clear garnet brown, lighter and clearer than usual, with no real head to speak of beyond the short-lived wisp of tan bubbles. The nose comprises the usual rye bread, pumpernickel, and cola, though slightly lighter and with some extra cinnamon thrown in. The taste also trends along the usual kvass lines, with notes of cola, root beer, and fennel, though the sour rye flavor doesn't enter in until late in the day. The body is a rather light medium, with a fizzy soda carbonation and a light syrupy feel. Overall, a slightly below average kvass, still fairly drinkable but the desire really isn't there.
719 characters
More User Reviews:
3.45
/5
rDev
+9.9%
look: 3 | smell: 3 | taste: 3.5 | feel: 3.5 | overall: 4
Kvas Verkin Classic is one of the lighter tasting examples of the style that I've tasted so far.
It's slightly lighter in color than most, displaying a dark russet brown body beneath a thin layer of foam that quickly dissipates.
The aroma is bready and caramelish.
The flavor suggests dark bread with a bit of rye, molasses, caramel, cocoa, and grain. Hints of raisin are present, but not to the extent you'd normally find; and it's sweet, but although there's a lot of residual maltiness in the finish, it's not sticky or cloying.
The body is light, and it's gently carbonated.
Overall, a very bready-sweet kvas that lacks fruitiness and/or sour 'tang'. It's clean and easy to drink, but without any real complexity.
724 characters
2.8
/5
rDev
-10.8%
look: 3.5 | smell: 3.5 | taste: 2.5 | feel: 2.5 | overall: 2.5
Thanks to woodychandler for yet another Kvass to try. Poured from a brown plastic 2 liter bottle. Has a cola like color with a small head, lots of carbonation. Smell is of molasses and very sweet. Taste is also very sweet, lots of molasses, a bit of breadiness. Feels syrupy in ther mouth and overall is a mediocre effort.
322 characters

3
/5
rDev
-4.5%
look: 3 | smell: 3 | taste: 3 | feel: 3 | overall: 3
My first encounter with the kvass style came from a local Eastern European store in town. I was tempted to give it a whirl considering it was only $4 for the 70 oz bottle.
A - A very dark brown with very little head and no retention. Low amounts of carbonation thereafter.
S - Smelled faintly of rye bread, cocoa, and raisin.
T - Follows the nose, but rather underwhelming. The flavors, while a little more muted then I would have liked, worked well together. The dark fruits that come in toward the end were noteworthy. This beer is sweet, maybe too much so for some, but I found it worked alright for this beer.
M - A lot like a soda, though less carbonated and a little thicker. Easy to drink.
O - Though I'm not familiar with the style, I would think this is a middle of the road effort. It does taste fine but I can see where there is room for improvement. The shop carries All Star Bakery's kvass, which I hear is upper tier, so that'll be my next go.
962 characters

2.74
/5
rDev
-12.7%
look: 3 | smell: 4 | taste: 2 | feel: 3 | overall: 2.5
I have to hand it to TMoney for inspiring my own Kvass Kick, Kamarades! I was intrigued by Kvass initially, but having tried many of the commercial versions of the style, I feel as though I could converse in print about it (hint, hint). I have really enjoyed this producer's versions and this will be the last of the five. You may want to seek them out for yourself.
I gotta say (and my sexist male-oriented comments always land me in deep kim chi), I am digging the Caucasian (from the Caucas Mountain ranges) chick on the label! The further into this I get, the more fascinated with Russia I become. I have befriended the owner of the local European Market, who is helping me to decipher the Cyrillic lettering on kvasses not already in the database, I like listening to Matt Munro's "From Russia With Love" and I am seconds away from hitting the "Send" button for a mail-order Russian bride! This from a retired US Navy sailor who was inculcated from boot camp to hate the Russkies! I'm ruined. I now love Mother Russia. It must be something in these drinks ... I had Kulich (Easter Bread) last weekend and now I am plotting a visit to Little Odessa over Memorial Day Weekend. Doomed, I tell you, doomed!
The pour looked like soda pop once more, with a really fizzy light brown head that was determined to fall as quickly as I could pour. The nose reminded me that those fruity versions were not the real thing - this was. It was as bready as any before it and perhaps more so. Rye bread, molasses and raisins just jumped out on the nose and my mouth began to water, literally. Color was a cola brown with NE-quality clarity. Mouthfeel was medium with a very sugary intensity in the mouth, overpowering the breadiness and the raisin flavor. Wow, this had the power to send me into a diabetic coma, if I had diabetes which runs in my family. Baby, you're a sugar bomb! Man, I gotta back off of this one. No kidding, it was really sweet! Finish had a slight sourness to it, but nowhere near enough to offset the sweetness inherent in this one. Wow!
2,051 characters

3.64
/5
rDev
+15.9%
look: 3 | smell: 3.25 | taste: 4 | feel: 3.25 | overall: 3.75
This poured out as a nice light brown color with a decent looking fizzy head on top. Very much like cola, the head faded and there was no retention or lacing here. The smell of the beer is sweet with bready caramel and hints of cocoa. The taste is very nice, it's sweet and the cocoa come through much strong here than on the nose. The molasses (if any) is more subtle along with some balanced caramel flavors as well. The mouthfeel is much like a cola, watery yet gently carbonated. Overall it's a good Kvass, one of the better ones I've tried thus far for sure.
563 characters
Verkin Kvas from Monastyrskiy Kvas
Beer rating:
3.14
out of
5
with
6
ratings