Monastyrskiy Black Currant Kvas
| Monastyrskiy Kvas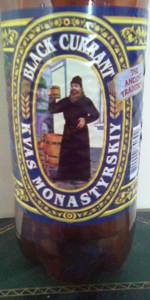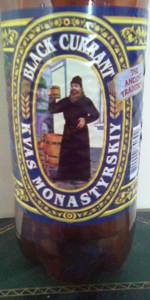 BEER INFO
Brewed by:
Monastyrskiy Kvas
Ukraine
Style:
Russian Kvass
Alcohol by volume (ABV):
1.50%
Availability:
Year-round
Notes / Commercial Description:
None provided.
Reviews: 8 | Ratings: 10
Reviews by Georgiabeer:

3.97
/5
rDev
+14.4%
look: 3.5 | smell: 4 | taste: 4 | feel: 4 | overall: 4
Not a bad kvass at all. Of the fruited kvasses I've had I'd have to say I like this one the best. Black currants have such a nice deep woodsy flavor, and this kvass nicely marries the deep fruitiness of the currants with the sweet/sour breadiness of the kvass. Nicely balanced, with the fruit hitting first, followed by the bready kvass, and finishing with the vinous, prickly notes of the currants. Decently carbonated, smooth, and with surprising depth. Nice pour as well, with the deep amethyst color of the berries tinging the kvass nicely. No artificial flavors here, just the taste of the Ukraine. Nice.
609 characters
More User Reviews:
3.54
/5
rDev
+2%
look: 3 | smell: 4 | taste: 3.5 | feel: 3 | overall: 3.5
Monastyrskiy Black Currant Kvas
2 liter plastic bottle. No freshness date.
The dark mahogany color is not much different from the standard version at all. Side by side they look almost exactly the same except that this seems to have a bit more of a reddish cast to it. As expected, there is no head to it as the carbonation level is quite low.
The black currant is obvious in the nose, floating just atop the caramelish bready sugar. It's not bold, but it is obvious. You wouldn't mistake it for anything else; and given that Monastyrskiy is not a particularly bready kvas, the extra aroma is welcome.
The slight tartness and lightly raspy edge of the currant helps to cut through the sugar, and it's more refreshing than their standard kvas. Not unlike the aroma, it's not something that you'd mistake for anything else, although I'm sure it just comes from an extract. It also helps to smooth it by cutting down on the transition from malty sweet to just sugary in the standard version. It lingers with a bit of bready sugar, but with the slight bit of lightly tart fruit remaining it's not cloying at all.
In the mouth it's light-medium in body with a very moderate carbonation that's just enough to help keep it refreshing. Samples sold from tank carts on the streets of Moscow or Kiev are basically flat, so this is fairly traditional.
Overall, Monastyrskiy is fairly well made and drinkable, but there are better examples. There aren't too many commercial examples of flavored kvass, however, so they've got the market covered. Budem zdorovy!
1,554 characters

3.93
/5
rDev
+13.3%
look: 5 | smell: 4.5 | taste: 4 | feel: 2.5 | overall: 3.5
I have enjoyed every one of the Monastyrskiy Kvasses thus far and I am hoping to become au courant by drinking their Black Currant Kvass. We shall see!
I have to give this one major props up-front in appearance and smell! It was very fizzy and even produced a briefly-extant pink head. The nose was very grape-y, as mentioned by TMoney. Color was a deep garnet/ruby red with NE-quality clarity. The mouthfeel was almost abrasive due to its fizzy carbonation. The taste was not as sweet as the nose led me to expect, however. It had that same dark rye bread taste as all of their kasses did and should have, which lends a slightly sour spiciness to the equation, but in this case, counterbalanced by the fruity sweetness. I think that the cranberry would be the one to which I would return, although this was not bad. The finish had a pleasant tang that lingered after the swallow.
881 characters
1.88
/5
rDev
-45.8%
look: 2.25 | smell: 1 | taste: 2.25 | feel: 2 | overall: 2
"Shelf life 6 months from production date printed on bottle closure" which looks to be 24.06.13. (Must be a best by date, and it's in code).
Sorry, but I don't get the reviews here, maybe I got a bad batch. Nothing unique about this stuff... except that its artificially sweetened/flavored to a comical degree. One of the most artificially flavored, sweet soft-drink, commercial Kvass' out there...
Poured into a mug, at first I swear it had the slightest purplish tinge of blackcurrant syrup, thought dull reddish brown in the glass. Momentary fizz when poured, then absolutely nothing, a glassy still surface.
Medicinal aroma, cough syrup, ash, three-day old trash can. Serious nasty off-aromas. When I opened the bottle, I smelled candy sweetness and behind that and maybe a quick flash of rye bread and anise, though they were nowhere to be found when tasted.
Tastes like artificial grape flavoring, and little else. Watery, thin, sweet "purple" flavor... just water, sugar, purple. A bland and insipid candy-flavored "beverage".
Nothing to see here, this as artificial as they come. Don't fool yourself into thinking this is anything close to a real Kvass. This is a terrible beverage, and a poor representation of a Kvass.
Dumped the majority of the bottle down the drain, a sugary waste of calories.
1,315 characters

3.54
/5
rDev
+2%
look: 3 | smell: 4 | taste: 3.5 | feel: 3 | overall: 3.5
Served in a Chicago Bears shaker pint glass.
Finally gettin' some more flavors for the Kvass Kick. This thing pours a clear dark garnet-ruby topped by a very short-lived ecru fizz. The nose blasts me with a slightly musty grape Dimetapp, with what seems like a pile o' bread yeast beneath. Honestly, for a kvass, this is the best smell I've yet come across. The taste moves from grapes to blackberries and currants, though the must and dust remains intact. A decidedly watered-down bit o' sourdough lingers in the background, coming through at any number of points in the tasting. The body is a hefty light, with a fizzy carbonation and a pretty watery feel. Overall, as trepidacious as I was for this kind of flavored kvass, it turned out to be the most palatable one yet. Yeah, it's still an acquired taste of sorts, but it's a lot more approachable and tolerable than most other I've encountered.
902 characters
3.27
/5
rDev
-5.8%
look: 3.5 | smell: 4 | taste: 3 | feel: 3 | overall: 3
Thanks to woodychandler for this beer. Poured from a brown plastic 2 liter bottle. Has a fizzy dark amber color with a small head. Smell is sweet and fruity, currants are very noticeable. Taste is rather sweet, currants, grapes, a touch of rye. Feels light and fizzy in the mouth, very soda like, and overall is a decent brew.
326 characters

3.87
/5
rDev
+11.5%
look: 3.5 | smell: 4 | taste: 4 | feel: 3 | overall: 4
This poured out as a brownish red looking color with a fizzy white head on top that disappears quickly. The smell of this is very fruity, it's rather sweet smellin like a soda typically is. The taste is sweet kinda syrupy that hangs in the back of the tounge. Lots of fruit flavors, not much of the actual Kvass comin through. The mouthfeel of the beer is typically just like a soda, carbonation is as prominent but still there. Overall its a very refreshing Kvass to say the least. Definitely one of the easier drinking ones I've had so far.
542 characters

3.5
/5
rDev
+0.9%
look: 3.5 | smell: 3.5 | taste: 3.5 | feel: 3.5 | overall: 3.5

3.58
/5
rDev
+3.2%
look: 3.5 | smell: 3.5 | taste: 3.75 | feel: 3.25 | overall: 3.5
Poured from 2-liter plastic bottle into a Grolsch mug. This is very fruit-forward on the nose and palate. Appearance of strong tea, with soda-like carbonation. Quite sugary, with a syrupy mouthfeel and some sticky sweetness on the aftertaste. The blackcurrant goes very nicely with the dark bready character of the kvas. If you're looking for a unique and pleasant-tasting diversion, give this one a try - that is, if you can find it. :)
437 characters

3.62
/5
rDev
+4.3%
look: 4 | smell: 3.75 | taste: 3.5 | feel: 3.75 | overall: 3.5
Monastyrskiy Black Currant Kvas from Monastyrskiy Kvas
Beer rating:
3.47
out of
5
with
10
ratings