Peeterman
| Stella Artois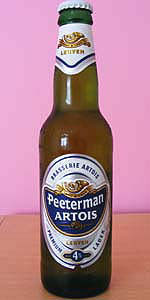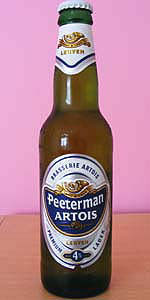 BEER INFO
Brewed by:
Stella Artois
Belgium
stellaartois.be
Style:
Witbier
Alcohol by volume (ABV):
4.00%
Availability:
Year-round
Notes / Commercial Description:
No notes at this time.
Added by cypressbob on 02-07-2007
This beer is retired; no longer brewed.
HISTOGRAM
Ratings: 7 | Reviews: 5
Reviews by cypressbob:
3.11
/5
rDev
+1.6%
look: 3.5 | smell: 2.5 | taste: 3 | feel: 3 | overall: 4
On tap locally, it was sharing a double pump system with the standard offering
Served in it own custom glass, a large deep tulip style glass with the artois horn embossed all over the glass. It seems marketing was the name of the game when this one was being introduced
Pours with an amber body, slight chill haze. Off white bubbly head with pretty solid retention. Some patchy lacing up and down the glass
Smell, served very cold so most of the aromas are seriously muted. Some typically belgian yeasty character, little bit of malt and a hint of fruit
Taste, crisp and fairly refreshing. Some floral hops, little bitterness though, malty body with some dry lingering belgian yeast character on the finish
I've had a look round " 'tinternet " and it seems this is a wit, although its totally clear, amber and shows little characteristic of one but anyways. This is apparently the artois brewery's attempt at infiltrating the middle abv beer range like other macro swill such as becks vier. It seems this beer was made for nearly 200 years by the old artois brewery until it stopped production in the 50's. Its not awful by any means, no noticable off flavours, clean and crisp with a familiar belgian ale character, however it is pretty uninspiring and uninteresting. Hot day, not much around, this might go down well but don't bother seeking it out
1,365 characters
More User Reviews:
1.85
/5
rDev
-39.5%
look: 1.5 | smell: 1.5 | taste: 1.5 | feel: 2 | overall: 3
On tap at the Livery in the City. Dodgy InBev bar. 4.00% abv, half-pint in a little tulip. I didn't know this was a witbier until I came here...
Clear straw body and tiny head that miraculously sticks around. Glass got a bit frosted because of how cold it was.
Thin maltiness, touch of adjunct, rather sweet. Way too cold. Noble hops. I honestly thought this was a weaker Stella.
Noble hop palate, typical lager sweetness. What? A wit?
Don't bother.
453 characters
3.21
/5
rDev
+4.9%
look: 3.5 | smell: 2.5 | taste: 3 | feel: 3 | overall: 4.5
Appearance: yellowy-gold, great clarity, medium layer of white spongey foam, good head retention
Aroma: cooked lemons, coriander, grain husks, chamomile tea, honey
Flavor: dryish/thin malt profile; slight vegetal edge; coriander; finishes dry with a papery aftertaste
Mouthfeel: light body, prickly carbonation, a bit thin
Other comments: Technically, a beer geek or beer snob should swear off any InBev beers, but this is actually a nice, drinkable "lawnmower beer". A sort of mindless "rom-com" of beer. Particularly, if you drink it COLD. Let it warm up too much and you can easily taste the brewery's shortcuts.
627 characters

3.77
/5
rDev
+23.2%
look: 3.5 | smell: 4 | taste: 3.5 | feel: 4 | overall: 4
Pint serving at local italian restaurant of all places.
Served in distinctive Peeterman tulip glass ( yes a marketing ploy but i found this glass nice to hold).
A- Amber colouring, with a 2 finger creamy thick head,Produces good lacing throughout glass. Lively beading. Looks good, nothing spectacular.
s- Lots of floral hoppy notes here - reminding me of the local favourite Deuchars IPA. grass clippings and a slight lemon hint comes to mind aswell. Very fresh and summery smells!
T- once again fruitful floral notes come through well. I was expecting it to be pretty characterless, but found the flavours to be interesting and refreshing. Finishes well, with some nice malt sweetness complimenting the hoppy notes in the beginning. Not too sure if there is maybe some spice in there?
M- Lively carbonation as expected from a witbier. Clean and crisp, not flat and thin, definitely has a bit of body.
D- I have to say i prefer this to hoegaarden- -hoegaarden is too aggressively carbonated and characterless for me. This was a pleasant suprise i must say. A lovely summer refreshing beer with a bit of character that could be enjoyed with fish and salads.
1,162 characters

3.23
/5
rDev
+5.6%
look: 3 | smell: 2.5 | taste: 3.5 | feel: 3.5 | overall: 3.5
"A weaker Stella brewed with wheat." That's what the bartender at the Inn at Lathones in Fife, Scotland told me. He's right, it's got a slightly hazier yellow gold appearance with decent, very white head. Actually sticks reasonably well, but so does Stella.
The aroma is flat citric juice and rind, some spicing (coriander), a little sweetness and light malt and probably some grain. Flavors are mostly similar, with a watery mouthfeel and as expected a little wet around the edges with the malts. Nothing unpleasant but not great, honey sweetness appreciated. Serve cold.
576 characters
Peeterman from Stella Artois
Beer rating:
3.06
out of
5
with
7
ratings