Shenandoah Brewing Co.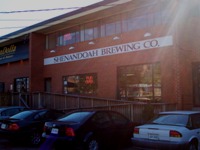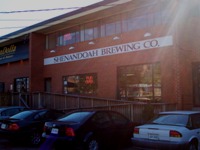 PLACE INFO
Type:
Brewery, Bar, Eatery, Homebrew
652 S. Pickett St
Alexandria
,
Virginia
, 22304
United States
(703) 823-9508
// CLOSED //
Notes:
No notes at this time.
Added by BeerAdvocate
HISTOGRAM
View: Beers | Place Reviews
Ratings: 10 | Reviews: 10
Reviews by SundeyPSU:
2.25
/5
rDev
-40.5%
vibe: 4 | quality: 1.5 | service: 3 | selection: 2 | food: 1.5
The look of this place is great. Very inviting and relaxed environment. Couches and tables to sit and relax, and chat with friends over a beer. That is where the positive feelings end.
I have been looking for a BOP since I moved to Arlington, and I really wanted to like this place. It is a great idea, but falls short. This is more of a BOP for people who do not homebrew, and just want the experience of brewing. "Brewers" are not involved in mashing. That is done the night before, and the same mash is used for all the brews people choose to brew the next day. The website states "Any recipe can be modified to your particular taste by our staff. Or you can bring in a recipe, a beer description or a beer sample and we will develop a recipe to match it as closely as possible." When I asked about this, I was told that is "frowned upon" and they want you to stick to their recipes.
The first brew I ordered was their Nut Brown. It was very disappointing, and I have personally made better browns with my homebrew kit (and I am not that experienced a homebrewer). My buddy ordered their Pale Ale. I tasted that. It was better than the brown, but still have had much better home made Pale Ales. I drank the brown ale, so as not to waste my money. We both ordered their firkin for the second round. It was their Centennial, and the bartender said it was very good and highly recommended it. After it was poured, it looked like an ice-latte. It was milky and cloudy. The presentation was terrible. And no, it was not settling like a Bottingtons. It was milky white. I had never seen anything like it. It did not look good at all. We let it sit, hoping something would change. Even after the head was gone, the ale still looked more like an iced-latte and not an ale. The taste was worse. My buddy is a more experienced brewer, and could not figure out what the heck was going on with the ale. I did not finish the pint, nor did my buddy. We asked the head brewer why it was so cloudy, and we were told "it did not sit long enough". OK, sure. We left after that.
The food was probably the best thing there, which is not a complement to the ales. We each had a chili dog, that was cold. The chili on top was warmish, but the dog was cold. I would not go back or recommend to anyone. I can say, the families who were there "brewing" did seem to be enjoying themselves. So maybe if you have kids and other family friends you would enjoy a day there, but not if you are a home brewer looking for a BOP or serious about your ale quality. Sorry, I really wanted to like this place.
2,580 characters
More User Reviews:

3.78
/5
rDev 0%
vibe: 4 | quality: 4 | service: 4 | selection: 3.5 | food: 3
Visitied Shenandoah while on vacation with my wife, visiting her sister, brother in law, and 2 day old newborn nephew...but had to make some day excurisions to some breweries while there!
Shenandoah is in a cross between a small mini mall, or mini industrial park. When we walked in, it was steamy and smelled of hops, malt, and boiling kettles, since it's a Brew on Premises, which are pretty rare back in California, so that was very cool.
Got a sampler of Shenadoah beers, most of which were good or above average. The stony Man oatmeal stout was probably the best for us. Also ordered a pretzel to go with the tasters, and the bartender was attentive, but quiet. The place is was pretty chill, with some homebrewers bottling, some boiling, and some just hanging out and helping them.
Worth a stop if you have never been, are in the area on vacation, or a local.
871 characters
4.05
/5
rDev
+7.1%
vibe: 4 | quality: 4.5 | service: 4 | selection: 4 | food: 3
The categories almost aren't fair for an on-premises brewing establishment, but they do have a bar (maybe 10-12 seats), and normally 4-5 of their own brews on tap. Growler fills are theoretically available, but it's best to call ahead and check supply.
The beer is normally good-to-excellent (if the Stony Man Stout is on, hit it hard); the food is really just there, but the pretzel basket is good.
It's a brewery; it ain't fancy. No ferns.
Me, I like this place and the people that run it (and I've been brewing there for years), and I will drop by for a drink, but people make an error if they think it's a brewpub restaurant; I would bet they wouldn't have food at all if Johnny ABC didn't require it.
710 characters

3.86
/5
rDev
+2.1%
vibe: 4 | quality: 4 | service: 3.5 | selection: 4
Seeing that I live not too far away, I figured I'd stop in to give this place a look-see. The atmosphere is very low-key, like a buddy's basement, only with a stocked bar and a bunch of brewing equipment. The small bar and tables are set in the midst of the BOP area, where I witnessed the joys of new beers being born (if only they were mine...). The people all seemed very friendly and relaxed. The staff, though also friendly, appeared quite busy, thus leaving me waiting a bit for my beers, but it wasn't all that bad. My only real qualm was with the prices, which bordered on high, but at least the brews were tasty (especially the Chocolate Donut stout). I definitely foresee myself coming back at least a few times in the near future.
741 characters
3.55
/5
rDev
-6.1%
vibe: 4.5 | quality: 2 | service: 5 | selection: 3.5
Finally got around to checking this place out. It's awesome. Philosophically speaking, it's my ideal brewpub. Heavy emphasis on the brewing aspect. The tables are situated in the midst of the brewing equipment. There is a high level of creativity with the beer ("chocolate donut stout" and lots fruit of added to various styles). I ordered an oatmeal stout from the firkin and it was above average for the style. Very relaxed, comfortable atmosphere. Looks like a fun place to hang out. It reminds me of a more low-key (i.e. not as large-scale) version of my beloved Founders. In other words, it just feels like home. The other patrons were friendly and the bartender was very attentive, helpful and was not stingy with the samples!
I do think it is a little pricey, though. $6 pints ($7 for the firkin) and $6 bottles, too. But I'd rather pay $6 for a Shenandoah Brewing Co. beer than a Sam Adams (which I have done at some restaurants).
Anyway, it's a great place to go for some local brews and conversation!
***Edit: I had to lower the "quality" rating after a few more visits... their beers (and I have tried about 8 or so of them now) are mediocre AT BEST. The stouts, in particular, are amateurish. No body; no head. Just blah. Most of the beers in general have some kind of artificial flavoring... especially the *many* fruit beers. Ugh. Just gross, ya'll. I don't want my beer to taste like a Jolly Rancher and I REALLY don't want my beer to taste like an (albeit mediocre) hoppy beer mixed with Kool-aid. WTF are they thinking with this crap? Not cool.
1,566 characters
4.5
/5
rDev
+19%
vibe: 5 | quality: 4 | service: 5 | selection: 5 | food: 3
I had a surprise 30th b-day party there to brew my Imperial Stout and overly hopped Oktoberfest.
Excellent staff and customer service. Top notch way to run a business.
Beer on tap was unique including a kiwi strawberry Hefewiezen, Chocolate Donut Stout, etc. The list goes on.
One hand pulled ale that I missed out on.
The Stouts I tried were over carbonated and a bit thin, but I believe it felt thin in the mouth due to over carbonation. I prefer stouts with lower carbonation or Nitro poured.
Food was nothing to write home about. If you watch behind the counter, most is refrigerator stored in buckets(chili) and simply microwaved to heat up.
Good selection of hot sauces. Nacho cheese was REALLY good.
Worth a stop when they release new ales and to brew your own beer if you are not a serious homebrewer. Previous post about using a common mash are correct and somewhat disappointing. They have to do this otherwise the brewing process would take too long and they would have to limit number of customers and raise prices.
It's a business to get people started in brewing. We should PRAISE this, not slam it.
I have the option to keg or bottle my beers which is Excellent. I plan to half keg/half bottle to give away since we brew a 15 gallon batch. WOWZERS!
1,265 characters

4.28
/5
rDev
+13.2%
vibe: 4 | quality: 4 | service: 5 | selection: 4
This is not a place that you should go and spend a Friday night, but definitely a Friday afternoon off work or a weekend at daytime. This isn't even a bar type atmosphere at all - it is like someone that works at this microbrewery decided to throw a bar table, some stools and a TV around the brewery's taps and they could charge people (then decided they would sell chips and stuff, which I didn't eat). That said, the people there are great. I was visting my friend in Alexandria and we talked to a few different bartenders/brewers and they were giving us samples and gladly talking to us about beer. I also BS'ed w/ some regulars (very casual, first name basis with everyone that woed and their brewers) and this is a must for beer drinkers/snobs. I even think they threw me a free beer on top of the samples...more of a good time than let's make money vibe approach. Didn't get to brew my own beer, but from what the regulars said it sounded like I must do it next time. They have binders with their recipes and they guide you through it, so I don't anticipate any problems.
1,078 characters
3.65
/5
rDev
-3.4%
vibe: 2.5 | quality: 4 | service: 4 | selection: 4 | food: 2
To appreciate Shenandoah, you have to know what to expect. It's not really a brewpub, and still less a beer bar. It's a small working brewery and BOP facility that has a few chairs and tables where the public can come in and sample the brewery's wares on three evenings a week. Fancy it ain't. In fact, a real bar it ain't. It does offer a few simple food items to go with the beer, but don't expect a lot.
The buzz of homebrewer activity at the BOP has inspired the brewery itself to constantly experiment. For example, several recent Belgian-style beers in the Shenandoah lineup were developed from recipes brought in by BOP customers.
Shenandoah does some beers quite well, and it's certainly worth stopping by if you're in the area on a Thursday, Friday or Saturday evening. They'll invariably have something interesting and offbeat.
The best beers they make, in my opinion, are the barrel-aged Scottish ale (Old Rag Mountain) and the barrel-aged barleywine (Millennium). If you happen to come in when the Finnish-style Sahti is available, which is unfortunately not very often, it's exceptional, too. Also fairly good are the Skyland Red, the Gueze lambic, and most of the fruit beers, such as the Big Meadow Blueberry.
I find the Belgian double and triple styles disappointing, but then those are some of my favorite categories and I'm picky about them.
While a lot of beer is served on tap at Shenandoah, the distinction between the flavor of the kegged and bottled beer is pretty minimal. Both are likely to have been brewed within the previous week.
The servers are nice people who enjoy what they do, and most of the customers are regulars who are happy to talk beer with whoever is sitting next to them. The prices are fair for what you get.
Public transport access: the nearest Metro stop is Van Dorn on the Blue Line, about a ten-minute walk, or $4 cab ride, away.
Some of the other commenters have criticized Shenandoah's approach to its BOP. I can't respond on that, since I haven't used it. But I will say that on a recent visit Bob and Ellie Tupper, owners of the much-admired local brews Tupper's Hop Pocket Ale (GABF Gold Medalist) and Tupper's Pils, were carefully taking notes on the Shenandoah beers.
2,248 characters
3.58
/5
rDev
-5.3%
vibe: 3 | quality: 3.5 | service: 4 | selection: 3.5
Had a chance to go to one of their firkin ale tappings (ESB) and it was quite an enjoyable experience. I'd like to mention here that every month they introduce a new ale and it is available as long as supplies last. The firkin ale is dispensed using a hand pump. Other beers that had been tapped earlier (but ones that I hadn't tried from the hand pump) were the Imperial Stout and Chocolate Oatmeal Stout.
Tucked away in a small strip mall, just off the beltway, SBC is a nice little place with an informal bar area as soon as you walk in with a few tables scattered about. There is additional seating upstairs but there is no bar so you have to come back downstairs for refills/orders.
Nine beers on-tap (1 of which was hand-pulled) while I was there along with an assortment of beers that they brew bottled and available for purchase in the adjacent frig. I tried the firkin ale as well as a sampler and liked a few of their offerings. I left with a growler of their Old Rag Mt. (Heavy Scottish Ale).
The staff seemed friendly and polite, more than willing to discuss the different beers and give you a quick tour if they have a few minutes. All around you can see fermentors of various sizes which adds a nice industrial feel to the place. A dartboard is located off to the side which I had a chance to use.
Overall, I think this place has a nice vibe to it and they brew some good beers that are worth trying if you're in the area. The menu is very limited with a few chili dishes, assorted nuts, and a meatball sandwich so if you're hungry I would recommend going somewhere else before or after.
Prizes were not bad at all; pints were $3-$4 depending on the particular beer and size. Growlers refills were $6-$8. Six packs were between $6.50 and $9 (for some of the higher ABV, seasonal beers).
1,807 characters
4.34
/5
rDev
+14.8%
vibe: 4.5 | quality: 4 | service: 5 | selection: 4
What an interesting place. It is in a block of warehouses and not easilly seen if you aren't looking for it. It is not a sparkling place but it is clean, and they make beer. It is a BOP and a Micro. Being from out of town, the micro was what I was looking for. The help was friendly, accomodating and fun, emphasis on the fun. This was the last of 5 micros visited that day, we thought many things were fun at that point. The beer selection was good, the beer quality ranged from okay to very good. This is definitely worth a return visit next time I am in the area.
566 characters
Shenandoah Brewing Co. in Alexandria, VA
Brewery rating:
3.55
out of
5
with
158
ratings