Baja Black
| Baja Brewing Company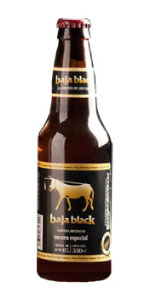 BEER INFO
Brewed by:
Baja Brewing Company
Mexico
bajabrewingcompany.com
Style:
Schwarzbier
Alcohol by volume (ABV):
6.00%
Availability:
Rotating
Notes / Commercial Description:
No notes at this time.
Added by treque on 04-07-2011
Reviews: 10 | Ratings: 24

4.16
/5
rDev
+10.6%
look: 4 | smell: 4.25 | taste: 4.25 | feel: 3.5 | overall: 4.25
Pours dark, deep brown color. Mild ivory foam head with very little retention. Smells like dark fruits and wood notes, molases and some burned sugars. Taste like roasted malts, coffee and chocolate notes, like cooked agave. Fells light bodied with low carbonation. Overall a very very nice shwarzbier to pair with a chocolate dessert.
334 characters
4.01
/5
rDev
+6.6%
look: 4.25 | smell: 3.75 | taste: 4 | feel: 4.5 | overall: 4
L- Pitch black with a beige foamy head.
S- Toasted coffee and dark fruits.
T- Coffee, chocolate, toasted grains.
F- Lovely velvet like feel, rich, smooth.
O- Great beer, would love to have more.
194 characters
3.97
/5
rDev
+5.6%
look: 3.5 | smell: 4 | taste: 4 | feel: 4 | overall: 4
A: As its name said it is a black beer, really dark body that doesn't pass any light through, a prominent head with mixed bubbles with medium dissipation leaving small traces behind, the body seems medium also but the color makes it seem a little bolder. Low carbonation and no layer on top remains.
S: Pure toasted malt very good and pleasant, not very complex or combined aromas that some times confuses the nose.
T: As per the style very toasted barley flavor with low hops tasting present leaving a clear dark beer beverage.
M: Middle between complexity and simplicity, you got all the time that bittersweet flavor from toasted barley, refreshing with some extra important characteristics as a good lasting ending with low bitterness.
741 characters
3.92
/5
rDev
+4.3%
look: 3.75 | smell: 4.25 | taste: 3.75 | feel: 3.75 | overall: 4
Bottle purchased from the source in Cabo San Jose and decanted into a pint glass acquired from the same source. Pitch black more or less, maybe a few cola brown highlights, with two fingers of light chocolate brown head (looks like it was colored by some roasted barley). Aroma fruitier than the palate with some raisin and cherry notes but predominately a deep rich molasses backbone with hints of chocolate. Love the melding of roasted and fruit elements. On the palate things are more one-dimentional but still a great schwarzbier by my reckoning, not particularly sweet with some low-key charred flavor, robust molasses, a nip of milk chocolate and a clean grassy finish. Drinkable light body with similarly low-key carbonation. True to style across the board. If there's a defect its a slight graininess than I also note in this brewery's other offerings but let's not sweat the minor details too much.
907 characters

3.8
/5
rDev
+1.1%
look: 3.5 | smell: 3.5 | taste: 4 | feel: 3.5 | overall: 4
Brought back from Cabo San Lucas as a gift for me from my family.
A: Black, Cola like on the edges. Poured into a tulip with a 1.5 finger head which dissipates as the beer warms. No lacing to speak of.
S: Roasty malt, with a very slight hint of cherry, alcohol, and smoke. Also some sweetness and a touch of chocolate.
T: Roasted barley and some bitter chocolate on the back of the tounge, with a little sweetness/caramel on the front. Aftertaste lingers for a second with a warm, alcohol feeling before moving to a dryer, smoky finish.
M: a light-medium body that is low on carbonation, and has a little bit of a chewey feel to it, which is actually enjoyable.
O: It would be easy to have a few of these in a sitting. Its subtle, and not complex, and yet the whole is greater than the sum of its parts. I would try to pair this with a toasted smoky prosciutto sandwich.
877 characters
3.75
/5
rDev
-0.3%
look: 3.75 | smell: 3.75 | taste: 3.75 | feel: 3.75 | overall: 3.75
Deep black color with a thin head with short retention.
Sweet aroma with predominant notes of chocolate, coffee and caramels.
Sweet flavor with notes of toasted malts, chocolate, caramels, cocoa, home-made coffee, a hint of licorice and some spices. Dry aftertaste with its lingering taste.
Light to medium body with appropriate carbonation.
Very decent and well-crafted Schwarzbier, very drinkable and faithful to style. It could even be compared this to its Fatherland references.
482 characters

3.72
/5
rDev
-1.1%
look: 3.5 | smell: 4 | taste: 3.5 | feel: 3.5 | overall: 4
Bottled provided by Steve, no idea where in the hell he picked this up. 330ml bottle into a tulip.
Poured a dark brown, almost black. Thin head, and a light brown collar retains. Nose has some light smoke, chocolate, lightly metallic with some sweeter caramel notes to be found. Quite nice. Taste takes on more of a bitter dark chocolate character, roast and nutty notes. Medium-light body which could've been fuller, roasty finish and easily drinkable. Some lager character (yeast?) lingers on the palate. Surprisingly decent from Mexico.
541 characters
3.66
/5
rDev
-2.7%
look: 4 | smell: 3 | taste: 4 | feel: 4 | overall: 3.5
A: a deep brown, almost black with a persistent cloudy two finger soft brown head. the head takes a while to disspates, made of big bubble, apparently there is no carb at least not perceptible
S: there some dark fruit and roast, but not so good and deep as expected, there is a hint of caramel even is not consistent.
T: a nice roasted flavour which give a bitter chocolate remember, a medium bitterness with a long nice final that dries a little bit
M: a medium body, no carb at all and no crisp on tongue
515 characters
3.63
/5
rDev
-3.5%
look: 4 | smell: 3.5 | taste: 3.5 | feel: 3.5 | overall: 4
Stephen Rich's bottle. Great roasted malt. Lactose in aroma. Black colour, very lacey. Good drinkability. Spot on the style. Chocolate malt. Finishes dry. Spot of sweetness and mildly bitter. Very good drinkability. Nice job and the best of the Baja series brought back.
270 characters

3.53
/5
rDev
-6.1%
look: 4 | smell: 3.5 | taste: 3.5 | feel: 3.5 | overall: 3.5
Quite a dark brown color, like cola with a little reddish edging. Head is thin, but leaves lot of lace on the glass.
Aromatic, with a good dose of smokiness, chocolate, and sweet malts. Pretty strong.
Flavorful, heavy on the barbecue smoke. Somewhat bitter but finishes smooth and sweet.
Easy drinking, a bit high on the smoky bacon note for some I would imagine, but an interesting and assertive schwarzbier from MX.
423 characters
Baja Black from Baja Brewing Company
3.76
out of
5
based on
24
ratings.