Blue Frog Grog & Grill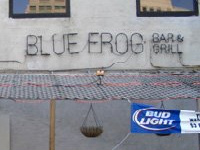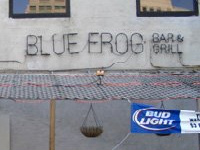 PLACE INFO
Type:
Brewery, Bar, Eatery
1740 Travis Boulevard
Fairfield
,
California
, 94533
United States
(707) 429-2337 |
map
bigbluefrog.com
Notes:
No notes at this time.
Added by BeerAdvocate
HISTOGRAM
View: Beers | Place Reviews
Ratings: 11 | Reviews: 10
Reviews by Gobzilla:

3.28
/5
rDev
-4.1%
vibe: 3 | quality: 3 | service: 4.5 | selection: 2 | food: 4.5
Walked in on a Sunday pretty much at lunch and had a very chill laid back vibe with a nice looking establishment from the outside but a nice inside as well.
The brew was just average as I remember from buying them back home in socal but had great service with a knowledgeable bartender behind the bar that was on point with our service.
The selection was very small but was decent in quality and have to say that the food was off the hook and very delicious; very glad that I ordered food from here.
501 characters
More User Reviews:
2.78
/5
rDev
-18.7%
vibe: 2 | quality: 3 | service: 3 | selection: 2.5 | food: 3

3
/5
rDev
-12.3%
vibe: 3 | quality: 3 | service: 3 | selection: 3 | food: 3
Nothing special. The atmosphere is cute, although veering toward the twee, with lots of faux antique gewgaws on the walls. The service is brisk and friendly, but not particularly warm. The food is purely mediocre - we had a boring cobb salad, a boring burger, boring fried frogs legs, you get the boring idea. But they are not afraid of charging premium brew pub prices for it. The beer, however, is pretty decent. The IPA is the standout, but it doesn't rise above a competent IPA. The rest was merely adequate.
512 characters

3
/5
rDev
-12.3%
vibe: 3.5 | quality: 3.5 | service: 2 | selection: 3 | food: 3.5
I went here with my family while we were in Fairfield. The place had a nice atmosphere so I had a good first impression. I had the IPA which was pretty good. I enjoyed my beer. The food was pretty good but my BBQ chicken pizza's crust was burned. The service was horrible. The waitress was never there. It took forever to get out of there. The beer is good, food is ok, service was horrible. It wasn't even that busy at all. I probably would not go back there but I might still drink some of their beers. I did pick up a pint glass because they are pretty cool.
561 characters

3.75
/5
rDev
+9.6%
vibe: 3.5 | quality: 3.5 | service: 3.5 | selection: 4.5 | food: 3.5
Went here with some friends the other night. Atmosphere of the place is nice but a bit fake and "mainstream" feeling. It's a big spacious building with a conference room at one end and the brewery visible through windows behind the full-bar at the other. The service was hit or miss. The person who seated us was clueless and perhaps new, and our waitress was only slightly better. The only information she knew about the beer on tap was what she had to memorize for the job (which basically subsisted of only the beers names). I don't blame her though, she was simply a waitress in a restaurant, and I don't think the fact that she worked at a brewery concerned her. Most of the customers there probably didn't care too much about the beer they were drinking anyways. They had their standard 4 beers on tap (blond, heff, red, ipa) as well as a rotating seasonal on nitro tap. None of these beers were mind blowing, but none were below average. I can say that they tasted better than the one or two bottles of beer that I have had from this brewery. I was very disappointed however that they didn't have their "premium" beers on tap. I didn't want to spend ten bucks on a bottle of their Big DIPA or Tenth Anniversary imperial stout without trying it first. Oh well, their loss. Overall the food was good enough but fairly pricey. I would go back here if I was in the area, but for you out-of-towners, unless you're spending time in the area I would skip over this one on your road trip.
1,487 characters

3.28
/5
rDev
-4.1%
vibe: 2.5 | quality: 3.5 | service: 5 | selection: 1.5 | food: 3.5
I stopped in here for dinner this past Wednesday night (08-19-2009).
Blue Frog Grog & Grill is located in the middle of a strip mall just off Interstate 80. The interior is nicely decorated and clean, but doesn't feel unique or special in any way. (It sort of felt like a TGI Fridays with a lot less crap on the walls.) I wandered in and quickly pulled up a spot at the bar. I only planned on having a drink or two before hitting the road again.
I asked the bartender about the tap selection and was promptly given the complete rundown, which included the five bottled ales and one or two brewpub specialties. When I began asking specifics about the porter, I was offered a free sample. I was then given a free sample of the IPA, so I could "compare the two". Awesome, two free samples right off the bat! Sadly, neither sample was too good; but the gesture was nice. I ordered a 12oz. glass of the porter. Debbie, the bartender, then offered me a menu. I hadn't planned on eating, but I figured I'd at least look it over. Seemed like pretty standard pub grub, with a couple of off-the-wall creations. I eventually decided to give the tuna-stuffed avocado a try (tuna and avocado are two of my favorite foods after all). The tuna-stuffed avocado was brought out about two minutes later (no joke) along with complimentary bread and butter. The bread was warm, and the butter was, too. The tuna-stuffed avocado was tasty. A guy next to me ordered a cheeseburger that looked really goodl and, according to him, it was really good.
As soon as I finished my porter, Debbie asked if I wanted another. I asked if she had any recommendations and she quickly brought me samples of her two favorites: Blue Frog Hefeweizen and Red Frog Ale. Both sucked, but it was another very nice gesture. I love people that aren't afraid to make suggestions. I went with the hefe almost for novelty purposes; it tasted so bad that I had to review it. And so I did.
Blue Frog might make the worst craft brew on the market, but the service at their brewpub is phenomenal and almost makes up for it (almost). Thanks to Debbie, I might stop here again.
2,127 characters
3.53
/5
rDev
+3.2%
vibe: 3.5 | quality: 4 | service: 3.5 | selection: 3
On my way to the bay from Sacramento and decided to check this place out. First impressions: really nice facade (almost too nice) very mall restaraunt like.
Let's try the beer I had the IPA and it's a pretty nice drinker although I'm not clubbed over the head with hops like I was expecting. They have about 6 beers on tap including a wit, blonde, red, maibock.
Fries were pretty good, though I'm not going to rate food based on fries.
Quality of the beer is what you would expect from a place marketed towards the mall crowd, good bit lacking any soul. Overall it's not a bad place but I would not make it a destination.
627 characters
3.53
/5
rDev
+3.2%
vibe: 3.5 | quality: 4 | service: 3 | selection: 3.5
First the location. Even though it is right off of 1-80 it is not easy for a first time visit. Coming from Sacramento, after the exit go over the freeway and take the second left, the first would take you back on the freeway, now take the first left and go all the way to the back end of the parking lot, the sign is hard to see in the daytime.
I found the beer to be quite good, I was surprised, I had the IPA and the Red and even took a few bottles of Red with me. Service was poor, the bartender was to busy with other duties so everything required to or three requests.
We did not eat here but a group sitting behind us did and the food looked very tasty and good sized portions.
The atmosphere is different for a Micro. This building must have been a chain Mexican resturant before, it just has that look.
810 characters
3.85
/5
rDev
+12.6%
vibe: 3 | quality: 4 | service: 4 | selection: 4 | food: 3.5
Right off the highway and easy to find. Big family-style restaurant, with lots of dining areas; looked pretty popular when we were there. Fresh baked bread and soft butter were waiting at out table. About 6 beers on tap; hefe, blond, IPA, red, oatmeal stout, and Lagunitas Hairy Eyeball. We went through a sampler and all the beers were good; nothing out of the ordinary, all according to style and all well done. OK food, lots of pizza, salads were okay, and good selection of desserts, as well as the usual hamburgers and steaks, etc. We ordered mixed green salads, served with sliced fennel and crumbled terra chips, a pizza with tomato and pesto sauce, and cheese raviolis, and a heart-shaped creme brulee for dessert, and everything was good and as-expected. Lots of refillable beer to go options, as well as 22 oz bottles. Great for a pit stop beween Sac and the Bay area. Cheers!
886 characters

3.5
/5
rDev
+2.3%
vibe: 4 | quality: 4 | service: 3 | selection: 3 | food: 4
Continuing my Northern California trip, we stopped in Fairfield for the Jelly Belly tour, and a trip to Blue Frog Grog & Grill. Location was a little tricky and right next to a traffic crazy mall. Let's just say I'm happy there weren't any accidents.
Inside is an upscale restaurant with some brick work and fairy tale atmosphere. There is a large dinning area and a smaller bar in the back. Behind the bar is the actually brewery, that looked a little crammed. We stayed for lunch, which was rather small crowd even for a weekday.
The staff was friendly enough but did not know anything about beer. After a little digging, it turns out the staff goes through some educational/beer info, but this really didn't help our waitress. The food was good. We ordered their specialty wood fire pizza which wasn't too bad. Not the greatest but it hit the spot.
They had six beers on tap in which we order the sampler. They had a hefe, blond, IPA, red, nitro porter, and a seasonal Miabock. Overall the beers were average or above. Their red was the best and had a good malt backing and body. I ended up getting a pint of that and their miabock with no complaints.
As for price, the restaurant was relatively cheap for what you got, which tasted good. The beers were a touch pricy but to give them credit, we missed "hoppy hour." Overall this was a good place to stop between Sacramento and San Francisco.
1,414 characters
4.13
/5
rDev
+20.8%
vibe: 3.5 | quality: 5 | service: 3.5 | selection: 4 | food: 4
Located in a shopping plaza parking lot (separate building) this place (building) could easily be a Chevy's, El Toritos, etc... Different dining areas inside, did not notice if there was a patio.
Stainless steel tap nozzles with black possibly removable nozzles and a open kitchen with a real grill and fire oven. Wood bar, bar cabinet, tables, and chairs with the brewing room separated by glass walls. Restroom was clean.
Service was good and prompt.
All of their beers had a unique taste and were all possibly notables, no cask, and no guest beers.
Food was good.
reasonable
592 characters
Blue Frog Grog & Grill in Fairfield, CA
Brewery rating:
3.28
out of
5
with
221
ratings