Granite City Food & Brewery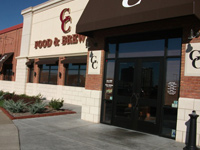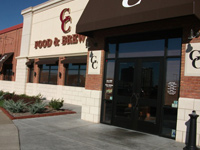 Brewery, Bar, Eatery, Beer-to-go
11411 Olive Blvd
Creve Coeur
,
Missouri
, 63141-7108
United States
(314) 432-3535 |
map
gcfb.net
Notes:
Recent ratings and reviews.
| Log in to view more ratings + sorting options.
Ratings by Tone:
Reviewed by Tone from Missouri
2.9
/5
rDev
-16.9%
vibe: 3.5 | quality: 3 | service: 2.5 | selection: 2.5 | food: 4
The sign caught my attention and I just had to see what this "brewery" was all about. The selection is small (4 beers) and they aren't anything special, not bad but nothing to remember. The atmosphere is earthy (a lot of rock, wood paneling, pots with shrubs) reminds me of a P. F. Chang's. The food was very good and much better than the beer. The service was not good; forgot orders, took forever, rude. Overall, nothing really to make me want to go back except maybe the food, but service makes me think twice.
Dec 15, 2008
More User Ratings:

Reviewed by Suds from Missouri
3.34
/5
rDev
-4.3%
vibe: 3.75 | quality: 3.5 | service: 3 | selection: 3.25 | food: 3.5
This is a chain brewpub, located in a suburban strip mall, not far from the highway. Easy to find, with ample parking, the restaurant is moder and clean. Nice service, but not exceptional. The beer, also, was lackluster. No real flaws in the beer, but also nothing adventurous or interesting. Also, I don't think that I like the fermentus Interruptus idea. They had a few pale ales, an iPa, a bock, a stout, and a lager.
Aug 16, 2015

Reviewed by Bierwolf from Missouri
3.43
/5
rDev
-1.7%
vibe: 3.25 | quality: 3.75 | service: 3 | selection: 3.5 | food: 3.5
I like this place although it can be hit or miss with the service. That is why I gave only a 3 in that department. The food is usually good with a a couple of favorites from the appetizer menu being the soft pretzels with a melted beer cheese dip and the beer cheese soup with rye croutons. For my entree I had a blue cheese burger that was cooked precisely as I ordered. It came with bacon and fried onion straws on top. My family's meals were equally good.
We had very good service this time through. The previous time we went we actually got up from the table, walked into the kitchen and asked about our food after 20 minutes just to find it all sitting under a warming light. All of our meals were comped that time. If the service was consistent I would give it a higher mark.
The restaurant is smoke free and offers gluten free selections.
Aug 12, 2013

Reviewed by DCon from Missouri
3.38
/5
rDev
-3.2%
vibe: 4.5 | quality: 3.5 | service: 3 | selection: 2.5 | food: 5
After spending quite a few days here in study groups and drinking beer after classes, I ended up getting a Mug Club Card. With this, you are able to get discounts on beer, specials on their great wings, and appetizers, and redeem points toward gear and merchandise from Granite City.
All in all, the place is very classy with business attire filling almost the entire restaurant and bar. You do have your average bar crowd at night but a very easy place to sit, have conversation, and enjoy a group's company.
They do a good job at making you feel at home, but the bartenders don't know much about beer. For example, if you were to ask what a certain beer would compare to, they would have no clue. Shouldn't they know their own beer before serving it?
With their beer selection being of only their "6 on tap" at that given time, this is where they fall short.. I have had all 9 (or maybe 10) of their beers and also seasonal beers each time they come out (Belgian Golden Ale, Pride of Pilsner, & Batch 1,000).
Their food has always been awesome! Their hot wings(try them with both sauces mixed-their specialty!), wraps, burgers, or pasta, ALL delicious! This is what they are known for, not so much their beer.
If you do visit, either try the Broad Axe Stout or Brother Benedict's Bock.
Dec 15, 2010
Reviewed by 86sportster883 from Maryland
3.14
/5
rDev
-10%
vibe: 3 | quality: 3 | service: 3.5 | selection: 3
I found Granite City Food and Brewery after it turned up in a search on my Blackberry's GPS. I wasn't familiar with this midwest brewpub/restaurant chain, in fact, I didn't even know it was a chain. GCF&B is a large place that was well appointed in stone (not granite) and wood. I sat at the bar and had a few brews, talked to some locals and had a good time.

The beers were about average. I didn't care for the seasonal Oktoberfest. It just didn't seem to capture the right balance of toasty malt and mild hop of a well done Bavarian Märzen. The IPA, on the other hand, was very tasty with good body and a nice balance between sweet malt and bitter hop with the hops prevailing in the finish. The Bock was decent, but uninspiring. An easy drinking session beer that seemed a bit thin for the style.

Not a bad place, but (from a beer perspective) no competition for its many surrounding St. Louis brewpub competitors.
Oct 16, 2009

Reviewed by Dogbrick from Ohio
3.35
/5
rDev
-4%
vibe: 3.5 | quality: 3 | service: 4 | selection: 3 | food: 3.5
The Creve Coeur Granite City location is on Olive Blvd in a strip mall not too far away from I-270. There is plenty of parking available out front and on the side.

The inside has a layout with the bar on the right side of the establishment and restaurant seating on the left. The floors are stone (granite?) tile as are columns throughout. There is a lot of wood in the furniture and walls too. Brewing equipment is visible behind glass on the bar side.

The beer selection is pretty standard for a brewpub (especially a chain). They have around 6 taps with offerings from a Light to a Stout. Nothing really unique in the lineup, and all the beers are average or below. They offer a beer "platter" of samples for $3.75.

Service was good on a weekday late dinner. The server was very attentive and knew a little bit about the beers.

The food was pretty good. I had the pasta special and was pleasantly surprised that it was fairly tasty.

Overall this place is pretty far down the list of St. Louis area brewpubs, but if you are in Creve Coeur or the immediate area it might be worth a stop.
Sep 21, 2009

Reviewed by JanM from Sweden
2.33
/5
rDev
-33.2%
vibe: 3 | quality: 3 | service: 1.5 | selection: 2 | food: 2.5
Granite City, Creve Coeur is basically set up like a family dining place. The beers are nothing special and not worth a visit if you are looking for a decent brew. I call these places bake-off breweries. I tried their lager and their IPA, the former thin and watery, the latter a bit better. The waitress had a weird kind of zombie approach but she is probably not representative of the staff in general. For a dedicated beer lover this place does not really qualify as a brewpub, and there are several much better brewpubs to choose from in St Louis.
Nov 25, 2008
Reviewed by Monkeyknife from Missouri
3.38
/5
rDev
-3.2%
vibe: 4 | quality: 3 | service: 3.5 | selection: 3 | food: 4.5
Went to the Granite City Brewery with my daughter as an early Father's Day gift. It's located on Olive in Creve Coeur. It's actually in the Dierbergs strip mall.

The atmosphere was quite relaxing for a Saturday afternoon. Sports played on a handful of televisions. The look is something like a lodge you'd find on a trip up north.The restaurant is very clean and very new.

Service was cordial and fast.. Beer knowledge was okay.

I believe there were four beers on tap. The Brother Benedict Bock, Duke of Wellington IPA, Broad Avenue Stout, and the Two Pull Wheat. I had the IPA and the Wheat in 20 oz. glasses. Both were average at best.

The food was quite a bit better than the beer. We both had the steak and garlic mashed potatoes. Excellent. The menu offered a wide variety of options from soup and salads to sandwiches and entrees to satisfy any request.

Food prices seem comparable to places in the area.

Would I go again? Yes, but only for the food.
Jun 07, 2008
Granite City Food & Brewery in Creve Coeur, MO
Brewery rating:
3.48
out of
5
with
1502
ratings