Amber Ale
| Marble Brewery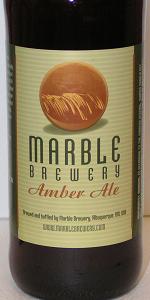 BEER INFO
Brewed by:
Marble Brewery
New Mexico
,
United States
marblebrewery.com
Style:
American Amber / Red Ale
Alcohol by volume (ABV):
5.40%
Availability:
Year-round
Notes / Commercial Description:
No notes at this time.
Added by UnionMade on 08-20-2010
Reviews: 11 | Ratings: 42
3.5
/5
rDev
-10.3%
look: 3.5 | smell: 3.5 | taste: 3.5 | feel: 3.5 | overall: 3.5
Poured into a snifter.
A: Amber colored with very small head. Decent lacing.
S: Hop forward with grapefruit and nuts.
T: Follows nose with a shot of caramel malts. Very smooth hop character.
M: Light. Dry. Good carbonation.
O: Drinks more like a pale ale. Wasn't expecting all the hop flavor. Still a good entry from Marble. Sessionable.
343 characters
3.79
/5
rDev
-2.8%
look: 4 | smell: 3.75 | taste: 3.75 | feel: 4 | overall: 3.75
A-amber color with a nice off-white head and decent lacing
S-caramel malt, floral, citrus, hint of pine
T-caramel malt,citrus, floral, orange, moderate bitter finish
F-medium body with moderate carbonation, smooth
O-an amber ale with decent flavor profile and body
268 characters
3.82
/5
rDev
-2.1%
look: 3.5 | smell: 4 | taste: 3.5 | feel: 4.5 | overall: 4
22oz Bottle brought back from New mexico by my lovely wife.
Pours a pretty medium, ale-like amber. Tawny brown. A good puff of head without a generous pour, lacing on the glass nicely.
Smells mostly of sweet, toasty malts, with a bit of floral, fruity esters in the background. Soft, placid hops.
Very smooth, easygoing flavor. Caramel malt easing into apple fruitiness and a gently hopped, slightly floral, balanced finish. There's a nice little understated artistry to this beer. The carbonation is mellow, supporting a medium body with unconcerned ease. The well-mannered carbonation and impeccable balance are my favorite aspects of this brew. Not heavy handed or angular like a lot of beers I've been drinking lately. There's nothing particularly noteworthy, but everything comes together seamlessly, with no rough edges. Just a well made session beer. I like it a lot, and would love another bottle. Reminds of some of the great British ESBs.
951 characters
3.85
/5
rDev
-1.3%
look: 3.5 | smell: 3.5 | taste: 4 | feel: 4 | overall: 4
Bottle date 02 03 11
A- Fizzy, off-white one-inch head on a translucent medium-red colored beer. Average head retention and little lacing.
S- Smells sort of piney...bready, pale malts.
T- Subdued fruit hops. The malts take the front seat in this one. More bread, hint of caramel/cinnamon.
M- Medium mouthfeel, well carbonated.
D/O- Easy drankin' beer here. To kill a sick pack on a cool autumn night, well no one could argue with that. Very surprised I'm only the second review on this one. This brewery is HIGHLY underrated/unnoticed by the masses....not flashy but very solid brews.
589 characters

3.98
/5
rDev
+2.1%
look: 4.5 | smell: 4 | taste: 4 | feel: 3.5 | overall: 4
Medium to big off white head rests above a clearish honey amber golden colored medium bodied beer.
Aroma is sweet caramel malt with a light citrus added to it.
The slightly burnt and sweetish caramel malt is forefront in the taste with little grain and a tad bit of a citrus hops sneaking in there.
A light dry aftertaste with a hint of sweet caramel to it.
361 characters
4
/5
rDev
+2.6%
look: 4 | smell: 4 | taste: 4 | feel: 4 | overall: 4
Pours a hazy amber color with a tight off-white head that leaves chunks of lacing.
Smells of toasted bread and caramel notes.
Tastes of a big malty base with smaller hop notes on the end. Malts lead off with toasted bread, caramel, and toffee. Toasted tones lend to a nuttiness. Some fruit comes through midway as well. The malt feels substantial, but is not particularly sweet. Hops add in the end with floral and earthy notes.
Mouthfeel is medium with a slightly crisp amount of carbonation.
Overall, this is a malt based amber that I feel works well. Another good beer from Marble.
589 characters

4
/5
rDev
+2.6%
look: 4 | smell: 4 | taste: 4 | feel: 4 | overall: 4
12oz bottle poured into a Duvel tulip. Bottom right edge of label stamped 12 16 11.
Appearance - Dark hazy amber body. Offwhite head with decent retention and decent stick.
Smell - Spicy floral body. Cinnamon. Peppermint.
Taste - Spicy. Hop and cinnamon. Pretty dry.
Mouthfeel - Lots of crisp bite. Somewhat astringent, but works well.
Overall Drinkability - No major flaws. Very enjoyable.
395 characters

4
/5
rDev
+2.6%
look: 4 | smell: 4 | taste: 4 | feel: 4 | overall: 4
12oz bottle into a pint glass.
Pours a clear amber with a nice pillowy off-white head. Head retention and lacing are excellent.
Aroma is piney hops along with a toffee/toasted maltiness. There is also a touch of spice in the aroma, maybe cinnamon, reminding me of some winter warmers.
The taste has some piny/earthy hops along with a slightly spicy maltiness that reminds me of a rye beer. There is some toasted malt too along with a respectable hop bitterness that remains somewhat restrained in line with the style.
Again I am impressed by Marble Brewery. Every beer I have tried has impressed me and I can't say enough about this brewery. They definitely fly under the radar but I am very thankful they distribute to TN. I think I heard that their head brewer is a graduate of UT Knoxville which could be the reason their beers are available here.
854 characters

4.05
/5
rDev
+3.8%
look: 4 | smell: 4 | taste: 4 | feel: 4 | overall: 4.25
Pours an orangey-amber with a white head. Aroma is bready, some slight toffee, a touch floralnand a little pine. Flavor is a nice full breadiness, some toffee, alittle sweet floral and some pine. A medium bodied, creamy, somewhat active mouthfeel. Overall, a great amber ale. Right up there with Odell's Stone Barn and Levity for my favorite of the style. One of the very few ambers I want to drink more of. Great beer.
421 characters

4.27
/5
rDev
+9.5%
look: 4 | smell: 4.5 | taste: 4.25 | feel: 4 | overall: 4.25
Poured a gorgeous amber with a thin white head. Very nice and true to style. Scents of citrus, sweet malt and slight pine. Scents like a pale ale, boding well for this hop lover. Flavors of citrus pith, grapefruit, slight pine and a sweet malt backbone. Refreshing, pleasant and sessionable. Drinks a lot like a pale ale, but I enjoy that. Mouthfeel is light bodied with medium carbonation, a good, true to style mouthfeel. A good amber ale, with a hoppy character that let's it drink like a pale. Exactly what I love.
518 characters
4.27
/5
rDev
+9.5%
look: 3.5 | smell: 4 | taste: 4.5 | feel: 4 | overall: 4.5
poured from the bottle into a pint glass
A - Pours an amber with a slight orange hew and hazy contours of yeast. Only a bubble here and there rises to the two-finger, off white head. The head seems to have trouble staying intact all falls apart about half way down the glass. Leaves behind no lacing.
S - Caramel malt, red apples, nuttyness and earthy hops in approximately equal measures.
T - Red apple dipped in caramel upfront. The body has a firm caramel malt background with some nuttyness that is overlain by sweet and tangy red apple ethers from aromatic hops. A flourish of apple as the bee passes over the back of the tongue leads to a dry caramel and apple finish.
M - Medium bodied with moderate-medium carbonation. Pretty smooth and seems to suite the rest of the beer well.
I've heard good things from my friends about Marble, and finally picked up a sampler of their selections at Trader Joes. Glad I did, Marble crafted this amber unlike any other i've had. The taste contrast between the nutty, caramel malt and aromatic hops is delicious and differentiates the beer from many other breweries conservative "traditional" take on the style. Can't wait to try the other varieties!
1,201 characters
Amber Ale from Marble Brewery
3.9
out of
5
based on
42
ratings.