La Stout - Vanille Et Café
| Brasseur De Montréal
BA SCORE
79
okay
11
Reviews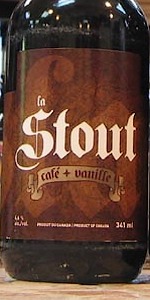 BEER INFO
Brewed by:
Brasseur De Montréal
Quebec
,
Canada
brasseursdemontreal.ca
Style:
American Stout
Alcohol by volume (ABV):
6.60%
Availability:
Year-round
Notes / Commercial Description:
No notes at this time.
Added by Phyl21ca on 01-10-2012
Reviews: 11 | Ratings: 23

4.25
/5
rDev
+33.2%
look: 4.25 | smell: 4.25 | taste: 4.25 | feel: 4.25 | overall: 4.25
Purchased at a bottle shop in Montreal for around $3.50 for a 341ml bottle. Served at 8deg C in a tulip
A- Opens well and pours a 1/2" head that is gone in a minute or so. Very dark almost black colour.
S- Chocolate and vanilla galore.
T- See above! Times two! Lots of vanilla. I like this one a lot! Touch of heat though.
M- Creamy good
O- Very nice brew. Will buy again if I can find it. Super nice blend and mellow
Food Pairing
This wonderful little brew went well with..... Brownies!!
Enjoy
503 characters
3.35
/5
rDev
+5%
look: 3.5 | smell: 3.5 | taste: 3.25 | feel: 3.5 | overall: 3.25
Pitch black with a small creamy head. Smells like a french vanilla coffee, which I guess it's what they're aiming at but I feel like it's two sweet and it makes me think it will be too sweet in mouth too, well let's see. Well it tastes like a carbonated cold french vanilla coffee, it's sweet but not just enough, not as much as I expected. It's actually not bad, but it doesn't really taste like a beer, maybe a french vanilla flavored beer though. Well after drinking it for some time it may taste a little bit more like a beer and it's less sweet but I still think that there's better vanilla stout out there.
612 characters

3.48
/5
rDev
+9.1%
look: 4 | smell: 4 | taste: 3.25 | feel: 3.25 | overall: 3.25
Appearance: It has a nice jet black color to it. It has a nice tan head that dies down moderately and leaves nice lacing.
Smell: The aromas definitely give out hints of vanilla, milk chocolate and some coffee. The chocolate overpowers everything but it's smells great nevertheless.
Taste: Like the aromas, it has some chocolate (not as strong as the aroma) some roasted malts, bitter coffee and a touch of vanilla.
Mouthfeel: It has a low/medium carbonation with a nice overall balance and feel.
Drinkability: It's a very smooth drinkable beer accompanied with decent flavors and aromas.
594 characters

2.97
/5
rDev
-6.9%
look: 3.5 | smell: 3.25 | taste: 2.75 | feel: 2.75 | overall: 3
341mL (11.5oz?) from La Duchesse D'Aiguillon (Quebec City). 1.99. No apparent bottling info. Served in a Southern Tier snifter
Pours black with cola edges and one and a half fingers of pale tan head. Decent amount of lace.
Smells like caramel, cream and vanilla extract. Very sweet.
Tastes of toasted marshmallows, burnt caramel and sweet creamed coffee with an almost metallic note.
Medium thin body with average carbonation. Burnt sweet cream aftertaste.
Definately in the same family as it's partner, Cocao. It's not bad at all and I'd even drink it again someday but there are plenty of other stout options that I find more enticing.
646 characters
2.82
/5
rDev
-11.6%
look: 4 | smell: 4.5 | taste: 2 | feel: 2 | overall: 2.5
Big coffee, vanilla and chocolate aroma. Funny flavour for a stout. Seems to be a little sour, maybe some cherry added (which would be even stranger for a vanilla coffee stout). But there is something making the mouth feel kind of funny, acidic almost. Coffee and vanilla do come through but the sourness rules.
311 characters
2.78
/5
rDev
-12.9%
look: 3.5 | smell: 3 | taste: 2.5 | feel: 2.5 | overall: 3
A: Look good in general terms, very dark color almost not translucent, almost black, sadly very poor carbonation almost no head and of course not layer of foam on top of the beer.
S: Coffee is present, it is really clear but it has some other smells that make this one not to pleasant is like if it were to old.
T: Sadly very bad, it may be caduceus or something alike, expectations were high but it is difficult to drink, tasting is not pleasant, it has a coin tasting after the coffee blow.
M: Would be nice but as the beer is not in shape or too old cannot be appreciated.
578 characters
2.94
/5
rDev
-7.8%
look: 2 | smell: 3 | taste: 3 | feel: 3 | overall: 3
Pours black with very little carbonation - no head.
Smells quite a lot like Chocolate milk. Aromas of vanilla, coffee. There is a slight sour smell as well.
Vanilla and Chocolate up front with a bitter and rather sour finish. Took a few sips before I got any of the coffee flavor, but it's definitely there. There are some Dried fruit - raisins, prunes.
Overall a pretty good stout. although "Dieu du Ciel's" similar chocolate vanilla stout is superior, it's not without it's charm.
485 characters

2.87
/5
rDev
-10%
look: 4 | smell: 4.5 | taste: 2 | feel: 2.5 | overall: 2.5
Holding a mini tasting after mixed six packs in Montreal.
A- Pitch black pour with a creamy mocha brown head. Head retention is pretty good. A nice blaket of creamy lace.
S- Immediately after pouring this let's off huge vapors of something like a Frappucinno. Sugary sweet caramel followed by huge vanilla and then comes the roast coffee and cocoa. It reminds me of Creme Brûlée.
T- Man does this start good.... Buuuut like the other reviews, it has a strange flavor right in the beginning of the aftertaste. It is metallic and penny-like. The rest of the flavor is again like a very sweet Creme brûlée with coffee.
MF- Foamy body with higher end carbonation. Finishes slightly tart and metallic.
The aroma led me to think this would be a great beer but the flavor goes from good to almost hard to drink, something has to be off here. Might be the biggest difference between smell and taste scores for me this far.
923 characters

3.05
/5
rDev
-4.4%
look: 4 | smell: 4 | taste: 2.5 | feel: 2.5 | overall: 3
The beer color is black, very dark. Nice foamy head on top of it. Quite dark brown and sticks well to the glass. The aroma is very strong vanilla with some milk chocolate. Sugary in the nose too. Taste is dominated by chocolate to a point that I feel it is not balanced. Lots of carbonation in the mouth too... not pleasant. Sugary too. Not at all balanced in the taste. The bitterness is typical of coffee grains. Medium body. This is better than the cacao version... but too sugary... it needs to work the equilibrium between the vanilla, chocolate and hops.
560 characters
2.43
/5
rDev
-23.8%
look: 4 | smell: 3.5 | taste: 1.5 | feel: 2.5 | overall: 2.5
Picked this up strictly to get an idea of what this brewer was up to. Seems to be gaining in popularity but I have been burned just too often by new micros to invest my meagher loose change into something unknown... should have stuck to my guns.
Looks great as I pour it, deep and dark brown with cola highlights on the edges of the glass. The tan foam definitely accentuates the package and laces nicely.
Aromas are sweet and malty with no coffee detectable... funny the label says coffee however. This does not take away from the pleasant aromas given forth by the beer.
Here is where things get ugly. First sip yields malt and vanilla up front but rather quickly a very unpleasant sourness rushes in and blankets what seemed like a very promising beer. I have actually tasted this before in Kuhnhenn's Java Imperial Stout at the 2009 Mondial. Even discussed of the problem with the brewer who told me that coffee was a finicky ingredient to integrate into beer especially when long storage in warmer temps was involved. The result was the rendering of the coffee oils rancid by oxydation... just like this beer.
Mouthfeel suffers from this and makes the beer very difficult to drink.
Too bad.
Santé
SMD
1,215 characters
3.45
/5
rDev
+8.2%
look: 3.5 | smell: 3.5 | taste: 3.5 | feel: 3 | overall: 3.5
Bottle: Poured a dark black color stout with a nice slightly off-white foamy head with good retention and some lacing. Aroma of vanilla and coffee are pretty dominant with some light black chocolate also noticeable. Taste is sweeter then I had anticipated with some clear lactose notes though vanilla notes are clearly recognisable. Body is about average with good carbonation. Good though end up being a bit over the top and it is kind of hard to finish a bottle.
464 characters
La Stout - Vanille Et Café from Brasseur De Montréal
3.19
out of
5
based on
23
ratings.