Sunday River Alt Beer
| Stone Coast Brewing Co.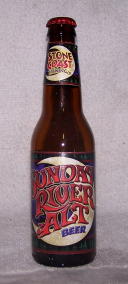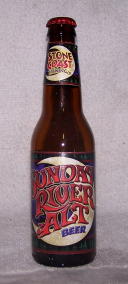 BEER INFO
Brewed by:
Stone Coast Brewing Co.
Maine
,
United States
Style:
Altbier
Alcohol by volume (ABV):
4.80%
Availability:
Year-round
Notes / Commercial Description:
No notes at this time.
Added by Bierman9 on 09-15-2000
This beer is retired; no longer brewed.
HISTOGRAM
Ratings: 14 | Reviews: 14
Reviews by Gattopardo:
4
/5
rDev
+3.4%
look: 4 | smell: 4 | taste: 4 | feel: 4 | overall: 4
The Sunday River Brewing Company brewpub in the vicinity of one of Maine's most noted covered bridges proved to be a fine venue for sampling some of Stone Coast's offering. I was particularly intrigued by this brew as my experience with altbier is limited.
The appearance is characterized by a darkly hued amber color, a fine floating head, and a good amount of carbonation. The aroma is spicy in a pleasant way. I was pleased that the very present carbonation doesn't mar the taste at all, and I found myself instead impressed with some nice spicy hints. The bottom taste is sweetness, but it is nicely balanced. A tasty brew overall.
639 characters
More User Reviews:
3.94
/5
rDev
+1.8%
look: 3 | smell: 4 | taste: 4 | feel: 4 | overall: 4
Presentation: 12oz brown bottle. Bottled date, but it's really hard to read. Label is a night-time scene with a cresent moon.
Appearance: Dark amber in colour with a foamy, ringed lace head that dissipates quickly.
Smell: Sweet malty aromas, with some dark fruit. Light hops. Toasted and milled grain notes.
Taste: Rich, smooth, full, malty mouthfeel with toasted notes and a hop bitterness that starts in the middle and carries through to the aftertaste; a bit sharp, semi-citrus and spicy. The toasted malt sweetness returns in the end, and some alcohol notes are detected.
Notes: This is a damn fine American Alt beer! Nicely balanced. Very drinkable. Very toasty!
679 characters
3.25
/5
rDev
-16%
look: 3.5 | smell: 3.5 | taste: 3 | feel: 3 | overall: 3.5
Poured on tap at Bleachers. Appears a very nice coppery amber with no head at all. Probably a result of the pour.
Smells slightly floral with a teeny hint of citrus, but it's hard to smell in there with everyone busting open peanuts all over the place. The taste is good, but not very distinct. Pale malt is chased by a very faint diacetyl, and ended with some slightly bitter hops. Body is medium with a favorable amount of carbonation. Overall a decent beer.
463 characters
3.23
/5
rDev
-16.5%
look: 3.5 | smell: 3 | taste: 3 | feel: 4 | overall: 3.5
This beer pours a slightly hazy medium dark brownish orange color with a moderate creamy tan head. The smell is sweet with an odd sharpness. The taste is mildly sweet malt which is dominated by a sharp hoppiness with a very nice soft and full mouthfeel. Overall the mouthfeel is the best part of this beer which could use a bit more maltiness IMO.
347 characters
3.92
/5
rDev
+1.3%
look: 3.5 | smell: 4 | taste: 4 | feel: 3.5 | overall: 4
On the pour, deep amber to almost brown color, the head is modest in size, frothy in texture and the color a light tan with a fine sealing sheet of lace. Nose is mostly malt, sweet and a bit hop floral, start is nicely malt and the top moderate in feel to the palate. Finish has pertinent hop spiciness, nicely carbonated and the aftertaste desert dry, quite a nice drinkable brew.
381 characters
4.15
/5
rDev
+7.2%
look: 4 | smell: 4 | taste: 4 | feel: 4.5 | overall: 4.5
Poured from a 22oz. bottle into a mug glass.
A: The beer is a bright reddish brown color, with a thin off-white head that fades slowly and leaves a decent lace on the glass.
S: The aroma is of caramelized malt, spice and a little hops, simple but nice.
T: The taste is malty and smoky with flavors of caramel, nuts and spice. There's a very mild hops character, but it's normal for the style. The after-taste is bready and spicy.
M: Crisp and very smooth, medium body, medium carbonation, very clean finish.
D: Very tasty, goes down quite easily, not too filling, decent kick, nice representation of style, this is very good beer to stick with for a while and goes well with a nice meal.
694 characters

3.85
/5
rDev
-0.5%
look: 3.5 | smell: 3.5 | taste: 4 | feel: 4 | overall: 4
Amber in color sporting a short 1/4" head that receded to a soft surface foam. Spotty lacing develops through the drink. Aroma is pretty quiet, as some soft caramel and light bitterness is detectable. The flavor leans towards a big malt backbone, followed by hints of nuttiness, fruits, and caramel. Mild bitterness and a touch of pepper are there too.
Mouthfeel is smooth and lightly crisp at the start. Finish is smooth with malt briefly sticking to the tongue. This is an enjoyable but not over the edge Alt. Nicely drinkable.
533 characters
3.8
/5
rDev
-1.8%
look: 4 | smell: 4 | taste: 4 | feel: 3 | overall: 3.5
I talk of balanced in my pales and even IPA's, lagers, and pilseners. Here's a beer that is nicely unbalanced.
Yes, there's some crisp clean hop to keep it honest, but this is for malt lovers: a nice long bready finish after a tangy heavy malt taste profile. Differs from other "brown" styles to my taste due to lack of caramel. Pours reddishbrown with a slight head.
It would never be something I would have several of without switching away; when I had four in a row with no food, over time the alcohol warmth and malt turned sour in my mouth.
551 characters
4
/5
rDev
+3.4%
look: 4 | smell: 4 | taste: 4 | feel: 4 | overall: 4
Pours a deep amber color with an off-white foamy head. Clean malt aroma with hints of biscuit. The malt is apparent in the flavor with hints of roast and some bread through the finish. The bitterness is rounded and finishes off a tasty brew, not 420, but not bad.
263 characters
3.8
/5
rDev
-1.8%
look: 4 | smell: 4 | taste: 3.5 | feel: 4 | overall: 4
I had this beer on tap at the Sunday River Brewing Company last weekend as a starter. Poured dark amber in color with a small head that didn't seem to last long. The smell, as I expected, was sweet but very mild. The flavor was very smooth but a bit thin in body. Malty and sweet in the beginning and middle. The hops come in more at the end.
Overall a good beer, but not as good as I had wished. I guess that I wanted more flavor. I would still have another if given the chance.
481 characters
4
/5
rDev
+3.4%
look: 4 | smell: 4 | taste: 4 | feel: 4 | overall: 4
Gotta grab an Alt when you find one; not many made on this side of the Atlantic. A thin, fine head sits atop a rich copper-colored bier. Lace sticks a bit. A healthy dose of hoppiness dominates the nose...quite appealing. Medium body and mouthfeel are present. Decent, toasty malt flavors are the forerunner to a smooth, floral hop finish. This is a fairly good take on this style.
overall: 4
appearance: 4 | smell: 4 | taste: 4 | mouthfeel: 4 | drinkability: 4
389
467 characters

3.98
/5
rDev
+2.8%
look: 4.5 | smell: 4 | taste: 4 | feel: 3.5 | overall: 4
Sunday River Alt pours a copper red with a light tan head that has some staying power and leaves little lace on the glass. The aroma is sweet roasted malt and grains with some nut odors in there also. The taste starts with an effervescent malt upfront that quickly fades to a sweet caramel malt flavor with some roasted nut flavors and roasted grain flavors. The finish is very smooth with a continuation of the roasted nut and malt flavors and the addition of some citrus notes and faint hop bitterness. Aftertaste is a dance of toasted malt sweetness balanced with a growing hop bitterness. In the end the hops win for the final lingering flavor. Mouthfeel is very smooth and medium to medium light.
Overall a very nice Alt beer. It is so malty and toasty that my only complaint would be that it needs a wee bit more body to help carry all that maltiness. I would love to try this as a cask-conditioned brew.
911 characters

4.5
/5
rDev
+16.3%
look: 4.5 | smell: 4.5 | taste: 4.5 | feel: 4.5 | overall: 4.5
Clear coppery color, more brown than red, with an off white head. Foam settles to a ring rather quickly but left some nice lace. The aroma is all sweet and malty with hints of chocolate. Flavor is full and loaded with malt, a bit of sharp nuttiness like walnuts and finishes with nice hop bitterness. Nice and full bodied, very drinkable and a good example of the style brewed right here in Portland, Maine.
Please note I may be slightly biased toward this beer, as I spent WAY too much time at the Stone Coast Brewpub back when they were open.
545 characters

3.73
/5
rDev
-3.6%
look: 4 | smell: 3.5 | taste: 4 | feel: 3.5 | overall: 3.5
Pours a deep copper with a thick ivory head. Lots of lace. Smell is surprisingly hoppy.
Taste is malty followed by surprisingly strident hops. Some light caramel malt and floral hops. Nice creamy mouthfeel and very drinkable. Not balanced very well which is not a deal brewker for me. however, I like my alts to be unbalalnced on the malt side. not nearly malty enough to stand up to the hops. Good beer but not a great alt.
427 characters
Sunday River Alt Beer from Stone Coast Brewing Co.
Beer rating:
3.87
out of
5
with
14
ratings