Sunday River Lager
| Stone Coast Brewing Co.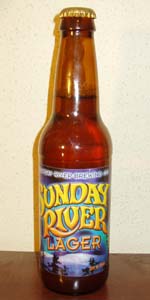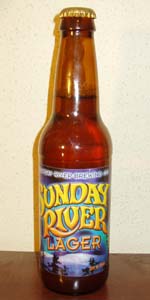 BEER INFO
Brewed by:
Stone Coast Brewing Co.
Maine
,
United States
Style:
Czech Pilsener
Alcohol by volume (ABV):
not listed
Availability:
Year-round
Notes / Commercial Description:
A Bohemian-style Lager, with an abundance of Saaz hops.
Added by MaineBeerMan on 02-13-2003
This beer is retired; no longer brewed.
HISTOGRAM
Ratings: 9 | Reviews: 9
Reviews by MaineBeerMan:

4.08
/5
rDev
+20.7%
look: 4 | smell: 3.5 | taste: 4.5 | feel: 4 | overall: 4
This beer was a pale straw/bright yellow in appearance, crystal clear and clean, with a nice one inch head of pure white foam that dissipated quickly to a small ring and left just a bit of lace around the glass.
The aroma was light and mostly earthy herbal hops, very little malt smell detected here.
This beer hits the palate with a nice amount of prickly carbonation and a slightly bitter noble hop twang, which becomes more apparent with a higher temperature pour. Flavors of light malts and German hops are the main components of this brew. No big sweetness or overbearing hoppy bitterness here, this is a straightforward lager in the German Dortmunder style, well balanced and very refreshing.
I find this to be a very drinkable beer, and one that I will surely enjoy during the warm Summer months
805 characters
More User Reviews:

3.5
/5
rDev
+3.6%
look: 3.5 | smell: 3.5 | taste: 3.5 | feel: 3.5 | overall: 3.5
A little restaurant in Kittery, ME, called Anneke Jans has a pretty decent selection of Maine microbrews. None of them on tap, however. This is a pretty decent, not outstanding, beer. A clear orange color with a medium head and a little lacing. It has a grassy, floral aroma. A tangy, citrus taste with a mild hops presence. Average mouthfeel, easily drinkable.
361 characters
3.07
/5
rDev
-9.2%
look: 3.5 | smell: 4 | taste: 2.5 | feel: 3 | overall: 3
Purchased single bottle from Martignetti's
Appearance = Average looking lager with a golden straw color, not much head, but decent lacing.
Smell = Strong malt presence with toasted grain and oats. Hops are also there. Good clean, refreshing scent.
Taste = Good taste upfront but too much sourness comes through. Not balanced. Aftertaste is off and doesn't soothe the palate at all. Overall a bit disappointing.
Overall = Pretty average for the most part. I don't think they have this one nailed down yet and it could definitely use some refinement. It's not awful though but the sourness needs to be toned down. I don't really recommend it.
652 characters
3.95
/5
rDev
+16.9%
look: 3.5 | smell: 3.5 | taste: 4 | feel: 4 | overall: 4.5
Pours a dirty gold color, perfectly clear, with a touch-and-go head that forms a collar of lace around the beer. Very inviting aromas here -- clean and malt driven, with lots of dry, biscuity smells that remind me of a fresh loaf of slightly sweet bread baking. On the palate, snappy carbonation and a touch of bitterness, with full, juicy malts at the mid-palate that are delicious. Just a touch of sweetness hits before finishing dry. Very well done flavor progression. Mouthfeel is very good for the style -- a bit thick, but nothing outlandish. Overall, this is an excellent dormunder.
589 characters
3.65
/5
rDev
+8%
look: 3.5 | smell: 3.5 | taste: 3.5 | feel: 4 | overall: 4
Poured from a 12oz bottle into a US tumbler pint glass.
A: The beer is a light gold color, with a thin white head that fades quickly and leaves a thin lace on the glass.
S: The aroma is of light but bready malts and a good amount of hops.
T: The taste is bready with a mild malt sweetness up front. There's a good hops presence that provides a nice balance. The after-taste is slightly bready and slightly sweet.
M: Smooth and crisp, light-to-medium body, medium carbonation, finish is clean.
D: Tasty, goes down easily, not too filling, decent kick, good representation of style, this is a nice lighter beer that is worth drinking for a while.
650 characters

1.91
/5
rDev
-43.5%
look: 3.5 | smell: 2.5 | taste: 1.5 | feel: 2 | overall: 1.5
Pours a white, thick five-finger head that goes quickly leaving a good lace. Clear, light amber color. Light carbonation and light bodied. Nose is hoppy. Starts hoppy with some rusty overtones (cap is clean), finish is dry with hints of skunkiness, fortunately the aftertaste is shortlived. $1.25 for a 12oz bottle from RSVP Liquors Portland, Me.
346 characters

3.67
/5
rDev
+8.6%
look: 3 | smell: 3.5 | taste: 3.5 | feel: 3.5 | overall: 4.5
Pours pale yellow in color with a short 1" head that disappears quickly. No lacing develops. The aroma is bready and slightly citric. The flavor sports a decent malt level, plenty of lemon, bread, nice bitterness, and a touch of butter.
The mouthfeel is crisp at the start and lightly crisp and partially smooth on the finish. Lightly dry at the finish too. Nice drinkability as this lager sports a decent flavor while being lighter in body. Not a bad brew but not overly exciting.
485 characters
2.75
/5
rDev
-18.6%
look: 3 | smell: 3 | taste: 3 | feel: 2.5 | overall: 2
The beer pours a pale blond, topped with a rapidly dissipating white foam. Slightly chill hazed, with a bubble or two floating up. The head thins to a patchy mist, with some larger bubbles forming a collar. Some lace, forming some patchy chunks, with the head thinning out to a crescent of head clinging to the opposite side of the glass.
The aroma is definitely on the malty side, pretty clean, with a light bready toastiness. Lots of base malt, a touch of peach and floral aroma, with rather mild herbal hopping. The hops have a slight hay-like earthiness. Some cinnamon? It might be the beginnings of oxodization. Definitely a little musty yeastiness. Decent, if a bit underwhelming.
The flavor starts a bit watery, with surprisingly low carbonation. Almost still as it passes across your tongue, with a flicker in the swallow. Very similar to nearly flat seltzer water. Slightly sourish, toasty malt. Probably a little pils malt in there, with low lovibond crystal. I think this may be a bit past it's prime. Fairly clean, moving into a lightly hopped finish. Some herbal hay-like flavor, adding enough bitterness to keep things in proportion. A bit of yeasty, biscuity flavor in the finish, rather dry, with a quickly disappearing grassy hop aftertaste. A faint sourness creeps through the entire sip. Medium to light bodied, with a middling, unobtrusive mouthfeel. It's like one of the hundreds of anonymous, faceless people you pass in a train station. You might try to remember what they look like, but your mind quickly wanders, despite your best efforts.
Not bad, but really nothing special. I've had much better lagers than this, and I don't particularly care for the hopping. The beer would benefit with more energetic carbonation. As it is, it feels a bit sluggish, and not just with the carbonation.
1,816 characters
3.85
/5
rDev
+13.9%
look: 3.5 | smell: 3.5 | taste: 4 | feel: 4 | overall: 4
Found this in 6-packs at RSVP in Portland. Bottle says it was brewed by the Stone Coast Brewing Co. in Portland. Sunday River products were previously bottled by Casco Bay but I'm told that Stone Coast is now doing its own bottling. This is apparently a new product in bottles and a good one. Poured a golden color with minimal smell. Well balanced and not excessively carbonated. Sort of like a mainstream lager with much more body and definitely a more liberal use of hops in the brewing process. Should be a strong warm weather competitor to the Summer Ales of other brewers and hopefully a successful year-round product.
624 characters
Sunday River Lager from Stone Coast Brewing Co.
Beer rating:
3.38
out of
5
with
9
ratings